Katz: Five observations from the week
February, 14, 2011
2/14/11
12:20
AM ET
Five observations from the past week:
1. Officials had an interesting week. The out-of-bounds call on Alabama's
JaMychal Green
by official Tim Higgins was more than questionable in the Crimson Tide's 81-77 loss at Vanderbilt on Thursday. Green thought he got fouled but the more egregious call was when he was ruled to have stepped out of bounds on a drive along the baseline with Higgins looking down at the line. Alabama coach Anthony Grant was as upset as he has ever been as a head coach. After all, Green was on his way to possibly tying a crucial game for Bama.
The call on
Corey Fisher
of Villanova against Rutgers'
Jonathan Mitchell
was a good call as Fisher bumped Mitchell on a game-ending 3-point shot. Mitchell got to the line, converted the free throw and the Scarlet Knights won on a rare four-point play at the RAC. Fisher had no business being up on Mitchell with the Wildcats up three points. So he put himself in a position for the officials to make a call.
[+] Enlarge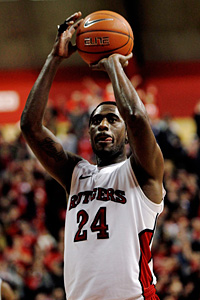 AP Photo/Mel EvansJonathan Mitchell sank this free throw to complete a four-point play with 0.8 seconds left, giving Rutgers a 77-76 win against Nova.
And then late Saturday night in Boulder, Kansas State's
Rodney McGruder
hit an apparent game-winning 3-pointer for the Wildcats. But the officials looked at multiple camera angles and the ESPNU shot from the other basket clearly showed the ball was in McGruder's hands when the clock hit all zeroes. That allowed Colorado to escape with a 58-56 win, leading the Wildcats to go from celebrating to hanging their heads in a matter of minutes. The win for CU came just a few days after Texas A&M won in Boulder by three points after
B.J. Holmes
hit a 3-pointer with 1.9 seconds remaining in regulation to tie the game and send it into overtime.
2. Utah State's margin of error is always incredibly thin. The Aggies are probably under the most pressure of any mid-major power to win every conference game. Well, Utah State was on national TV Wednesday night and lost at Idaho, a team that turned around and lost to Boise State over the weekend. Utah State is 23-3 overall, 12-1 in the WAC and has a strong chance of going 15-1 in the league with three remaining games. Utah State got an at-large berth last season after finishing 14-2 in the WAC. So there is a precedent for the Aggies to get an at-large berth without running the table in the conference. Yet there is a perception that they almost have to do so. To expect a conference team to win every road game is asking quite a bit. Utah State is a target every time it goes on the road. Losing one or two road games a season is quite an accomplishment and if there are no egregious losses, it's hard not to include a team in the field that has such an outstanding record.
The NCAA is charged with putting the best 37 at-large teams in the field. But the NCAA also looks to reward conference champs that win convincingly. If the Aggies do so again, it will be interesting to see how the committee handles them. The two key nonconference games the Aggies played they lost -- at BYU and at Georgetown. USU coach Stew Morrill has always said that he doesn't need to change his scheduling philosophy since the Aggies have earned at-large berths with the current plan. He did tweak it a bit this season by going to Georgetown. He still needs to do more and get into a key neutral-site tournament in the coming years. But he might sneak into the tournament again, doing it his way if Utah State finishes with a 15-1 WAC mark. Beating Saint Mary's on the road in the BracketBusters on Saturday would certainly help.
3. Some coaches have resurfaced quite well this season and are proving that they can check their egos at the door and be successful at a lower level. Cliff Ellis, who had his share of success at Clemson and Auburn, is leading quite a run at Coastal Carolina with the Chanticleers atop the Big South (15-0) and holding the longest win streak in the country at 22 games. Dan Monson was pushed out of Minnesota after seven games of the 2006-07 season and resurfaced the next season at Long Beach State. He now has the 49ers at the top of the Big West with a 10-2 record and looking at a No. 1 seed in the conference tournament. Bobby Cremins, who left Georgia Tech -- where they named the court after him -- in 2000, has led a resurgence at the College of Charleston. The Cougars have a 12-2 mark and stand atop the South Division in the Southern Conference and are in a position to get to the NCAA tournament. And in the Sun Belt, the home of so many second and third chances, the two division leaders are led by former big-time coaches in Mike Jarvis (St. John's) at Florida Atlantic in the East and John Brady (LSU) with Arkansas State in the West.
[+] Enlarge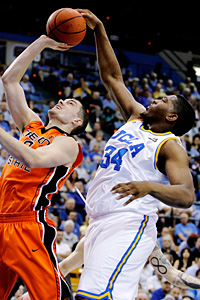 AP Photo/Danny MoloshokDespite an early-season loss to Montana, Joshua Smith and the Bruins are still in the hunt for the Pac-10 title.
4. I'm guilty every season of overreacting to early-season losses. UCLA and Florida are the two latest examples. The Bruins lost at home to Montana and didn't look good in New York in November. Now the Bruins are in position to possibly win the Pac-10 with a 9-3 league record and nonconference wins over BYU and St. John's that may make the Bruins an at-large lock fairly soon. Meanwhile, Florida has assumed its place atop the SEC East with a two-game lead, finishing off close games at home and on the road because of its experienced perimeter and inspired play from
Chandler Parsons
, who played 37 minutes with a bruised hip/thigh that will likely keep him out of practice all week (Florida doesn't play again until Sunday at LSU). How Florida lost at home to Jacksonville and South Carolina is still hard to fathom. But it happened and the Gators are hardly worse off for it now that they're 20-5 overall and 9-2 in the SEC. When will I and others learn to chill over odd losses in November and December? (Remember St. John's losing to Fordham and St. Bonaventure in back-to- back games?) Well, probably never.
5. Long Island University hasn't been to the NCAA tournament since 1997. But the Blackbirds are atop the Northeast Conference with a 12-2 record and are 20-5 overall. The main reason is the return of
Julian Boyd
. The 6-7 sophomore sat out last season with a heart condition that was being reviewed and examined. Well, he has come back, and has been the leader of the LIU revival with 12.2 points and 8.7 rebounds a game. Boyd's return to the Blackbirds has transformed the team and the NEC race. Boyd had a monster effort earlier in the season when he scored 34 points and grabbed 16 rebounds, one of his seven double-doubles on the season. The turnaround of Boyd and LIU is one of the hidden gems of this season.