Precedent indicates show-cause for Pearl
February, 23, 2011
2/23/11
4:39
PM ET
Now that we know what the NCAA believes Bruce Pearl did, the biggest question is how will he be punished?
It will be months before we have an official answer. Tennessee isn't scheduled to appear in front of the Committee on Infractions until June, and typically it takes the COI months to gather its report.
Pearl has been steadfast in his belief that he will have a job at Tennessee in the future. He's equally fervent in his hope that the university's punishment, coupled with the eight-game suspension meted out by SEC commissioner Mike Slive, will satisfy the NCAA.
There's precedent to say he could be wrong.
[+] Enlarge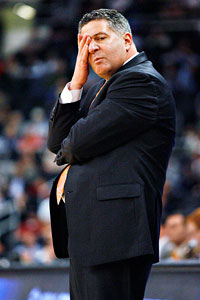 Stew Milne/US PresswireBruce Pearl has already been suspended eight games by SEC commissioner Mike Slive.
A search of the NCAA's legislative services database revealed 20 cases in the past two years in which a coach or athletics department staff member was charged, like Pearl, with unethical conduct.
In all but one of those cases, the individuals involved received at least a two-year show-cause penalty, which would prevent a university from employing the person without seeking permission from the COI.
"Usually when you see something that involves a charge of unethical conduct it reads, 'the
former
coach,''' a source familiar with NCAA investigations told ESPN.com.
The lone exception in those 20 cases involved the investigation of the University of Michigan's football program. A graduate assistant implicated in the charges of excessive practices was charged with unethical conduct after he lied about his involvement to NCAA investigators.
However, the COI ultimately ruled against a show-cause in his case because "at the time of the hearing the former graduate assistant was no longer employed by the institution and was no longer coaching, the committee determined not to impose a show-cause provision against him.''
In the other 19 cases, some of the original charges were considerably more egregious than Pearl's. Hefty impermissible benefits, academic fraud and participating in a fantasy league that constituted gambling were among the worst.
But the common denominator in every single case? A lie.
"Provided false and misleading information during interviews," "failed to divulge," -- choose your verbiage but the inherent mistake was the same: the guilty parties weren't honest.
Some lied directly; others asked people to lie on their behalf.
According to the NCAA's notice of allegations sent to Tennessee, Pearl did both.
Asked to identify a photograph from the now infamous barbecue at his house, Pearl "initially provided false and misleading information to the institution and the NCAA enforcement staff," according to the NCAA. He denied knowing where the picture was taken (at his house) and recognizing another person in the picture (the wife of his longtime assistant, Jason Shay).
Later, Pearl called John Craft, father of recruit and current Ohio State freshman, Aaron Craft. According to the NCAA it was to "remind J. Craft that it was a violation of NCAA legislation for his family to have attended the cookout and that Pearl gave J. Craft a choice to attend the cookout. Pearl's conversation with J. Craft caused J. Craft to believe that Pearl was trying to influence J. Craft's statements to the NCAA enforcement staff."
Lost in translation during a hard-to-decipher teleconference regarding Connecticut's punishments on Tuesday, COI chair Dennis Thomas did offer a critical nugget.
Asked to explain why former director of basketball operations Beau Archibald received a show-cause penalty and head coach Jim Calhoun only a three-game suspension, Thomas said, "When you have an individual who has a show cause for a certain reason, that is a very serious violation in terms of being forthcoming with the enforcement staff and the institution.''
The NCAA, in this regard, is like a parent. Doing something wrong lands you in trouble. Doing something wrong and lying about it equates to a heap of trouble.
Unethical conduct gets a prominent place in the NCAA manual, on page 49 of the 434-page behemoth. The fourth prong on the no-no list for unethical conduct reads, "Knowingly furnishing or knowingly influencing others to furnish the NCAA or the individual's institution false or misleading information,'' which is exactly what the NCAA says Pearl is guilty of.
The wild card with Pearl, of course, is the eight-game suspension. Slive's proactive and unprecedented move separates Pearl from the norm. Some of the parties in the other cases already had been fired -- though in one case, an athletic director still received a show cause -- but none had been punished quite like Pearl.
What remains to be seen is will it be enough? Will an eight-game hit, mandated without the NCAA forcing it, satisfy a COI that normally might bench someone two years?
"I'm sure he'll get credit, so to speak, for the eight games he's already served but is it enough?'' the source said. "This is the first time something like this has happened, so it's hard to predict how this will finish.''