Five nuggets of knowledge about this weekend's games: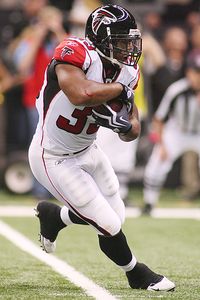 John David Mercer-US PRESSWIRE
The Atlanta Falcons need running back Michael Turner to be healthy for next season.Turner's health is most important. There's been a lot made about the Falcons still having a chance to finish with a winning record in back-to-back seasons for the first time in history. I fully recognize the importance of that and how a strong finish could build momentum for next season. But running back Michael Turner has been gimping around on a bad ankle for the last few weeks. He's said he hopes to play Sunday against the Bills. Coach Mike Smith is a prudent man and I think the prudent thing to do is to sit Turner the next two weeks. Next season is a lot more important than what's left of this star-crossed one for the Falcons. Turner's the centerpiece of this offense and the important thing is to have him at full strength for next September. Besides, the Falcons still have a chance to finish 9-7 with Jason Snelling and Jerious Norwood sharing the duties in the backfield. They're playing Buffalo and Tampa Bay.
Run it up the gut. The Saints pretty much abandoned their running game in last week's loss to Dallas. Even though they've improved their running game this season, they're not exactly known as a team that pounds the ball between the tackles. They might want to re-think that philosophy against Tampa Bay. According to ESPN Stats & Information, the Bucs are allowing a league-worst 4.9 yards a carry on rushes up the middle.
Chance to finish strong. The Bucs showed a lot of good things in the victory over Seattle and my current thinking (and this seems to change about every other day) is that coach Raheem Morris will return for a second season -- if the Bucs can just finish this one respectably. That's not easy because they have to face a New Orleans team that's going to be angry after losing for the first time and then Atlanta in the season finale. But Morris has his team playing hard and rookie quarterback Josh Freeman is doing some good things. I'm not saying the Bucs have to win both or either of the final two games, but decent showings against two division foes could help Morris' chances of sticking around.
Is 8-8 enough? Last Sunday night's victory over the Vikings was a reminder of how disappointing this season has been for Carolina. Against Minnesota, the Panthers showed us how good they could have been. If they play like that Sunday against the Giants and in the season finale against the Saints, will that be good enough for coach John Fox to keep his job? Well, it certainly wouldn't hurt. But I think that Oct. 25 home loss to Buffalo might have done more damage than an 8-8 finish can repair.
Tackling an issue. One thing I'm very curious to see when the Saints host the Bucs is what they do at left tackle. Jermon Bushrod struggled there against Dallas and coach Sean Payton previously benched him for Zach Strief. It's kind of amazing the Saints have been able to hide their issues at left tackle with Jammal Brown out all season. But those issues now have been exposed and Payton needs to find a way to cover them back up. Not sure if the answer is as simple as just subbing in Strief for Bushrod. Whoever is playing left tackle is going to need constant help from the tight ends, guards and running backs.