Sticking with White Sox to win AL Central
July, 19, 2011
7/19/11
11:43
PM ET
"Just stay positive"
--Ozzie Guillen on Twitter, April 21
"Great time the best thing we no talk about baseball"
--Ozzie Guillen, April 25
"Iam in very very bad mood stay away from me the most you can"
--Ozzie Guillen, June 7
It hasn't been the most enjoyable season for White Sox manager Ozzie Guillen. On May 6, the team stood 11-22 after struggling through a 4-18 stretch that included several bullpen implosions. They clawed back to 42-42 and 43-43, but after losing 4-2 against Royals rookie
Danny Duffy
on Tuesday night, the White Sox are 47-50.
Of course, in the AL Central, that means they're in the thick of the pennant race. Which is remarkable considering:
So what's it mean? I'm picking the White Sox to win the AL Central, of course.
Call me stubborn. I picked the Sox at the start of the season.
OK, five reasons they can win the Central:
1. They have the best rotation in the division. The Twins actually have a slightly better rotation ERA, but once you adjust for the homer-friendly confines of the Cell, the White Sox have the best rotation. Detroit may have the best one starter, but
Justin Verlander
is the only starter they have with an ERA under 4.40. Chicago's rotation depth will prove key as the season winds down.
2. Once Danks returns from the DL, they have six starters.
Edwin Jackson
is rumored to be on the trading block. He's a free agent after the season (as is
Mark Buehrle
), so he may not bring back much. But maybe the Sox could find a match with another contender and get a hitter with an average above .158 or on-base percentage above .260.
3. The bullpen is deep and solid. The bullpen ERA was 3.36 entering Tuesday, fifth in the AL. The Indians were 3.29 and the Tigers 4.78. But I like Chicago's power arms: 258 strikeouts in 254 innings, versus Cleveland's 224 in 276 2/3 innings. Indians closer Chris Perez's poor 23/18 strikeout/walk ratio is a warning sign (as I mentioned when he was selected to the All-Star team) and he's allowed runs in three of his past four appearances, drawing two losses in the process.
4.
Paul Konerko
is raking. He's not
Jose Bautista
or
Adrian Gonzalez
, but he gives the White Sox one of the best hitters in the league. And in 2011, with a deep pitching staff and two hitters like Konerko and
Carlos Quentin
, you just may be able to score enough runs.
5. It's the AL Central!
OK, look, there's no way Dunn, Rios and Morel will continue to be this bad. They'll either play better or Ozzie will start playing other guys. Otherwise we'll soon see a tweet like this:
"Moving Juan Pierre to fifth hole. Don't laugh hes one of our best hitters."
--Ozze Guillen, July 29
PHOTO OF THE DAY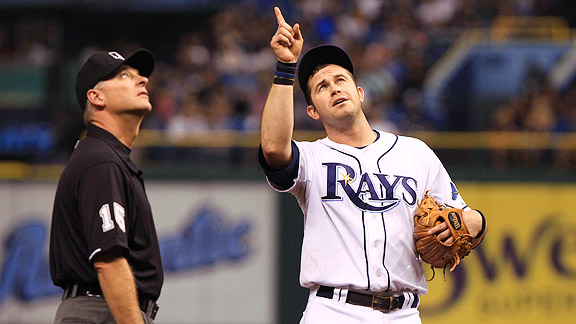 Kim Klement/US PresswireOK, see, if you look up there, you'll see it. No, over there. See it? No, look up.