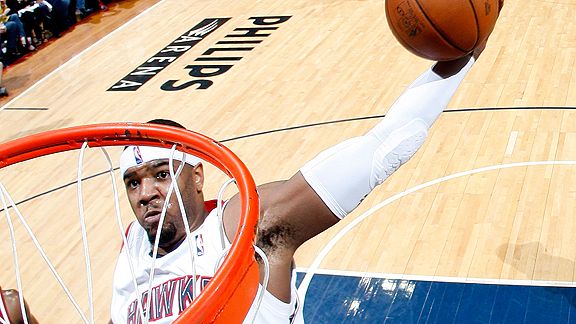 Kevin C. Cox/Getty Images Sport
Josh Smith: one Hawk who is right at home in the playoffs.
The playoffs are different. The fouls are harder, the preparation is more intense, the defensive schemes are more focused, and the easy shots are memories. The emotional burden can be high; nerves can fray. It's not for everybody (see the accompanying naughty list).
All those realities can sometimes reshuffle our traditional notions of which players are great and which aren't. Some thrive in this setting; others fade.
The road to the Finals is long, and two or three games are not nearly enough to declare the playoffs' heroes and goats -- one bad shooting night can destroy your productivity. On the other hand, two or three games absolutely matter -- it takes only four to move on or be eliminated.
Here's a peek at 10 players who are ahead of the curve in the early going:
Josh Smith
Only Jason Richardson has a playoff PER better than Atlanta's super-athlete, who is more than proving people wrong for that All-Star snub. He has made 15 of 21 shots, and is among the league's leaders in two hugely important categories: field goal percentage and rebounding percentage. In his 72 minutes, he has also had 13 assists, six blocks and just two turnovers. All of the Atlanta starters have amazing plus/minus numbers so far, and Smith is no exception -- the Hawks have been about 40 points better per 100 possessions when he's in the game.
Jason Richardson
The Suns guard started the playoffs as something of a goat. He was the guy who was supposed to be guarding Andre Miller when Miller led Portland to a Game 1 road win. Since Alvin Gentry switched Grant Hill onto Miller, however, Richardson has taken off. It's amazing what two straight scorching hot shooting nights can do for your production: Today Richardson leads the entire NBA in playoff PER. Even including his bad early stretch, he's now a ridiculous 14-of-23 from downtown in three games. Thursday night Richardson had 42 points, as described by Michael Schwartz of Valley of the Suns: "That's a playoff career high and two shy of an overall career high. He's 24-of-35 (68.6 percent) from the field and 12-of-17 (70.6 percent) from three the past two games, and he's averaging eight boards a game from the shooting guard spot."
Kevin Durant
The Thunder's MVP candidate is making his playoff debut, is being hounded by a very aggressive Ron Artest and has taken some punishment in the box score -- he has made just 27 of his bullish 74 shots from the floor, and has turned the ball over 14 times compared to just seven assists. But the Thunder are hanging tough with the Lakers, and Durant is a big part of that story.
"There's no human on the planet who would score efficiently against what the Lakers are doing to Kevin Durant," says David Thorpe. "It is very clear their game plan is to stop him at all costs, and we're not talking about a bad defensive team. Maybe you'd prefer he shoot 68 shots instead of 74, but generally the Thunder need him to stay aggressive. If he passed a ton more they'd have even more turnovers, because that's not what they do. And he was pretty great in Game 3, I thought. His guarding Kobe Bryant in crunch time was the story of the playoffs so far."
LeBron James
He's a lock for this season's MVP award, and he has been as good as ever in the playoffs. Thorpe tossed out 68 as a good number of shots for Durant to have taken, and as it happens, that's how many James has launched. He has hit 39 of those, and has made nearly half of his 13 3-pointers. He also has 24 rebounds, 21 assists and -- my favorite -- nine blocks.
Deron Williams
His stats are up there with the best, but the real point of the story is on video, where Williams wills the Jazz to an undermanned road win against the Nuggets, after everybody had counted them out after Mehmet Okur's injury.
Joakim Noah
Matt McHale of By the Horns: "He took all the pressure onto his own shoulders by blasting the city of Cleveland, and gave the Bulls their first whiff of an identity by being the underdog team that isn't afraid of LeBron James. I could quote numbers -- for instance, he had the best plus-minus score (+13) in Chicago's two-point win -- but forget the stats. He's the Bulls' spiritual leader."
Ersan Ilyasova
Total rebound percentage is one of my favorite stats. Simply put, of all the missed shots while a player was on the floor, what percentage of those did a player grab? Ilyasova is blowing everybody away in the early going of the playoffs. He's one of ten players on the floor, and he's grabbing more than a quarter of the total rebounds. That's just greedy. As a reference point, Dwight Howard is grabbing about 19 percent, and Ilyasova's playoff PER is better than Howard's.
Ron Artest
Sebastian Pruiti of NBA Playbook: "He has really stepped up his defense big time and is playing the way he used to when people considered him the best perimeter defender in the league. Just the way he is man-handling Kevin Durant is really impressive. In one play, Artest forces Durant out of bounds when running off the screen, giving himself room to avoid tangling with the picks. He has been deflecting a ton of basketballs and knocking a bunch away from Durant."
Gerald Wallace
Coaches everywhere should be showing young players highlight reels of Wallace's outlandish all-out hustle and tenacity. Time and again he drives hard into Howard. Nobody beats him to the far end of the court, nor to the floor -- if that's where the ball's headed. "Hard-nosed" doesn't begin to describe his playoff mentality.
C.J. Miles
According to one Western Conference executive, the early days of these playoffs have been "a C.J. Miles coming-out party." Miles' stats are good enough -- two games in, his playoff PER puts him in the same neighborhood as players like Durant and Bryant -- but more than that, he has been part of many of Utah's best plays. His lively presence has been almost enough to get Deron Williams to stop talking about Ronnie Brewer, who played a similar role for the Jazz before they traded him to Memphis midseason in a cost-cutting move.