September, 11, 2013
9/11/13
3:00
PM ET
Here are a few quick notes off the ACC coaches call on Wednesday:
Maryland coach Randy Edsall makes his return to Connecticut on Saturday when the Terps visit his former team. Last season, Edsall had to answer questions about playing his old team when UConn traveled to College Park. The story lines continues this week because he will be returning to a place he called home for 12 years.
"I've got fond memories of Connecticut, fond memories of Rentschler Field and hopefully we come away with a victory," Edsall said. "Connecticut was very good to me and my family. Had a great experience there. What you've got to do is take everything and put it to the side and focus and concentrate on getting our team prepared. I know they're going to be fired up, I know it's a tough place to play having coached in that stadium so it's got to be something we have to be ready for."
UConn beat Maryland in 2012, but the Huskies come into this season's game off a loss to FCS Towson. Maryland, meanwhile, is off to a 2-0 start and appears to be in much better shape than UConn. The Huskies have not made a bowl game since Edsall took them to the Fiesta Bowl in the 2010 season. Wonder whether the homestanding fans will
cheer or boo
Edsall in his return.
Virginia Tech coach Frank Beamer had high praise for Alston Smith, who was moved from defensive tackle to offensive guard earlier this week. Smith, the son of Bruce Smith, was "exceptional" in his first day of practice with the offensive line. "He's athletic, he's got good feet, he's a natural guy in there and so I was really encouraged by watching that." Beamer also added that defensive tackle Corey Marshall had a great day of practice Tuesday, his first since returning to the team to deal with personal matters. "He helped our offense get better by being very aggressive as a defensive scout team member," Beamer said.
There is no question Boston College coach Steve Addazio is thrilled with the progress he is seen out of his team, off to a 2-0 start with a big game at USC looming on Saturday. But he also wants to keep the quick start in perspective. "I just think we're scrapping, we're playing physical, we're trying to be true to the core values we want within our program," Addazio said. "It's nice to get that start, but understand we're a work in progress."
Duke coach David Cutcliffe reiterated that he would like to get freshman quarterback Parker Boehme some playing time with starter Anthony Boone out indefinitely because of a broken collarbone. The initial plan going into the season was to try and redshirt Boehme but the injury has changed everything. Boehme will serve as the backup to Brandon Connette until Boone returns. "If something were to happen and Brandon's out for a few plays, I wouldn't be afraid to play Parker," Cutcliffe said. "I think he's played well."
Miami beat Florida thanks to a solid defensive performance, especially from a much more physical defensive front. Coach Al Golden said a big reason his team was so effective along the line was because of its rotation. Defensive end Anthony Chickillo played 71 snaps, but everybody else stayed in the 40s. "We refused to get worn down and we rotated," Golden said. "Hopefully that rotation will get stronger." Golden says the plan during the bye is to get more inexperienced players like Ufomba Kamalu and Jelani Hamilton ready for more playing time.
Speaking of Miami and Florida, Florida State coach Jimbo Fisher caught the end of the game last weekend after his team finished practiced. Asked for his impressions, Fisher said, "Heck of a football game, very competitive, a lot of great players on both sides. Two very good football teams," he said. "We'll have to get a lot better before we play them." The Noles play both teams in November.
Despite its struggles running the option in a loss to Boston College last week, Wake Forest coach Jim Grobe says he has no plans to scrap it from the offensive game plan. "Nobody played real well," Grobe said. "We didn't block well, didn't run well. It was not anything to do with the run game. The offense, in general, just did not play very well."
June, 26, 2013
6/26/13
9:00
AM ET
The college sports calendar is on the verge of flipping to the next season, so it seems appropriate to reflect on the season that was.
Undoubtedly, there has been no bigger story in collegiate athletics than Louisville over the past year.
[+] Enlarge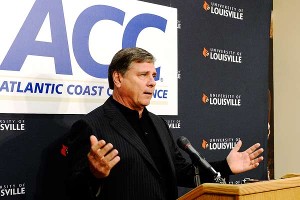 Timothy D. Easley/AP PhotoTom Jurich has guided the Cardinals from an athletic department in disarray to one that is winning national titles and moving to the ACC.
But you will never hear the man running the athletic department say that. Tom Jurich uses words like "magical" to describe the incredible run of success the Cardinals had in 2012-13, punctuated by an impending move to the ACC, as if outside forces pulled invisible strings to get Louisville where it is.
No magic was required. Jurich, widely recognized as one of the savviest athletic directors in the entire business, saw a small window in November to make up for a lost opportunity. Last year, the Big 12 decided on West Virginia over Louisville. Mountaineers fans rejoiced. Louisville fans cringed.
But when Maryland left for the Big Ten, Jurich had his second chance. If you know Tom Jurich, then you know he was not going to let this opportunity slip away. He started being proactive. And he ignored all the outside speculation that UConn was next in line to join the ACC. So much so, that a recent conversation about how Louisville got into the ACC went this way:
How did you outmaneuver UConn to get into the ACC?
"I didn't outmaneuver anybody," Jurich said. "I just put our story out there."
Well, UConn was thought to be the favorite to get the spot.
"Nobody told me that," Jurich said. "So I just worried about selling Louisville. That's all I worried about."
Turns out, the on-field-product backed up his salesmanship. In the time Louisville joined the ACC:
The football team beat Florida in the Allstate Sugar Bowl.

Jurich signed coach Charlie Strong to an eight-year contract extension worth $3.7 million annually, which makes him the seventh-highest paid coach in college football and highest paid in the ACC.

The men's basketball team won a national title.

The women's basketball team played for a national title.

The baseball team made the College World Series.

Louisville became one of just four schools since 1998 to win football, men's basketball and baseball conference titles in the same season. Kansas Sate also did it this year. Stanford did it in 1999-00 and Texas in 2005-06.
Strong calls Jurich "amazing" and the "mastermind" behind the entire athletic department. Indeed, Jurich inherited a department in shambles when he arrived in 1997 and turned it into one that has made two big conference leaps (first C-USA to the Big East) and will now have the second-highest athletics budget in the ACC. Only Florida State spends more.
If the first conference move can be used as an example, then Louisville clearly benefited from the step up in competition. Critics, however, will point out that this step -- from a watered-down Big East to the ACC -- is even bigger. Jurich knows that.
"That's the important thing. It's not so much winning a national title here or playing for another one or winning the Sugar Bowl. It's: How do we sustain it?" he said. "Certainly my expectations are not -- we're not going to be at that level every year but I want to be in that conversation every year."
Louisville already has plans to build an $8 million academics center for its student-athletes, and is in the very preliminary stages for revamping its football complex. Jurich says he will spend more on athletics only if it is good for the school and community. But he clearly knows what's at stake.
And where Louisville still has to go, despite its success this sports season.
"We've got a strategic plan in our department that we live by and that's just to get better every single day and we're going to do everything we possibly can to get better every single day," Jurich said. "We will never rest on our laurels. We're always going to be very humble and hungry and we're always going to be a blue-collar school."
September, 17, 2012
9/17/12
10:00
AM ET
Here's a look back at Week 3 in the ACC:
The good:
Two top-10 teams played like two top-10 teams. No. 4 Florida State and No. 10 Clemson both took care of business and dominated their respective opponents. The Seminoles shut out Wake Forest 52-0, and Clemson beat Furman 41-7.
[+] Enlarge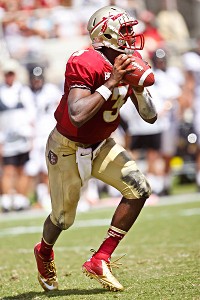 Cal Sport Media via AP ImagesQuarterback EJ Manuel and Florida State handled Wake Forest easily, 52-0.
The great:
The return of Duke receiver
Blair Holliday
. It was the best story in the ACC this weekend, as Holliday joined his teammates again for the first time since he suffered a severe head injury in a July 4 jet ski accident. Holliday, who had to learn to walk and talk again, led his team in the pregame walk to the stadium, and was on the field for the coin toss. It was an emotion pregame for Holliday and his friends and family.
The bad:
The ACC's 0-3 record against the Big East. The ACC struck out this weekend, losing to Pittsburgh, Connecticut and Louisville. Two of those were road losses, as the Hokies snapped their nation-leading streak of 13 straight true road wins with the loss at Pitt, and UNC's comeback fell short at No. 19 Louisville. Maryland lost at home to Randy Edsall's former team.
The ugly:
Virginia Tech's performance. We've already rehashed this enough -- nobody but Pitt wants to rewind this game film.
The surprise:
Clemson president Jim Barker snuck into the Tigers' mascot costume at halftime, and acted as the mascot until Clemson's third touchdown put the Tigers up 27-7 over Furman. Barker did the requisite 27 pushups (one for each point) before pulling off the head of the costume and revealing himself to the crowd.
The stat:
According to ESPN's Stats & Information, three of the six most lopsided ACC wins in Florida State history have come at home against the Demon Deacons (+59 in 1995, +54 in 1993, and +52 in 2012).
The stat II:
Florida State has held 11 straight opponents to under 20 points. According to ESPN's Stats & Info, it's the longest such active streak and longest by an ACC team since Virginia Tech did it in 12 straight over the 2004 and 2005 seasons.
The stat III:
Dating back to 2006, when Virginia Tech was ranked No. 11 and lost to Georgia Tech, the Hokies have lost before October in all but one season when they were ranked No. 17 or higher. The lone exception was in 2011, according to ESPN's Stats & Info.
The record:
With his two field goals in the win over Furman, Clemson PK
Chandler Catanzaro
has made 14 straight, a streak that began in the 2011 season. He is currently tied with former Tiger standout Obed Arriri, who made 14 straight field goals during the 1980 season when he led the nation with 23. The ACC record is 27 straight set by NC State's Marc Primanti during the 1995-96 seasons. Catanzaro is now 42-55 over his career, a .764 percentage.
The overmatched
: NC Central. Duke won 54-17 and scored touchdowns on offense, defense and special teams for the first time since 2004. They improved to 2-1 for the first time since 2008, coach David Cutcliffe's first season.
September, 15, 2012
9/15/12
3:59
PM ET
A defensive struggle through the first three quarters turned into a down-to-the wire finish between UConn and Maryland in the "Edsall Bowl" on Saturday afternoon.


In the end, the Huskies defense proved to be too much for the young Maryland offense, and they held on to beat former coach Randy Edsall
24-21
in College Park. UConn linebackers
Sio Moore
and
Yawin Smallwood
wreaked havoc all day long, but Maryland quarterback
Perry Hills
made some big fourth-quarter plays to help give his team a shot at the win.
After getting the ball back with 3:29 left, Hills made a few nice passes, including a third-down conversion to
Stefon Diggs
to keep the drive alive. But a third-and-13 at the UConn 35 resulted in a loss of 4 yards, and then Hills threw incomplete in the end zone to end the game.
Hills continued to mature, but he also had his share of mistakes. Maryland had two turnovers -- all to Hills (one interception, one fumble). He finished 10-of -24 for 109 yards, after going 2-of-11 for 24 yards in the first half. What really kept Maryland in the game were some big plays from Diggs, who had 223 all-purpose yards as a receiver, kickoff returner and punt returner. His 29-yard touchdown catch was pretty terrific, considering it was tipped by a teammate and into his hands.
For the third straight game, the UConn offense was completely ineffective. The Huskies got a huge lift from their special teams, as
Nick Williams
returned a punt 58 yards to start the scoring. But it almost seemed as if the Huskies had no confidence in
Chandler Whitmer
or their pass game. Whitmer went 10-of-16 with no touchdowns and no interceptions. With a chance to ice the game late, he threw a terrible pass incomplete that gave the Terps their final shot at the win.
UConn finished with 223 total yards -- and won. It can thank its defense. Despite some ragged play in the fourth quarter, that unit stepped up when it needed to, and came up with the big plays on the final Maryland drive.
September, 13, 2012
9/13/12
1:00
PM ET
If Maryland coach Randy Edsall has any emotions whatsoever about playing his former team and players on Saturday, he's done as good a job of concealing them this week as he did hiding his intentions to leave Connecticut in the first place.
"This week is really no different to me than any other week," he said. "It's just Game 3 on our schedule. I haven't done anything different up until this point and I'm not going to do anything different from here on in. There are some people that I'd like to see after the game to say hello to and wish them well, but I am going to continue to focus on my players, the University of Maryland players all week."
The truth is, Edsall's departure from UConn more than a year ago was awkward for just about everyone but Edsall. He conceded as much this week when he told reporters he wished he could have talked to his players in person to tell them about his decision to accept the Maryland job. Now, as he prepares to face the Huskies for the first time since he left Storrs for College Park, he does so downplaying the most obvious storyline of the game -- his connections to Connecticut.
[+] Enlarge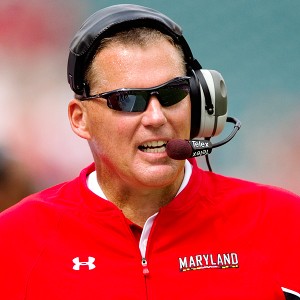 Howard Smith/US PRESSWIRE"Everyone has their reasons for doing what they want to do in life and to me this is the third game on the schedule and it just happens to be against Connecticut," Randy Edsall said.
"I follow them, because I got to know them, but you wish them well and everything except if you are going to play them," he said. "Everyone has their reasons for doing what they want to do in life and to me this is the third game on the schedule and it just happens to be against Connecticut."
To some Huskies, though, it's more than just Game 3.
"It's not going to be hard to get fired up for that one, definitely," defensive tackle
Ryan Wirth
told
the Associated Press
. "That's about it. That's all I'm going to say about that."
Not all of Connecticut's players were so outspoken.
"Really at first I was a bit surprised, but now I've come to realize it's business," said defensive end
Trevardo Williams
. "It's nothing personal. I'm not taking anything to heart because it didn't affect me personally. I could understand the move he made was for his benefit. It's not going to bother me."
If there are any underlying emotions in this game, they appear to be geared more towards the importance of this game to Edsall's career. Maryland (2-0) has already matched last year's win total, now it's trying to start out 3-0 for the first time since 2001, when it won the ACC championship.
Edsall wouldn't say this week if he might have a competitive advantage because of his familiarity with the former players he recruited. It works both ways, though -- Uconn knows how Edsall thinks, too.
Edsall said NCAA rules have prevented him from keeping in touch with his former players, but he left a lasting impact on some. Edsall was the only coach to offer Connecticut linebacker
Sio Moore
a scholarship out of high school.
"I just want to show him I'm a good player," Moore said. "He was hard on me while he was here, and he was hard on me because he thought I was going to be a good player. To me, I just want to show him I am a good player, and really, a lot of people are saying we're licking our chops to get back at Coach Edsall. It's not that. We're going out there to play Maryland. Coach Edsall is not out there in pads, where I can play against him. He is the one who saw something in me that I didn't see in myself."
Moore said he doesn't hold anything against Edsall for the way he left.
"It wasn't the best situation or the best way to handle it, but at the end of the day, he did what he had to do," Moore said. "I wasn't angry about the way it happened, I was angry about losing my coach. When you come to college, you don't plan on being there four or five years and the coach who brought you in not being there anymore. But honestly what he did, why he did it, he did it for himself, his career and for his family. There's no hard feelings. I still respect him."
September, 12, 2012
9/12/12
12:00
PM ET
September, 8, 2012
9/08/12
3:54
PM ET
Well, neither game was a beauty to watch, but both Maryland and NC State survived their Big East opponents to pull out victories Saturday afternoon. Here is a quick look at both.


Maryland 36, Temple 27:
For those Terps fans who had visions of another collapse (
ahem NC State
), give credit to true freshmen
Perry Hills
for leading this team on a defining drive. Maryland was in huge danger of blowing a 26-3 halftime lead after Temple clawed its way back to within 29-27. But Hills led an 11-play, 75 yard drive -- with a huge 38-yard throw to
Stefon Diggs
on third down.
Justus Pickett
scored on a 7-yard touchdown run to seal the victory.
For an offense that was absolutely dreadful in a loss to William & Mary last week, there were major signs of encouragement. Maryland had 19 first downs and 334 total yards. Maryland only had 13 first downs last week against William & Mary. The Terps had 12 in the first half against Temple.
And there was moxie in that final drive. No folding up the tents with so many youngsters on the field. But there were also signs of discouragement -- running back
Wes Brown
had two fumbles -- one led to the touchdown that pulled Temple within two points late; Diggs muffed a punt return, and Hills also had a fumble early on. Somehow, Maryland is 2-0 after turning the ball over eight times in two games, and delivered one of the biggest early surprises of the day.
For Temple, the Owls just made too many mistakes to overcome. There were four personal fouls, and seven penalties for 72 yards; a safety on a bad snap; three turnovers, nine first downs and only 230 total yards. Running back Matt Brown (ankle) was banged up; and in and out of the game. There were some flashes in the passing game with
Chris Coyer
(playing with a 101 degree fever) but this team is not built to pass when it falls behind by 23 points. So much for looking like the best team in the state of Pennsylvania


NC State 10, UConn 7:
The offense was missing for both teams in this game, as neither looked ready for prime-time. But you could say the Wolfpack made one more big play than the Huskies, and that was the difference in the game.
Mike Glennon
was better than last week, but still not great. Still, his beautiful 46-yard touchdown pass to a super-stretched out
Bryan Underwood
was the longest gain for either team.
Neither offensive line has much to brag about. UConn has had issues now for two straight games with its run game. Going into this one, coach Paul Pasqualoni said he wanted to see a huge improvement out of this group, but he didn't get it. Neither team was able to run the ball. NC State had 54 yards on the ground; UConn had 35 -- and 15 of those came on one late run. The NC State offensive line, which is supposed to be among the best in the ACC, had problems containing what is shaping up to be one of the best defenses in the Big East.
UConn had six sacks and a really terrific defensive performance, but unless its offense can score, UConn is going to be in for a rough year.
At least NC State cornerback
David Amerson
had a bounce-back game. He got his first interception of the year, and then preserved the win when he broke up a fourth-down pass attempt by
Chandler Whitmer
with a little over a minute to go. Whitmer was just not very good for UConn, throwing three interceptions and never putting his team in position to win.
The Pack's 10 points were the least in a victory since beating South Carolina 10-0 in the second game of the 1999 season.
September, 5, 2012
9/05/12
4:00
PM ET
I was shocked -- shocked I tell you -- that none of the teams on
last week's Upset Watch
fell. Usually there's at least one surprise in the ACC every week, but the conference pretty much stuck to the script, with Virginia Tech, Clemson and Maryland all winning. (I remind you the upset watch is
not
a list of predictions, rather it is a look at the teams with the best chance to be upset or cause one). With four FCS schools, one MAC school and two Big East schools on the schedule this week, there should be no reason for concern this week … right?
Wrong.
Here's your Week 2 upset watch (and no, a Temple win against Maryland is no longer considered an upset. It's expected):
1. NC State at Connecticut
: The Wolfpack is notorious for its slow starts and strong finishes under coach Tom O'Brien. Was the loss to Tennessee an anomaly, or was it the continuation of that trend? We'll find out when the Pack travels to Storrs, Conn. NC State had four turnovers on Friday, and Connecticut beat Massachusetts, 37-0. UConn linebacker
Yawin Smallwood
had seven tackles, including 3.5 for lost yardage, as the Huskies limited UMass to 59 total yards. Connecticut is one of the better teams in the Big East, but it's still a game NC State should win.
2. Duke at Stanford:
Considering the way Stanford played in its 20-17 win against San Jose State, Duke's biggest obstacle might be the cross-country travel and 10:30 p.m. ET kick. The Blue Devils are confident after their 46-26 win against FIU last week. Duke receiver
Conner Vernon
became the school's career leader in receptions last week with 208, and linebacker
Austin Gamble
had 11 tackles, a forced fumble and blocked kick.
3. Miami at No. 21 Kansas State:
This is going to be an uphill battle for a team that played 12 true freshmen in its road win against Boston College, but that's the point -- the Canes managed to win their ACC opener on the road with such a young team. It's brimming with potential, but Kansas State is a better team than Boston College. Miami will need to improve quickly to pull this off. Watch the running backs in this game, as Miami freshman
Duke Johnson
scored on touchdown runs of 54 and 56 yards against Boston College, and Kansas State running back
John Hubert
rushed for 152 yards on 12 carries vs. Missouri State.
September, 5, 2012
9/05/12
2:00
PM ET
NC State coach Tom O'Brien pointed to 10 plays that were the difference in last week's 35-21 loss to Tennessee: Five on defense "that accounted for half the yardage," and four interceptions and one fumble on offense.
"Those 10 plays dictated the final," O'Brien said.
How the team responds this week will dictate whether or not the Wolfpack stand a chance on the road against an unranked Connecticut team. There are several teams in the ACC that need to show some resiliency this week, starting with NC State. The Pack had an opportunity to represent the ACC against the SEC on Friday night in a nationally televised game, but made too many mistakes in a 35-21 loss. Maryland beat William & Mary 7-6, but it wasn't pretty. The Terps and NC State combined for eight turnovers in Week 1.
[+] Enlarge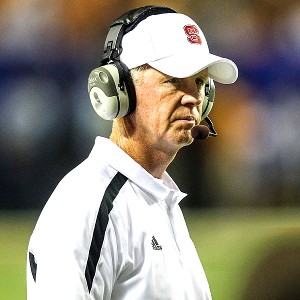 Daniel Shirey/US PresswireTom O'Brien and NC State didn't get off to the start they wanted in the season opener.
O'Brien said his team has been focused the past two mornings, but that they have to be even better the rest of the week.
"Every loss concerns me," O'Brien said. "You have to be concerned right now that we had a chance to do something and we didn't make it work."
They're not the only ones. Boston College lost a tough game to Miami, and Georgia Tech is trying to recover from its 20-17 Monday night loss to Virginia Tech in a game that gave the Hokies the early lead in the Coastal Division standings. The Jackets shouldn't have much of a problem at home against FCS opponent Presbyterian.
"We're coming off a very tough, physical football game, a game that was really kind of gut-wrenching for an opening-season game," said Georgia Tech coach Paul Johnson. "… It's going to be a bounce-back game for us to see how we can handle a little adversity, come home, settle in and see if we can't play a lot better than we played on Monday night."
Overall, it was a good opening week for the Coastal Division, but the Atlantic Division has more to prove in Week 2, with losses by Boston College and NC State, and near-misses from Wake Forest and Maryland.
Expectations were higher for the Pack, but the Terps looked about as you might expect, considering 10 potential starters missed the game, including quarterback
C.J. Brown
, who suffered a season-ending knee injury this preseason. Maryland played 12 true freshmen in its opener, including starting quarterback
Perry Hills
. Seven players made their first career starts against the Tribe, and the Terps have 14 true freshmen listed on their two-deep depth chart this week, the third most of any team in the FBS behind Colorado (16) and Texas (15).
"We're a very young team on offense," Edsall said. "… We just have to make sure we don't try and do too much, and we do enough to just be able to go out and execute better."
Better than last year.
Maryland was humbled at home in 2011 with a 38-7 loss to the Owls, who are now in the Big East. It was a surprising upset, as Maryland entered the game 6-0 against Temple. Edsall said the coaches and players remember what happened, but that they have to focus on who they are this year and "go about their business."
"I think the biggest thing is, that was last year," Edsall said. "I talked about last year's game and we have to play a whole lot better than we did a year ago."
And last week.
July, 9, 2012
7/09/12
9:00
AM ET
George Welsh. Frank Howard. Bobby Dodd. Bobby Bowden. Wallace Wade.
For ACC fans, these names should be as familiar as their next-door neighbors'. They're the some of the ACC's most successful coaches, and through years of winning, they became the faces of their programs, the namesakes of their fields and stadiums – and, in one case -- a rock.
[+] Enlarge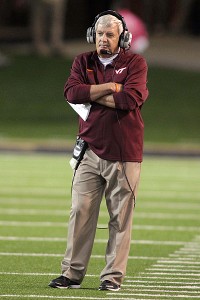 Jeremy Brevard/US PresswireVirginia Tech coach Frank Beamer is currently the winningest active coach in the country.
ESPN.com this week is looking at the game's greatest coaches and the impact they had on their respective programs. The project is a measure of which programs have been defined by their most successful coaches, and which have found success from a variety of leaders. For that, we turn to the numbers. The following is a list looking at the most successful coach for each school in the ACC, followed by his win-loss record there, and what the program's winning percentage is without its No. 1 coach:
Boston College:
Tom O'Brien 75-45 (.577 without coach)
Clemson:
Frank Howard, 165-118-12 (.594)
Duke:
Wallace Wade 110-36-7 .440
Florida State:
Bobby Bowden, 304-97-4 (.551)
Georgia Tech:
Bobby Dodd, 165-64-8 (.565)
Maryland:
Curley Byrd, 119-82-15 (.515)
Miami:
Andy Gustafson, 93-65-3 (.645)
North Carolina:
Dick Crum, 72-41-3 (.560)
NC State:
Earle Edwards, 77-88-8 (.513)
Virginia:
George Welsh, 134-86-3 (.511)
Virginia Tech:
Frank Beamer, 209-98-2 (.583)
Wake Forest:
D.C. Walker, 77-51-6 (.384)
Now that you've been introduced to Curley Byrd, and learned Andy Gustafson is Miami's winningest coach and not Jimmy Johnson, let's take a closer look at these numbers. Obviously this research is based on total wins, not winning percentage. Jimmy Johnson was 52-9 (.852) and Dennis Erickson (63-9) was .875. Those are the names, along with Howard Schnellenberger, that are synonymous with national titles and tradition at Miami. The other coach that seems a bit out of place is D.C. Walker at Wake Forest. Jim Grobe has been credited with ushering the Deacs through their most successful period in school history, yet he enters his 12th season with 68 wins at the school. There should be little doubt Grobe finishes his career there with more than 77 wins.
While Grobe is likely to end up on this list, there are two current coaches already on it in O'Brien and Beamer. O'Brien, of course, is now at NC State, where he has a 33-30 record in five years. (You'll notice the Wolfpack's leader is the lone coach listed who actually has a losing record.) Beamer is currently the winningest active coach in the country. Technically, there are three current ACC coaches listed on the entire database, as Maryland's Randy Edsall is also the winningest coach at Connecticut with 74 wins (74-70). As for which coach might be considered the most valuable to his program based on its record without him?
Take a look at the numbers for Duke and Wake Forest -- the only two programs that fell below .500 without their No. 1 coach. For all of the praise heaped upon Beamer for building his alma mater into a national contender -- and deservedly so – I would have thought the Hokies struggled more without him. Instead, the numbers remind us what a tremendous impact Walker and Wade also made on their respective programs.
It's also worth noting that without Bobby Bowden, Florida State only won 171 games. Total. That's remarkable, considering Bowden alone won 304. It also puts into perspective the longevity of his career, as Beamer is still coaching and enters this season with 251 career wins in 31 years. Bowden won 64 percent of the program's games (304 of 475). Beamer won 30.3 percent of Virginia Tech's (209 of 689). Of course, Virginia Tech's program has played many more games overall than Florida State, but it's interesting to see just how much of the program's overall success each coach has contributed to.
Factors such as the length of the coaches' careers, how long the program has existed, and actual winning percentages should be considered when analyzing these numbers. There's always more to the story, though, than statistics. Imagine this: What would Florida State and Virginia Tech look like today without the contributions of Bowden and Beamer?
Some things simply can't be measured.
June, 20, 2012
6/20/12
9:00
AM ET
ACC commissioner John Swofford has said that the conference would prefer to have strength of schedule considered during the selection process for a four-team playoff. Well, just how strong are the ACC schedules this year? The league has some statement games against SEC opponents Auburn, South Carolina, Florida and Georgia. Three teams will face Notre Dame, and Maryland will travel to play what should be a top-10 West Virginia team. There are also 13 FCS opponents on the schedule. How do they all stack up? Here's a ranking, starting with the most difficult:

1. Miami (at Kansas State, Bethune-Cookman, at Notre Dame, South Florida):
Having to play on the road at K-State and against the Irish in Chicago won't be easy for this young team, and South Florida returns 18 starters.
2. Clemson (Auburn, Ball State, Furman, South Carolina):
Having two SEC opponents on the schedule, including the season opener in Atlanta against Auburn, carries significant weight.
3. Virginia (Richmond, Penn State, at TCU, Louisiana Tech):
Nobody knows what to make of Penn State right now, but the Nits and a road trip to what should be a preseason top-25 TCU team earned Mike London some points in this ranking.
4. Maryland (William & Mary, at Temple, Connecticut, at West Virginia):
Two road trips gave the Terps a boost in this ranking, and three of the four teams are now in BCS conferences, as Temple joined the Big East.
5. NC State (Tennessee, at Connecticut, South Alabama, The Citadel):
The Pack loses some points for South Alabama and The Citadel, but a Friday night game in Atlanta against an SEC team, and a road trip to a Big East team balance it out.
6. Florida State (Murray State, Savannah State, at South Florida, Florida):
Two FCS schools weigh the Noles down, even though West Virginia put FSU in this position by backing out.
7. Virginia Tech (Austin Peay, at Pittsburgh, Bowling Green, Cincinnati):
The road trip to Pitt will be the most difficult of the four, but Cincinnati loses Big East Offensive Player of the Year Isaiah Pead and Big East Co-Defensive Player of the Year Derek Wolfe.
8. Georgia Tech (Presbyterian, Middle Tennessee, BYU, at Georgia):
BYU and Georgia lend credence to this schedule, but the Jackets beat Middle Tennessee 49-21 last year.
9. Wake Forest (Liberty, Army, at Notre Dame, Vanderbilt):
It looks a lot like BC's lineup, but the Deacs have to face the Irish on the road.
10. Boston College (Maine, at Northwestern, at Army, Notre Dame):
The Eagles lost to Northwestern and Notre Dame last year, and should be challenged by both again.
11. Duke (Florida International, at Stanford, North Carolina Central, Memphis):
The road trip to Stanford isn't enough to outweigh NC Central and Memphis. FIU is a legitimately good team, but Duke should still be expected to win.
12. North Carolina (Elon, at Louisville, East Carolina, Idaho):
First-year coach Larry Fedora needs to take advantage of this lineup. Never overlook ECU, though, and Louisville might be the best team in the Big East.