January, 22, 2014
Jan 22
3:40
PM ET
The ACC will once
again play one of the toughest nonconference schedules
in the country in 2014, but that should not be the biggest takeaway from Wednesday.
Difficult out-of-conference slates have become the norm for a league that has stepped it up more than any other power-five conference in the scheduling department. Games against Georgia, Oklahoma State, UCLA, Nebraska, USC and Ohio State in 2014 compare to games played against Penn State, Oregon, Alabama, BYU and Florida in 2013 (Georgia and USC were nonconference opponents last year, too).
What truly stood out with the complete ACC schedule release is what the league is attempting to do with the final weekend of the regular season. An idea tossed around to make it a "rivalry weekend" across the entire league appears to have come to fruition, at least for now.
[+] Enlarge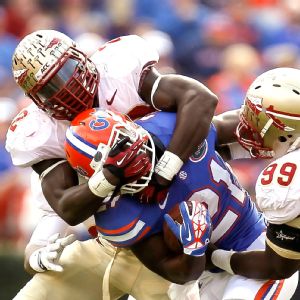 Don Juan Moore/Getty ImagesThe annual Florida State-Florida matchup is getting some rivalry company on the ACC's schedule for the final weekend of the 2014 season.
In addition to longtime rivalry games Florida State-Florida, Clemson-South Carolina, Georgia-Georgia Tech and Virginia-Virginia Tech, the league has scheduled Boston College-Syracuse and Miami-Pitt to close the season for the second year in a row, and has added NC State-North Carolina, Wake Forest-Duke and Louisville-Kentucky to the mix.
One more highlight: Virginia and Virginia Tech will play in Blacksburg, Va., on Thanksgiving Friday for the first time since 1996 to kick off the weekend.
Give the ACC credit for trying to make the final weekend of the regular season even more meaningful. Not only are there now important out-of-conference games against SEC opponents -- always a huge measuring stick for the league -- there are now hugely significant conference games that should draw even more attention to the ACC.
Wake Forest and Duke will play for the 95
th
time this season; NC State and North Carolina will play for the 104
th
time, the fourth-most-played series in the ACC. While the argument can be made that bunching these games all together could detract from some of them, the bigger picture must be considered.
The ACC has taken heat for some of its scheduling decisions now that the league has grown to 14 teams and Notre Dame is in the mix for five games a year. Some teams will go years and years between meetings under the current scheduling format (Duke and NC State will not play again until 2020, for example).
Indeed, future conference scheduling will be a hot topic of discussion during the league's winter meetings next week.
But at least the ACC is taking a step here to showcase its major rivalry games on one weekend. The ACC and SEC asked Louisville and Kentucky to move its rivalry game from the first month of the season to the last weekend for this reason; BC-Syracuse and Miami-Pitt were together in the Big East. We all know how the North Carolina schools feel about one another.
And there is the rub. Rivalries are part of what make college football so special. So many of them have gone away thanks to conference expansion, leaving some fans to wonder whether too much has been lost at the expense of big business.
The ACC should be commended for trying to make something like this work. Yes, Miami and Pitt have bigger rivals inside the ACC, but at least these teams have a history of playing one another. Their matchup here might seem a bit odd, but it works in the big picture. College football could use more rivalries.
More rivalries bunched together on one weekend ratchets up the excitement and interest. What could possibly be wrong with that?
September, 24, 2013
9/24/13
5:30
AM ET
The Early Offer is a RecruitingNation's regular feature, giving you a daily dose of recruiting in the mornings. Today's offerings:
Dylan Moses
' commitment to LSU sent shockwaves throughout the college football recruiting world; you have to tip your hat to Mark Stoops and Kentucky once again for another creative recruiting mailer; and Oregon, Miami, South Carolina and Tennessee are battling down the stretch for a four-star WR.
The story of Moses

Dylan Moses (Baton Rouge, La./University Lab) deciding to end his recruitment before he even was halfway through his freshman year of high school football sent a tidal wave of response throughout the college football world late Sunday and throughout the day on Monday. As expected the news was well received by LSU fans, but fans in general and even several college coaches were highly critical the Tigers' decision to accept the commitment. "I can't be critical of the kid himself, because he's jumping on an opportunity placed in front of him," one ACC recruiting coordinator said. "But schools offering a scholarship to a 14-year-old and then actually accepting it is everything that's wrong with recruiting today. It's hard enough to project the future of seniors accurately, but it's impossible to do it with freshmen." My colleague Tom Luginbill was right on the money when he said it's a
high risk, high reward scheme for coaches
. The more it happens the more we're going to see calls for even more regulation from the NCAA, because there's just too much gray area for coaches to maneuver in.



To continue reading this article you must be an Insider
August, 21, 2013
8/21/13
11:25
AM ET
Add another season-ending intrastate rivalry game to the ACC docket beginning in 2014.


The annual game between Louisville and Kentucky
will move to the final game
of the regular season beginning with 2014, the first year the Cardinals will play in the ACC. Though Louisville athletic director Tom Jurich prefers the teams to continue to play at the start of the season, the decision was made at the request of both the SEC and ACC.
That does not come as a huge shock. The ACC has been discussing the possibility of turning the final week of the regular season into rivalry weekend. The late-season Kentucky-Louisville shift now increases the number of ACC vs. SEC intrastate rivalry matchups on the final weekend of the regular season to four:
Florida State-Florida
Georgia Tech-Georgia
Clemson-South Carolina
Louisville-Kentucky
Also in 2015, Wake Forest and Vanderbilt will play to end the regular season, in the final scheduled game between the programs.
"There's great excitement surrounding Louisville's move into the ACC, and we look forward to when they are able to compete as conference members," ACC commissioner John Swofford said in a statement. "The storied rivalry between Louisville and Kentucky is an important part of the tradition and history of both institutions, and we appreciate being able to showcase that game on the final weekend of the season along with the other inter-conference rivalries between the ACC and SEC."
When the series between Louisville and Kentucky was renewed in 1994 after a 70-year break, the game was played to open the season in 12 of the next 13 years. This year, the two teams meet Sept. 14 in Lexington, Ky.
Next year, they will play Nov. 29, 2014.
Though the game is moving, Jurich is most pleased that the teams will continue their rivalry. Louisville certainly does not want to see it end despite moving to a new league. Kentucky holds a 14-11 advantage in the series, but the Cardinals have an 11-8 edge since the series renewal in 1994.
Louisville goes into its final year in the American Athletic Conference with a preseason No. 9 ranking, and will likely be the overwhelming favorite to beat Kentucky for the third straight year.
December, 6, 2012
12/06/12
5:30
PM ET
Florida State defensive ends coach D.J. Eliot has been
hired as defensive coordinator
and linebackers coach at Kentucky under former Noles assistant Mark Stoops.
Eliot coached defensive ends the past three seasons at Florida State. His work this year was simply phenomenal when you consider
Bjoern Werner
was selected ACC Defensive Player of the Year; and both Werner and
Tank Carradine
were first-team All-ACC selections. The way he was able to get Carradine to truly shine once
Brandon Jenkins
got hurt truly is a testament to the job he did this season.
Jenkins, by the way, won All-ACC honors in 2010 and 2011.
"D.J. is one of the brightest young minds in college football," Stoops said in a statement. "He has a relentless work ethic and is extremely detailed. I'm very pleased he has joined the Big Blue Nation."
November, 27, 2012
11/27/12
9:10
PM ET
TALLAHASSEE, Fla. -- The news trickled out slowly among a handful of players who had arrived for an early meeting Tuesday afternoon, and
Bjoern Werner
said he was hardly surprised that defensive coordinator Mark Stoops was leaving to become the head coach at Kentucky.
[+] Enlarge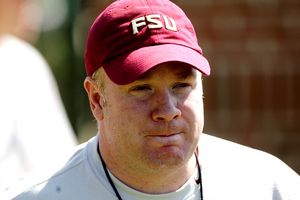 AP Photo/Phil CoaleMark Stoops received a standing ovation at FSU's practice Tuesday after being announced as Kentucky's new head coach.
After the meeting, Werner made a point to pull Stoops aside for a hug and some words of encouragement for the future. Rather than disappointment at the loss of his coach, Werner said he'll be a Kentucky fan going forward -- but perhaps not one who dons a blue cap and T-shirt.
"Oh no," Werner said, "not that much."
Still, the sentiment was universal following Tuesday's practice, as Stoops' tenure winds to a close at Florida State.
Jimbo Fisher announced Stoops' impending departure in a team meeting before practice, and players offered a standing ovation. There was some instant buzz, particularly among the younger players, but that quickly died down as attention turned to the work on the field.
"It actually brought energy," safety
Lamarcus Joyner
said. "It's always best when someone is honest with you, and everybody wishes the best for Coach Stoops. We believe he deserves that, and we're going to play hard for him before he leaves out. We're going to end this on a good note for him."
Stoops accepted the Kentucky job Tuesday and he'll stay on staff at least through this week's ACC championship game. Beyond that, the future is a bit murky.
Fisher said his focus is entirely on Florida State's upcoming game against Georgia Tech, and he hasn't talked through anything beyond that with Stoops, who appears unlikely to stick around through FSU's bowl game.
Amid swirling rumors Monday, Fisher said he kept an up-to-date list of potential replacements for any assistant coaching vacancies, but he also denied he's given much thought to who might be at the top of his wish list to replace Stoops.
"We'll start that next week," Fisher said. "I'll look at my list and see what's available, what's out there and make a good decision. It happens so quick. I have those lists, and I know what my process is going to be, but I haven't had time to think about it because it's Georgia Tech."
Given the quick announcement by Kentucky that Stoops had been hired, it stands to reason that Fisher isn't ready to make a hire immediately, but Werner indicated a plan was already in place.
"At Unity Council, I asked Coach Fisher, 'Can you give us a little hint?' " Werner said. "He's like, 'Nope, but I have my plan and you guys are going to know soon.' "
Werner is among a handful of FSU underclassmen who will be keenly interested in who is hired to replace Stoops before making a final decision on whether or not to return for their senior seasons or enter the NFL draft.
"That will be something I'll have to pray about," Joyner said. "I'll have to talk to my family, Coach Fisher and Coach Stoops about. We have two games to finish, so I just want to finish strong and let the cards deal what it may."
The job of keeping Florida State's recruiting class together in the wake of Stoops' departure could also be a concern. Several FSU recruits expressed disappointment in Stoops' decision Tuesday, and Joyner said it's not uncommon for younger players to put a lot of stock in coaching changes as they attempt to formulate a final decision on their college choices.
It's also possible that Stoops may not be the only departure from Fisher's staff. Message boards floated numerous rumors following the announcement that Stoops may bring one or more of FSU's current coaches with him to Kentucky, but again, Fisher said those decisions have yet to be discussed.
"He's the head coach and none of those things have been done and nothing is set," Fisher said. "We haven't even talked about those things. We're totally focused on Georgia Tech."
When Fisher's attention does turn to hiring a replacement, he said he anticipates having his pick of top options for the job. Stoops' departure provides an obvious sales pitch to future candidates.
Florida State is a marquee job, Fisher said, and the fact that Stoops was able to parlay three years in Tallahassee into a head coaching job in the SEC speaks volumes.
"I want to be known as the guy that helps guys get jobs," Fisher said. "If they come to a good program and they do well, you get those opportunities."
Stoops arrived at FSU following the 2009 season in which the Seminoles were a dismal 108th nationally in total defense, but the rebuilding happened quickly. The Seminoles rank second in the nation in total defense and seventh in scoring defense this season, and for the second straight season has been one of the elite units in the country.
Add that to Stoops' impressive coaching pedigree -- his brother Bob is head coach at Oklahoma, and and another brother, Mike, coached Arizona -- and he was a hot commodity for vacancies that came about in recent weeks.
It also meant that Stoops' departure came as no surprise to the players he's coached for the past three years.
"I was more happy for Coach Stoops than anything," Joyner said. "He's a coach that's put in his work. He doesn't have to explain that it's best for him and his family and sets him up for what he needs. That's a blessing for him. He's a great man and he deserves it."