ACC:

Mississippi State Bulldogs
November, 24, 2014
Nov 24
8:30
AM ET
We're inside of two weeks until Dec. 7, when the College Football Playoff selection committee announces its four picks to appear in the sport's first national semifinals.

There will be teams left out who can make perfectly compelling cases to be playoff participants. There will be voices raised and criticisms leveled regarding which program truly deserved the final spot in the playoff. This much is a certainty.

But which teams have the best chances of cracking the field? It still seems to be a matter of conjecture beyond the top three teams: Alabama, Oregon and Florida State.

November, 18, 2014
Nov 18
8:30
AM ET
This week, USA Today, in the latest of its fan index lists, catalogued the
top 10 traditions in college football
.
Among them, dotting the "i" at Ohio State, lighting the Tower at Texas and rolling Toomer's Corner at Auburn. All fine events, but no list of such customs in the sport is complete without the latest craze: the wait for Tuesday night.
I say that somewhat jokingly, so refrain from the angry tweets. No, I don't really think it's more fun to dream about the details of a five-minute interview with Jeff Long than to decorate an intersection with toilet paper.
But it's close.
So welcome to the fourth of seven Tuesday College Football Playoff poll unveils, where it finally gets real in the selection-committee room.
Why is this Tuesday different? Because after last Saturday, none of the remaining unbeaten or one-loss Power 5 contenders will meet in the regular season or in conference-title games.
To continue reading this article you must be an Insider
November, 11, 2014
Nov 11
8:30
AM ET
I have grave news to bring you. The College Football Playoff selection committee is biased.
Yes, the 12-member panel tasked to
solve the nation's problems
choose the sport's first four-team playoff includes people with real-life experiences, likes and dislikes.
Some of them, apparently, have ideas about the way the game ought to be played and coached.
Take a deep breath and remember, this is what we wanted.
To continue reading this article you must be an Insider

November, 7, 2014
Nov 7
9:30
AM ET
Let's say you're a hot, up-and-coming head coach in a Group of 5 league. You have job opportunities in every one of the Power 5 conferences. If you're picking solely based on title path -- the fastest way to the College Football Playoff -- which conference do you choose?
Here's my ranking of every division in the major conferences, going from the most ideal to join as a new coach to the most difficult. Easiest to hardest. (I'm counting the Big 12 as one 10-team division. It's a reasonable way to view it since, as with the divisions in the other four leagues, everyone plays everyone.)

1. Big Ten West
To continue reading this article you must be an Insider
October, 13, 2014
Oct 13
9:00
AM ET
The rankings are fluid. College football is not a sprint but a marathon. Who a team is in October isn't necessarily who they will be in December … blah blah blah, yada yada yada.
It is time to pick a side, to make a stand. For the second time in three weeks, preseason No. 1 Florida State has been knocked from its perch atop at least one of the rankings. The debate on who should be ranked No. 1 -- or whether FSU should be ranked No. 1 -- has raged since the first Sunday of the season and continued through the halfway mark.
Mississippi State, owner of three consecutive wins against the AP top 10, has the latest legitimate claim to the No. 1 spot, at least in the eyes of Edward Aschoff. The ACC blog's Jared Shanker will rep Florida State, owner of the nation's longest winning streak at 22 games.
It's not a debate that can be settled once and for all on Oct. 13, but we can at least settle it until about midnight Saturday.
[+] Enlarge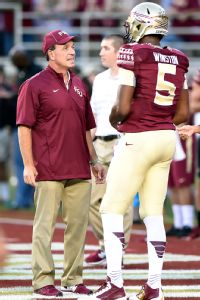 John David Mercer/USA TODAY SportsThe Seminoles haven't looked like world-beaters thus far, but they haven't lost, either.
Shanker:
I don't like saying this, Mississippi State, because I like you. I really do.
Dak Prescott
is a great story, and, as a proud vuvuzela owner, I'm #TeamClanga. But this isn't a debate between Florida State and Mississippi State so much as a debate between Florida State and SEC Flavor of the Week C. The Bulldogs are just the latest team from the SEC to demand the college football crown be bestowed upon its collective head, taking its lead from Georgia in Week 2 and Alabama in Week 6. But a reminder, if I may: You don't make the rules anymore, SEC, not after Florida State took down Auburn nine months ago. To be the man, you need to beat the man. The SEC needs to earn its way back to the top, and that starts with the Seminoles dropping a game first. If we're talking strictly "What has a team accomplished during the 2014 season," Florida State has two wins against the AP Top 25 -- same as Mississippi State.
Aschoff:
Oh man, where do I even start? I guess I could start with the fact this Mississippi State team, which returned 16 total starters, is one of five teams in AP poll history to defeat three straight top-10 teams. During that stretch, the Bulldogs steamrolled No. 8 LSU on the road before a late comeback, clobbered No. 6 Texas A&M by halftime, and then beat No. 2 Auburn 38-23 with all the pressure of the college football world on their shoulders. I guess I could talk about the fact Mississippi State has scored a school-record 251 points through the first six games (17 more than FSU). Or I could talk about the fact the Bulldogs have allowed just six touchdowns on 19 red zone trips and are tied for eighth nationally with 16 takeaways, while FSU is just 46th.
And while we're comparing opponents -- which Mississippi State easily wins -- according to ESPN Stats & Information, Mississippi State leads the nation in strength of record and game control, meaning the Bulldogs have the most impressive W-L mark (strength of record) and have controlled their games better than any other team in the country (game control). Mississippi State's opponents are 24-13, while FSU's are 20-18.
The simple fact you're keeping FSU No. 1 only because of last year proves that you aren't even all that impressed with the Noles. Remember, this is the same team that slopped its way through an ugly win over a pretty bad NC State team a few weeks ago.
Put FSU in a conference that houses more than just two ranked opponents and then come talk to me.
Shanker:
The Seminoles can't control their conference schedule, but their 2014 nonconference schedule is light on cupcakes. They opened in Dallas against Oklahoma State, square off against No. 5 Notre Dame on Saturday and play Florida -- one of those SEC schools Jimbo Fisher is batting .833 against -- in the regular-season finale. If nonconference scheduling is a factor for the committee, few teams scheduled harder than Florida State in 2014.
Mississippi State's nonconference schedule boasts Directional A, Directional B and something called UTM. I'll pause 10 seconds to allow everyone to Google who or what a "UTM" is.
As for that three-game gantlet Mississippi State survived: LSU is unranked and should have lost to Florida, and Texas A&M seems to be SEC hype and not much more but still manages to find itself ranked -- standard protocol at this point in the season for mediocre SEC teams.
This isn't the BCS era anymore; style points won't matter as long as a team remains undefeated, so you can keep your stats. Florida State's only concern is winning and not margin of victory. The Seminoles aren't as good as they were last year, but they might not have to be. So far, there has not been one dominant team that has convincingly made a case as the country's best, so this 2014 FSU team is as capable as any to win the national title.
Maybe the Seminoles don't have the country's strongest résumé, but the committee is tasked with picking the four
best
teams, not the four teams able to best take advantage of a tired national narrative to railroad their way into the College Football Playoff.
[+] Enlarge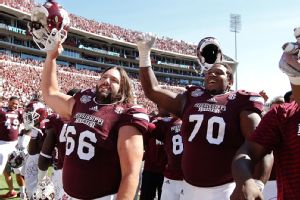 Marvin Gentry/USA TODAY SportsMississippi State is riding high after crushing Auburn for its third consecutive victory over a top-10 team.
Aschoff:
Hey, glorify wins over NC State and Wake Forest if you want. Knock young LSU and Texas A&M if you want. That's fine. But come on? You're really taking FSU's early schedule compared to Mississippi State's? You can say that with a straight face? Do you really think the playoff selection committee is going to be more impressed with what FSU has done to this point? We aren't talking the future, so Notre Dame is irrelevant (oh my, that UNC game!).
You bring up the selection committee not being impressed with style points and margin of victory. Yeah, right. No way the committee isn't impressed by the Bulldogs' past three wins.
Honestly, which talent group do you think has the better chance of making a championship run this year? The Bulldogs have the nation's
real
Heisman front-runner in Prescott, who has accounted for 2,089 total yards with 23 touchdowns and has thrown for 200 yards and rushed for 100 yards in four of his past five games.
Jameis Winston
has 445 fewer total yards and 10 fewer touchdowns. You taking a healthy
Karlos Williams
over
Josh Robinson
, who is second in the SEC with 689 rushing yards and eight touchdowns?
What about a defense without a linebacker like
Benardrick McKinney
, who can blitz, clog the run, drop back in coverage and play sideline to sideline?
FSU has the backing of a preseason ranking but hasn't had much wow factor on the field. Mississippi State is no flavor of the week, it's the flavor of the year right now. There's no way you can sit there and seriously think that what FSU has done to this point is more impressive than what the Bulldogs have in a much tougher conference.
December, 30, 2011
12/30/11
10:45
PM ET
The SEC started bowl season 1-0 after
Mississippi State beat Wake Forest 23-17
in the Franklin American Mortgage Music City Bowl Friday night.
Mississippi State racked some points up early, but Wake Forest fought back before the Bulldogs' defense hunkered down for most of the second half.


Here's the instant analysis:
How the game was won:
Mississippi State's offense racked up 246 yards and 16 points in the first half, while the Demon Deacons managed just 130 yards and a touchdown. The Bulldogs' defense played well all night, especially the closer Wake Forest got to the end zone. Mississippi State held Wake Forest to 287 total yards. On offense, quarterback
Chris Relf
overcame two interceptions to play effectively both throwing and running the ball. Mississippi State's running game put up 253 yards, including 180 from senior
Vick Ballard
.
Turning point:
After Wake Forest cut Mississippi State's lead to 16-14 early in the second quarter, the Bulldogs' offense was pretty quiet in the third quarter. But with almost 13 minutes remaining in the game, Ballard took a carry up the middle for a 72-yard touchdown, making it a two-score game and giving the Bulldogs enough points for the win.
Stat of the game:
The teams combined to go 7-of-30 on third downs, with Wake Forest converting just 2-of-17.
Stat of the game 2:
Wake Forest won the turnover battle 4-0.
Player of the game:
Ballard made the most of his final game in a Mississippi State uniform. The senior carried the ball only 14 times, but had 180 yards and had touchdowns of 60 and 72 yards. Ballard pounded the Demon Deacons' defense through the middle of the field and used his speed to make a handful of plays off the edge. He outrushed Wake Forest by 117 yards on 24 less carries.
Unsung hero of the game:
Friday might have been defensive tackle Fletcher Cox's final game with the Bulldogs as well. He had a strong game, recording seven tackles (including two for loss), assisting on a sack, blocking his fifth career kick (a school record) and providing plenty of pressure inside Wake Forest's backfield all night.
Second guessing:
Dan Mullen has a pretty aggressive coaching style, but he made a bad call when he decided to go for the end zone from the Wake Forest 9-yard line with six seconds left in the first half instead of kicking a field goal. Wake Forest grabbed a chunk of momentum and drove 64 yards for a touchdown on the opening drive of the third quarter to make it 16-14. Luckily for Mullen, the play didn't cost Mississippi State the win.
What it means:
Mullen has now directed Mississippi State to bowl wins in back-to-back years for the first time in more than a decade. It also gives Mississippi State its fifth straight bowl win overall. The Bulldogs have back-to-back winning seasons for the first time in more than a decade. Mississippi State didn't live up to its higher expectations this season, but getting to seven wins -- including a bowl victory -- will make the offseason much easier for Mullen and his players.
Record performance:
Cox wasn't the only one taking home a school record. Wake Forest wide receiver
Chris Givens
entered the game with a school-record 1,276 receiving yards. The ACC's leader in receiving for the 2011 season added to his record-setting year by gaining 54 more yards on nine catches, giving the junior 1,330 yards on the year.