ACC:

Oklahoma State Cowboys
August, 31, 2014
Aug 31
12:42
AM ET
Considering the way the final three quarters played out, there were a dozen or so plays that stemmed the tide and flipped momentum in AT&T Stadium. Ultimately, three plays ended up having the biggest impact on the game, and they were all born out of mistakes. Florida State coach Jimbo Fisher agrees with the contemporary cliché that more games are lost rather than won, and Oklahoma State coach Mike Gundy has to feel that way after the No. 1 Seminoles defeated the Cowboys
37-31
.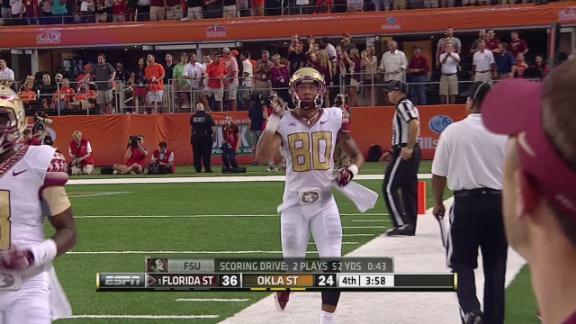 The decisive play came with a little more than four minutes left in the game. The Florida State offense struggled much of the night, and reigning Heisman winner
Jameis Winston
looked flustered throughout.
Rashad Greene
, now fourth all-time on the Seminoles' receiving list, ran a shallow cross, and as he broke to the middle of the field, the Cowboys cornerback bumped into a teammate, freeing Greene. The pass was a little behind Greene, so that little collision might have been the difference between an interception and what Greene did once he caught the ball -- go 50 yards for what proved to be the game-winning touchdown. Two plays earlier, Oklahoma State quarterback
J.W. Walsh
had fumbled the football when he looked poised to rip off a big gain. The Cowboys trailed by three and had a chance to take their first lead of the game. But Walsh was tripped up and fumbled, and Winston iced the game shortly thereafter.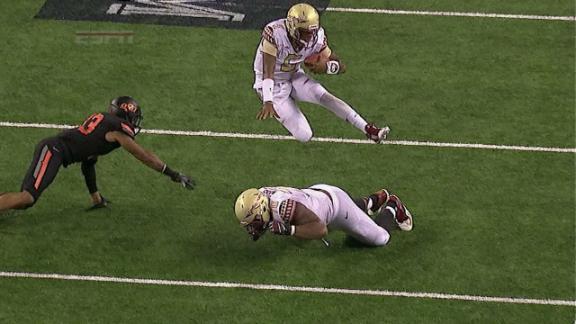 Winston looked like a Heisman winner on a 28-yard touchdown run in the third quarter. The 6-foot-4, 230-pound sophomore lumbered down the field, jumped over his offensive lineman, juked a Cowboys defender and then dove into the end zone. It was the kind of play we've come to expect from Winston but hadn't seen Saturday to that point. That touchdown was also set up by a series of Oklahoma State miscues. The Cowboys looked as if they would pin Florida State deep, but an errant snap on a punt gave the Seminoles the ball near midfield. The Cowboys defense held, but on third-and-11, Cowboys defensive back
Ashton Lampkin
, who was picked on constantly, was called for holding. It extended Florida State's drive, and Winston rumbled into the end zone the very next play.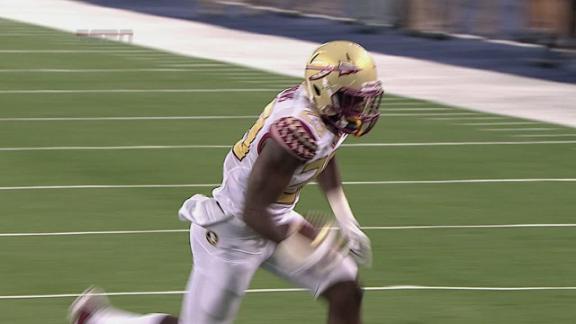 Florida State capitalized on the Cowboys' two turnovers, scoring touchdowns off of each. Oklahoma State managed only three points off the Seminoles' two miscues. The first Cowboys turnover came early in the game as
Nate Andrews
intercepted Walsh near the Oklahoma State end zone, and then Andrews walked in for the score. It was an outstanding play from Andrews, but it once again was precipitated by a special teams breakdown. The Cowboys fouled up the kickoff return and started the drive at their own 3-yard line. Walsh's interception was on the drive's first play, and it gave FSU an early 10-0 lead.
Good teams feed off their opponents' mistakes, and that is exactly what Florida State did.
August, 25, 2014
Aug 25
9:00
AM ET
Evaluated simply for its achievement and without any historical context, it could be considered the greatest goal-line stand in college football history. Twelve plays inside the 9-yard line, half coming from inside the 1, and each time
Florida State
denying upset-minded Kansas.
Factor in national implications -- it was a season opener in August against and part of a 42-0 rolling of the unranked Jayhawks -- and it pales in comparison to the 1979 Sugar Bowl.
[+] Enlarge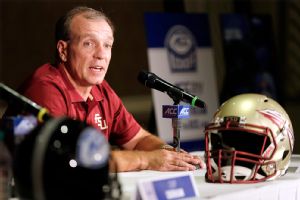 AP Photo/Chuck BurtonJimbo Fisher and the Seminoles aren't afraid to open the 2014 season against Oklahoma State in Dallas.
But for Mickey Andrews, that goal-line denial sits in the pantheon of Florida State football. After six straight seasons of falling just short of a national title, the former Florida State defensive coordinator credits that sequence, which took nearly eight minutes in nearly 120-degree conditions, for shaping the Seminoles' first national championship team.
"We had to meet them about three-fourths of the way and drag them off the field," Andrews said. Ken Alexander, Derrick Brooks and Corey Sawyer, who combined for the final fourth-down stop, laid on the blistering AstroTurf unable to get up as the referee signaled in Florida State's direction. "They didn't have anything left."
That was the season opener of the 1993 season, Florida State playing Kansas, which finished the prior season ranked in the top 25, at the Meadowlands, a national venue. The drive eclipsed 20 total plays, and Florida State committed four penalties inside the 10. While the Seminoles would win by six touchdowns, it was that particular drive that came at the end of the half when the Jayhawks were within two scores. Florida State held a dozen times in the shadow of its own goal post, then marched down the field with a 99-yard touchdown drive to put the game out of reach.
"That made our football team right there," Andrews said.
A season-opening game against a major-conference opponent on a national stage has the potential to alter the trajectory of a season, Andrews said. On Saturday, No. 1 Florida State travels to the state of Texas for the Cowboys Classic against Oklahoma State in AT&T Stadium. It's a prime-time game, and one "College GameDay" will be at.
Much like Kansas, Oklahoma State finished the previous season ranked, although pollsters are not quite as high on the Cowboys in 2014 as they overhaul their starting lineup. Regardless of the strength of the opposition, a nationally relevant opponent on the road or at a neutral site to begin the season can effect the next four months. Florida State, which is using the hashtag #DallasToDallas to define its title defense aspirations, hopes the Aug. 30 game will do just that this fall.
"The better it is for us to play on those kinds of stages," Fisher said.
Andrews served as Bobby Bowden's defensive coordinator for 27 seasons, and the two were never shy to play a national championship-caliber opponent to begin the season. From 1988-98, Florida State opened its season with a ranked opponent away from the confines of Doak Campbell Stadium on four occasions. Eleven times from 1988-03 the Seminoles began the season with a road or neutral-site opponent.
Bowden said the prospects of an opener with national implications sets the tone for offseason workouts and preseason camp. There is an added motivation for players and coaches alike when the opponent isn't an FCS cupcake.
"The thing about opening against a good team is it makes your boys get ready faster," Bowden said. "If you play a smaller division or someone you're favored by 25 points against, you're careful you won't have a letdown. But when you play a big one, they're usually ready to play."
Andre Wadsworth was a senior defensive lineman for Florida State in 1997 when the Seminoles opened at USC in The Coliseum. Wadsworth said the team began the season with an added focus on executing its offense and defense as it knew any self-inflicted wounds against a team the caliber of Southern Cal could derail a potential national championship season before it truly began. Florida State defeated USC, and the Seminoles would win their next 10 games before a three-point loss to Florida in the finale that ended a perfect season and hopes of a national title.
"The thing is to define yourself as early as possible as a team," Wadsworth said.
Fisher, in his fifth season at Florida State after replacing Bowden, said entering camp that the game against an Oklahoma State program that has averaged 10 wins since 2010 had the Seminoles focused and practicing at peak performance throughout preseason two-a-days. Fisher said he embraces the challenge, and the rest of team is itching to arrive at "Jerry World" and play on the biggest of big screens -- one that stretches 60 yards.
"That game is going to be electric," quarterback
Jameis Winston
said. "Florida State, we love to be in big games with millions of people watching us. That's what's fun, that's what football is for.
August, 20, 2014
Aug 20
1:00
PM ET
TALLAHASSEE, Fla. -- Preseason camp has come to a close at Florida State, and coach Jimbo Fisher says the Seminoles will begin game preparations for Oklahoma State on Thursday. That means it is time for the fifth-year coach to start making final decisions with the season opener a little more than a week away.
"We'll have to put [a depth chart] up and say who's first team, second team, third team or in that rotation because we have to start making scout teams," Fisher said. "We have to start making decisions."
Rarely this camp was Fisher visibly displeased with his team's effort and performance, unlike during the spring. While it certainly does not guarantee an undefeated season, it should offer some comfort the Nick Saban disciple has not nitpicked much over the course of the last two weeks as the Seminoles prepare to defend a national championship.
[+] Enlarge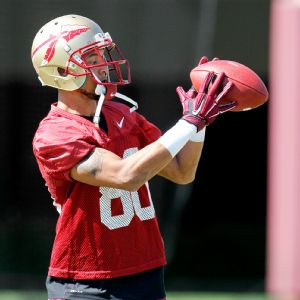 AP Photo/Don Juan MooreRashad Greene returns after a stellar junior season, but FSU still is looking for a candidate to break out opposite Greene.
There are apparent holes in the starting lineup left by the departures of pivotal pieces to Florida State's 2013 title run, but Fisher expressed no concerns about a starting 22 or depth. While a depth chart is still not set in stone, Fisher is happy he has "two or three guys that are pretty close you feel comfortable playing in a game."
For the future-conscious Florida State fans, the No. 2 receiver has been one of the biggest question marks since Kelvin Benjamin declared for the NFL draft with two years of eligibility remaining. Fisher said senior
Christian Green
would likely be the starter opposite senior All-American candidate
Rashad Greene
, but he made it clear he sees viable options in the underclassmen. Sophomore
Levonte Whitfield
and
Jesus Wilson
are the most likely slot options, although Wilson is working to get back in the staff's good graces after stealing a scooter. Freshmen
Ja'Vonn Harrison
,
Ermon Lane
and
Travis Rudolph
were all ESPN 300 recruits and could play extensively with sophomore
Isaiah Jones
academically ineligible. Senior
Jarred Haggins
is also healthy after missing 2013.
Returning Heisman winner
Jameis Winston
impressed during a Tuesday scrimmage. Fisher previously said Winston has looked average in camp at times, but the positive review Tuesday might indicate the redshirt sophomore is close to building the necessary rapport with the inexperienced targets. The first scrimmage, the offense was relegated to underneath passes to the tight ends and running backs, but Fisher said the downfield attack was on display on Tuesday.
"I feel very comfortable with eight guys in that rotation right now, I really do," Fisher said. "I'd feel very comfortable if they had to go in the football game. The last three or four days, we've really thrown and caught the football extremely well. … Guys were really understanding routes and how to set holes and get open."
It has been debated how the defensive front seven would fare without Timmy Jernigan, Christian Jones or Telvin Smith, but when asked where the team made the most progress during camp, Fisher said the linebackers and the defensive line depth. With new leaders and a first-year defensive coordinator, the unit will still need to build a cohesion that often can only be produced in games. However, concerns should be assuaged to a degree considering Fisher is upbeat about the defense.
Florida State has used the hashtag #DallasToDallas as it opens the season in AT&T Stadium, home to the Dallas Cowboys, and hopes to end it there. They have to begin with the
Oklahoma State Cowboys
, though, and while official game prep begins Thursday, Fisher said he already has begun scouting Mike Gundy's squad.
No Power Five school returns fewer starters than Oklahoma State, but Fisher said there's still enough on film from 2013 to build a preliminary scouting report based on coordinator tendencies and backups.
"You have notes that you've taken on them, so when you pull them back out you have a starting point," Fisher said. "And you put things in in camp and you say, 'That's going to be good these first three or four games so we better add these two or three things to what we're doing.'"
INJURY NOTES:
The left side of the offensive line was a little banged up toward the end of camp, but Fisher said he is not worried about the unit, which consists of five seniors, missing any time against Oklahoma State. … Running back
Ryan Green
is still sidelined, but freshman running back
Dalvin Cook
rid himself of the blue non-contact jersey Tuesday. Cook received high praise after the scrimmage. Cornerbacks
P.J. Williams
and
Ronald Darby
are being held for precautionary reasons, but Fisher is not worried about them missing the opener. … Sophomore linebacker and former five-star
Matthew Thomas
continues to rehab from an ankle injury suffered last week.
August, 14, 2014
Aug 14
12:00
PM ET
The 2014 college football season starts in 14 days. We're getting you ready by counting down the ACC's 10 biggest battles of the fall. Today, we're looking at numbers 7 and 8.
No. 8
The matchup:
Florida State vs. Oklahoma State
Date/Location:
Aug. 30, AT&T Stadium, Arlington, Texas (8 p.m., ABC)
Last meeting:
Florida State defeated 19th-ranked Oklahoma State, 34-23, in the 1985 Gator Bowl when freshman QB Chip Ferguson threw for 338 yards and two TDs.
Why it matters:
All eyes (including "College GameDay") will be on this season-opening matchup in Texas, one of the marquee non-conference showdowns of the season. FSU's defense will be in transition after losing several key seniors from last season's squad, and Oklahoma State can certainly put up points. A win for the Cowboys would be huge in setting up the Big 12 for a spot in the College Football Playoff -- particularly given the league's lack of an end-of-season conference title game to boost its credibility -- while an FSU victory could set the stage for another march toward a national title. Last season's run for FSU included plenty of criticism that the Seminoles hadn't played a worthy schedule. The date with Oklahoma State to open 2014 ensures there won't be similar commentary this time around.
No. 7
The matchup:
Florida State vs. Miami
Date/Location:
Nov. 15, Sun Life Stadium, Miami Gardens, Fla.
Last meeting:
Florida State toppled No. 7 Miami for the fourth straight time,
41-14
, last November, while the Hurricanes lost leading rusher Duke Johnson to a season-ending ankle injury in the process. It was Miami's first loss of the season.
Why it matters:
Last year's showdown in Tallahassee, Florida, marked the first time since 2004 that FSU and Miami faced off as top-10 teams, and while the season deteriorated quickly for the Hurricanes, it certainly felt like the rivalry had regained some of the momentum it had lost over the years. There were scuffles on the field and strong words afterward, and, of course, the Seminoles' dominant win was held as proof they were ready to compete for a national title. This year, ESPN's Football Power Index suggests Miami has a better shot than anyone to knock off Florida State (though, in fairness, the odds still aren't high), and the late-season showdown means the Canes will have had time to find their QB. Since Miami joined the league, the ACC has been hoping this game would be a national event, and perhaps this year it will be. The Hurricanes could either add one more marquee win on the Seminoles' run to another championship or Al Golden's crew could finally vault back into the national spotlight with its biggest win in years.
July, 30, 2014
Jul 30
8:30
AM ET
ESPN College GameDay will be in the Metroplex during the opening weekend of the college football season for the Cowboys Classic at AT&T Stadium in Arlington, Texas, between Oklahoma State and Florida State.
It's Official! GameDay will be LIVE from Sundance Square for #FSUvsOKST! #GetUp4GameDay pic.twitter.com/HrkIIWstxF

— College GameDay (@CollegeGameDay) July 30, 2014
The GameDay set will broadcast from the Sundance Square Plaza in downtown Fort Worth.
The Cowboys were host to GameDay last season when they played Baylor in Stillwater. Oklahoma State won that game, 49-17.
May, 19, 2014
May 19
2:00
PM ET
Spring football has come and gone, commencement exercises are taking place across the country and, soon enough, we'll enter the darkest of all periods for college football fans: The summer, where the only good news surrounding most programs is no news at all.
So let's have some fun and start dreaming about all of the sites we want to take in this fall. We've done this road trip series before, but as a refresher, here's what we're going for: We take a look at the ACC's schedule week-by-week, throwing monetary concerns in the air and letting our imaginations run wild with all of the different campuses and atmospheres we would like to take in come the 2014 season.
This is how we would kick things off:
Week 1 schedule
Thursday, Aug. 28
Wake Forest at Louisiana-Monroe, ESPNU, 7 p.m.
Friday, Aug. 29
Saturday, Aug. 30
Wofford at Georgia Tech
Clemson at Georgia
Boston College at UMass
Elon at Duke
Georgia Southern at NC State
Liberty at North Carolina
Delaware at Pitt
UCLA at Virginia
William & Mary at Virginia Tech
Florida State vs. Oklahoma State, ABC, 8 p.m., Cowboys Classic in Arlington, Texas
Monday, Sept. 1
Miami at Louisville, ESPN, 8 p.m.
Our pick(s): Florida State vs. Oklahoma State AND Miami at Louisville

Why you should come along:
Hey, we said this is our choice, right? That means that we can pick two games if we'd like, and what better way could we open the season than to take in the Cowboys Classic featuring the defending national champs before heading to Louisville for the Cardinals' ACC debut?
The first game is another prime nonconference clash, this time featuring the Big 12. We know the Seminoles will enter as heavy favorites, but this is our first look at them since their finale last season in Pasadena, Calif. Can Jimbo Fisher get this group to keep its eye on the prize and avoid complacency with what will likely be a preseason No. 1 ranking attached to it? I'd personally love to check out JerryWorld as well, as I have heard nothing but good things about that place (at least for football games). Clemson and Georgia offer plenty of intrigue, too, but let's remember that this is a rematch from last season,
one we had taken in
. While both teams could perhaps make strong runs for their conference titles and maybe even more, the matchup, at least this early, lacks the luster that the 2013 one had, as both teams lose so much star power (
Tajh Boyd
,
Sammy Watkins
and
Aaron Murray
).


As for Labor Day night, you can bet the atmosphere will be electric for the Cardinals' first game in their new league -- and for their first game (again) under coach Bobby Petrino, as well. It will have been just more than nine months since these two teams closed last season at the Russell Athletic Bowl in Orlando, Fla., and you can bet Miami hasn't forgotten about the way Louisville ran it off the field in a humiliating
36-9 defeat
. The national spotlight will be on these two teams again as they close out Week 1.
March, 23, 2012
3/23/12
3:16
PM ET
The past few months have been filled with talk of a playoff, or at least something resembling a playoff that the men in charge don't want to call a playoff.
Either way, college football's postseason has never been this close to changing since the birth of the BCS more than a decade ag0.
So, what does the old postseason think?
Colleague Ryan McGee
asked around the bowls for their take

.
So what are they thinking as they read and hear the playoff comments? Are they confident about the future? Terrified? Indifferent?

"We are absolutely watching what's going on. Always have been," says Rick Catlett, president of the Gator Bowl Association. "But I also think that anyone in this business knows that there's not a whole lot we can do about it. We are in constant contact with the conference commissioners, the people who will ultimately make the decisions about the future of the game. But honestly, we don't have a lot of influence."

The 16-year leader of college football's sixth-oldest bowl game doesn't say this with a tone of fear or foreboding. Neither did the other half-dozen bowl executives I chatted with this week (on and off the record). No one mentioned extinction. Instead, they concede a curiosity as to where and how they will fit in to whatever format is adopted.
Lots of interesting stuff. You'll need Insider to read it all, but it's worth checking out.