May, 13, 2013
May 13
4:20
PM ET
Florida State and USF have set a home-and-home series for 2015 and 2016, the schools announced Monday.


USF will visit Tallahassee on Sept. 26, 2015, with the Seminoles making the trip to Tampa on Sept. 24, 2016.
"We've been working collaboratively on extending the series between USF and FSU for some time," USF athletic director Doug Woolard said. "The two previous games provided such great atmospheres for both of our fan bases that it was important for us to extend the series. Combined with our recent non-conference scheduling announcements, we're very pleased with how our future schedules have come together."
Florida State coach Jimbo Fisher said, "We're excited to have USF back on the schedule. They're a great program. It's been a good series thus far, and it's great for our fans to have another in-state series on the schedule."
In the first meeting between the two schools in 2009, USF visited Doak Campbell Stadium in Tallahassee and pulled the 17-7 upset. The Seminoles made the return trip to Tampa last season, handing the Bulls a 30-17 defeat in front of a USF-record 69,383 fans.
February, 28, 2013
Feb 28
11:00
AM ET
Let's get this straight: None of these schedules are easy. Lining up against Georgia and South Carolina, though, is a wee bit more difficult than playing La. Tech and Central Michigan. And so we present to you a ranking of the most difficult nonconference schedules in the ACC, starting with the toughest. (Don't worry, you'll get a chance to weigh in later, so check back.)

1. Clemson (vs. Georgia, vs. South Carolina State, vs. The Citadel, at South Carolina):

Opponents' 2012 combined winning percentage: 71.4 (35-14)
Toughest opponent: South Carolina (11-2)
Weakest opponent: South Carolina State (5-6)
BCS opponents: 2
FCS opponents: 2
2012 bowl teams: 2
Quick take: Having to play two of the top three teams in the SEC East - and one on the road -- buys the Tigers a pass on their two FCS teams.

2. Virginia (vs. BYU, vs. Oregon, vs. VMI, vs. Ball State):

Opponents' 2012 combined winning percentage: 62 (31-19)
Toughest opponent: Oregon (12-1)
Weakest opponent: VMI (2-9)
BCS opponents: 1
FCS opponents: 1
2012 bowl teams: 3
Quick take: The Cavaliers have the benefit of playing all four games at home, but adding Oregon to the mix earned them the No. 2 spot.

3. Syracuse (vs. Penn State, at Northwestern, vs. Wagner, vs. Tulane):

Opponents' 2012 combined winning percentage: 58 (29-21)
Toughest opponent: Northwestern (10-3)
Weakest opponent: (Wagner 9-4)
BCS opponents: 2
FCS opponents: 1
2012 bowl teams: 2
Quick take: Two Big Ten opponents make this a legitimately tough schedule, as Northwestern should be one of the best teams in the conference this year.

4. Pittsburgh (vs. New Mexico, vs. Old Dominion, at Navy, vs. Notre Dame):

Opponents' 2012 combined winning percentage: 67.3 (35-17)
Toughest opponent: Notre Dame (12-1)
Weakest opponent: Old Dominion (11-2)
BCS opponents: 0
FCS opponents: 1
2012 bowl teams: 2
Quick take: The road trip to Navy is actually a bonus because the Panthers travel to Georgia Tech, which is a similar offense, the following week.

5. Virginia Tech (vs. Alabama, vs. Western Carolina, at East Carolina, vs. Marshall):

Opponents' 2012 combined winning percentage: 54 (27-23)
Toughest opponent: Alabama (13-1)
Weakest opponent: Western Carolina (1-10)
BCS opponents: 1
FCS opponents: 1
2012 bowl teams: 2
Quick take: If it weren't for the defending national champs, the Hokies would be ranked even lower.

6. Florida State (vs. Nevada, vs. Bethune-Cookman, vs. Idaho, at Florida):

Opponents' 2012 combined winning percentage: 56 (28-22)
Toughest opponent: Florida (11-2)
Weakest opponent: Bethune-Cookman (9-3)
BCS opponents: 1
FCS opponents: 1
2012 bowl teams: 2
Quick take: The Noles should at least go 3-1 against these opponents, especially with an open date before Nevada, and playing Idaho before travelling to Florida should be a welcome cushion.

7. Georgia Tech (vs. Elon, at BYU, vs. Alabama A&M, vs. Georgia):

Opponents' 2012 combined winning percentage: 61.2 (30-19)
Toughest opponent: Georgia (12-2)
Weakest opponent: Elon (3-8)
BCS opponents: 1
FCS opponents: 2
2012 bowl teams: 2
Quick take: The road trip to BYU follows a road trip to Miami, but two FCS opponents bumped the Jackets down a notch.

8. North Carolina (at South Carolina, vs. Middle Tennessee, vs. East Carolina, vs. Old Dominion):

Opponents' 2012 combined winning percentage: 74.5 (38-13)
Toughest opponent: South Carolina (11-2)
Weakest opponent: Old Dominion (11-2)
BCS opponents: 1
FCS opponents: 1
2012 bowl teams: 2
Quick take: Starting off the season with an ESPN-televised Thursday night game at South Carolina is one of the league's highlights, but the Heels should fare no worse than 3-1.

9. Miami (vs. Florida Atlantic, vs. Florida, vs. Savannah State, at South Florida):

Opponents' 2012 combined winning percentage: 37.5 (18-30)
Toughest opponent: Florida (11-2)
Weakest opponent: Florida Atlantic (3-9)
BCS opponents: 2
FCS opponents: 1
2012 bowl teams: 1
Quick take: Hardly the gauntlet the Canes have faced in recent years, and never having to leave the state is a big plus.

10. Boston College (vs. Villanova, at USC, Army, at New Mexico State):

Opponents' 2012 combined winning percentage: 36.7 (18-31)
Toughest opponent: USC (7-6)
Weakest opponent: New Mexico State (1-11)
BCS opponents: 1
FCS opponents: 1
2012 bowl teams: 1
Quick take: Why on earth do the Eagles have to travel across the country twice?

11. Maryland (vs. FIU, vs. Old Dominion, at Connecticut, vs. West Virginia):

Opponents' 2012 combined winning percentage: 52 (26-24)
Toughest opponent: West Virginia (7-6)
Weakest opponent: Old Dominion (11-2)
BCS opponents: 2
FCS opponents: 1
2012 bowl teams: 1
Quick take: The Terps should trade schedules with Syracuse so they can get a head start on Big Ten competition and Cuse can face familiar foes.

12. Wake Forest: (vs. Presbyterian, vs. Louisiana-Monroe, at Army, at Vanderbilt):

Opponents' 2012 combined winning percentage: 42.8 (21-28)
Toughest opponent: Vanderbilt (9-4)
Weakest opponent: Presbyterian (2-9)
BCS opponents: 1
FCS opponents: 1
2012 bowl teams: 1
Quick take: Vanderbilt is a much better program under James Franklin, but this is a very manageable schedule.

13. NC State (vs. Louisiana Tech, vs. Richmond, vs. Central Michigan, vs. East Carolina):

Opponents' 2012 combined winning percentage: 65.3 (32-17)
Toughest opponent: ECU
Weakest opponent: Richmond (8-3)
BCS opponents: 0
FCS opponents: 1
2012 bowl teams: 2
Quick take: First-year coach Dave Doeren has it easy: 4-0 or bust.

14. Duke (vs. NC Central, at Memphis, vs. Troy, vs. Navy):

Opponents' 2012 combined winning percentage: 47.9 (23-25)
Toughest opponent: Navy (8-5)
Weakest opponent: NC Central (6-5)
BCS opponents: 0
FCS opponents: 1
2012 bowl teams: 1
Quick take: This schedule is conducive to the Blue Devils getting back to a bowl game.
November, 17, 2012
11/17/12
6:34
PM ET
The last two games in the series between Miami and USF were close.
Not Saturday.


Miami dominated in every single way, beating the beaten-down Bulls
40-9
to clinch bowl eligibility. Now we wait to see whether the Hurricanes make a decision to self-impose sanctions with ACC title hopes on the line.
All Miami has to do is beat Duke next week to make its first ACC championship game -- if the school opts against a postseason ban for the second straight year.
The Hurricanes (6-5) took advantage of a depleted USF (3-7) team -- with
Stephen Morris
throwing for over 400 yards and three different receivers going over 100 yards. That is pretty remarkable, considering how that position group has been depleted because of injuries and the suspension of
Rashawn Scott
.
But
Clive Walford
,
Herb Waters
and
Phillip Dorsett
each reached the century mark. And Morris became the second quarterback in Miami history to post three 400-yard passing games in his career, joining Heisman Trophy winner Gino Torretta. The 413 passing yards are the second-most USF has ever allowed.
The Bulls, meanwhile, have now failed to make a bowl game for the second straight season. A team that opened the year with such high hopes is in total disarray.
Playing without
B.J. Daniels
, the Bulls could muster nothing on offense. Skip Holtz made the decision to start
Bobby Eveld
, burning the quarterback's redshirt in the 10th game of the season. It is a move that totally backfired, as Eveld sprained his shoulder late in the first quarter and did not return to the game.
Matt Floyd
came in and was largely ineffective. About the only time USF moved the ball was at the end of the first half. But a time management blunder cost the Bulls, big time. Down inside the Miami 10, USF inexplicably let the play clock run off 20 seconds, with three timeouts remaining. The Bulls settled for a field goal to trail 16-3 at the half.
They would get no closer.
November, 17, 2012
11/17/12
12:00
PM ET
Let's take a look at what is on tap in the ACC today.
Heather is in College Park to bring you updates on Florida State-Maryland. You can follow
along on Twitter
for updates on the other games with the handy dandy hashtags listed below. For those who need a quick refresher, here are
Heather's picks
,
what to watch
, and who is on
upset alert
.
No. 10 Florida State (9-1, 6-1) at Maryland (4-6, 2-4), noon, ESPNU/WatchESPN.
#FSUvsMD.
Simple enough scenario in this game: Florida State clinches a spot in the ACC title game with a win. But stranger things have happened, right? Anybody
remember 2004
?
Virginia Tech (4-6, 2-4) at Boston College (2-8, 1-5), 12:30 p.m., ACC Network/ESPN3.
#VTvsBC.
The Hokies are looking for their
first road win
of the season to keep their bowl hopes alive. In one important injury to watch, the Eagles list ACC leading tackler Nick Clancy (concussion) as probable on senior day.
USF (3-6) at Miami (5-5), 3 p.m, GamePlan. #USFvsMIA.
The Hurricanes have lost three receivers to season-ending injuries, and have another serving a suspension, but coach Al Golden
isn't worried about depth
at the position. Miami needs to win to become bowl-eligible, but Golden refused to entertain any questions about a decision on a possible postseason ban should the Canes win.
Duke (6-4, 3-3) at Georgia Tech (5-5, 4-3), 3:30 p.m., ESPNU/WatchESPN. #DUKEvsGT.
If Duke wins out
, the Blue Devils go to the ACC championship game. But they have not won in Atlanta since 1994. Virginia's success using two quarterbacks ran out Thursday night. Will the
same happen to the Jackets
? One bit of news on the injury front: Duke defensive end Kenny Anunike will be back in the lineup.
Wake Forest (5-5) at No. 3 Notre Dame (10-0), 3:30 p.m., NBC.
The Deacs played the Irish tough last season before losing a close game. Now they are hoping to shock the nation and
pull the upset
. Interestingly, Wake Forest is done in ACC play with two weeks left in the season. It needs one more win -- either against the Irish or Vanderbilt -- to get back to a bowl.
NC State (6-4, 3-3) at No. 11 Clemson (9-1, 6-1), 3:3 p.m., ABC/ESPN2. #NCSUvsCLEM.
Clemson coach Dabo Swinney says revenge
isn't on the minds
of his players, after losing to the Wolfpack last season. The Tigers need to win if they want to keep up their hopes of getting to a BCS game. Their improved defense faces a tough challenge from NC State quarterback Mike Glennon.
November, 16, 2012
11/16/12
9:00
AM ET
So who is going to transform tomorrow with a huge game in Week 12?
Miami running back
Duke Johnson
.

After his eye-popping school-record 368-yard day against Virginia a week ago, Johnson is the front-runner to win ACC Rookie of the Year honors. He is going against a USF defense that has struggled throughout this season, and has major depth concerns in the secondary as well. If he breaks a tackle and hits the open field, it could be lights out.
USF coaches are well aware of what he has done. Coach Skip Holtz has talked all week about limiting Miami's big-play capability. Defensive backs coach
Rick Smith told
The Tampa Bay Times, "He's a deep concern for us. We need to tackle him before we're chasing him, because if we end up chasing him, we ain't gonna catch him."
Johnson now has 1,688 all-purpose yards this season, ranking third on Miami's single-season list, passing Edgerrin James, Graig Cooper, Chuck Forman, Santana Moss and Lamar Miller. He trails only Ottis Anderson (1,703) and Willis McGahee (2,108).
If you want to delve deeper into the big-play capability, Johnson has 11 of the Hurricanes' 16 longest plays this season:
Johnson has Miami's six longest kickoff returns – 95 (TD), 95 (TD), 81, 77, 59 and 46.
Johnson also owns Miami's six longest rushing plays – 65, 56 (TD), 54 (TD), 52, 32 and 28 (TD).
He has a team-best 21 plays of 25 or more yards, including six for touchdowns.
Though USF ranks No. 7 in the Big East in total defense, the Bulls have done a good job of limiting big plays. They haven't allowed a play longer than 50 yards all season. They have not allowed a touchdown off a kickoff or punt return this year, either. Still, USF has not played anybody as good as Johnson all year.
The challenge to stop him is a huge one.
November, 15, 2012
11/15/12
10:15
AM ET
Here are the top storylines to watch in the ACC heading into Week 12.
1. Can Virginia keep up its momentum?
Week 12 begins tonight when the Hoos host Coastal Division rival North Carolina in the 117th meeting between the schools. After losing six in a row this season, Virginia has won two straight. Why? First, more production out of the offense. UVa has 928 total yards over the past two games with 10 offensive touchdowns. Second, the Hoos are doing much better taking care of the football. For the first time all season, they have gone consecutive games without losing the turnover battle. North Carolina has won two straight in the series. But the last time ESPN came to Charlottesville for a Thursday night game was back in 2006. The opponent? North Carolina. Virginia won 23-0.
2. Duke faces big test.
Folks, the biggest ACC game this weekend is in Atlanta, where Duke has a chance to take control of the Coastal Division against Georgia Tech. If the Blue Devils win out, they go to the ACC championship game. The last time the stakes were this high? Back in 1989, when Duke beat NC State and North Carolina to close out the season and win a share of the league title. That was the Blue Devils' final season under Steve Spurrier.
[+] Enlarge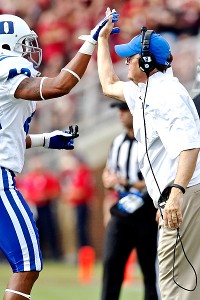 Cal Sport Media via AP ImagesDuke and coach David Cutcliffe control their own destiny in the ACC's Coastal Division.
3. Georgia Tech is hot.
The Jackets have a shot at the Coastal Division with a victory, making this game a virtual must-win for both teams. Georgia Tech has won three of its past four games to get itself in position to compete for the division after being written off. At the very least, Georgia Tech has assured itself an 18th straight non-losing season in conference play -- the longest active streak in FBS. A win also would make the Jackets bowl-eligible for the 16th straight year -- the nation's fourth-longest streak.
4. Meanwhile, in the Atlantic ...
Ho hum, no drama on the other side of the division race, where Florida State gets into the championship game with a win over severely depleted Maryland. Though the Terps have lost four straight, there is no such thing as a "slam-dunk Florida State road win." The Noles have survived a scare in each of their away games this season. The latest happened in Blacksburg last Thursday night, when
EJ Manuel
threw his first career game-winning touchdown pass on the team's final possession.
5. Can NC State slow down Clemson?
After scoring 45 points against Maryland last week, Clemson became the only team in ACC history to score 37 or more points in nine consecutive games. Clemson has averaged 44.8 points a game during the streak. Florida State opened the 1995 season with seven straight games of 42 or more points and averaged 56.1 points per game during that span.
6. Can the Hokies win their first road game?
The ACC has three of the four longest active bowl streaks in the nation with Florida State (31), Virginia Tech (19) and Georgia Tech (15). But the Hokies and Jackets are not bowl-eligible just yet. The last time Virginia Tech missed a bowl was in 1992, when most -- if not all -- of the team's freshman class was not born yet. The Hokies travel to Boston College hoping for better road results. Virginia Tech is 0-5 away from home this year.
7. Duke Johnson, encore?
Johnson had the best day for a freshman in ACC history last week, with 368 all-purpose yards against Virginia. The previous mark of 345 yards was set by
Sammy Watkins
last year. So what will Johnson do against a USF defense that has been inconsistent for the entire season? Miami clinches bowl eligibility with a victory.
8. Hello again, Notre Dame.
For the second straight week, an ACC team gets a chance to knock off the No. 3 Irish. This time, the task falls to Wake Forest, which played the Irish close in a loss last year. The last time the Deacs beat a team with zero or one loss in November was back on Nov. 4, 2006, in a 21-14 win over Boston College. Wake Forest was ranked at the time and ended up in the ACC title game. But before that win, the last time the Deacs accomplished that feat was in 1967 with a 31-24 victory over Tulsa, which came into the game 5-1.
9. More special teams?
For the first time in league history, the ACC had three kickoff returns of 90 yards or more on the same day last Saturday. Georgia Tech's
Jamal Golden
returned a kickoff 100 yards for a touchdown against North Carolina; NC State's
Tobais Palmer
also returned one 100 yards against Wake Forest; and Miami's Duke Johnson ran a kickoff back 95 yards for a score against Virginia. The previous high of two returns was 11 years to the day -- Nov. 10, 2001 -- when Clemson's Derrick Hamilton (against Maryland) and Virginia's Tavon Mason (against Georgia Tech) each had 100-yard kickoff returns for scores.
10. Third downs at Clemson.
When the Tigers have the ball against NC State on third down, it will be a battle of team strengths. Clemson is third in the nation in converting on third down at 53.21 percent (83-156), while NC State is third in the nation on defense when it comes to third down, allowing opponents to convert just 25.33 percent (38-150) of the time.
November, 14, 2012
11/14/12
2:00
PM ET
There really is nothing unusual about USF lining up its backup quarterback against Miami.
This will be the third straight season the Bulls have relied on their second-stringer in this game.


With starter
B.J. Daniels
out for the season, USF will start either
Matt Floyd
or
Bobby Eveld
on Saturday. Coach Skip Holtz has not announced a starter yet, hoping to keep the competition between his two quarterbacks going as long as possible. Floyd has been the backup all season; but Eveld has more game experience -- including the only win in program history over the Hurricanes back in 2010.
"We've got an obligation to put the best quarterback on the field, the one that gives us the best opportunity to win," Holtz said. "As much as it's the opponent, it's the game experience. Being able to go on the road and lead a team in overtime to victory and make some of the plays [Eveld] did, that sits in the back. It's still about who gives you the best chance to win by protecting the ball, but that's one of those intangible things that has to lean in Bobby's favor with his game experience."
The plan going into the season was to redshirt Eveld and go with Floyd as the backup. But after Daniels broke his leg nearly two weeks ago against UConn, the plan changed. Eveld called the last two weeks a "roller coaster" but said he would do whatever it takes to help the team out, even if it means burning his redshirt with three weeks left in the season.
The two have essentially split all the reps last week during the bye and this week as well in order to get themselves prepared for the game. As mentioned earlier, playing Miami is nothing new for Eveld. He has come on in relief of Daniels the past two seasons. During the upset in 2010, he took over at halftime and engineered a fourth-quarter comeback. His 1-yard touchdown run sent the game into overtime, and USF won 23-20 after
Demetris Murray
scored in the extra period.
Miami coach Randy Shannon was fired hours after the game. But for USF, it was one of the biggest wins in school history. Eveld will never forget the celebration in the locker room.
"I still get way too much credit for that game," Eveld told ESPN.com during a phone interview Wednesday. "I think I was just able to play within the system and I stuck to my reads. The coaches really made it simple as far as terminology. They tried to keep it basic and everybody executed their job."
Miami coach Al Golden said he was not too concerned over who his team would have to face at quarterback, first praising Daniels for his terrific career before saying, "We're ready for either one of them. I see that more as an offensive system as opposed to just a quarterback."
Floyd has gotten the game experience this year, coming on in relief of Daniels briefly against Florida State, and then in the fourth quarter against UConn. He had fumbles in both of those games, perhaps due to nerves. But Floyd is ready for the challenge ahead of him, should his number get called to start. And a big reason why -- the competition has made him better.
"You can't slack off," Floyd said in an interview with ESPN.com. "You're never supposed to slack off, but when you've got somebody right on your back fighting for your position, it makes you fight that much harder. Me and Bobby are doing a great job pushing each other. Either decision the coaches make is what's best for the team."
November, 12, 2012
11/12/12
1:00
PM ET
Time to take a look at what is on tap in Week 12 in the ACC.
Thursday
North Carolina (6-4, 3-3) at Virginia (4-6, 2-4), ESPN, 7:30 p.m.
Let's put it simply: Virginia is hot, and North Carolina is not. The Hoos come into the game on a two-game winning streak, while the Tar Heels have a very short work week to figure out what exactly went wrong in a 68-50 loss to Georgia Tech. And because their division is a total mess, this one could have implications on who ends up going to the ACC championship game. Though North Carolina is ineligible to win the division, its results and records still figure into the league's tiebreaker scenarios. Though Virginia is no longer alive for the division crown, the Hoos still have bowl hopes.
Saturday
No. 10 Florida State (9-1, 6-1) at Maryland (4-6, 2-4), ESPNU, Noon.
The Seminoles have had their share of road drama this season, but something tells me that won't be the case in College Park this weekend. Maryland is a depleted team given all the injuries it has had to endure, and is coming off a loss to Clemson. Whoever devised the schedule for the Terps did them no favors, with back-to-back games against the ACC's only ranked teams. Florida State clinches a spot in the ACC title game with a win.
Virginia Tech (4-6, 2-4) at Boston College (2-8, 1-5), ACC Network, 12:30 p.m.
The Hokies came into the year as the favorites to win the Coastal, but now they are fighting for their bowl lives. Such is the bizarro season unfolding in Blacksburg. Virginia Tech has to win out to keep its 19-year bowl streak alive. The Hokies are at least going to be the major favorites in this game, considering how bad Boston College is this season, ranking in the bottom 100 for scoring offense, rushing offense, rushing defense and total defense. Virginia Tech has won four straight in the series.
USF (3-6) at Miami (5-5), RSN, 3 p.m.
The Hurricanes take a quick break from conference play to take on USF, a team that has had major struggles this season. Miami comes into a game off a heartbreaking loss to Virginia, and will have its hands full against the Bulls. USF is a team that rises up to play its in-state competitors. But the Bulls will be playing without starting quarterback
B.J. Daniels
, who is out for the season with a broken leg. Backup
Matt Floyd
will get the nod. Interestingly enough, this will be the third straight meeting between the schools where USF has had to play its backup.
NC State (6-4, 3-3) at No. 11 Clemson (9-1, 6-1), ABC/ESPN2*, 3:30 p.m.
Is revenge in the air at Clemson? Coach Dabo Swinney says no. But still, the Tigers will look to get some payback in this game, after NC State handed them a 37-13 loss last season to break their seven-game winning streak in the series. Clemson just set a record with its 12th straight home win, and NC State has not won in Death Valley since 2002.
Duke (6-4, 3-3) at Georgia Tech (5-5, 4-3), ESPNU, 3:30 p.m.
This has to be the biggest game for the Blue Devils since 1994. Because right now, they control their Coastal Division destiny. In fact, their road to the ACC championship game is the easiest to follow among all the potential scenarios. All Duke has to do is win out to clinch a spot in Charlotte. But Georgia Tech is newly resurgent and still has its own Coastal Division hopes. The Jackets have won eight straight in the series and come into this game on a two-game winning streak. Duke has got to watch for
Vad Lee
, who has been outstanding in his last two games.
Wake Forest (5-5) at No. 3 Notre Dame (10-0), NBC, 3:30 p.m.
The Deacs face a tough two-game stretch to close out the season with their bowl hopes on the line. First up is undefeated Notre Dame, a team that beat them 24-17 last season in Winston-Salem.
Tanner Price
was not sharp in a loss to NC State last week, and he is going to need to play a near-flawless game to give this team any shot at the upset. If they can't, then they need to beat Vanderbilt the following week to get to six wins.
September, 30, 2012
9/30/12
10:00
AM ET
It wasn't a good week for the ACC. Or for the Virginia Tech and Georgia Tech fans who are still in denial. Here's a look at five lessons learned from Week 5, in no particular order. This post isn't for the squeamish.
[+] Enlarge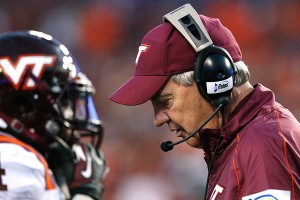 Jonathan Ernst/Getty ImagesFrank Beamer and Virginia Tech will need to end their road funk to become bowl eligible.
1. The Big East > ACC -- for now.
With Virginia Tech's loss to Cincinnati, the ACC dropped to 3-4 against the Big East this year, with losses to Pittsburgh, Connecticut and Louisville. Florida State avoided a letdown against South Florida, but Virginia Tech's 0-2 record against the Big East this month gives the ACC no room to talk any trash this year. Maryland's win over Temple and NC State's win over UConn don't exactly qualify as bragging rights. Considering the ACC is adding Pitt and Syracuse to the league next year, this is only further ammunition for the Big East against the ACC. You know what they say: If you can't beat 'em, recruit 'em.
2. With the exception of Florida State, the ACC is still the ACC.
It seems as though every year, ACC front-runners are losing to opponents they shouldn't. It's not just failing to show up on the big stage or in bowl games; it's also the losses to MTSU, Cincinnati and Louisiana Tech that kill the ACC's image. If it weren't for the national title contenders in the Atlantic Division, the point-and-laugh routine would have been even worse this weekend. No. 4-ranked FSU is the only team with a winning league record in the Atlantic Division right now, and Duke and Miami are leading the Coastal Division. Say what?
3. Miami is the front-runner in the Coastal Division.
Virginia Tech lost to Cincinnati. Georgia Tech lost to Middle Tennessee. And Virginia lost to Louisiana Tech. Granted, they were all nonconference games, but right now, the Hurricanes are showing more heart than any of them. For the second straight weekend, Miami dug deep and found a way to win a close game, this time a last-minute thriller at home against NC State. It's Miami's first three-game winning streak since 2009 and its first 3-0 ACC start since 2004 -- the first season in the conference. The young Canes have exceeded expectations and are playing with an emotion that stems from the top. Al Golden is starting his campaign for ACC's Coach of the Year.
4. Duke is different.
The Blue Devils finally got a marquee road win against an ACC opponent, and that in itself is a sign that things have changed under coach David Cutcliffe. Duke's 4-1 start is its best since 1994, when Duke was 5-0 and went to a bowl game for the last time. Duke snapped a 12-game losing streak to Wake Forest on Saturday and got one step closer to bowl eligibility. Duke has seemingly always found a way to come out on the wrong end of close games, but it finally got over the hump against the Deacs, and it did it with an injury-depleted roster. Duke's offense is rolling. Duke has scored 185 points through the first five games, the highest five-game total to open a season in school history. Don't look now, but Duke has the same record as Clemson and Miami.
5. Clemson didn't "pull a Clemson."
One week after losing an emotional game to Florida State, the Tigers went on the road and beat a tough Boston College team without receivers
Sammy Watkins
and
Martavis Bryant
. Quarterback
Tajh Boyd
called a team meeting earlier in the week, and his four touchdowns and 409 yards of total offense made sure it wasn't just hollow talk. It was an important win for Clemson, which is notorious for its letdowns and crucial to the ACC's hopes of having two BCS bowl teams for the second straight year. The Tigers also helped the perception of the Noles' strength of schedule by avoiding a letdown.
September, 27, 2012
9/27/12
4:00
PM ET
USF has lost two consecutive games, and does not exactly get a pick-me-up this weekend.


As coach Skip Holtz said earlier this week, his Bulls are "looking down the barrel of a shotgun" when it comes to preparing for No. 4 Florida State on Sunday. The Noles come into the game with a supremely talented team that is gaining steam, with playmakers emerging on offense and a defense that has been relentless at times.
USF, meanwhile, has questions just about everywhere. The offensive and defensive lines have underperformed, and there has been no consistency at running back. At least on paper, the Bulls appear to be overmatched.
But they appeared to be overmatched in 2009, too, on the road in Tallahassee. That is, until USF pulled the stunner.
"Looking back on it, I could say it is one of the biggest moments in my career thus far," quarterback
B.J. Daniels
said. "I'm still looking forward to many things this year, but that moment for me and especially for our team, that was pretty special. That was an opportunity for USF to make a name for themselves especially here in the state of Florida."
USF has been known to get up for its big in-state rivalry games, though Daniels said, "I definitely think our biggest motivation is winning a ball game this weekend, it would mean more to us to make sure we win in all facets -- offense, defense and special teams -- to make sure we don't have a lot of missed assignments and penalties if we do those thing we'll be in position to do anything we want no matter who we're playing."
As for Holtz, this is the way he described the mood of his team this week.
"Determined is the answer. We're 2-2 and we're four games into the season and there's a lot of people on the outside (saying) woe is me, the dam is broke … when it's the same thing, the ball gets batted up, you intercept it, you win a close game on the road. But right now for this team it's very determined, it's upset, it's a reality check to look in the mirror and watch yourself play in a game where you don't play at the level your capable of. They're embarrassed for the way we performed on Saturday and excited for the opportunity to go play a top-10 team."