May, 15, 2013
5/15/13
9:00
AM ET
AMELIA ISLAND, Fla. -- Louisville coach Charlie Strong is attending ACC spring meetings this year as the Cardinals face the uncomfortable position of playing one more year in their old conference while planning a future in a new conference.
Pitt and Syracuse did the dance last season. Louisville gets a turn now.
But not everything is new around here. Strong obviously knows Pitt coach Paul Chryst and played against Syracuse coach Scott Shafer, whose defense last year completely befuddled the Cardinals. He faced Florida State coach Jimbo Fisher during his time as a Florida assistant. And Strong also has good friend Steve Addazio with him in meetings. A year ago, Addazio and Strong sat in a room in Ponte Vedra Beach, Fla., during Big East spring meetings.
[+] Enlarge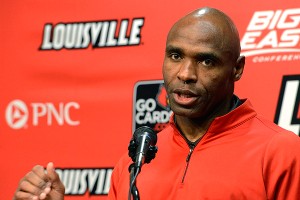 AP Photo/Timothy D. Easley"We haven't been a program that's been consistent each year," Louisville's Charlie Strong said. "Is complacency going to set in? Are we good enough or mature enough to take that next step?"
Now here they are at different league meetings, as the Cardinals have changed conference allegiances and Addazio left Temple for Boston College. Not surprisingly, the two former Florida assistants walked out together during the first day of meetings. Strong said the biggest reason he was here was to get acquainted with the other league coaches and commissioner John Swofford.
Louisville reps will not attend Big East spring meetings next week.
Given everything the Louisville program has accomplished over the past year, the Cardinals are joining their league at the right time.
When asked what it has been like watching virtually every program on campus have success this year, including his own, Strong said, "Our athletic director, Tom Jurich, is amazing. Just to watch how he's been able to be the mastermind behind all the success in the program, with football, basketball, soccer, our baseball team, our softball team. It's good we're having the success. Now for us to take a step into another conference at least we bring some credibility with us."
Expectations are high once again for Louisville headed into this season. What does Strong make of the hype?
"The main thing for us is consistency," he said. "We haven't been a program that's been consistent each year. Is complacency going to set in? Are we good enough or mature enough to take that next step? We'll find out this season."
Though Louisville will be playing under the American Athletic Association banner in 2013, there is no doubt how the Cardinals do will impact the ACC's perception. It certainly won't hurt matters if the Cardinals make an undefeated run and have a Heisman contender on their hands headed into Year 1 in their new league home.
December, 4, 2012
12/04/12
6:30
PM ET
You want passion, Boston College?
You got it.
You want unending stores of energy, Boston College?
You got it.
You want a well-respected and heavily connected recruiter in the Northeast, Boston College?
You got it.
[+] Enlarge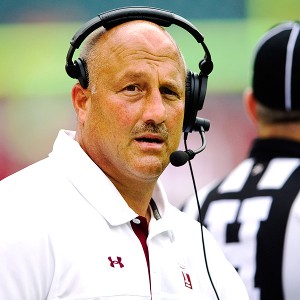 Howard Smith/US PresswireSteve Addazio brings energy to a slumping Boston College program.
New BC athletic director Brad Bates nailed his hire of Steve Addazio on Tuesday, giving a football program in major need of revitalization a major jolt. Addazio is a barrel through the wall at 100 miles per hour kinda guy, and, well, that is exactly what the Eagles need if they want to restore their winning tradition.
Nobody needs to be reminded of how far this program has fallen in recent years. Going 2-10 at a school that played for an ACC title just five years ago is simply unacceptable, and everybody knows it. Boston College has had its share of winning seasons in recent years -- having gone to 12 straight bowl games between 1999-2010. This recent dip is an anomaly, not the norm.
Consider that BC only had five losing seasons dating back to its first year in a conference, 1991, until this recent two-year stretch.
The right coach can win at Boston College. Addazio is the right coach. He is from Connecticut, and coached high school football in Connecticut. He went to college in Connecticut. He coached at Syracuse. His ties to New England are extensive, and date back 28 years. When he was hired at Temple two short years ago, he pointed to the Northeast as a huge reason why he took the job.
He said he was home.
Now he moves a few hours north to bring his brand of football to the Eagles. You will hear plenty from Addazio about being tough, about playing physical, about winning the line of scrimmage. He wants a power run game with a spread attack, too, and a defense that is aggressive and constantly comes at you.
That is who he is, and that is what he knows. There is not one coach who will question the physicality his Temple teams played with the last two seasons.
There will be those who point to his record this season (4-7) and wonder if this is the right hire. There will be those who bring up the criticism that trailed him at Florida in his final season there as offensive coordinator. But the reality of the situation is Temple had MAC players going against Big East players this season. Laugh at the Big East, but the league provides a step up in competition. And the Owls did not finish as the worst team in the league.
At Florida, he had an untenable situation his final year there, with a head coach who had quit, then un-quit and left most in the program scratching their heads about where they were headed.
Addazio has the fire and moxie that Boston College needs to turn this program around. He has the connections that are needed to turn this program around. Everything points to this being a home-run hire. Don't forget that Bates saw Addazio first-hand when the Owls were still in the MAC, and Bates was at Miami (Ohio).
Now we'll see if Addazio can hit his opportunity out of the park.
December, 4, 2012
12/04/12
5:20
PM ET
Boston College pulled a shocker Tuesday,
hiring Temple coach Steve Addazio
after just two seasons with the Owls.

"Steve Addazio brings three critical traits to Boston College football," athletic director Brad Bates said in a statement. "First, he genuinely cares about his students and will facilitate their formation and development in meaningful ways that creates a family culture extending into the entire BC community. Second, he has a passion that is contagious and an energy that will motivate those fortunate to meet him. Finally, he is a proven winner with an extensive history of success as an assistant and head coach that includes two national championships. We are very excited to have Steve Addazio leading Boston College football and look forward to an extraordinary future."
Boston College fired Frank Spaziani at the end of the regular season after going 2-10, one of the worst seasons in program history. Addazio has been at Temple the past two seasons, going 4-7 in 2012 in his first season in the Big East. Before that, he served as offensive coordinator at Florida.
"Steve Addazio has done a tremendous job with Temple Football in his two years at the University, and we wish him nothing but the best," Temple athletic director Bill Bradshaw said in a statement. "Temple Football has never been stronger, and I am confident we will be able to attract a high-level pool of candidates for the position and the program will continue its upward momentum."
A news conference has been set for Wednesday afternoon in Boston to introduce Addazio as the new Eagles coach.
September, 8, 2012
9/08/12
3:54
PM ET
Well, neither game was a beauty to watch, but both Maryland and NC State survived their Big East opponents to pull out victories Saturday afternoon. Here is a quick look at both.


Maryland 36, Temple 27:
For those Terps fans who had visions of another collapse (
ahem NC State
), give credit to true freshmen
Perry Hills
for leading this team on a defining drive. Maryland was in huge danger of blowing a 26-3 halftime lead after Temple clawed its way back to within 29-27. But Hills led an 11-play, 75 yard drive -- with a huge 38-yard throw to
Stefon Diggs
on third down.
Justus Pickett
scored on a 7-yard touchdown run to seal the victory.
For an offense that was absolutely dreadful in a loss to William & Mary last week, there were major signs of encouragement. Maryland had 19 first downs and 334 total yards. Maryland only had 13 first downs last week against William & Mary. The Terps had 12 in the first half against Temple.
And there was moxie in that final drive. No folding up the tents with so many youngsters on the field. But there were also signs of discouragement -- running back
Wes Brown
had two fumbles -- one led to the touchdown that pulled Temple within two points late; Diggs muffed a punt return, and Hills also had a fumble early on. Somehow, Maryland is 2-0 after turning the ball over eight times in two games, and delivered one of the biggest early surprises of the day.
For Temple, the Owls just made too many mistakes to overcome. There were four personal fouls, and seven penalties for 72 yards; a safety on a bad snap; three turnovers, nine first downs and only 230 total yards. Running back Matt Brown (ankle) was banged up; and in and out of the game. There were some flashes in the passing game with
Chris Coyer
(playing with a 101 degree fever) but this team is not built to pass when it falls behind by 23 points. So much for looking like the best team in the state of Pennsylvania


NC State 10, UConn 7:
The offense was missing for both teams in this game, as neither looked ready for prime-time. But you could say the Wolfpack made one more big play than the Huskies, and that was the difference in the game.
Mike Glennon
was better than last week, but still not great. Still, his beautiful 46-yard touchdown pass to a super-stretched out
Bryan Underwood
was the longest gain for either team.
Neither offensive line has much to brag about. UConn has had issues now for two straight games with its run game. Going into this one, coach Paul Pasqualoni said he wanted to see a huge improvement out of this group, but he didn't get it. Neither team was able to run the ball. NC State had 54 yards on the ground; UConn had 35 -- and 15 of those came on one late run. The NC State offensive line, which is supposed to be among the best in the ACC, had problems containing what is shaping up to be one of the best defenses in the Big East.
UConn had six sacks and a really terrific defensive performance, but unless its offense can score, UConn is going to be in for a rough year.
At least NC State cornerback
David Amerson
had a bounce-back game. He got his first interception of the year, and then preserved the win when he broke up a fourth-down pass attempt by
Chandler Whitmer
with a little over a minute to go. Whitmer was just not very good for UConn, throwing three interceptions and never putting his team in position to win.
The Pack's 10 points were the least in a victory since beating South Carolina 10-0 in the second game of the 1999 season.