August, 19, 2014
Aug 19
9:30
AM ET
Boston College coach Steve Addazio remembers an era when players wanted to redshirt as true freshmen to better prepare them for the final four years of their college career.
"Now it's 'I want to play,' " Addazio, 55, said. "If you're talking about not playing them early, the majority are like 'What do you mean?'"
So, the ability to play or possibly even start as a true freshman has become a regular sales pitch for coaches from the Power Five to the Group of Five. It's certainly a tool in the belt for Florida State coach Jimbo Fisher. Last week, Fisher alluded to the number of freshmen All-Americans he's coached the last four seasons. Twenty-four hours later, it was on the program's official recruiting Twitter page.
"The last [four] years we've had 14 freshmen All-Americans," said Fisher, condensing multiple outlets' freshmen award teams into one, concise Florida State propaganda poster. "If you come in ready to play, we're willing to put you on the field. It's critical for guys to come in saying 'When I'm the best, I'll play.'"
Fisher has the goods to back up his claims, even if the numbers are obviously skewed to best represent his program. But how does his résumé compare to those coaching some of the country's other top programs?
I tried to come up with a way to accurately discern which schools play the most freshmen and decided true freshmen letterwinners was the simplest and most effective way to crunch the numbers. To earn a letter, a player has to actually play consistently through the season. The disclaimer is each program can use different benchmarks when awarding letters, but there is never going to be a perfect way.
I began with Florida State's, looking back at the 2011-2013 classes. To properly quantify the data from Florida State, I decided I'd look at the five schools ranked highest in the preseason polls that have had its coach in place at least five seasons. Oregon's Mark Helfrich was offered an exemption because he was promoted from within and is in his sixth season with the Ducks. Coaches in place at least five years was the stipulation since an incoming coach might be susceptible to playing the prospects he recruited or having a number of transfers that could open up starting or rotational spots.
The criteria: Each class was looked at and the total number of signees was pared down to just those who enrolled as members of the football team in the fall. Junior college signees were excluded, as were any recruits who were academically or medically disqualified before playing a game. That explains why the total number of freshmen for our purposes might look different than what might be seen on RecruitingNation. Any true freshmen who spent a year at a post-graduate or prep school was also excluded. Redshirt freshmen were disqualified, too.
Bottom line is if the player was not a part of the football team the fall following his high school graduation, he was excluded.
Nearly all of the data was collected after poring through media guides and archives, although the communications departments at some of the schools were also helpful providing numbers and deserve recognition.
So, here is the actual data:
It is hardly a coincidence that Fisher and Alabama's Nick Saban, who mentored Fisher at LSU, have identical percentages of true freshmen earning a letter. Fisher and Saban arguably have been the two best recruiters over the last few cycles, and, the data shows those two are not going to keep young talent off the field simply because of age. Nearly half of the true freshmen at Alabama and Florida State lettered over the last three seasons.
Mark Dantonio has built Michigan State into a national title contender in a different manor, relying on experience. Only 12 percent of true freshmen lettered over the last three seasons. Recruiting to Michigan State is not the easy task it is at some other top-10 programs, and the Spartans are not recruiting as many ESPN 300-level players as the likes of Alabama and Florida State.
It should be noted Michigan State, Oklahoma and Oregon don't have quite the recruiting base Alabama and Florida State do.
Inquiring minds want to see how that 45 percent stacks up to some of the other top programs in the country, so even though they did not fit the criteria I looked at a few other schools with coaches in place at least five seasons and lately in the top half of the rankings. LSU was worth a look considering it's Les Miles' 10th season in Baton Rouge and, like Fisher and Saban, has recruited exceptionally well for a long period of time. Mark Richt is in his 14th season at Georgia and, like Miles, usually has a highly-regarded recruiting class. Steve Spurrier is in his 10th season at South Carolina and has steadily improved the Gamecocks' class to the point that the 2015 class is No. 5 nationally. Dabo Swinney has turned Clemson from a perennial disappointment into a two-time BCS bowl participant. And Ohio State and Texas A&M, mainly because it's worth seeing how third-year Buckeyes coach Urban Meyer fares considering he frequently voices his preference to avoid redshirting. Kevin Sumlin is also in the process of trying to build an SEC power that can compete with Alabama and LSU in the SEC West.
For the Buckeyes, out of the 69 true freshmen to land in Columbus, Ohio, from 2011-2013, 31 lettered -- the same 45 percent. Looking at just Meyer's two seasons, however, he is decimals ahead of Fisher and Saban at 46 percent (21 out of 46), thanks in large part to 14 freshmen letterwinners in his first season.
Georgia's Mark Richt has a percentage of nearly 50 percent, but the Bulldogs' numbers might be the most skewed. Along with South Carolina, the Bulldogs had several recruits that either did not qualify or spent time at a prep school or junior college. Also, Georgia's long list of dismissals and transfers is well documented, and all of the departures has opened up spots for freshmen to earn immediate playing time.
It is Miles, though, who plays a higher percentage of freshmen than all of the others. Twelve true freshmen lettered for LSU in both 2012 and 2013, and another nine earned a letter in 2011. There were a total of 65 applicable freshmen to enter LSU during that span and 33 of them lettered. That's a percentage of 51 percent.
Certainly the numbers will fluctuate year to year, and coaches at every single program are playing freshmen more frequently than ever before. When taking into account the timeline is over three years, LSU averages just one more freshman letterwinner per season than Alabama and Florida State. For our intents and purposes, though, the data shows which top programs consistently play the most freshmen in this new era of freshmen phenoms.
And, uh, FYI, Alabama has 19 ESPN 300 players prepping for their freshmen season this fall. LSU has 16, and Florida State isn't far off with 13 of their own.
June, 18, 2014
Jun 18
1:30
PM ET
Texas and Texas A&M might not be playing one another anytime soon.
But other schools around the league are interested in the prospects of rekindling rivalries that were destroyed by two rounds of conference realignment.


While the Longhorns and Aggies remain at odds, Texas Tech athletic director Kirby Hocutt told ESPN.com this week he's optimistic that he'll be able to get Texas A&M on the Red Raiders' schedule down the line again. Hocutt said there has been interest from Texas A&M's side, as well.
"Hopefully that's a series that at some point in time that could start again," Hocutt said. "Is that a game that won't happen again? No. We've had discussions about it. Hopefully we can reengage that in the coming years."
Oklahoma and Nebraska already have an agreement in place to play a home-and-home in 2021-22. Missouri coach Gary Pinkel
has reportedly said
he thinks his school will play Kansas again someday.


And West Virginia athletic director Oliver Luck, who has already added Penn State and Virginia Tech to future schedules, told ESPN.com he's hopeful he'll be able to revive the "Backyard Brawl" with Pitt at some point, as well.
"At some point we'll get Pitt back on the schedule," Luck said. "What I'm trying to do with our nonconference games is stay as regional as possible and rekindle some of our historical rivalries. Penn State is back on the schedule. Virginia Tech is back on the schedule. That game meant a lot to southern West Virginians. The Pitt game meant a lot to northern West Virginians. We've continued to play Pitt in many of the sports.
"We've both gone through transitions, so it's tough schedule-wise for both of us. But I think at some point we'll get Pitt back on the schedule. I see [Pitt athletic director] Steve Pederson every now and then at various conventions. And we've had some discussions about that. We just haven't been able to really eyeball the proper time to get it going again."
January, 1, 2014
Jan 1
11:00
AM ET
Paging Clemson and Florida State. Pick up the white courtesy phone.
The ACC would like a word.
Because more than ever, the league needs both to stop the league bowl slide and win their respective BCS games. That would at least bring some much needed credibility to the league. Because right now, its rep remains in shambles.
A record 11 teams made bowl games, wonderful news for the newly expanded league. However, winning those games has been a different story. The ACC stands to finish with a losing record this bowl season, the same way it did back in 2008, when its record 10 bowl teams went a collective 4-6.
After a miserable New Year's Eve, in which the ACC went 0-3, the bowl record for 2013 stands at 3-6. What's worse is the way everybody lost, most especially the teams in the biggest games:
Miami got blown out by Louisville 36-9 in the Russell Athletic Bowl in what qualifies as the most disappointing showing among ACC teams so far. The Canes were inept on offense, completely dominated physically and exposed once again on defense -- by a roster filled with players from the South Florida area. It is inexplicable for a team coming off a two-year postseason ban to show such a complete lack of intensity or urgency. Headed into the contest, this was billed as one of the best non-BCS bowl matchups. Only one team came to play.
Virginia Tech thought it might have a chance to contain Brett Hundley and the UCLA offense with its top-notch defense in the Hyundai Sun Bowl. But after Logan Thomas got hurt, the Hokies seemed to go in a shell. That still does not explain a horrendous fourth quarter in which UCLA turned a close game into a rout. It was Virginia Tech's most lopsided bowl loss since falling to North Carolina 42-3 in the 1998 Gator Bowl.
Georgia Tech had one chance after another to beat Ole Miss in the Franklin American Mortgage Music City Bowl, but once again the Jackets could not take advantage. The dagger came late in the fourth quarter, when a fumble in the end zone led to a safety and the end of any shot to win. Georgia Tech has lost eight of its last nine bowls.
Then the heartbreaker on Tuesday night. Nobody gave Coastal champ Duke a chance to beat Texas A&M in the Chick-Fil-A Bowl. But the Blue Devils looked like they would save the day for the ACC, jumping all over the Aggies from the start en route to a 38-17 lead headed into the fourth quarter. But Johnny Manziel saved his Manziel Magic for the end, and Anthony Boone threw two interceptions to turn the tide. Duke lost 52-48 in a thrilling game that nearly gave the ACC the upset of bowl season. Duke had an unbelievable season, but that loss will not be easily forgotten.
Four of the six losses so far have been by double digits. Of the three wins, only one came against a power 5 conference team -- kudos to Syracuse for beating Minnesota in the Texas Bowl.
So that brings us to the two BCS games. No. 12 Clemson takes on No. 7 Ohio State in the Discover Orange Bowl on Friday night; No. 1 Florida State plays No. 2 Auburn in the VIZIO BCS National Championship.
If both win, they will go a long way toward erasing the nightmare that has been the 2013 bowl season. The truth is, these two teams have been the highest ranked ACC teams all season, the two that people across the country associate with ACC success. Two big wins over two big programs -- and most especially a national championship -- will show the ACC does have an elite upper class.
Does the middle of the league have work to do? Absolutely. What was already known headed into bowl season has been made even clearer. But the ACC ultimately will not be judged by what happened between Boston College and Arizona in the AdvoCare V100 Bowl. It will be judged by what happens on the biggest stage.
That's why the ACC needs Clemson and Florida State to come through.
January, 1, 2014
Jan 1
12:26
AM ET
If this was
Johnny Manziel
's final college football game, he couldn't have scripted it any better if he tried. Behind the heroics of the former Heisman Trophy winner, Texas A&M overcame a three-touchdown deficit to stun Duke 52-48 and win the Chick-fil-A Bowl.
Here's how it all went down:


It was over when:
The Texas A&M defense had struggled all night, but the Aggies came up with back-to-back stops on Duke's last two drives to storm past the Blue Devils. First, it was
Toney Hurd Jr
. returning an interception 55 yards to give Texas A&M its first lead of the game. Then, with Duke driving, it was linebacker
Nate Askew
who preserved the victory with another interception. All Manziel had to do was take a knee at the end.
Game ball goes to:
Seriously? Was there ever any doubt? Johnny Football might never play another down for Texas A&M, but if so, he ended his career with a bang. The Aggies' quarterback went 30-of-38 for 382 yards and four touchdowns through the air. He also had 73 yards and a touchdown on the ground. The highlight came early in the third quarter when he went all Johnny Manziel on the Blue Devils. He eluded the rush, hurdled a defender and somehow found a wide open
Travis Labhart
for a 19-yard touchdown.
Unsung hero:
Labhart. While Texas A&M star
Mike Evans
was losing his cool early in the game, it was Labhart who stayed calm and quickly became Manziel's go-to wide receiver. The former practice-squad player for the women's basketball team caught not one, not two, but three touchdowns and finished with seven catches for 76 yards. He might not have made the men's basketball team, but the Aggies are glad he went the football route.
Stat of the game:
Despite two late interceptions, Duke quarterback
Anthony Boone
played a tremendous game in his own right, throwing for 427 yards and three touchdowns. But even more impressive was his composure on third down. The junior went 11 of 12 for 144 yards on third-down passing attempts. The lone incompletion came on Duke's final drive, but he turned around and completed a pass to convert on fourth down.
What we learned:
If that was Manziel's last game, he will be missed in college football. Despite his off-field troubles and fiery personality, he was fun to watch. Texas A&M might struggle next year without him, but the Aggies are clearly moving in the right direction under Kevin Sumlin. It doesn't hurt that Sumlin recently signed an extension and looks to be staying for the long haul. As for Duke, it was an incredible season. The Blue Devils won 10 games for the first time in program history, and though they're still looking for their first bowl win since 1960, the future looks bright in Durham.
To watch the trophy presentation of the Chick-fil-A Bowl,
click here.
December, 31, 2013
12/31/13
12:00
PM ET
It's been a wild ride for both Duke and Texas A&M this season.


The Aggies, with their effervescent quarterback
Johnny Manziel
and their high-flying offense, were so often a thrill to watch, full of touchdowns and big plays, but ultimately not enough wins to compete for an SEC title.
Duke, meanwhile, had what could only be called a dream season when compared to the history of the program. David Cutcliffe was named Bobby Dodd Coach of the Year after leading the Blue Devils to their first 10-win season and a spot in the ACC championship game.
How it will end for both teams depends on who shows up ready to play in the Chick-fil-A Bowl at the Georgia Dome in Atlanta (
ESPN, 8 p.m. ET
).
Here's a quick preview of the game:
Who to watch:
Manziel has been careful not to make any official NFL announcement yet, but all indications point to the redshirt sophomore leaving Texas A&M early to enter the draft. And he might not be alone. Receiver
Mike Evans
, another redshirt sophomore, is a prime candidate to bolt for the pros as well. So get your fill of them while you can because they're arguably the best at their positions in the country. Manziel's talents, by now, speak for themselves. But Evans might be the bigger concern for Duke because at 6-foot-5 and 225 pounds, he's downright unstoppable. Just ask two of the best teams in the SEC, Alabama and Auburn, which combined to allow 566 yards and five touchdowns through the air to him this season.
What to watch:
Don't forget to pay attention to those pesky Blue Devils, though, as wide receiver
Jamison Crowder
and linebacker
Kelby Brown
are ones to watch. But Duke, without suspended leading rusher
Jela Duncan
, is in a pickle. Throwing the ball often will be a temptation, but as quarterback
Anthony Boone
said, it's a fool's errand to try to outduel Manziel because "that doesn't win football games." Instead,
Josh Snead
, Duke's backup tailback who ran for 547 yards this season, will be asked to do more. If the Blue Devils stay balanced on offense, they have a shot against what has been a porous Aggies defense. But if Boone, who has thrown 11 interceptions to 10 touchdowns, is asked to do too much, Duke could be in big trouble.
Why to watch:
Soak it all in because these two programs appear to be headed toward a crossroads. Duke has never had success like this before. How will it respond if its dream season ends with two straight losses? Can the entire coaching staff stay together? Is one player suspension a sign of more to come? And more questions can be asked of Texas A&M, which might shun the idea of rebuilding next season, but with the possibility of Manziel and Evans leaving, it's definitely a matter of hitting the "reset" button. Coach Kevin Sumlin is locked up under a new contract, but with so many NFL head coaches being fired this week, do the pros start beckoning him as well? Whatever the case, Texas A&M and Duke fans should savor the final game of their seasons and hope that next season holds just as much success.
Prediction:
Texas A&M wins it running away from Duke, 48-28. Had the Blue Devils showed better against this season's Heisman Trophy winner,
Jameis Winston
, I might have been swayed to pick otherwise. But Florida State gave Texas A&M the blueprint to moving the ball offensively. Manziel will have his way against the Duke secondary and end his career as an Aggie with a flourish, accounting for a handful of touchdowns that should leave us as in awe of his penchant for making something out of nothing.
December, 13, 2013
12/13/13
11:00
AM ET
After Texas A&M's
Johnny Manziel
became the first freshman to win the Heisman a year ago, it appears another freshman, Florida State's
Jameis Winston
, is poised to take the trophy. But which quarterback had the better freshman campaign?
David Hale and Sam Khan Jr. take the debate to the Interwebs for your reading pleasure:
Take 1: Hale: Winston was consistent, even in biggest games
No matter what Winston accomplishes this season, there's one thing Manziel will always have over him. Only one player can be the first freshman to win a Heisman, and that was Manziel. He was, to be sure, a worthy winner.
But beyond the history, the debate on which quarterback had the better freshman campaign is easy. It's Winston.
[+] Enlarge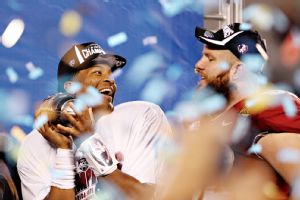 Streeter Lecka/Getty ImagesIf winning matters, Jameis Winston has won a conference title and has his team in the national championship game: two things Manziel has not done.
Compare passing numbers through 13 games and Winston comes out well ahead. He threw for a freshman-record 38 touchdowns, compared with 26 for Manziel. Winston threw for more yards, averaged significantly more yards per attempt (10.9 to 8.5 for Manziel) and had a quarterback rating (190.1) that dwarfs Manziel's (155.3). Winston had seven 300-yard games; Manziel four. Winston accounted for four or more touchdowns six times.
And before anyone makes the strength-of-schedule argument, remember that Winston had a slightly higher adjusted QBR -- which takes into account myriad factors, including competition.
Sure, Manziel came out of nowhere to become a Heisman winner. But wasn't there a lot more pressure on the much-hyped Winston to live up to those immense expectations?
Then let's look at how each player fared in his biggest games.
Manziel played six games against ranked teams, and he won four. He completed 67 percent of his throws -- same as Winston -- but the rest of his stats were utterly pedestrian. He averaged just 7.5 yards per attempt, threw for seven TDs and had five interceptions.
Winston, on the other hand, won all four of his games against ranked teams handily. He averaged 11.8 yards per attempt and threw for 12 touchdowns with five INTs.
Winston wasn't only at his best in big games, he simply never had a bad game. Manziel struggled mightily against Florida and LSU.
And Winston has the edge in the most important statistic: wins. The Seminoles are 13-0 and playing in the BCS National Championship next month. Manziel's season was great and the Aggies were a surprising 11-2 last year, but they didn't even get to a BCS bowl. Their season ended in the AT&T Cotton Bowl.
OK, so now we get to the obvious check mark in Manziel's corner: his legs.
Admittedly, there's no comparison here, and Manziel's ability to run is the great equalizer in this debate. But it's hardly fair to penalize Winston for looking to throw before he looks to run.
Winston put together a highlight reel of big throws that followed miraculous escape acts. His numbers when under pressure were by far the best in the nation. He managed to extend plays, completing an absurd 16 of 21 passes with four touchdowns and 15 first downs on third-and-10 or longer.
Does that make up for Manziel's 21 rushing TDs and 1,400 rushing yards? Probably not, but a quarterback's primary jobs are to make throws and win games. Winston was head and shoulders ahead of Manziel in both areas.
Take 2: Khan: Manziel did it all, against tougher teams
Winston has lived up to the hype and that's hard to do. In my opinion, he has been college football's most outstanding player in 2013. In every big game, he delivered and he led his team to the BCS title game.
But there's no debate here. As terrific as Winston has been this season, Johnny Manziel's freshman campaign was better.
[+] Enlarge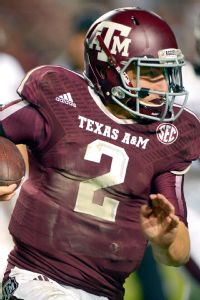 Thomas Campbell/USA TODAY SportsJohnny Manziel is clearly the superior runner.
Manziel was statistically better, had to carry his team more and did it against a tougher schedule. Oh, and as David mentioned, Manziel was the first freshman to do it. Can't beat that.
Yes, Winston's passing numbers are better. However, what Johnny Football did with his legs in 2012 is what set him apart, and it's what made him the toughest player to defend in college football. Winston hasn't run nearly as much because the Seminoles don't need him to (77 carries for 193 yards and four touchdowns), but that was a signature part of Manziel's game. He was a true dual threat. Manziel exploded for 1,410 yards and 21 touchdowns and led the SEC in rushing a year ago.
Not the leading rusher among quarterbacks. The leading rusher, period.
A&M needed that. Without that element of Manziel's game, the Aggies might not have beaten Louisiana Tech. They might not have beaten Alabama. The season would have been different.
Manziel broke Cam Newton's SEC single-season record for total offensive yards in a season, finishing with a whopping 5,116. And while Winston had more touchdown passes, Manziel had more total touchdowns with 47. Winston still has a chance to catch that total if he accounts for five touchdowns against Auburn in January.
And let's not forget A&M's schedule last year. A&M finished third in the country in the NCAA's "toughest schedule" rankings. The Sagarin ratings had the Aggies with the sixth-toughest schedule last year. The NCAA's schedule rankings are unavailable for this season, but for comparison's sake, Florida State's schedule is currently ranked 63rd in the Sagarin ratings. That's a huge difference.
Winston didn't have to face an LSU team that put five players from its front seven alone in the NFL draft. And even with that, Manziel and the Aggies still could have won that game (they lost 24-19). The best defenses Winston has faced were Florida (10th) and Clemson (23rd). Manziel faced three that finished in last year's top eight (Alabama, Florida, LSU).
And the best win -- at least to this point in time -- belongs to Manziel. Texas A&M's upset over then-No. 1 and eventual champ Alabama in Tuscaloosa was the epitome of Manziel's freshman campaign. He was virtually unstoppable. He threw for 253 yards and two touchdowns and ran for 92. Gaining 345 yards individually against a Nick Saban-coached defense? Simply amazing.
Winston has a chance at the crystal football. Manziel can't top that and there's no denying it. But that's more of a team accomplishment and there's not a ton Manziel can do about it.
If you were picking a team to go win a football game and both supporting casts were the same, which QB would you pick: 2012 Johnny Manziel or 2013 Jameis Winston? My guess is you're taking Johnny Football. He's done things on a football field that seemingly nobody else can.
December, 12, 2013
12/12/13
4:05
PM ET
Many have questioned the Chick-fil-A Bowl's selection of Duke ahead of more established programs such as Miami and Virginia Tech, but bowl president Gary Stokan told the Associated Press that "
there was no doubt in our minds
" about Duke.
"We in our bowl game take great pride in letting teams play themselves into our game or play themselves out of our game," Stokan told the AP. "It's not some cigar smoke-filled room where we're sitting up making these decisions. It's the players that are making the decisions. ... Duke played [its] way into our game and [is] very deserving of being in our game."
The Blue Devils (10-3) will play No. 20 Texas A&M (8-4) on Dec. 31 in the Atlanta-based bowl.
December, 12, 2013
12/12/13
12:00
PM ET
December, 8, 2013
12/08/13
10:25
PM ET
Dec. 31, 8 p.m. ET, Atlanta (ESPN)
DUKE BLUE DEVILS BREAKDOWN
As expected, Duke was overmatched in the ACC championship game and lost convincingly to Florida State, but the loss didn't define the season, which includes a school-record 10 wins.
[+] Enlarge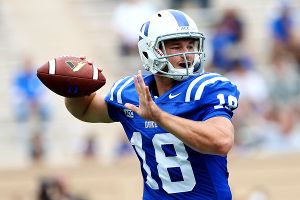 Streeter Lecka/Getty ImagesThe versatile Brandon Connette accounted for 26 total scores for Duke this season.
The Blue Devils still earned the title of Coastal Division champs and now have a chance to end the season on a winning note. Duke had won eight straight games heading into the ACC title game -- the program's longest winning streak since 1941. The program was ranked in the BCS standings for the first time, and it defeated two ranked teams in then-No. 16 Virginia Tech and then-No. 24 Miami.
Although Duke lost to Florida State for the 19th time and remains winless against the Noles, what happened in that game wasn't reminiscent of the "old Duke." Instead, Duke just got a taste of what FSU had been doing to its opponents all season. Duke still has a much-improved defense, which was evident in the first quarter, when it held the Noles scoreless for the first time since they played Florida in 2012. Duke also forced Florida State into three turnovers, including one fumble in the red zone and two interceptions. Duke has now had four takeaways in the red zone this season. Duke's biggest problem was that it couldn't capitalize on Florida State's mistakes or sustain a drive.
That wasn't the case for most of the season, as Duke was able to score more than 20 touchdowns on the ground and in the passing game for the first time in school history. Despite the loss to FSU, it was an unprecedented season for Duke and coach David Cutcliffe, who was named the ACC's Coach of the Year.
-- Heather Dinich

vs.

TEXAS A&M AGGIES BREAKDOWN
This is not quite where Aggies fans thought their team might end up when they were previewing the season.
[+] Enlarge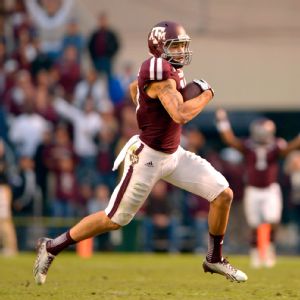 Thomas Campbell/USA TODAY SportsMike Evans and the Aggies hope to finish their season on a high note with a bowl victory.
With 2012 Heisman Trophy winner
Johnny Manziel
, receiver
Mike Evans
and offensive tackle
Jake Matthews
all returning, many in College Station thought the Aggies could achieve a BCS bowl and perhaps even flirt with an SEC title and a BCS title game berth.
But an extremely young defense that was hit hard by graduation (at least in terms of key players) struggled throughout the season, and a beaten-up Manziel lost steam in the final two regular-season games, which led the offense to do the same.
All that being said, 8-4 isn't bad, and the fact that it's a "disappointment" in Aggieland speaks to how much progress the program has made in a short time. This team still has a high-powered offense, ranking sixth in the nation in points per game (43.6) and fourth in yards per game (538.2).
The defense has had its ups and downs but ended the regular season on a solid note on the road against a talented Missouri team, keeping the game within reach for its offense.
And this could be the last hurrah for Manziel, who seems destined to declare for early entry into the 2014 NFL draft. It could also be the final salvo for Evans, a Biletnikoff Award finalist, who is also draft-eligible.
-- Sam Khan Jr.
September, 21, 2013
9/21/13
7:00
PM ET
By
ESPN.com staff
| ESPN.com
Can Texas right the ship against K-State? Will Michigan avoid another upset scare? Can Auburn-LSU produce another close one? And what about that Arizona State-Stanford showdown in the Pac-12?
We'll be watching these games and many more on Saturday night and we'd like you to join in on the conversation. Head on over to
Campus Connection
at 8 ET and follow the action along with our eight reporters. Post your comments and questions and we'll include as many of them as possible.
February, 11, 2013
2/11/13
2:00
PM ET
With last Wednesday being national signing day, there were a lot of questions in the mailbag about recruiting numbers -- enough that it was worth revisiting in a separate post to clear up any confusion.

For example, Will in Greenville, S.C., wrote: Being a Clemson fan, and the dominance of Bama, how can Bama sign so many more players to scholarships? Doesn't the NCAA limit schools to what they can have on their teams? I went onto the ESPN class ranking which go all the way back to 2006 and compared committed numbers between Bama and Clemson, and over the span from 2006-2013 Bama has sign a whopping 44 more players than Clemson. Can you explain the math on this? I look at this and say no wonder they are reloaded and win back to back NT's year in and year out. Not only are they getting the top recruits, but they have a much larger pool of talent when a recruit ends up a bust. It doesn't seem very balanced and fair, and I'm wondering how schools can actually do this?

HD: First, the NCAA does have a rule that limits schools to 25 signed national letters of intent in February, and overall, no team can ever have more than 85 players on scholarship. Period. Those are the two key numbers to know. The SEC also has a rule that says its schools can only mail out 25 national letters of intent to be signed, which is a big change from previous years, when the SEC developed its reputation for oversigning.

There are, however, some tricks to the trade, and attrition accounts for a lot of the varying numbers, too.

One of the biggest differences can be explained by coaches who count a few scholarships back toward the previous year. For example, if NC State was operating with only 83 scholarships in 2012, first-year coach Dave Doeren could count two scholarships from this recruiting class in last year's if he wanted to.

Attrition is another big variable. Some players transfer, others leave the sport entirely for medical or personal reasons, some don't qualify, some leave early for the NFL. It's a guessing game.

Since you're a Clemson fan, Will, let's use the Tigers as an example. Clemson had four mid-year players. Coach Dabo Swinney still would have technically been within the rules if he had signed 25 more players in February. His entire 2013 class, though, is comprised of 23 players.

In 2014, Swinney will probably sign 12-14 players -- a small number that factors in a little bit of attrition. In 2015, though, Swinney might sign 30 players because of a massive rising junior class. He can sign several mid-year players and count them back to 2014, and still sign 25 more players in February.

Some programs will sign 25 players no matter what, and figure it out later (greyshirts, prep school, grades, etc.). All of the programs have to whittle it down to 85 by August, though.

Some programs stretch the rules more than others, but having covered the ACC for a while, that's typically not the style in this conference. Only two schools -- NC State and Wake Forest -- took advantage of the full 25 this year, and Pittsburgh was the only school to go over that limit.

The SEC was a different story. Half the league (Bama 26, Florida 30, Georgia 32, LSU 27, Vandy 27, A&M 32, and Ole Miss 28) went over 25.

Here's a look at the ACC class sizes for 2013:

BOSTON COLLEGE: 17

CLEMSON: 23

DUKE: 20

FLORIDA STATE: 22

GEORGIA TECH: 14

MARYLAND: 22

MIAMI: 17

NORTH CAROLINA: 17

NC STATE: 25

PITTSBURGH: 28

SYRACUSE: 19

VIRGINIA: 22

VIRGINIA TECH: 22

WAKE FOREST: 25
March, 23, 2012
3/23/12
3:16
PM ET
The past few months have been filled with talk of a playoff, or at least something resembling a playoff that the men in charge don't want to call a playoff.
Either way, college football's postseason has never been this close to changing since the birth of the BCS more than a decade ag0.
So, what does the old postseason think?
Colleague Ryan McGee
asked around the bowls for their take

.
So what are they thinking as they read and hear the playoff comments? Are they confident about the future? Terrified? Indifferent?

"We are absolutely watching what's going on. Always have been," says Rick Catlett, president of the Gator Bowl Association. "But I also think that anyone in this business knows that there's not a whole lot we can do about it. We are in constant contact with the conference commissioners, the people who will ultimately make the decisions about the future of the game. But honestly, we don't have a lot of influence."

The 16-year leader of college football's sixth-oldest bowl game doesn't say this with a tone of fear or foreboding. Neither did the other half-dozen bowl executives I chatted with this week (on and off the record). No one mentioned extinction. Instead, they concede a curiosity as to where and how they will fit in to whatever format is adopted.
Lots of interesting stuff. You'll need Insider to read it all, but it's worth checking out.