September, 13, 2014
Sep 13
8:00
AM ET
It's Saturday, and we're here to catch you up on all that you should be watching throughout the day as 11 ACC teams take the field. Use the hashtags below to follow each game on Twitter. All times are ET.
Noon
East Carolina at No. 17 Virginia Tech, ESPN, #ECUvsVT:
The Hokies are riding high after notching the upset at Ohio State last week. But the Pirates can help bring them back to earth if they aren't careful. ECU itself is amid a tough three-game stretch against South Carolina, Virginia Tech and North Carolina, and its offense, led by the dangerous
Shane Carden
under center, is certainly capable of testing the home team's D. If that's not enough to have the Hokies ready, these teams' past two meetings should: Narrow Virginia Tech wins in 2013 (15-10) and 2011 (17-10).
Georgia Southern at Georgia Tech, ESPN3, #GASOvsGT:
Can the Eagles notch a signature road win over a Power 5 team for the second year in a row? A year after winning at Florida, they came awfully close in Week 1, falling at NC State by one after leading throughout. Now the FBS newcomers travel to face former head coach Paul Johnson and in-state neighbor Georgia Tech. Georgia Southern is coming off an 83-9 win over Savannah State last week, while the Yellow Jackets are still trying to get on-track offensively after a three-turnover performance in a win last week at Tulane.
Pitt at FIU, Fox Sports 1:
Stat-watching might be a priority in this lackluster contest. Panthers running back
James Conner
enters with 50 carries, 367 yards and five touchdowns to his name through two weeks. Can he play himself further into early-season Heisman discussions? His coach, Paul Chryst, has not ruled out the chance that Conner still lines up at defensive end at some point this season. Still, given the workhorse he has been -- and will need to be if Pitt is to contend for the Coastal -- this might be a good chance to limit his workload in the heat and let
Chad Voytik
grow as a passer. Also worth keeping an eye on is the man snapping Voytik the ball, as center
Artie Rowell
is lost for the year after an ACL tear last week.
Gabe Roberts
and
Alex Officer
could both see action there in place of Rowell.
Syracuse at Central Michigan, ESPNEWS, #CUSEvsCMU:
This game sure looks a lot more interesting than it did two weeks ago, no? The Orange have not even played a half this season with
Terrel Hunt
under center, as the starter was ejected from the opener after throwing a punch at a Villanova player. The offense struggled immensely without Hunt, needing two overtimes to hold off the FCS Wildcats. The Chippewas, meanwhile, ran Purdue out of their own building last week in West Lafayette, Indiana. Syracuse hopes to have gathered itself during its bye last week and unveil the faster-paced offense it had hoped to run this season.
12:30 p.m.
[+] Enlarge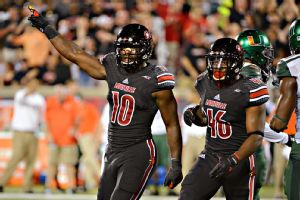 Jamie Rhodes/USA TODAY SportsThe Cardinals should provide Virginia with an early-season measuring stick of where the team stands.
No. 21 Louisville at Virginia, ESPN3, #LOUvsUVA:
We should have a much better answer after this game as to just how improved Virginia really is this season. The Cardinals present a great early-season league test in Charlottesville, and Bobby Petrino's offense going up against the Cavaliers' stout defense in Louisville's first-ever ACC road game will be fascinating to watch. But can the Hoos avoid offensive miscues? That is what cost them a chance to upset UCLA in Week 1, and there is still some uncertainty at quarterback, where
Matt Johns
has looked better than
Greyson Lambert
through two games.
3:30 p.m.
Arkansas State at Miami, ESPNU, #ARSTvsMIA:
Now would be a good time to see what
Brad Kaaya
is capable of doing, what with a game at Nebraska next week and a pair of league games after. The true freshman quarterback hasn't been bad through two games, but he hasn't really been asked to do too much, either. If the Hurricanes want to contend for the Coastal crown this season, they'll need more production out of him, and better to throw him to the (Red) Wolves of Arkansas State now than the Blackshirts of Nebraska next week under the lights.
NC State at USF, CBS Sports Network:
USF forced six turnovers last week against Maryland but still could not pull out the win.
Jacoby Brissett
has played well through two games, but the ground game has been every bit as instrumental so far, averaging 207.5 yards per contest. Still, the Wolfpack need to start faster after falling behind at home to Georgia Southern and Old Dominion before mounting comeback wins. A 3-0 start for coach Dave Doeren after a 3-9 debut season would be absolutely huge, and it would make a bowl berth a real possibility for the Pack.
Kansas at Duke, ESPN3, #KUvsDUKE:
The Jayhawks
are
undefeated. And Charlie Weis
was set to be David Cutcliffe's boss nearly a decade ago
. And Duke
clearly
needs to get off to a better start than it did last week at Troy after falling behind by 11 early. Still, the Blue Devils have a very balanced attack that will test Kansas far more than Southeast Missouri State did last week. And quarterback
Anthony Boone
has looked very, very good through two games. Expect more of the same against Kansas.
7 p.m.
Wake Forest at Utah State, CBS Sports Network:
Dave Clawson did some house-cleaning this week, kicking running back Dominique Gibson and center Cody Preble off the team for a violation of team rules, in addition to suspending reserve quarterback
Kevin Sousa
. Clawson is coming off his first win as the Demon Deacons' head coach, but the Aggies will provide a much stiffer test than Gardner-Webb did last week. True freshman signal-caller
John Wolford
got much better protection last week (two sacks) than he did in a season-opening loss at Louisiana-Monroe (five), but he has to improve his decision-making after throwing three picks last week.
8 p.m.
No. 9 USC at Boston College, ESPN, #USCvsBC:
USC has been among the country's most impressive teams through two weeks. BC hopes it is catching the Trojans at the right time. Steve Sarkisian's squad travels cross-country after an upset win at Stanford to face an Eagles team coming off a home loss to Pitt. Still, it's worth pointing out just how well Steve Addazio got BC to play last year against heavy favorites Clemson and Florida State, with the latter contest proving to be the Seminoles' biggest test before the national title game. Also, kudos to BC for
its attire for this contest, as it honors Sept. 11 hero and lacrosse alum Welles Crowther
.
September, 3, 2014
Sep 3
8:00
AM ET
Syracuse dodged a minor bullet Tuesday, as the Orange learned they will have their starting quarterback with them when they take the field again in two weeks.
Terrel Hunt
will not face additional punishment from the ACC after being ejected from Friday's opener,
a conference spokesperson confirmed to ESPN.com
. Hunt, as most know by now, threw a punch in the second quarter, leaving the officials with little choice but to dismiss him.
Getting Hunt back for the Sept. 13 tilt at Central Michigan is big for Syracuse, which struggled mightily in defeating FCS Villanova in its double-overtime opener. Hunt's numbers in that contest were nearly identical to those of
Austin Wilson
, as Hunt went 10 of 17 for 94 yards and Wilson went 11 of 17 for 89 yards. Still, Hunt added another 25 yards on the ground, and it was clear that the offense missed his presence after he was ejected.
Offensive coordinator George McDonald
had said that "90 percent" of the gameplan was meant for Hunt
. Given the circumstances, Wilson was solid. He did nothing fancy. He protected the football. In the end, he gave the Orange just enough to win.
But this is Hunt's offense, as we had been told so many times this summer. The redshirt junior certainly looked ready to take that next step at the end of last season, and now he needs to show signs that he is capable of just that.
Perhaps a bye week couldn't have come at a better time for Hunt or his team. Time will only tell.
Elsewhere in the ACC ...
May, 13, 2013
5/13/13
4:20
PM ET
Florida State and USF have set a home-and-home series for 2015 and 2016, the schools announced Monday.


USF will visit Tallahassee on Sept. 26, 2015, with the Seminoles making the trip to Tampa on Sept. 24, 2016.
"We've been working collaboratively on extending the series between USF and FSU for some time," USF athletic director Doug Woolard said. "The two previous games provided such great atmospheres for both of our fan bases that it was important for us to extend the series. Combined with our recent non-conference scheduling announcements, we're very pleased with how our future schedules have come together."
Florida State coach Jimbo Fisher said, "We're excited to have USF back on the schedule. They're a great program. It's been a good series thus far, and it's great for our fans to have another in-state series on the schedule."
In the first meeting between the two schools in 2009, USF visited Doak Campbell Stadium in Tallahassee and pulled the 17-7 upset. The Seminoles made the return trip to Tampa last season, handing the Bulls a 30-17 defeat in front of a USF-record 69,383 fans.
April, 18, 2013
4/18/13
12:00
PM ET
Time flies. Spring ball is nearly over!
February, 28, 2013
2/28/13
11:00
AM ET
Let's get this straight: None of these schedules are easy. Lining up against Georgia and South Carolina, though, is a wee bit more difficult than playing La. Tech and Central Michigan. And so we present to you a ranking of the most difficult nonconference schedules in the ACC, starting with the toughest. (Don't worry, you'll get a chance to weigh in later, so check back.)

1. Clemson (vs. Georgia, vs. South Carolina State, vs. The Citadel, at South Carolina):

Opponents' 2012 combined winning percentage: 71.4 (35-14)
Toughest opponent: South Carolina (11-2)
Weakest opponent: South Carolina State (5-6)
BCS opponents: 2
FCS opponents: 2
2012 bowl teams: 2
Quick take: Having to play two of the top three teams in the SEC East - and one on the road -- buys the Tigers a pass on their two FCS teams.

2. Virginia (vs. BYU, vs. Oregon, vs. VMI, vs. Ball State):

Opponents' 2012 combined winning percentage: 62 (31-19)
Toughest opponent: Oregon (12-1)
Weakest opponent: VMI (2-9)
BCS opponents: 1
FCS opponents: 1
2012 bowl teams: 3
Quick take: The Cavaliers have the benefit of playing all four games at home, but adding Oregon to the mix earned them the No. 2 spot.

3. Syracuse (vs. Penn State, at Northwestern, vs. Wagner, vs. Tulane):

Opponents' 2012 combined winning percentage: 58 (29-21)
Toughest opponent: Northwestern (10-3)
Weakest opponent: (Wagner 9-4)
BCS opponents: 2
FCS opponents: 1
2012 bowl teams: 2
Quick take: Two Big Ten opponents make this a legitimately tough schedule, as Northwestern should be one of the best teams in the conference this year.

4. Pittsburgh (vs. New Mexico, vs. Old Dominion, at Navy, vs. Notre Dame):

Opponents' 2012 combined winning percentage: 67.3 (35-17)
Toughest opponent: Notre Dame (12-1)
Weakest opponent: Old Dominion (11-2)
BCS opponents: 0
FCS opponents: 1
2012 bowl teams: 2
Quick take: The road trip to Navy is actually a bonus because the Panthers travel to Georgia Tech, which is a similar offense, the following week.

5. Virginia Tech (vs. Alabama, vs. Western Carolina, at East Carolina, vs. Marshall):

Opponents' 2012 combined winning percentage: 54 (27-23)
Toughest opponent: Alabama (13-1)
Weakest opponent: Western Carolina (1-10)
BCS opponents: 1
FCS opponents: 1
2012 bowl teams: 2
Quick take: If it weren't for the defending national champs, the Hokies would be ranked even lower.

6. Florida State (vs. Nevada, vs. Bethune-Cookman, vs. Idaho, at Florida):

Opponents' 2012 combined winning percentage: 56 (28-22)
Toughest opponent: Florida (11-2)
Weakest opponent: Bethune-Cookman (9-3)
BCS opponents: 1
FCS opponents: 1
2012 bowl teams: 2
Quick take: The Noles should at least go 3-1 against these opponents, especially with an open date before Nevada, and playing Idaho before travelling to Florida should be a welcome cushion.

7. Georgia Tech (vs. Elon, at BYU, vs. Alabama A&M, vs. Georgia):

Opponents' 2012 combined winning percentage: 61.2 (30-19)
Toughest opponent: Georgia (12-2)
Weakest opponent: Elon (3-8)
BCS opponents: 1
FCS opponents: 2
2012 bowl teams: 2
Quick take: The road trip to BYU follows a road trip to Miami, but two FCS opponents bumped the Jackets down a notch.

8. North Carolina (at South Carolina, vs. Middle Tennessee, vs. East Carolina, vs. Old Dominion):

Opponents' 2012 combined winning percentage: 74.5 (38-13)
Toughest opponent: South Carolina (11-2)
Weakest opponent: Old Dominion (11-2)
BCS opponents: 1
FCS opponents: 1
2012 bowl teams: 2
Quick take: Starting off the season with an ESPN-televised Thursday night game at South Carolina is one of the league's highlights, but the Heels should fare no worse than 3-1.

9. Miami (vs. Florida Atlantic, vs. Florida, vs. Savannah State, at South Florida):

Opponents' 2012 combined winning percentage: 37.5 (18-30)
Toughest opponent: Florida (11-2)
Weakest opponent: Florida Atlantic (3-9)
BCS opponents: 2
FCS opponents: 1
2012 bowl teams: 1
Quick take: Hardly the gauntlet the Canes have faced in recent years, and never having to leave the state is a big plus.

10. Boston College (vs. Villanova, at USC, Army, at New Mexico State):

Opponents' 2012 combined winning percentage: 36.7 (18-31)
Toughest opponent: USC (7-6)
Weakest opponent: New Mexico State (1-11)
BCS opponents: 1
FCS opponents: 1
2012 bowl teams: 1
Quick take: Why on earth do the Eagles have to travel across the country twice?

11. Maryland (vs. FIU, vs. Old Dominion, at Connecticut, vs. West Virginia):

Opponents' 2012 combined winning percentage: 52 (26-24)
Toughest opponent: West Virginia (7-6)
Weakest opponent: Old Dominion (11-2)
BCS opponents: 2
FCS opponents: 1
2012 bowl teams: 1
Quick take: The Terps should trade schedules with Syracuse so they can get a head start on Big Ten competition and Cuse can face familiar foes.

12. Wake Forest: (vs. Presbyterian, vs. Louisiana-Monroe, at Army, at Vanderbilt):

Opponents' 2012 combined winning percentage: 42.8 (21-28)
Toughest opponent: Vanderbilt (9-4)
Weakest opponent: Presbyterian (2-9)
BCS opponents: 1
FCS opponents: 1
2012 bowl teams: 1
Quick take: Vanderbilt is a much better program under James Franklin, but this is a very manageable schedule.

13. NC State (vs. Louisiana Tech, vs. Richmond, vs. Central Michigan, vs. East Carolina):

Opponents' 2012 combined winning percentage: 65.3 (32-17)
Toughest opponent: ECU
Weakest opponent: Richmond (8-3)
BCS opponents: 0
FCS opponents: 1
2012 bowl teams: 2
Quick take: First-year coach Dave Doeren has it easy: 4-0 or bust.

14. Duke (vs. NC Central, at Memphis, vs. Troy, vs. Navy):

Opponents' 2012 combined winning percentage: 47.9 (23-25)
Toughest opponent: Navy (8-5)
Weakest opponent: NC Central (6-5)
BCS opponents: 0
FCS opponents: 1
2012 bowl teams: 1
Quick take: This schedule is conducive to the Blue Devils getting back to a bowl game.
November, 17, 2012
11/17/12
12:00
PM ET
Let's take a look at what is on tap in the ACC today.
Heather is in College Park to bring you updates on Florida State-Maryland. You can follow
along on Twitter
for updates on the other games with the handy dandy hashtags listed below. For those who need a quick refresher, here are
Heather's picks
,
what to watch
, and who is on
upset alert
.
No. 10 Florida State (9-1, 6-1) at Maryland (4-6, 2-4), noon, ESPNU/WatchESPN.
#FSUvsMD.
Simple enough scenario in this game: Florida State clinches a spot in the ACC title game with a win. But stranger things have happened, right? Anybody
remember 2004
?
Virginia Tech (4-6, 2-4) at Boston College (2-8, 1-5), 12:30 p.m., ACC Network/ESPN3.
#VTvsBC.
The Hokies are looking for their
first road win
of the season to keep their bowl hopes alive. In one important injury to watch, the Eagles list ACC leading tackler Nick Clancy (concussion) as probable on senior day.
USF (3-6) at Miami (5-5), 3 p.m, GamePlan. #USFvsMIA.
The Hurricanes have lost three receivers to season-ending injuries, and have another serving a suspension, but coach Al Golden
isn't worried about depth
at the position. Miami needs to win to become bowl-eligible, but Golden refused to entertain any questions about a decision on a possible postseason ban should the Canes win.
Duke (6-4, 3-3) at Georgia Tech (5-5, 4-3), 3:30 p.m., ESPNU/WatchESPN. #DUKEvsGT.
If Duke wins out
, the Blue Devils go to the ACC championship game. But they have not won in Atlanta since 1994. Virginia's success using two quarterbacks ran out Thursday night. Will the
same happen to the Jackets
? One bit of news on the injury front: Duke defensive end Kenny Anunike will be back in the lineup.
Wake Forest (5-5) at No. 3 Notre Dame (10-0), 3:30 p.m., NBC.
The Deacs played the Irish tough last season before losing a close game. Now they are hoping to shock the nation and
pull the upset
. Interestingly, Wake Forest is done in ACC play with two weeks left in the season. It needs one more win -- either against the Irish or Vanderbilt -- to get back to a bowl.
NC State (6-4, 3-3) at No. 11 Clemson (9-1, 6-1), 3:3 p.m., ABC/ESPN2. #NCSUvsCLEM.
Clemson coach Dabo Swinney says revenge
isn't on the minds
of his players, after losing to the Wolfpack last season. The Tigers need to win if they want to keep up their hopes of getting to a BCS game. Their improved defense faces a tough challenge from NC State quarterback Mike Glennon.
November, 14, 2012
11/14/12
2:00
PM ET
There really is nothing unusual about USF lining up its backup quarterback against Miami.
This will be the third straight season the Bulls have relied on their second-stringer in this game.


With starter
B.J. Daniels
out for the season, USF will start either
Matt Floyd
or
Bobby Eveld
on Saturday. Coach Skip Holtz has not announced a starter yet, hoping to keep the competition between his two quarterbacks going as long as possible. Floyd has been the backup all season; but Eveld has more game experience -- including the only win in program history over the Hurricanes back in 2010.
"We've got an obligation to put the best quarterback on the field, the one that gives us the best opportunity to win," Holtz said. "As much as it's the opponent, it's the game experience. Being able to go on the road and lead a team in overtime to victory and make some of the plays [Eveld] did, that sits in the back. It's still about who gives you the best chance to win by protecting the ball, but that's one of those intangible things that has to lean in Bobby's favor with his game experience."
The plan going into the season was to redshirt Eveld and go with Floyd as the backup. But after Daniels broke his leg nearly two weeks ago against UConn, the plan changed. Eveld called the last two weeks a "roller coaster" but said he would do whatever it takes to help the team out, even if it means burning his redshirt with three weeks left in the season.
The two have essentially split all the reps last week during the bye and this week as well in order to get themselves prepared for the game. As mentioned earlier, playing Miami is nothing new for Eveld. He has come on in relief of Daniels the past two seasons. During the upset in 2010, he took over at halftime and engineered a fourth-quarter comeback. His 1-yard touchdown run sent the game into overtime, and USF won 23-20 after
Demetris Murray
scored in the extra period.
Miami coach Randy Shannon was fired hours after the game. But for USF, it was one of the biggest wins in school history. Eveld will never forget the celebration in the locker room.
"I still get way too much credit for that game," Eveld told ESPN.com during a phone interview Wednesday. "I think I was just able to play within the system and I stuck to my reads. The coaches really made it simple as far as terminology. They tried to keep it basic and everybody executed their job."
Miami coach Al Golden said he was not too concerned over who his team would have to face at quarterback, first praising Daniels for his terrific career before saying, "We're ready for either one of them. I see that more as an offensive system as opposed to just a quarterback."
Floyd has gotten the game experience this year, coming on in relief of Daniels briefly against Florida State, and then in the fourth quarter against UConn. He had fumbles in both of those games, perhaps due to nerves. But Floyd is ready for the challenge ahead of him, should his number get called to start. And a big reason why -- the competition has made him better.
"You can't slack off," Floyd said in an interview with ESPN.com. "You're never supposed to slack off, but when you've got somebody right on your back fighting for your position, it makes you fight that much harder. Me and Bobby are doing a great job pushing each other. Either decision the coaches make is what's best for the team."
November, 5, 2012
11/05/12
12:06
PM ET
The ACC on Monday announced that ESPN has elected to use its third six-day option of the year for the games of Nov. 17. All five games will be televised either at noon, 12:30 p.m., 3 p.m. or 3:30 p.m., with the game times and networks announced no later than noon this Sunday, Nov. 11.
Starting times for the North Carolina at Virginia game on Thursday (7:30 p.m. ET) and the Wake Forest at Notre Dame game on Saturday (3:30 p.m. ET) were previously announced.
Thursday, November 15
North Carolina at Virginia, ESPN, 7:30 p.m. (previously announced) #UNCvsUVA
Saturday, November 17
USF at Miami, TBA #USFvsMIA
Virginia Tech at Boston College, TBA #VTvsBC
NC State at Clemson, TBA #NCSUvsCLEM
Duke at Georgia Tech, TBA #DUKEvsGT
Florida State at Maryland, TBA #FSUvsMD
Wake Forest at Notre Dame, NBC, 3:30 p.m. (previously announced) #WAKEvsND
September, 29, 2012
9/29/12
10:02
PM ET
TAMPA, Fla. -- It lacked the emotion of last week's win over Clemson or the style points that underscored Florida State's early season dominance, but the Seminoles remained unbeaten and earned a touch of retribution for a 2009 loss to USF,
defeating the Bulls 30-17 Saturday
.


EJ Manuel
completed 19 of 26 passes for 242 yards and a touchdown, while the Florida State defense had two takeaways that keyed the win.
It was over when:
B.J. Daniels
felt the pressure and tossed a fourth-down pass out of bounds with 2:18 remaining in the game. USF battled throughout, largely stifling the high-powered FSU offense in the second half, but Daniels couldn't solve the Florida State defense.
Game ball goes to:
Cornellius Carradine
. The FSU defensive end had a monster game, leading the Seminoles with nine tackles, including 1.5 sacks. His devastating hit on USF backup quarterback
Matt Floyd
forced a fumble that
Christian Jones
scooped up for a touchdown. On a night when the FSU offense struggled to find its footing, Carradine's forced fumble provided the turning point.
Stat of the game:
183. That's the total rushing yardage for FSU -- a solid effort but well off the big numbers the Seminoles had been posting through the first four games of the season. Meanwhile the Bulls defensive front failed to make a single tackle behind the line of scrimmage in a loss to Ball State last week, but USF turned up the pressure and gave FSU's revamped offensive line its first real test of the season. The results were mixed. The Seminoles mustered just enough to win, but
Chris Thompson
,
James Wilder Jr.
and the running game took a big step back from the huge numbers they'd posted against Clemson.
Unsung hero:
Xavier Rhodes
. The FSU cornerback picked off a Daniels' pass late in the first half to set up a
Dustin Hopkins
field goal. Rhodes was exceptional in coverage throughout the game, holding USF's big-play receiver
Andre Davis
to just one catch for 3 yards.
What it means:
It was a classic trap game for Florida State, which just won an emotional victory against Clemson last week and was making its first road trip of the season. The Seminoles certainly didn't look sharp, particularly early on, but they managed to sneak past USF to remain unbeaten and earn a small bit of retribution for the 17-7 loss it suffered at the hands of the Bulls in 2009. Jimbo Fisher is now 5-0 career against in-state rivals. Meanwhile, USF falls to 2-3 but its defense turned in a far more impressive effort than it had a week earlier, giving coach Skip Holtz some cause for optimism as the Bulls turn their focus toward Big East play.
ACC SCOREBOARD
Saturday, 12/27
Saturday, 12/20
Monday, 12/22
Tuesday, 12/23
Wednesday, 12/24
Friday, 12/26
Monday, 12/29
Tuesday, 12/30
Wednesday, 12/31
Thursday, 1/1
Friday, 1/2
Saturday, 1/3
Sunday, 1/4
Monday, 1/12
Tweets from https://twitter.com/ESPNCFB/lists/acc