Q&A: North Carolina coach Larry Fedora
August, 15, 2012
8/15/12
4:00
PM ET
Much has been made about the way Larry Fedora wants to install the hurry-up spread offense at North Carolina. But where did he pick up some of his philosophies?
I had a chance to ask him in a recent phone interview, for a story I did on how coaches find
new ideas and copy from each other
. Here is a little of what he had to say.
When did you realize you wanted to run a hurry-up style offense?
[+] Enlarge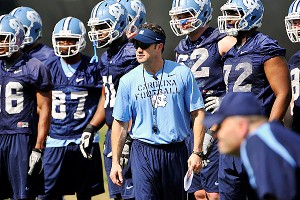 UNC Athletic CommunicationsRich Rodriguez's fast-paced offense affirmed what Larry Fedora already believed.
Larry Fedora:
I would say the earliest I can remember was being a kid and watching college and pro games, teams would get into the two-minute situation and they would spread it out throw the ball down the field. Usually they went up and down the field. That peaked my interest then, and I wondered, "Why not do that all the time?" And then I was able to play in an offense in college that we threw the ball quite a bit and that also went with that. When I started coaching, I started studying different people doing things like that. When I had an opportunity to be offensive coordinator, the year before the only other no-huddle team that I knew of was at Tulane. So I went and spent about three days with them in the spring. Rich Rodriguez was the offensive coordinator then. I knew it was possible to do and went from there.
How much of an influence did Rodriguez have on you?
LF:
I'd say quite a bit because he affirmed what I believed in, that you could do that, you could be no huddle a whole game, and you could change the tempo of the game and create quite a bit of problems but at the same time I wanted to be able to run the football and be a physical football team. We were never what Tulane was. When we put the offense together from there, the running game was different than what they were doing and the passing game was different, but the system overall -- just being being able to get in and out of tempos to try and fatigue a defense was something they were doing at the time. So yes he definitely had an influence as well as every coach I've ever coached with.
How quickly did you think some of his ideas and your ideas would be copied?
LF:
The game always evolves toward success. I am sure it was the same way when somebody started the Wishbone. Teams have caught on because they see the problems it creates for a defense. You can move the ball, still run it, still be physical, you can score points, but there's so many forms of spread, everybody uses that term so loosely, I don't really know what spread is. There's so many ways to do it. You have wide open offenses that aren't concerned with running the ball, they want to throw it every down. Over time, we've been one of the few that's been a balanced offense that can run it and throw it. The last two years, we averaged rushing for over 200 and throwing for over 250.
So maybe there should be a different name for all these offenses, because the Air Raid is so different from what you do, yet they are both called the "spread."
LF:
Everybody's looking to coin a phrase or try to tag it with something. The easiest is to just say spread, and that's probably good for recruiting because kids want to play in that style.
Coaches borrow from each other all the time, right? You just try to put your own spin on what you are doing.
LF:
Hey, if you see something that works for another team and it fits what you are doing, then you go ahead and use it. If it means you beg, borrow and steal, you do it. There aren't any secrets in the game of football with technology today and how much film is out there. But the bottom line is it's still about executing what you do.