BC executes Addazio's plan for big win
November, 2, 2013
11/02/13
6:39
PM ET
By
Jack McCluskey
| ESPN.com
CHESTNUT HILL, Mass. -- Keep it close into the fourth quarter and give yourself a chance. Against the top teams on the schedule for Boston College this season, that has been Steve Addazio's mantra.
It hadn't worked to date. The Eagles hung around for a while with top-10 teams like FSU and Clemson, but ultimately made too many mistakes to win.
When Virginia Tech came to Chestnut Hill, boasting one of the top defenses in the country and already bowl eligible, the plan didn't change.
[+] Enlarge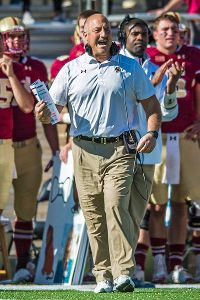 Ed WolfsteinThe Eagles even their record at 4-4 in Steve Addazio's first season.
"That was honestly the plan," Addazio said after the game. "That's what we talked about: There's gonna be ebbs and flows, it's gonna be hard, there's gonna be three-and-outs, just hang in there, play really, really hard and we'll win this thing in the fourth quarter."
And though the final stats favored the Hokies in more than one category (with sizeable leads in first downs, 18-13, and total yards, 446 to 289) -- "We did everything we wanted to today," Hokies QB
Logan Thomas
told reporters afterward. "They couldn't stop us if they wanted to; we stopped ourselves" -- the Eagles were the ones capitalizing on mistakes Saturday.
Doing so earned them the biggest win of the Addazio era to date, a big fourth quarter pushing them to a 34-27 victory.
The game started to turn in the third quarter.
With Virginia Tech driving, up 10-7 and holding all the momentum, Thomas' pass was tipped up in the air and right to Manny Asprilla. The Eagles cornerback pulled down the interception and took off, following blocks up the home sideline before ultimately being pulled down from behind after a 49-yard return.
"A big emphasis point the whole week was just getting the ball out of their hands, getting interceptions," defensive end
Kasim Edebali
said. "We kept playing aggressive and in the second half we were forcing turnovers."
The play set up a brilliant scoring chance for
Chase Rettig
& Co. But
Andre Williams
and the offense sputtered and the Eagles had to settle for a 24-yard
Nate Freese
field goal.
After the missed opportunity, Virginia Tech took the momentum right back.
The Hokies put up a touchdown thanks to a 69-yard catch-and-run (featuring a few missed tackles by BC defensive backs) by
Joshua Stanford
and a slick play-action pass by Thomas on fourth-and-goal from the 1 that completely fooled the Eagles' D.
Trailing again, BC needed a big play to get something going. Edebali provided it, hitting Thomas hard from behind and knocking the ball free.
Brian Mihalik
threw his 6-foot-9 frame on it, and BC had another chance in Tech territory.
This time, the Eagles knew they needed to turn the turnover into a touchdown.
"The second you see that ball on the ground, you see that ball tipped up in the air in your mind you see points," BC right tackle
Ian White
said. "You see the ability to change the game. If we get points off turnovers, that's how you change the game, that's how you win the game."
So when they were faced with a fourth-and-1 at the Hokies' 8, Addazio decided to go for it rather than kick a field goal.
After a timeout, Williams picked up 6 yards around the left side of the line and the Eagles had first-and-goal from the 2. The Hokies stacked the line and stopped Williams for no gain on first down, but on second down Rettig hit fullback
Jake Sinkovec
in the flat for the 2-yard score.
That got the Eagles into the fourth tied with the Hokies at 17. And after the teams traded field goals (Cody Journell's 47-yarder for Freese's 43-yarder), the BC D forced another mistake from Thomas to seize control.
With the Hokies facing a third-and-5 on their own 33, BC defensive coordinator Don Brown called for a four-man rush. With pass-rushers quickly in his face, Thomas forced a throw over the middle.
Kevin Pierre-Louis
saw it coming, and a single thought played on repeat in his mind.
"Honestly, I just kept telling myself, 'You better not drop this,'" he said. "Last year I had a chance to get an interception and I dropped it, it went right through my hands. So I made sure I caught it with my chest and rest of the defense did a great job blocking."
The senior pulled the ball in, tucked it away, made a cut and sprinted 33 yards to the end zone for the pick-six.
It was the first lead for BC since it was 7-0 midway through the second quarter.
Thomas tried to bring the Hokies right back down the field, and at one point it seemed like a mistake by BC would help keep that drive alive. On third-and-6 at the BC 38, Thomas' pass skipped away from
Charley Meyer
with
Steele Divitto
in tight coverage.
Then a flag flew. Instead of a third-down stop, the call was pass interference. But in an unusual turn of events, the play was reviewed and the officials ruled that Thomas' pass was tipped by Edebali, negating the interference call.
Suddenly, the Hokies were facing a fourth-and-6 and the Eagles needed a stand to keep momentum on their side. Thomas tried to go back to Meyer but the pass was incomplete and the BC sideline exploded, the offense practically sprinting onto the field.
And on the next play from scrimmage, Williams burst through a hole on the right side and sprinted 62 yards for the game-winning score.
"This was a really big game for our program in terms of our building," Addazio said. "It was one game -- it's not more than one game. But it's a big step for our program. We've been fighting and scratching all year, but we had to overcome it today.
"We played one of the best defenses in America. One, two or three, however they're rated, that's what they are. And they're good. And we made plays on offense when he had to and on defense we got the turnovers we felt we needed to get going into the game."
For Pierre-Louis, overcoming adversity as they did Saturday -- falling behind three separate times before rallying -- made the win especially sweet.
"I believe today was one of the first times we truly finished a game, from beginning to end," he said. "We faced adversity going from quarter one all the way to quarter four. We were up, tie game, down. Looking at the sideline, seeing all the guys, they never lost faith. We kept echoing on the sideline, 'Let's play to win, let's not play not to lose.' And we just rallied around each other."
The result is the biggest win of their season to date, even if it did come against a Tech team that has been uncharacteristically sloppy the past two weeks. It gets the Eagles back to .500 at 4-4 and keeps their hopes of reaching bowl eligibility alive.
"This is a brick, this game," Addazio said. "It's a brick. You put it in the foundation. I don't know what goes from here. We're a work in progress. There's going to be ebbs and flows with us. That's the way it is. But this time, this moment, today, we cemented in another brick in that foundation. And we're gonna build from that."
Jack McCluskey is an editor for ESPN.com and a frequent contributor to ESPNBoston.com. Follow him on Twitter @jack_mccluskey.