After an 8-16 record over the past two bowl-less seasons, and four losing seasons in the past nine years, it comes as no surprise that Virginia fired coach Al Groh one day after losing to Virginia Tech in the season finale. Again.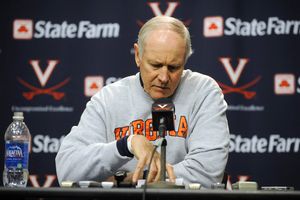 AP Photo/Don Petersen
Virginia coach Al Groh was fired Sunday.As tough as it was to fire one of their own, it was time for a change in Charlottesville, as the Cavaliers have had losing records in three of the past four seasons and finished this year 3-9. The question now is how much of a change athletic director Craig Littlepage is really looking for.
A "national search" will begin immediately, according to a news release issued today, but Littlepage doesn't have to look far for head coaches who know the rich recruiting grounds of Virginia and have had ties to the program. Al Golden was defensive coordinator at Virginia for five seasons prior to taking over Temple in December 2005 and has done a remarkable job turning around the Owls' program. Former defensive coordinator Mike London, now Richmond's head coach, has had instant success at the neighboring school -- just ask Duke coach David Cutcliffe, who lost to the Spiders this year. And Liberty coach Danny Rocco, who coached with Groh for five seasons at Virginia and one with the New York Jets, has improved a program from one win to 10 wins.
Those candidates' biggest downfall, though, might be their ties to Groh, even though each of them have developed their own philosophies as head coaches.
Considering Littlepage's last hire -- hoops coach Tony Bennett -- came out of left field to many following the coaching search, there's no telling which direction he'll go. The only clue from that hire is that Littlepage isn't afraid to broaden the search.
There are plenty of options, like Florida defensive coordinator Charlie Strong, or coaches who have been off the sidelines but not out of the picture like Tommy Tuberville. There are also the popular picks, like Boise State's Chris Petersen, who seems to be happy right where he is. Heck, Wake Forest coach Jim Grobe is a Virginia alum, but in the what-have-you-done-for-me-lately world of college football, his name has probably dropped down the list of candidates this year. And Virginia Tech fans would have a collective stroke if Bud Foster crossed enemy lines to take his first head coaching job.
Most of those options seem unlikely.
Virginia is not going to hire a flashy big-name coach. It will have to be somebody the fans can embrace, who can get them to fill the seats again. Somebody who knows how to rejuvenate a program and recruit. That's a tough combination, but Groh has already helped prepare several good candidates for that opportunity.
The question is whether or not Littlepage thinks Groh's protégés can do better than he did. At the non-BCS level, some of them already have.