As a former wide receiver and receivers' coach, Clemson coach Dabo Swinney knows not every ball will be caught. He can empathize with Georgia Tech wide receiver Demaryius Thomas, whose fourth-down drop on what would become the Jackets' final offensive play against Georgia will be hard to forget.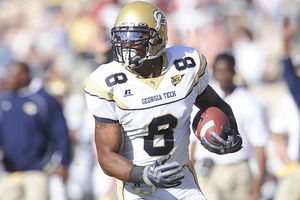 Sean Meyers/Icon SMI
Georgia Tech wide receiver Demaryius Thomas' coach Dabo Swinney doesn't blame him for a rare drop in Saturday's game.In a rare, uncharacteristic moment, Thomas let the ball slip through his fingers. Had Thomas caught it, Georgia Tech would have had a first down at the Georgia 36 with 1:22 left to play. Thomas is so good I'd be willing to bet most of us watching assumed he would catch it. He usually does.
"I'd go over and say, 'Listen, big boy, we wouldn't be here if it weren't for you,'" Swinney said. "It's never one play, and that's unfortunately -- that's what people will remember because it was the last play, but … dadgum, he's not perfect. But I'd put my arm around him and tell him, 'Hey, it happens, let's move on.' Tiger Woods misses an easy putt every now and then, or Michael Jordan missed a free throw. You go on to the next catch and just realize that there's 65 other plays that count, as well."
And anyone who has been paying attention to Thomas this year knows he's made every one of those plays count, and he is still one of the best receivers in the country. Despite having only 44 receptions this year, Thomas still leads the ACC with 89.8 receiving yards per game and has an astounding 24.5 yards per catch. He is No. 16 in the country in receiving yards per game, and 12 of the players ranked ahead of him have at least 78 catches. Nobody has fewer than 51.
Had Georgia Tech's entire team executed better for the previous 58 minutes, it wouldn't have had to come down to one catch. Georgia Tech coach Paul Johnson said he talked to Thomas "for a good bit" on Saturday night.
"You know, there's not much to say," Johnson said. "He's one of the best players on our team, and if it wasn't for him, we certainly wouldn't be 10 and 2 and going to the championship game. Like I told him (Saturday) night, you don't worry about that, pal, you move on. If it hadn't been for him, we wouldn't have been in the game to begin with.
"You know, he's made a zillion plays for us, and things happen. Just like we're all disappointed we lost the game, you just have to move on. I think he'll do that. I mean, he's that kind of player, and he's been invaluable to our team."
He still is.