If more teams win, ACC perception changes
August, 13, 2014
Aug 13
9:00
AM ET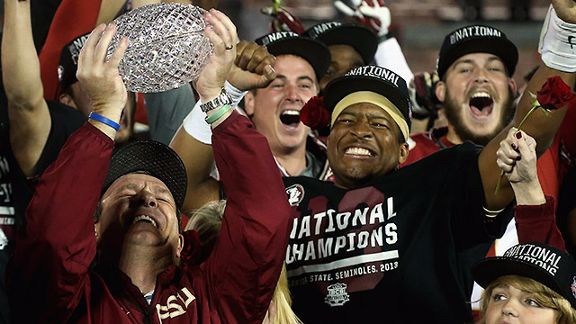 Stephen Dunn/Getty ImagesJimbo Fisher, Jameis Winston and Florida State gave the entire ACC something to celebrate.
Imagine the scene in the Rose Bowl suite, where ACC commissioner John Swofford watched Florida State win the national championship seven months ago.
Did he jump up and scream: Yessss! Finally! It's about time!
He had reason to let out a shout. No other commissioner needed that victory more than Swofford and his beleaguered league, one that was kicked around like a worn-out hacky sack during the BCS era.
For all the derision the ACC has endured, it felt almost like a "take that" moment to all its critics. The league now stood taller than the rest, having taken down the very conference that has been the source of nearly all its agony, the SEC.

The timing was impeccable. As the college football world enters the College Football Playoff era, the ACC finds itself with an opportunity to begin a new era, too. Florida State is coming off a championship and Clemson won the Orange Bowl. For the first time since 1997, the ACC had two teams finish in the top 8 of the final AP poll. Eleven 2014 ACC teams made bowl games.
But that is only a start. Folks can agree Florida State is the best team in the country, and that Clemson is now an annual Top 25 program. Beyond that, there are serious questions about the 12 other teams in the ACC.
Essentially, the mission to change that perception is twofold: The ACC must show it can compete for national championships every year, but it also must develop a much stronger group beyond the top two.
"I don't think there's any question the perception of our league is different now than it was a year ago," Swofford said recently. "How you build on that is also going to be important because perceptions are long-term kinds of things. We need consistency there."
Start with scheduling. In the playoff era, the strength of each team's schedule will be scrutinized more than ever. That should not be an issue in the ACC, which has made it a habit to play in elite nonconference games. That is a mandate Swofford has insisted on for years.
That philosophy has led to some powerful matchups. The 11 ACC members that have been in the league since 2009 have faced Power Five opponents in regular-season nonconference games 73 times. Of those matchups, 39 have featured ranked opponents.
[+] Enlarge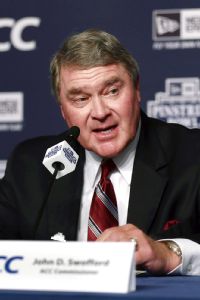 Jason Szenes/Getty Images"I don't think there's any question the perception of our league is different now than it was a year ago," ACC commissioner John Swofford said.
Now take a look at the Big Ten and SEC, the other two Power Five leagues that also play an eight-game conference schedule. Using the same criteria, the SEC has played 57 Power Five nonconference opponents. Of those, 28 were ranked. The Big Ten has played in 60 of those matchups and just 17 have come against ranked teams (seven against Notre Dame alone).
This season is no different. Thirteen games are on the docket for ACC teams against Power Five opponents, along with four other games featuring Notre Dame as part of a new scheduling agreement. Six of those opponents are ranked.
"If you look at ACC strength of schedule across the board, it's pretty strong. It's stronger than some other people that are viewed so highly," Duke coach David Cutcliffe said. "And now you're throwing into the rotation Notre Dame? C'mon now. I don't think anybody's running and hiding in the ACC. That's a good thing."
The problem has been the ACC's dismal performance in those national matchups. In the 39 regular-season nonconference games against ranked Power Five teams, the ACC is 8-31. That includes two losing streaks ACC teams have against their SEC rivals: Clemson has lost five straight to South Carolina, while Georgia Tech has lost 12 of its past 13 to Georgia.
Beating the SEC, its closest rival geographically, on the field and along the recruiting trail, has been particularly difficult. The last time the ACC had a winning record in games against SEC opponents was 2003. Since 1996, the ACC has posted a winning record in head-to-head SEC matchups in three seasons.
Last year, the SEC finished with six ranked teams in the AP poll. The ACC had three. The last time the ACC had five teams ranked was 2005, when Virginia Tech, Miami, Boston College, Clemson and Florida State were all in the Top 25.
Even then, critics focused on the ACC not being a factor in the national championship race.
"It helps to have multiple teams in the championship picture," Swofford said. "I think that's where the SEC has perceptually been helped, is the multiple teams in the national championship picture."
What also helps is having programs such as Virginia Tech and Miami get back to double-digit win seasons. Perception tends to dip when the programs anchoring conferences also dip. Miami joined the ACC as a perennial national championship contender. It has not been one in a decade. Virginia Tech got guffaws when it could not win its BCS games. Those 10-win seasons look golden in retrospect.
Florida State, down for years, finally reclaimed its former glory, giving the ACC extra credit and new life. Winning a national championship and the Orange Bowl -- plus sending 11 teams to bowl games last season -- should not be overlooked. Nor should it be dismissed based on the past.
[+] Enlarge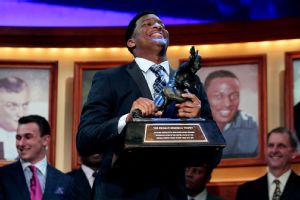 Kelly Kline/Getty Images for the Heisman TrustForty-two ACC players were selected in the 2014 NFL draft, and that class did not include Heisman Trophy winner Jameis Winston, who returns to Florida State.
Don't forget the ACC also has the reigning Heisman Trophy winner in
Jameis Winston
. It had the best defensive player in the country in
Aaron Donald
, who was among 42 players drafted last season. Plus, Cutcliffe was named national coach of the year.
Oh, by the way, the collective football performance trumped its more highly-regarded and respected basketball brethren.
Is it any wonder Cutcliffe shouted "Go Noles!" at ACC Kickoff last month when asked how the national championship changed the game for the ACC?
"All this stuff that seems like marketing isn't marketing," Cutcliffe said. "There's a difference between facts and marketing. Right now, the ACC can throw out the facts. We used to market. There's a big difference."
There also is a big difference between having a few good teams and a plethora of them. Florida State coach Jimbo Fisher used part of a famous Ralph Waldo Emerson quote to illustrate his point:
"'Your actions speak so loud I can't hear what you're saying,'" Fisher said. "If you want respect, go get respect. Go play the teams, go beat the teams, go get in those contests and do it. That's what we've done."
Now the rest of the league needs to follow along.
ACC SCOREBOARD
Saturday, 12/20
Monday, 12/22
Tuesday, 12/23
Wednesday, 12/24
Friday, 12/26
Saturday, 12/27
Monday, 12/29
Tuesday, 12/30
Wednesday, 12/31
Thursday, 1/1
Friday, 1/2
Saturday, 1/3
Sunday, 1/4
Monday, 1/12
Tweets from https://twitter.com/ESPNCFB/lists/acc