At least on paper, one player might not be enough to replace the production of former Clemson running back C.J. Spiller whose conference-best 7,588 career all-purpose yards are all gone.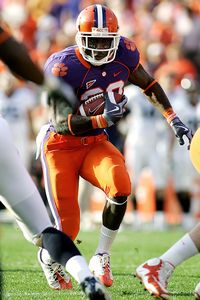 Brian Schneider-US PRESSWIRE
It won't be easy for Clemson to replace C.J. Spiller.Clemson running backs coach Andre Powell has faced a challenge like this before. When he was an assistant at Virginia in 1996, Powell had to find a way to fill the void left by Tiki Barber, another all-purpose record setter who ended his career as the school's all-time leading rusher.
There's only one big difference.
"Tiki Barber was a special guy," Powell said. "But he wasn't C.J."
As Clemson practices this spring, it does so in search of a new playmaker, somebody who can not only lead the running game, but also contribute on special teams. Last year, Spiller accounted for an ACC-record 191.4 yards per game and scored a touchdown in every game. Over his four-year career, he racked up more than 3,000 yards rushing, 2,000 yards in kickoff returns, 1,000 yards receiving and 500 yards in punt returns.
"The unique thing about our situation," coach Dabo Swinney said, "is C.J. was like three players. It's not like replacing just one guy. We're replacing three guys, because he was such a good receiver, a good rusher and also an excellent returner."
As it turned out at Virginia, Powell had another record-setting running back named Thomas Jones waiting in the wings. At Clemson, the Tigers will turn to Andre Ellington and Jamie Harper, two very talented backs who actually combined for a higher yards per carry average than Spiller did. Because Spiller was used in so many different ways, it allowed for his backups to gain substantial experience. Ellington was the team's second leading rusher with 491 yards, and had a whopping team-high 7.2 yards per carry. Harper, who is the better receiver of the two, had 418 yards and 5.2 yards per carry.
"Hopefully those two guys can pick up the slack of one C.J.," Swinney said. "And then we'll have to figure out the return game. … At the running back position, between Ellington and Harper and the other guys, I think we're going to be really, really good. I'm not as freaked out about that as I am who's going to be the returners?"
A bigger question remains, though: If Clemson couldn't win the ACC title with Spiller, how are the Tigers going to win it without him?
"I'm kind of glad people are doubting us right now," Ellington said. "It will just give them something to see once we're out there, to show them that Clemson is still Clemson without C.J. He did what he did -- a lot for the program -- and we thank him for that, but we still have more ball players here."
And the staff has plenty of confidence in them.
Powell said Ellington could be the most disciplined runner he's ever been around as far as keeping his eyes on his keys, and reacting to defenses. Ellington also has an uncanny knack for "getting in the smallest cracks." Harper has good speed for a player who's around 230 pounds, and is probably faster than Ellington. Powell said Harper is one of the smartest players he's been around in terms of understanding the game. Both, Powell said, are as "tough as nails."
"They'll be the toughest backs Clemson has had in a long time," Powell said.
Powell said he'll likely use them the same way the staff did Spiller and James Davis -- both will be specialized in certain areas, but comfortable with the entire game plan. Both will contribute on special teams, but that could be where Spiller is missed most.
"Some of the runs that C.J. made on special teams, he was untouched, which gives a lot of credit to those guys up front for blocking," Powell said. "But at some point he had to outrun someone, and I'm not sure either one of the guys we have now will be able to outrun as many guys as C.J. did going down the stretch, but they'll both be able to help us on special teams."
When asked how the staff will go about replacing Spiller this spring, offensive coordinator Billy Napier said, "I don't think you do."
"C.J. is one of those guys who's few and far between," Napier said. "He's a guy who, 25-30 years from now, we'll still be talking about. I do think we have some young, talented kids who are very capable and up to the challenge. Just like any year, it's a process to get those guys ready to go play. … They're going to get their chance, and that's what they were recruited here to do."
Ellington said that Spiller taught him how to manage his grades, and how to behave off field, as well as how to be a tough running back on it, and make the defenses miss. He's still working on his blocking techniques and learning different defenses and blitz schemes. Spiller took the attention of the defenses last year, but now Ellington and Harper will be the focus.
"I think it's a big responsibility I have to take on," Ellington said. "I'm going to be prepared for it as much as I can."
And he can't be the only one.
"As far as having just one guy replace C.J. Spiller," Swinney said, "I don't think that's possible."