ACC:

102213-Miami-sanctions
October, 23, 2013
10/23/13
5:00
PM ET
By
ESPN.com staff
| ESPN.com

After a long two years, the Nevin Shapiro scandal appears to have come to a close. With sanctions officially levied against the University of Miami, Mark Schlabach answers the question: "Who looked worse on Tuesday, the NCAA or Miami?"
October, 22, 2013
10/22/13
4:08
PM ET
Miami is ready to move full speed ahead now that the
NCAA investigation into rules violations is over
. So how does Miami do that? And what are the biggest lessons learned throughout this three-year process?
I had a chance to speak with athletic director Blake James on Tuesday and get his answers to those questions and more. Here is what he had to say.
[+] Enlarge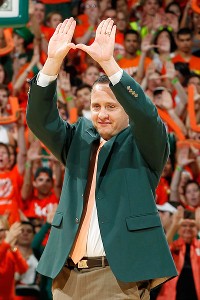 Joel Auerbach/Getty ImagesAthletic director Blake James said he's relieved the 'cloud of uncertainty' has dissipated.
What was your initial reaction when you read the report and saw the ruling?
BJ:
It was in line with what I expected. Obviously there were some things that we had done wrong, there were some significant consequences that we had put in place, there are some significant consequences we'll still serve. It's a very serious case and one we didn't take lightly. Credit to President [Donna] Shalala and the tremendous leadership she gave throughout the entire process. While it was good to be to the end, you have to recognize the significance of everything that happened to get to this point, including the consequences that were served and that will be served.
You said earlier in a statement that the athletic department has taken many steps to ameliorate concerns raised as part of the investigation. What are those?
BJ:
The biggest one being the educational component from the compliance perspective, not only of our student-athletes, coaches, administration and staff but that of our fans, alums, donors, just in the community. It's something that we feel we need to do at an even higher level and it's something we'll continue to push with all our constituency groups, the importance of understanding compliance and being vigilant about it and recognizing everybody has a responsibility to it.
For the first time in more than three years, there is no NCAA a cloud hanging over the program. What happens next?
BJ
: We continue to go forward as a program, learning from the past, doing the things we need to do from a program perspective and from an institutional perspective to avoid anything like this from happening again. At the same time to support the efforts and initiatives we have in place to achieve excellence, whether it's winning ACC championships or graduating our student-athletes or developing them as leaders in life, we have to continue to focus our efforts in those areas. To the credit of our coaches, the investigation didn't stop us from doing what we needed to do. You can't say enough about the job that Al Golden and Jim Larranaga have done with their programs and the young men in their programs, to get them to buy into the vision and to get them to achieve the things that they have achieved, whether it's an ACC championship to the great graduation rates in our program to the accomplishments we had with our football program, qualifying for the ACC championship last year and sitting at 6-0. All those things while we had this hanging out there, you have to give a lot of credit to the great leaders we have in both Al and Jim.
What do you make of the timing of this announcement, and is it a distraction with the football team sitting unbeaten at No. 7 in the BCS standings?
[+] Enlarge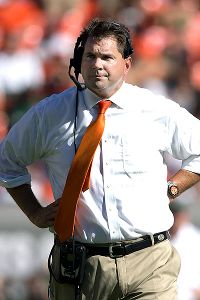 AP Photo/J Pat CarterDespite the cloud of NCAA sanctions Al Golden has guided the football team to a 6-0 start.
BJ:
I think it's a relief. Our guys are focused on beating Wake Forest. This is a big game for us. It's a situation where we need to focus all our efforts on beating Wake Forest. For those of us who have to deal with this case as we have done over the last three years, that's where our energies are focused. I want to let our guys focus on Wake Forest because that's something they need to do. They need to be ready to play another ACC opponent that's coming in here looking for a victory just like we're looking for a victory. That's where their focus is and that's where I want their focus to be. That and their academics.
What is the biggest lesson learned throughout this whole process?
BJ:
We have to do a better job of recognizing things as a program and communicating our compliance expectations and needs as a program. It's a situation where I recognize we have to do a better job educating our student-athletes, our coaches, our fans, everyone involved. At the end of the day, we have to have people understand the importance of being in compliance with the association's rules. There isn't a guy out there that wants to sit out a game and we've had a number of them who had to do it because of these violations. There's not a guy out there who wants to sit out a bowl game or an ACC championship opportunity because of these types of violations. We want everyone to recognize the actions of a few can have a tremendous impact on a program. That's what we've had to deal with for the last three years. All of us have been under that cloud of uncertainty. To get to today is a relief and one we're looking forward to moving full speed ahead.
Having said all that, how do you prevent something like this from happening again?
BJ:
Education, communication. It's getting everyone to understand that everyone's wearing the compliance hat. We can't look at the compliance staff and say hey, it's their responsibility. We have look at it and say it's all our responsibility whether it's a donor at a restaurant or at a club, wherever it is. If it's student-athletes, trainers, academic advisors, whoever it is we have to all recognize the compliance hat needs to be on at all times. That's something that's important that we understand going forward. I think it is but it's something I'll keep pounding home because we need to make sure that it is.
When you made the decision to impose the postseason ban for a second straight year, did you have a feeling that might be enough for the NCAA?
BJ:
At that time I didn't. I hoped. I didn't have a feeling that was what we needed to do until I had a chance to read the report and sit through the Committee on Infractions hearing. When I left Indianapolis, my feeling was that we had done what we needed to do in terms of the bowls. I was pleased to see that.
A lot of people are saying the NCAA did not punish Miami enough. Is this ruling a "win" for Miami?
BJ:
I would say to those that view this as light or as a win or however they look at it to stand in front of a group of 115 young men and tell them they're not playing in an ACC championship or a bowl or to sit down an individual and tell them they're not going to be able to play in a game or in X number of games, or to have the cloud of uncertainty over your program and have all the speculation and stories and the things that go on while that's sitting out there to deal with, it was significant. That's why we took the significant steps we did. Nine scholarships is significant in football. Three scholarships is significant in basketball. Taking it as seriously as we did from the start put us in the position where a lot of the sanctions are now in the past. We've done the things we need to do to move full speed ahead as soon as we got to this point. I think we're there. We recognize there's a lot of lessons we learned that will continue on with us and we've still got some significant sanctions left that we'll have to deal with.
October, 22, 2013
10/22/13
2:15
PM ET
Braxton Berrios
was intrigued, but hardly worried. He did not expect the NCAA to alter his future Tuesday when it
announced its long-awaited sanctions
on Miami.
Now that Miami will not face any further bowl bans and will lose only nine total scholarships over the next three seasons, Berrios is ready to move on to Coral Gables, Fla., with the rest of Miami's top-five 2014 recruiting class.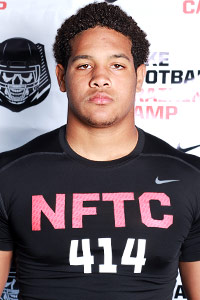 Tom Hauck for Student SportsTrent Harris is excited that the uncertainty about NCAA sanctions at Miami is over.
"It's great to be a Miami Hurricane," the four-star receiver from Raleigh (N.C.) Leesville Road said. "I'm glad this 2½-year investigation is over and the university as well can move on."
Miami is 6-0 and No. 7 in the initial BCS standings, and ESPN 300 defensive end commit
Trent Harris
(Winter Park, Fla./Winter Park) believes the news of the NCAA sanctions had benefits in the present and future.
The Canes' self-imposed postseason ban kept them from competing for an ACC title in 2012, but they are in the driver's seat for a conference championship in 2013.
"Well, I think it's great that they weren't banned from any bowl games and I know that the current players on the team just got an extra boost of excitement," Harris said. "I just can't wait to go out there and win a national championship."
Miami coach Al Golden has told recruits not to worry about the NCAA, and they heeded his advice. Top target
Johnnie Dixon
(Palm Beach Gardens, Fla./Dwyer), No. 42 in the ESPN 300, told the Palm Beach Post's Anthony Chiang he "wasn't too worried about the Miami sanctions."
Asked if he was concerned the NCAA's decision could impact his verbal commitment and future with the program, Berrios said, "Not really."
"I figured they wouldn't get much. Al Golden played a great part as well as [Miami president Donna Shalala] in assuring Miami did all they could to minimize the sanctions," Berrios said.
October, 22, 2013
10/22/13
1:54
PM ET
The NCAA Committee on Infractions found that Miami committed a wide array of the most serious violations in the NCAA Division I Manual, from booster Nevin Shapiro entertaining student-athletes and recruits, to several football and basketball coaches knowing about it and lying about it to the NCAA, to the dreaded charge (ominous music here) of lack of institutional control.
But the announcement that the NCAA would take away only three football scholarships and one basketball scholarship in each of the next three seasons came as a whimper, not a bang. No, the banging presumably came from USC, where officials dealing with the NCAA-mandated loss of 10 scholarships per year are slamming their heads against the wall.
The difference, very simply, is that Miami cooperated and USC didn't. Miami's top officials moved to investigate and USC's didn't. Former USC athletic director Mike Garrett mocked the NCAA's decision against the Trojans as "nothing but a lot of envy," which pretty much captured his attitude during the entire NCAA investigation of the Reggie Bush case. By doing so, Garrett provided his alma mater with a legacy more bitter than his 1965 Heisman Trophy is sweet.
Committee on Infractions chair Britton Banowsky said the NCAA has no sentencing guidelines. Each case has a unique set of facts, and the membership of the committee typically isn't the same from one academic year to the next.
To continue reading,
click here
.
October, 22, 2013
10/22/13
1:46
PM ET
The Emery envelope memorably exploded and with it came the implosion of Kentucky basketball:
A two-year postseason ban, no televised appearances for one season, scholarship reductions, records expunged and NCAA tournament money returned or, as then-Kentucky president David Roselle explained, "about 4 feet" from the death penalty.
That was in 1989.
Fast forward to 2008. Kelvin Sampson texts like a teenage girl with a mad crush and Indiana basketball is brought to its knees.
Or how about 2010, when Bruce Pearl suddenly finds it impossible to recognize his own home and the Tennessee coach becomes an ex-Tennessee coach with a three-year show cause penalty?
That all happened, courtesy of grievous athletic misdeeds followed by justifiable NCAA punishments.
Of course, that was back when the NCAA had teeth and some integrity of its own, before it had to investigate its own investigations and redo punishments it never had the authority to make in the first place.
The organization has all but jumped the shark now, gone from tough guy, greaser Fonzi to geeky, unintimidating Arthur Fonzarelli.
To continue reading,
click here
.
October, 22, 2013
10/22/13
1:20
PM ET
Maybe, just maybe, it was worth the wait.
After all, had the NCAA not dragged its feet for almost four years in what will be remembered as a complete debacle of a botched investigation, Miami never would have had time to self-impose two bowl bans. Had the NCAA's Committee on Infractions wrapped up its investigation in the six to eight weeks it would have liked to (insert joke here), the Canes never would have had the chance to withdraw themselves from the program's first appearance in the ACC championship game. It was those "significant" self-imposed penalties that
led to Miami's hall pass today
.
[+] Enlarge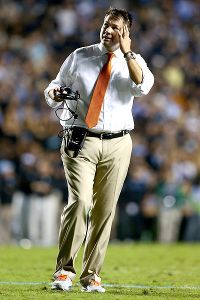 Streeter Lecka/Getty ImagesWith an NCAA investigation now in the rearview mirror, Miami can sell Al Golden's loyalty and a top-10 team.
Miami
will lose three scholarships
over each of the next three years, but it will not lose its No. 7 spot in the BCS standings because of the NCAA sanctions. And for that, Miami won Tuesday.
"To impose these bowl bans is a big deal, a very big deal," said Britton Banowsky, chair of the Committee on Infractions. "The fact it also prevented an ACC competition, a championship game which essentially could've led to a BCS bowl berth, those are very big decisions that were made by the university and the committee appreciated those decisions and it's reflected, I think, in our report."
They were big decisions, and Miami played it smart -- because this season is even bigger than the past two.
Here the Hurricanes are, with the No. 7-ranked team in the country -- undefeated and the best team Al Golden has had in his three years there -- free and clear to play in whatever game the postseason has to offer. For the first time in Golden's tenure, the Canes can shake the shadow of the NCAA. They can focus on Saturday's game against Wake Forest without wondering whether they'll even be allowed to play in the title game should they get that far. Next week, they can fully embrace the matchup against rival Florida State, knowing their BCS ranking is more than just a number. On Nov. 9, if everyone follows the script, Miami will host Virginia Tech in the game that will determine the Coastal Division winner, and the Hurricanes can take the field knowing that nobody is going to strip them of that opportunity this fall.
Miami has something to play for this fall besides pride and each other.
Golden has put himself in the ACC's Coach of the Year conversation, not only for the Canes' success this year, but also because of their focus and the staff's ability to continue to recruit in spite of the looming NCAA sanctions. Miami has the
No. 4 recruiting class
in the country right now. If the staff can hold that position, it would be the Hurricanes' second top-10 class in three years and third straight top-15 class. That's working magic, considering Golden has put together three straight classes with the program's future in limbo. No longer can the NCAA investigation be used against Miami on the recruiting trail. Instead, Golden and his staff can sell a top-10 team that's heading in the right direction.
They also can sell Golden's loyalty to the program. Speculation about his future there began as soon as the investigation became public, but he never ran from it then, so why would he choose to leave now? Golden has never given any indication that he'd be happier elsewhere, and Tuesday's decision should only make him feel more at home.
Because of the verdict, the NCAA's announcement should not be a distraction to the Canes' game-week preparation. Instead, it is long-awaited closure and relief -- both for those within the program and for its fans, too. It was also the only choice the NCAA had, considering the public relations nightmare it already had endured. Had the Committee on Infractions come down with further sanctions, it probably would have been lambasted by criticism, not only for excessively harsh penalties but also for the timing of them with Miami on a roll.
For the first half of the season, it seemed as if Miami was playing with an asterisk tacked to each win, but now the only asterisk next to the 6-0 Canes is assuring their bowl eligibility.
Miami's return to the top of the BCS standings has been long overdue, and so has this decision. The fact that they've coincided in the same season puts the Canes right where they want to be: back in the postseason picture and primed to continue to build for the future.
The NCAA isn't going to take that away. And for Miami, it was probably worth waiting for.
October, 22, 2013
10/22/13
12:20
PM ET
Here are several statements that just came in on the NCAA ruling in the Miami investigation:

Miami President Donna E. Shalala:
"The Committee on Infractions report closes a challenging chapter in the history of the University of Miami. I am grateful to our coaches, staff and student-athletes for their dedication to the University and to intercollegiate athletics. I also want to thank Atlantic Coast Conference Commissioner John Swofford for his steadfast support. Finally, I want to apologize to the Hurricane family, as we have asked for your patience, faith and support during a difficult time. Thank you for standing with us."
Athletic director Blake James:
"Our honest and committed efforts to address these allegations have made us stronger. We have already taken many proactive steps to ameliorate any concerns, and we will continue to improve in all areas. Now it is time we look ahead and work diligently to support our student-athletes."
ACC commissioner John Swofford:
"I'm pleased that this case has finally been brought to conclusion and that the University of Miami can now move forward. As I've said all along, Miami's cooperation throughout this process, under the tremendous leadership of President Donna Shalala, should be commended, and I'm glad the NCAA recognized and appreciated the self-imposed efforts that were at such a significant level."
Miami coach Al Golden:
"I want to sincerely thank our student-athletes and their families who, not only stood with the University of Miami during this unprecedented challenge, but subsequently volunteered for the mission. They shouldered the burden, exhibited class and exemplified perseverance for Hurricanes everywhere.
"Further, I would like to express heartfelt appreciation to our staff and families who did not subscribe to this challenge three years ago, yet courageously adopted it as their own. They have brought the utmost professionalism, resiliency and integrity to our program. More importantly, they continue to recruit and represent our world-class institution with class and dignity in unprecedented circumstance.
"Lastly, it is with gratitude and humility that I say thank you to our administration, U Family everywhere and the entire South Florida Community for their unyielding support of our young men and program over the last 28 months."
October, 22, 2013
10/22/13
12:10
PM ET
There is some anger by Miami fans and coaches. There is some relief. And in the recruiting offices in Coral Gables, Fla., there is celebration.
The NCAA
handed down its sanctions
on the Hurricanes' program Tuesday, and the term "slap on the wrist" is being thrown around to describe the minimal impact it will have on Al Golden's ability to recruit at Miami. Over the next three classes, Miami will lose a total of nine scholarships, a hurdle about the size of a stack of dimes.
[+] Enlarge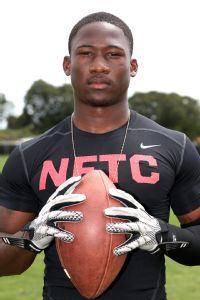 Tom Hauck for Student SportsAfter NCAA sanctions were announced, there's still room in Miami's recruiting class for ESPN 300 receiver Johnnie Dixon, who is considering the Hurricanes.
As four-star receiver commit
Braxton Berrios
put it, Miami is "full speed ahead now."
Even with the black clouds of the NCAA hovering over Miami for much of the 2014 class, Golden was able to secure 26 commitments -- 11 in the ESPN 300 -- and has the Hurricanes with the No. 4 class nationally. Golden and the Miami administration did wonders in the past couple of classes, easing recruits' fears about any additional penalties on top of Miami's self-imposed bowl ban. But for some targets, there was always a level of concern about significant sanctions being levied.
Those questions are now answered, and Golden and his staff can resume the role as coaches and recruiters fully instead of trying to wear the NCAA hat, too.
The Hurricanes have played second fiddle to Florida and Florida State on the recruiting front the past five years, finishing third among the big three in the rankings in the past four classes. Not since 2008, when Miami signed the No. 1 class, did the Hurricanes finish ahead of both the Gators and Seminoles in the recruiting rankings. In the past few classes, Florida and Florida State were able to tell Sunshine State prospects about the potential of the NCAA hammering Miami. These minimal sanctions almost level the recruiting field with their in-state rivals.
Miami has already been accounting for the scholarship reductions, as well. According to the Miami Herald, the Canes entered 2013 with 76 scholarship players, 19 of them seniors. If Miami signs 28, which is what the Canes hope for with
Johnnie Dixon
and
Anthony Moten
rounding out the class, that would bring Miami to 85 scholarships and would put the Canes in a good position to get down to 82 before the 2014 season.
October, 22, 2013
10/22/13
9:51
AM ET
By
ESPN.com staff
| ESPN.com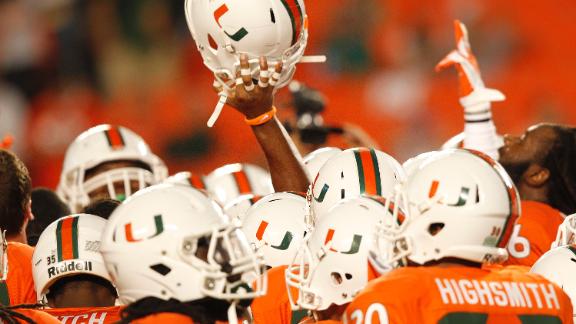 Thanks to "unprecedented" self-imposed sanctions, the Miami Hurricanes escaped additional harsh penalties from the NCAA as the Nevin Shaprio scandal presumably drew to a close Tuesday.
The Miami football program will not face any additional bowl bans, clearing the way for the No. 7 Hurricanes (6-0) to participate in the postseason this year. Miami will lose three scholarships annually over the next three years and the entire athletic program has been placed on three years' probation.
Additionally, the basketball program will lose three scholarships. Former Miami men's basketball coach Frank Haith, currently the head coach at Missouri, will be suspended five games. Jorge Fernandez (basketball) and Aubrey Hill (football) are among the three former assistant coaches that will receive two-year show-cause penalties.
Miami had already self-imposed bowl bans over the last two years, keeping the Hurricanes out of the ACC title game in 2012. Those self-imposed sanctions, along with complete cooperation during the prolonged NCAA investigation into widespread allegations, helped Miami avoid additional major penalties.
Britton Banowsky, chair of the Committee on Infractions and commissioner of Conference USA, said it is hard to compare infractions cases against each other but what Miami did throughout the investigation stood out.
To read the complete story,
click here
.