June, 8, 2010
6/08/10
11:00
AM ET
Florida State fans can rest assured their quarterback situation is in good hands. After all, how many other teams could lose their starter and have the backup earn MVP honors in a Gator Bowl win?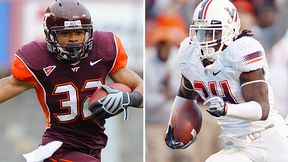 US PresswireVirginia Tech has the luxury of two 1,000-yard rushers in the same backfield.
E.J. Manuel
proved
Christian Ponder
isn't irreplaceable last season, and that's a good thing for a program vying to win the Atlantic Division title in the first season under Jimbo Fisher. When it comes to the offense, there isn't much Florida State is missing, but the Seminoles are just one of several teams in the ACC prepared to replace key players if need be.
The deepest position throughout the ACC appears to be at running back, where numerous programs have to figure out how to divvy up the carries this fall. Clemson, Florida State, Georgia Tech, Maryland, Miami, North Carolina, Wake Forest and Virginia Tech are all at least two deep at the position -- at least. The Hokies are fortunate enough to have two former backups turned 1,000-yard rushers in
Darren Evans
and
Ryan Williams
, both of whom got their opportunities at the expense of an injured teammate.
At Florida State, running back
Chris Thompson
passed
Jermaine Thomas
on the unofficial post-spring depth chart, but there's also
Lonnie Pryor
,
Tavares Pressley
,
Ty Jones
and junior-college transfer Debrale Smiley, who is a fullback/tailback like Pryor. Both Florida State and Boston College return at least four starters each on their offensive lines, which immediately helps the depth there.
Miami has four returning receivers who had at least 200 yards receiving a year ago, and Duke had so much depth at receiver that it was able to move one of its top four pass-catchers --
Johnny Williams
-- to cornerback this past spring.
Miami is also stocked on the defensive line, where the defensive ends go about three-deep on each side. The same can be said at Clemson, which returns three starters on the defensive line, and can also depend upon DE Andre Branch (38 tackles, 7.5 for loss) and DE Malliciah Goodman (26 tackles, 6.0 for loss).
Maryland returns all three of its starting linebackers and their backups. At Boston College, defensive coordinator Bill McGovern's scheme utilizes a lot of players, which helps continue the strong defensive tradition there because the players are always prepared. Reserves from 2009 such as CB Donnie Fletcher (51 tackles), DE Brad Newman (45 tackles), LB Dominick LeGrande (36 tackles), LB Anthony DiSanzo (28 tackles) and CB Isaac Johnson (27 tackles) all saw significant playing time.
No team in the ACC, though, is as loaded on defense as North Carolina, which returns nine starters. They have combined for 234career starts -- the most of any team in the ACC, with S Deunta Williams and CB Kendric Burney making 38 starts each. The challenge for Butch Davis this fall will be getting the backups some playing time in preparation for 2011.
The goal of course for all coaches is to use their backups when they want to -- not when they have to.
June, 8, 2010
6/08/10
10:00
AM ET
This week, ESPN's "College Football Live" is revealing the most irreplaceable players heading into the 2010 season. These are the guys who are not only invaluable to their team, but have a question mark behind them. As good as NC State quarterback
Russell Wilson
is, he's got a capable backup behind him in
Mike Glennon
, who took all of the first-team reps this spring while Wilson was playing baseball. Same can be said at Florida State, where
E.J. Manuel
was the MVP of the Gator Bowl in
Christian Ponder
's absence. So who would they miss most?
Here's a look at who the most irreplaceable players are on each roster:
BOSTON COLLEGE: Montel Harris, RB
-- His health is of the utmost importance, as Harris IS the Eagles' running game.
Rolandan Finch
, who had mononucleosis last year, tore his ACL in mid-April. Freshman
Sterlin Phifer
is an option, but it was hard to tell how much he might be able to help from spring scrimmages because there wasn't a lot of rushing with the hopes of keeping everyone healthy. Phifer had 15 carries for 28 yards and a touchdown in the first two scrimmages.
CLEMSON: DeAndre McDaniel, CB --
Quick: name his backup. Exactly. Why would you take an All-American off the field if you didn't have to? McDaniel is the star of a defense that lost two veterans in the secondary. If McDaniel goes down, sophomore Jonathan Meeks is the next man up. He had 54 snaps last year and played on special teams.
DUKE: Sean Renfree, QB --
Even though Renfree is only entering his first season as a full-time starter for the Blue Devils, there is even less experience behind him. Renfree has at least taken a snap in a game. Freshman quarterback Brandon Connette enrolled in January and
Sean Schroeder
was running the scout team offense a year ago.
FLORIDA STATE: Rodney Hudson, OG --
He didn't allow a sack or quarterback pressure all season. Now there's a guy Ponder won't want to be missing this fall. Hudson only missed four assignments all season and had a team-high average grade of 88 over 11 starts. He missed the last two regular-season games with a knee sprain.
GEORGIA TECH: Joshua Nesbitt, QB --
The Jackets settled on
Tevin Washington
as their backup quarterback this spring, but there is still a significant gap between he and Nesbitt. Nesbitt has mastered the spread-option offense and the timing needed to perfect it. Washington has six carries and one pass attempt.
MARYLAND: Torrey Smith, WR --
He's unmatched on the roster when it comes to all-around contributions. He's a kick returner, a receiver and a team leader. He's also the most explosive player the Terps have.
MIAMI: Jacory Harris, QB --
Coach Randy Shannon has said he can win a national title with Harris as his quarterback, but in order to have any chance at doing that, the Canes obviously have to keep him healthy.
A.J. Highsmith
played in three games last year, but road trips to Pitt and Ohio State are no places for introductions.
NORTH CAROLINA: Robert Quinn, DE --
It's not easy to replace a guy who has 11 sacks and 19 tackles for losses. The players behind him are good -- Quinton Coples and Michael McAdoo -- but they have yet to start a college game and prove dependable for the number of plays the staff asks of Quinn.
NC STATE: Nate Irving, LB --
The Wolfpack saw how devastating it was to lose Irving a year ago, when he missed the whole season after injuries he sustained in a summer car accident. Some within the program say he is the best player on the roster, and the defense definitely wasn't the same without him last year.
VIRGINIA: Marc Verica, QB --
There's no shortage of quarterbacks for Mike London to choose from in his first year as head coach, but Verica is the only one who has attempted a collegiate pass.
Ross Metheny
and Michael Strauss were the only other quarterbacks available this past spring, and they were competing for the No. 2 spot.
VIRGINIA TECH: Tyrod Taylor, QB --
The Hokies will need their veteran healthy to keep their championship hopes alive this fall. The No. 2 job has yet to be solidified, but
Logan Thomas
made the strongest case this spring over
Ju-Ju Clayton
.
WAKE FOREST: Russell Nenon, C --
He has started 25 games, including the past 19, at center. Nenon is one of just two starters returning to an offensive line in need of some help. The Deacs were shorthanded up front this spring, as Nenon was injured. Garrick Williams, Whit Barnes and Chance Raines all got some valuable reps, but only Raines has actually snapped the ball in a game and it was maybe one or two plays in a win at Baylor.