ACC:

2010 FedEx Orange Bowl
January, 5, 2010
1/05/10
10:00
AM ET
FT. LAUDERDALE, Fla. -- When Iowa offensive coordinator Ken O'Keefe studied film of Georgia Tech's defense, he saw a collage of different schemes.

Against Miami, Georgia Tech played nickel almost the whole time -- probably to match speed, O'Keefe said. Other times, the Jackets lined up in a base 4-3. Against Clemson, it lined up in a 3-4. While much attention has been paid to Georgia Tech's offense, O'Keefe is in wait-and-see mode to figure out what look the Jackets will show on defense in Tuesday night's FedEx Orange Bowl.

"I'm sure usually by the end of the first quarter, like most ballgames, everybody settles into what they're going to do and you begin to, you know, go to work from there," O'Keefe said. "But there's going to be definitely a period where we've got to find out a little bit about them and what they're going to come at us with in that first quarter."

Georgia Tech's fans and coaches would probably like to know, too. The Yellow Jackets have been inconsistent on defense all season.

Has Georgia Tech's pass defense improved?

"It got better the last two games because the other teams didn't have to throw," Georgia Tech coach Paul Johnson said with a smile, knowing Clemson and Georgia combined for 662 rushing yards.

Georgia Tech's goal Tuesday night is to take away Iowa's running game and force quarterback Ricky Stanzi to win with his arm. That could be easier said than done, if Georgia Tech plays the way it has in the past two games. The Jackets allowed Clemson 323 total rushing yards and 9.5 yards per carry in the ACC championship game, and Georgia rushed for 339 yards and 7.7 yards per carry in the regular-season finale. If the Jackets load the box, that will force Georgia Tech's secondary into man coverage. The Jackets are No. 85 in the country in pass efficiency defense.

"Whatever we have in the game plan, we have to come up as cornerbacks and meet the challenge," said Mario Butler. "If you're going to be on an island by yourself, you're going to be on an island by yourself. That comes with the territory, too. As a cornerback, a lot of the times you are going to be by yourself. You have to focus in on your fundamentals and technique. I think that the extra 15 practices that we have had have helped us focus on fundamentals. During the season, you can get out of whack a little bit and your fundamentals can go away. These practices have focused so much on technique and fundamentals that, by the time you get to game day, it's just a part of the process."

Georgia Tech defensive coordinator Dave Wommack said injuries played a part in the struggles, but also hinted there are some things about this year's defense that just can't be fixed.

"You hate to sit up here as a defensive coordinator and you don't want to make excuses, but we started in an eight-man front with our defense," Wommack said. "And we lost two safeties and a defensive end versus Miami. We switched to a 4-3.

"We've got some kids that have worked hard. But we're deficient in some areas. There is no question about that. The kids play hard, and they work hard, but there are have been some deficiencies with our defense this year."
January, 4, 2010
1/04/10
5:00
PM ET
FT. LAUDERDALE, Fla., -- One of the most memorable plays of the ACC season was when Georgia Tech coach Paul Johnson decided to go for it on fourth and one from the 5-yard line against Wake Forest in overtime.
For Johnson, it was an easy decision
. He doesn't flinch on fourth down, and Iowa coach Kirk Ferentz didn't have to watch too much game film to realize it. Georgia Tech has converted 15 of 26 fourth-down attempts (58 percent) while its opponents have only tried for 12 fourth downs and converted half of them. It could be a problem for the Hawkeyes, as Iowa is tied for No. 75 in the country in fourth-down conversion defense, allowing 8 of 15 successful attempts.
"Look at their fourth down attempts in the statistics column, and I think they're double plus what the opponents have run," Ferentz said. "So it just jumps right out at you. It's part of what they do. It's how they're built and what they do. So we have to be prepared to play fourth down defense. Then flipping it around, they've converted a lot of those fourth downs, just like they've made a lot of big plays."
January, 4, 2010
1/04/10
4:30
PM ET
FT. LAUDERDALE, Fla. -- Georgia Tech defensive coordinator Dave Wommack said last week he had been preparing for Iowa quarterback
Ricky Stanzi
even before he was sure that Stanzi would be healthy enough to play against the Jackets on Tuesday night in the FedEx Orange Bowl.
[+] Enlarge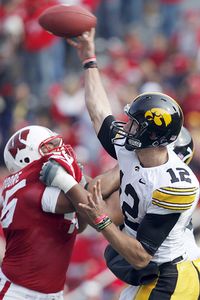 AP Photo/Andy ManisIowa QB Ricky Stanzi should be ready to go Tuesday night.
While he wasn't sure if the Hawkeyes would use one quarterback or two, Wommack was certain of one thing: "All I know is when Ricky Stanzi has been in there, they've won football games," he said, "and I know they lost the one against Northwestern when he was knocked out after I think it was the 19th play of the game. They ended up losing the game. … I think he could make most of the throws and everything. You know, he's gone against some pretty darn good defenses throughout the years. So he looks to me like he's a pretty good football player, Stanzi."
Stanzi started Iowa's first 10 games and got the Hawkeyes off to a 9-1 start before suffering an ankle injury in the second quarter against Northwestern and missing the rest of the regular season. He completed 154 of 275 passes for 2,186 yards, 15 touchdowns and 14 interceptions. His performances have been unpredictable, as he threw five interceptions against lowly Indiana, but didn't throw one on the road against Wisconsin.
Iowa coach Kirk Ferentz said that Stanzi has looked "absolutely fine" the past couple of weeks.
"He's a little sore after workouts," Ferentz said. "But, you know, he ices it up and we don't anticipate any problems with him at all this week."
The experience factor, though, should give the Hawkeyes a confidence boost.
"He just knows how to lead our team," said senior guard Dace Richardson. "He knows the right audibles if we don't have the right looks to make. He's quick on his feet. When he went down, a lot of us were upset, but luckily
James Vandenberg
came in and did real great job and almost beat a great team for us."
Georgia Tech coach Paul Johnson said the Jackets don't prepare for any one player, they prepare for the system.
'They're not going to change what they do radically, no matter who the quarterback was or who is playing or the running back or whoever it might be," Johnson said. "So you get ready for what their offense presents. And certainly he's an outstanding player and he was the starter for a reason. So I feel sure that he'll be back full speed, and we figure he's going to play a great game."
The only question is if he'll wait until the fourth quarter again to do it.
January, 4, 2010
1/04/10
3:00
PM ET
FT. LAUDERDALE, Fla. -- Both the Big Ten and ACC enter Tuesday night's FedEx Orange Bowl with 3-3 records in the bowl season. For the Big Ten, Ohio State, Penn State and Wisconsin have earned wins, while Clemson, Florida State and Virginia Tech have come out on the winning end for the ACC. After disappointing bowl seasons a year ago (the Big Ten was 1-6 and the ACC was 4-6), both teams could use a win on Tuesday night.

"Is this a tiebreaker?" Ferentz asked at his Monday news conference. "Geez."

Yes, coach, it is.

"Thanks for putting the pressure on us," he said. "I'll share that with the team. I'll tell them the commissioner called [he laughed]."

The Big Ten entered the postseason fifth among BCS conferences with a .483 winning percentage in its bowl games while the ACC was at .524. Georgia Tech has been a better bowl team than Iowa, as the Jackets are 22-15 and the Hawkeyes are 12-10-1. And, of course, there was last year, when the Big Ten won just one bowl game. But overall, the Big Ten has played and won more BCS bowl games, including this year's Rose Bowl. Plus, Miami already lost to Wisconsin. It's the marquee bowls that earn national respect, which is why the ACC needs to win Tuesday's tiebreaker more.
January, 4, 2010
1/04/10
1:30
PM ET
FT. LAUDERDALE, Fla. -- Georgia Tech coach Paul Johnson said on Monday that he'd like to see a playoff in college football, but that it's up to the university presidents to make it happen.
"I think the BCS is probably doing it about the best way they can," Johnson said. "Am I in favor of a playoff system personally? Yes. I think that it would be a good way to do it. Will it happen? I don't know. It's going to have to come from the presidents if it happens, probably. But we're the only sport in the NCAA that doesn't play it off, I think, for a championship, so I think eventually it's going to happen."
Johnson was asked about this at his final press conference for the FedEx Orange Bowl, but it's not the first time he's talked about it. In early November, Johnson
addressed the topic at length
.
January, 4, 2010
1/04/10
9:00
AM ET
Here's a quick breakdown of Tuesday night's matchup between Georgia Tech and Iowa:


WHO TO WATCH:
Georgia Tech's defensive front seven. Much has been made about the matchup between Georgia Tech's offense against Iowa's defense, and deservedly so, but if the Jackets don't get Iowa off the field, it could be a long night. Paul Johnson has said he wants to stop the run and make Iowa one-dimensional. In their only two losses of the season – against Miami and Georgia – the best defense against the Jackets was simply keeping Georgia Tech's offense off the field. Georgia Tech isn't a catch-up team. They're much better when they're controlling the clock, and Georgia Tech's defense will have to help.
WHAT TO WATCH:
The turnover battle. Georgia Tech had three costly fumbles in its loss to LSU last year in the Chick-fil-A Bowl. The Jackets have cut down on their fumbles this year and have a plus-seven turnover margin, while Iowa has a plus-six. They key, though, is Iowa's 19 interceptions. Quarterback
Ricky Stanzi
will return from an ankle injury that kept him out of the final two regular-season games, and while Stanzi has the uncanny ability to morph into one of the best quarterbacks in the country in the fourth quarter, he also has a tendency to give the ball away. Stanzi has 15 touchdowns and 14 interceptions this year. Still, Georgia Tech's secondary has been somewhat accommodating at times this year.
WHY WATCH:
Because it's been a long, long time since Georgia Tech was in a bowl game that meant this much (since 1967), and because the Jackets have the chance to cap off the ACC's first winning bowl season since 2005. It could also be the final collegiate game for a handful of impressive Georgia Tech juniors, namely
Demaryius Thomas
,
Jonathan Dwyer
and Derrick Morgan. This game also features two coaches who were named Coach of the Year in their respective conferences in Georgia Tech's Paul Johnson and Iowa's Kirk Ferentz.
PREDICTION:
Georgia Tech will punt. Iowa's defense is good enough to at least force them to do that. (The Jackets enter this game having not punted in 22 straight possessions – since the Nov. 14 game at Duke). The Yellow Jackets will have a tough time stringing together any 11-minute drives in this game (see: Virginia). But in the end, Paul Johnson will make the necessary adjustments on the fly, and simply put – regardless of how the defense plays – Georgia Tech will find a way to score more points. The Yellow Jackets will redeem themselves from last year's Chick-fil-A Bowl loss with a 28-24 win over the Hawkeyes.
January, 3, 2010
1/03/10
8:00
PM ET
By
ESPN.com staff
| ESPN.com
Georgia Tech A-back
Roddy Jones
talks about the FedEx Orange Bowl vs. Iowa.
January, 3, 2010
1/03/10
2:30
PM ET
FT. LAUDERDALE, Fla. -- Hello from Iowa City, er, I mean, Ft. Lauderdale, where it's chilly and there are Hawkeyes fans everywhere. Granted, my perspective is tainted because the media hotel here also happens to be the Iowa fan hotel, so the nearby restaurants and touristy sections are scattered with black and gold-clad fans. (One lady in the elevator said it was 1 degree in Iowa when they left, which is why it's pretty easy to pick out the Iowa fans -- they're walking around in shorts and T-shirts, even though it's only about 60 degrees and windy here.) Georgia Tech has sold between 10,000 and 11,000 tickets, according to a school spokesman.

I went to Iowa practice upon arrival here on Saturday, and then to Georgia Tech practice this morning. I can tell you that the Jackets got the better deal, as they are at Nova Southeastern University's practice field, near where the Miami Dolphins' training facility is located. Iowa is at Barry University, where it looks like every turn was the wrong turn to get there. Iowa is staying at the Fontainebleau Miami Beach, where there are distractions aplenty. (Some players have already run into Lady Gaga and Spike Lee, to name a few.)

We weren't allowed to watch either practice, but I talked to a few folks and gathered some things for stories and blog items, which will be posted between now and game time. Players and coaches from both teams seemed focused and ready, and it should be a close, entertaining bowl game -- nothing like last year for the Jackets.