ACC:

2010 Independence Bowl
December, 27, 2010
12/27/10
8:13
PM ET
A quick look at Georgia Tech's
14-7
loss to Air Force in the AdvoCare V100 Independence Bowl on Monday.


How the game was won:
Georgia Tech unraveled with three fumbles in the third quarter, and sealed its fate with an interception on the Air Force 2-yard line in the fourth. The Falcons' ability to pass the ball was a difference in the game, but the four turnovers were too much to overcome. Georgia Tech's defense played remarkably well for three quarters, but
Daniel McKayhan
, filling in for injured starter
Jerrard Tarrant
, fumbled twice on punt returns, and his second turnover led to an Air Force touchdown and the Falcons' 14-7 lead. In addition to the two fumbles on punt returns, Georgia Tech quarterback
Tevin Washington
also lost the ball on the Falcons' 7-yard line and ended an 18-play, 77-yard drive. His interception with less than a minute remaining ended any hope at a comeback.
Turning point:
The final play of the third quarter was McKayhan's second fumbled punt return.
Joshua Freeman
recovered it on Georgia Tech's 14-yard line, and Air Force scored four plays later for the 14-7 lead. At that point, the Falcons had all of the momentum.
Stat of the game:
Four turnovers for Georgia Tech. It changed the game and was too much for the Jackets to overcome.
Player of the game:
Air Force quarterback
Tim Jefferson
. The Falcons threw about twice as much as their regular-season average, and Jefferson made some key throws throughout the game to sustain drives and eat the clock. Despite being a triple option team, Air Force was hardly one-dimensional. Jefferson completed 11 of 23 passes for 117 yards, and added 25 rushing yards.
What Georgia Tech learned:
The Yellow Jackets need to be able to pass the ball to come from behind. It didn't help that leading receiver
Stephen Hill
was suspended, but even with Hill in the game, Georgia Tech's passing has struggled all season. Air Force was able to line up in the shotgun and run an effective two-minute drill better than Georgia Tech. Pass protection and route running weren't where they needed to be, and
Correy Earls
had a big drop on third down in the final minute. Air Force deserves credit for an incredibly athletic play on the interception.
What it means:
The ACC is off to a bad start in its bowl season, and Georgia Tech has now lost six straight bowl games. Not only have the Jackets failed to beat the big boys – LSU and Iowa – but now they couldn't beat an unranked Mountain West team. The loss gave Georgia Tech its first losing season in 14 years.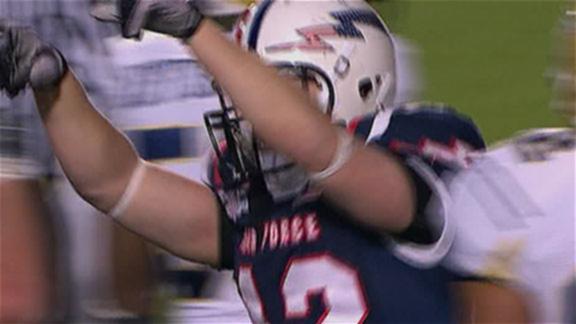 December, 27, 2010
12/27/10
4:00
PM ET

Heather Dinich looks at three advantages for Georgia Tech.


December, 27, 2010
12/27/10
1:30
PM ET
By
ESPN.com staff
| ESPN.com
Until it began practicing for the AdvoCare V100 Independence Bowl, Georgia Tech hadn't competitively practiced against the triple option offense since the middle of training camp. It will be a challenge for Al Groh's defense to stop Air Force, which has the nation's No. 2 rushing offense at 317.9 yards per game, especially with defensive end Anthony Egbuniwe sitting out the first half because he was one of three players who missed a team curfew.
[+] Enlarge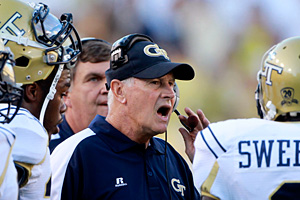 AP Photo/John BazemoreGeorgia Tech defensive coordinator Al Groh must get his players prepared for Air Force's triple-option attack.
I spoke with Groh recently (before the suspensions were announced) about his take on defending Air Force. Here are the highlights of our conversation:
Is there any advantage whatsoever of being a coach and having players in the same system when you're really not seeing it all the time?
Al Groh:
We certainly do have background in it from spring practice and training camp. We are able to do competitive work for parts of the practice now. Certainly this is the offense that Georgia Tech and Air Force both run. The offense is unique. Most teams don't see it. At this stage we're able to get a lot more effective work and more competitive work than if we were just trying to teach these players how to run these plays against us.
How much have you retained from when you were at Virginia and coaching against Georgia Tech?
AG:
Certainly I've gone back and reviewed our plans. We did a lot of research because it is a different kind of offense. We did a lot of research previous to our '08 and '09 games that we went and looked back on, and then we've had the opportunity here to think it through even in greater detail, but that gave us two games to analyze and ask, 'Do we like the results we got out of it? What could we do better? What could we change?' We've had the opportunity here now to watch how quite a few teams have chosen to play against Air Force. One interesting thing is to watch the Air Force defense play against Army and Navy. You kind of get an idea of what they think is the best way to play against this offense.
Has Paul Johnson weighed in at all and said, 'Maybe we could do this or that better?'
AG:
Certainly coach Johnson has had quite a few years of playing against Air Force, and Joe Speed, who is one of our defensive assistants, was on coach Johnson's staff at Navy for quite some time and he's been able to give us his insights and his background. We're probably working with a little bit deeper knowledge than most nonconference teams who have to play them. I would think teams in the Mountain West who play against them every year have their own ideas of how to play against them. That's one advantage of conference play. You understand your yearly opponents. We don't have that circumstance, but we do have coaches who understand and they've been a big help to us.
Is there really that much difference in the talent level of the athletes you guys have to work with?
AG:
I think the teams look fairly similar. Obviously when you have a system of this nature – as with any system – teams recruit the type of talent they need to make their systems work. In that respect, we see similar types of players who play A-back, which is the slot position. The offensive line is fairly similar. Their quarterback is a multi-purpose run and pass player as our quarterback has been and as
Joshua Nesbitt
has demonstrated. There certainly are similarities. The teams are similar, but they're not the same. There are different things in each team's offense that are unique to each team play-wise, and there's certainly a diversity in the formations the teams use and how they deploy their personnel. For example, Air Force will play a great deal of the time with a tight end in the game. We never play with a tight end in the game.
December, 27, 2010
12/27/10
10:30
AM ET
Here are three keys for Georgia Tech in this afternoon's AdvoCare V100 Independence Bowl:

Play disciplined:
The Yellow Jackets have to eliminate the turnovers and penalties, and play disciplined on defense. Georgia Tech has lost the ball 23 times this year and had 21 takeaways. It's losing 55 yards per game in penalties. And it has to stop the run against the nation's No. 2 rushing offense. It's going to have to start up front, but everyone has a specific role when defending a triple-option team. Georgia Tech opponents have converted almost 40 percent of their third downs.
Turn Anthony Allen loose:
It's his final audition for the NFL, and if he picked up where he left off in the regular season, it should be a good one. Air Force is even worse than Georgia Tech at rushing defense, ranking No. 100 in the country and allowing almost 200 yards per game. Allen rushed for a total of 331 yards in his final two regular-season games. He ranks second in the ACC in rushing, and has accumulated the eighth-most single-season rushing yards (1,225) in school history.
Convert in the red zone.
Georgia Tech has been inside opponents' 20-yard line 52 times this year and has come away with only 26 rushing touchdowns (and four passing). Air Force has one of the more generous red zone defenses in the country, and the Jackets will have to take advantage of it.
December, 27, 2010
12/27/10
9:00
AM ET
Georgia Tech is looking to stop its streak of five straight bowl losses and avoid a losing season for the first time in 14 years. Here's a quick preview of this evening's AdvoCare V100 Independence Bowl:


WHO TO WATCH:
Georgia Tech quarterback
Tevin Washington
. It's unlikely that starter
Joshua Nesbitt
(broken forearm) will play, so Washington will have one more chance to build his case for being the Jackets' quarterback of the future. So far, he is 1-2 as a starter. Washington will enter spring practices at the top of the depth chart because of his experience this season, but the job is not guaranteed. A strong performance against Air Force will be needed to match the Falcons' 32.25 points per game, but it will also give Washington something to build on heading into the offseason.
WHAT TO WATCH:
Georgia Tech's defensive line against the triple option. It's not accurate to say Georgia Tech has been practicing against this offense all season long. The Jackets face their scout team, which tries to simulate each week's opponent. Georgia Tech's size up front won't be much of an advantage, because Air Force can compensate with its athleticism. The Falcons don't have to double-team a lot because they can wrap the legs of bigger defenders. The Jackets have struggled to stop the run and rank No. 78 in the country at 169.67 yards per game.
WHY TO WATCH:
Old school football at its finest. Georgia Tech leads the nation in rushing (327.0 yards per game) and Air Force (317.9 ypg) ranks second. This game will feature offenses that have combined to average 12.4 pass attempts per game. It could be the quickest bowl game you've ever seen.
PREDICTION:
Georgia Tech 28, Air Force 24. Paul Johnson defeated the Falcons five straight times when he was head coach at Navy, and has enough talent on the roster and enough staff members familiar with Air Force to do it again. The key is whether the defense can play a disciplined game. The Jackets have struggled in their first season under coordinator Al Groh, but they've had ample time to prepare for this game.
ACC SCOREBOARD
Saturday, 12/20
Monday, 12/22
Tuesday, 12/23
Wednesday, 12/24
Friday, 12/26
Saturday, 12/27
Monday, 12/29
Tuesday, 12/30
Wednesday, 12/31
Thursday, 1/1
Friday, 1/2
Saturday, 1/3
Sunday, 1/4
Monday, 1/12
Tweets from https://twitter.com/ESPNCFB/lists/acc