ACC:

2010 Music City Bowl
December, 30, 2010
12/30/10
10:53
PM ET
Here's a quick recap of North Carolina's
30-27 win
in two overtimes over Tennessee in the Franklin American Mortgage Music City Bowl:


How the game was won:
With instant replay. Thanks to an official review, the Tar Heels got one more chance and one second back on the clock in regulation -- just enough time for Casey Barth to tie the game at 20 with a 38-yard field goal. Regulation ended with terrible clock management by North Carolina, as the Tar Heels let about 11 seconds run off the clock before spiking the ball. The officials said "the game is over" and mass confusion ensued before they decided on putting a second back onto the clock. Tennessee imploded with three costly penalties in the final 30 seconds, including a 13-yard personal foul that landed the Heels on the 12-yard line to start overtime. UNC quarterback
T.J. Yates
scored with a 1-yard run in overtime, but Tennessee answered right back, sending it into a second overtime. Tennessee quarterback
Tyler Bray
, who got a little brash in the first overtime, threw an interception in the second overtime and Barth kicked the game-winning, 23-yard field goal.
Turning point:
With 25 seconds remaining in the game,
Todd Harrelson
's catch for 28 yards was reviewed, upheld, and a 15-yard personal foul was tacked on, setting the Tar Heels up with a first down on the Tennessee 37-yard line. It was the play in regulation that kept UNC's hopes alive for a chance at a field goal to send the game into overtime.
Stat of the game:
North Carolina held Tennessee to just 27 yards rushing.
Player of the game:
UNC kicker Casey Barth. His 39-yard field goal tied the game at 20 and sent it into overtime, and his 23-yard kick gave the Tar Heels their first bowl win since 2001.
Unsung hero of the game:
UNC running back
Shaun Draughn
. Filling in for suspended starter
Anthony Elzy
, Draughn ran for 160 yards and one touchdown with an average of 7 yards per carry.
What it means:
UNC took the next step in the postseason under coach Butch Davis and won the close game, snapping a three-game bowl losing streak. It was a fitting end to a season defined by Carolina's relentlessness through the NCAA investigations. North Carolina hasn't been at full strength all year because of injuries and the investigations, but they've dug deep all season to find ways to win, and this game was a microcosm of that effort.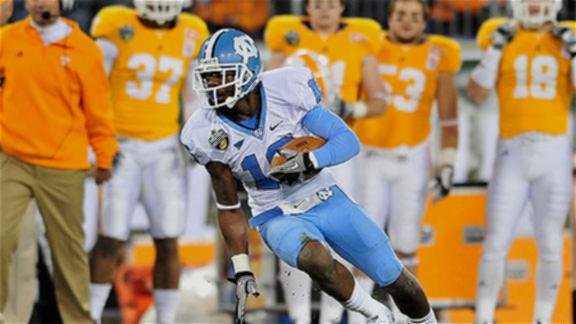 December, 29, 2010
12/29/10
10:00
AM ET
North Carolina enters the Franklin American Mortgage Music City Bowl undermanned once again, but the Tar Heels are determined to win with what they have. With the game in Nashville, UNC will also have to overcome what should amount to a home-field advantage for Tennessee. Here's a closer look at the Music City Bowl:


WHO TO WATCH:
The backups. With North Carolina starting tailback
Anthony Elzy
suspended,
Shaun Draughn
is the only proven runner remaining on the roster. His backup will be
Hunter Furr
, whose career-high is 27 yards. Elzy will not compete because he failed to meet his obligations as a student-athlete at UNC. The Tar Heels will also be without starting offensive guard Alan Pelc and starting linebacker Bruce Carter, both of whom are injured. Travis Bond, a sophomore, is Pelc's backup at right guard, but the problem extends to center, where Pelc was the backup to Cam Holland. At linebacker, Herman Davidson, a career reserve, is No. 2 behind Carter. There could be some shuffling at linebacker and offensive line as a result, and the Heels can't afford to have Draughn get hurt again.
WHAT TO WATCH:
Turnovers. These teams are so evenly matched on paper that one slip-up could be the difference. The Tar Heels have committed 15 turnovers in five losses this year and turned the ball over just six times in their seven wins (three of those six were in the victory at Rutgers).
WHY TO WATCH:
To see if North Carolina can squeeze one more win out of a roster that hasn't been at full strength all year. This team has been ravaged by injuries and suspensions, yet somehow still found a way to win seven games.
PREDICTION:
UNC 21, Tennessee 17. The experience of UNC quarterback
T.J. Yates
will be enough to overcome the Vols' home-field atmosphere, and North Carolina's defense -- even without Carter -- will be good enough to force true freshman quarterback
Tyler Bray
into some mistakes.
December, 27, 2010
12/27/10
5:45
PM ET
Yes, it could get worse at UNC, and it did.
Starting tailback
Anthony Elzy
won't play
in the Franklin American Mortgage Music City Bowl "after failing to meet his obligations as a student-athlete at UNC."
This has been one of the thinnest positions for the Tar Heels all year, but Elzy had really risen to the occasion. He started the final three regular-season games at tailback in place of
Johnny White
and had 531 all-purpose yards (176.7 yards per game) against Virginia Tech, NC State and Duke. He had a career-high 118 yards rushing in his final game at Duke and had a career-high 178 yards receiving versus NC State.
He was one of just two proven runners entering the bowl game, the other being
Shaun Draughn
, the 2009 starter. Draughn missed the first game of the year while the university worked with the NCAA to determine his eligibility, then twisted his ankle late in the year against FSU. He played sparingly against Virginia Tech, but has returned to full strength entering the Music City Bowl. He is second on the team with 477 rushing yards and five touchdowns.