ACC:

2011 ACC summer player rankings
June, 20, 2011
6/20/11
5:00
PM ET
The ACC position rankings continue today with the running backs.
Sean Meyers/Icon SMIMontel Harris is the ACC's leading returning rusher, coming off a 1,243-yard season.
1. Montel Harris, Boston College:
Until proven otherwise, this record-setter is tops in the ACC. He's currently the league's most accomplished back, and has topped the 100-yard mark 21 times.
2. David Wilson, Virginia Tech:
He was the team's third-leading rusher a year ago with 619 yards and 5.5 yards per carry. Now he's got the spotlight to himself, and has a chance to become an All-American in both track and football.
3. Lamar Miller, Miami:
He had one of the best spring games in the conference, and averaged six yards per carry last year with only 108 carries for 646 yards and six touchdowns. He also had 11 catches for 96 yards.
4. Chris Thompson, Florida State:
He led FSU with 845 yards and 6.3 yards per carry last year. He also had 19 catches for 155 yards.
5. Andre Ellington, Clemson:
He could break 1,000 yards if he stays healthy, but a nagging toe injury has kept him from reaching his potential. He ran for 686 yards, (5.8 ypc), and 10 touchdowns in less than nine full games.
6. Josh Harris, Wake Forest:
He ranked fifth in the ACC last year with 65.5 yard per game and finished with 720 yards on 126 carries and seven touchdowns. He made a name for himself with 241 rushing yards against ACC champ Virginia Tech.
7. Davin Meggett, Maryland:
He was the Terps' leading rusher with 720 yards, 5.7 yards per carry, and four touchdowns. He also has 29 career pass receptions for 313 yards and a touchdown.
8. Mustafa Greene, NC State:
He led the team in rushing as a freshman with 597 yards and four touchdowns. He also had 30 catches for 272 yards.
9. Ryan Houston, North Carolina:
He has broken out of the mold of the Tar Heels' short-yardage back and is ready to be the every-down guy. Houston sat out last year because of a suspension, but he led UNC in rushing in 2009 with 713 yards and nine touchdowns.
10. Orwin Smith, Georgia Tech:
He's an A-back, which is more of a slot back, but he was Tech's third-leading rusher last year with 516 yards and 9.7 yards per carry with four touchdowns. He was also the second-leading receiver on the team with 12 catches for 195 yards and a 16.2 yards-per-play average.
June, 16, 2011
6/16/11
10:30
AM ET
In addition to the position rankings, this year I'll also rank the players 1-10 at each position in the ACC.
These will be the top 10 players overall, so if Florida State happens to have two of the best running backs in the league, it will be reflected in the ranking. If Duke doesn't have any players who have proven worthy of the list, you won't find any Blue Devils. The players will be judged on past performances, but also on how they are expected to fare this fall.
Bottom line: Who would you choose at each position if you had to line up tomorrow against Oklahoma?
Following up on this morning's quarterbacks ranking, we'll start there.
This will be the most impossible and most unfair assessment since over half of the quarterbacks in the conference will be first-year, full-time starters this season. While experience is a factor, so is how they fared this spring and what their coaches and teammates have been saying about them.
[+] Enlarge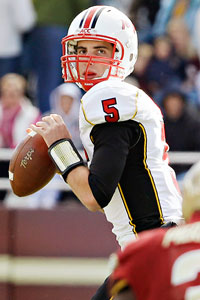 AP Photo/Stephan SavoiaMaryland quarterback Danny O'Brien threw for 2,428 yards and 22 touchdowns as a freshman.
Here are your top ACC QBs:
1. Danny O'Brien, Maryland:
He was the ACC's 2010 Rookie of the Year after he completed 57 percent of his passes and threw only eight interceptions. He had a 7-3 record as a starter, threw for 2,438 yards and 22 touchdowns. And that was only his freshman season.
2. EJ Manuel, Florida State:
He's 4-2 as a starter, including bowl wins over two ranked teams. He completed 67.3 percent of his passes and totaled 2,044 yards of offense.
3. Sean Renfree, Duke:
He threw for 3,131 yards and only had two interceptions in his final 188 pass attempts. He completed 61.4 percent of his passes and finished second in the ACC in total offense (257 yards per game).
4. Logan Thomas, Virginia Tech:
He had an outstanding spring, and quarterbacks coach Mike O'Cain said Thomas was ahead of schedule. His teammates raved about how far he has come, and his leadership on and off the field. Overall, the Hokies couldn't have asked for a better transition after losing the winningest quarterback in school history.
5. Jacory Harris, Miami:
His experience can't be ignored, and when he's healthy and confident, he's good. Harris enters his final season with 6,340 career yards and has thrown 50 touchdown passes. There's no guarantee he'll be Miami's starter this fall, but he is a proven veteran.
6. Mike Glennon, NC State:
He completed 9 of 13 pass attempts last year and could be one of the most accurate rookies in the league this year. Those within the program have said Glennon can make a throw just about anywhere on the field, and the receivers know if they're on time, they're going to get the ball.
7. Bryn Renner, North Carolina
: He's only thrown two collegiate passes, but he had one of the better spring games of the rookie quarterbacks in the league. He completed 9 of 13 pass attempts for 123 yards and a touchdown.
8. Tanner Price, Wake Forest:
He started nine games as a true freshman and completed 56.8 percent of his passes for 1,349 yards and seven touchdowns. He also ran 75 times for 120 yards and four more touchdowns.
9. Chase Rettig, Boston College:
He should take a major step forward in his second season as starter, and should also flourish under the direction of first-year offensive coordinator Kevin Rogers. He completed 51.3 percent of his passes for 1,238 yards and six touchdowns last year.
10. Tajh Boyd, Clemson:
He had an inconsistent spring, but overall, the coaches were pleased with the progress he made in the new offense under first-year coordinator Chad Morris. He played in seven games last year and threw four touchdowns and three interceptions in 63 pass attempts. He completed 52.4 percent of his passes for 329 yards.
June, 16, 2011
6/16/11
9:00
AM ET
We've already taken a look at the ACC's
Dream Team
, which was comprised of the top position groups across the league. Now it's time to go a little bit deeper and rank every position group for each team. We'll start with the most difficult position -- the quarterbacks. More than half of the teams in the conference will usher in quarterbacks who are in their first season as a full-time starter, and many of the teams in the ACC are struggling with depth and experience at the position. This is
not
solely a ranking of the best quarterbacks in the ACC (stay tuned for that, it will look different), so backups are an important part of the equation.
Bottom line:
Who's got the depth and talent to make it through a full season --
and win
-- if more than one quarterback is needed?
Here's a look at who's stocked and who's not at quarterback this year:

1. Miami:
The Hurricanes have a proven albeit embattled option in
Jacory Harris
, and
Stephen Morris
also has significant starting experience. Whoever doesn't win the job will be a more than capable backup. The Canes still need to add depth to the position, but they landed transfer
Ryan Williams
from Memphis.

2. Boston College:
Starter
Chase Rettig
should be better in his second season as starter, but he's not the only one on the roster with playing experience.
Dave Shinskie
has started 13 games, and
Mike Marscovetra
should be a familiar name to BC fans by now.

3. Duke:
It's possible coach David Cutcliffe could use three quarterbacks this year. He's got one of the best in the league in starter
Sean Renfree
, backup
Brandon Connette
has seen significant playing time, and the emergence of redshirt freshman
Anthony Boone
this offseason could give the offense yet another option.

4. Wake Forest:
Tanner Price
is the undisputed starter, but
Ted Stachitas
had a better spring than coach Jim Grobe had anticipated, and
Brendan Cross
has always been in the mix to earn some playing time.

5. Florida State:
The Seminoles haven't settled yet on a backup to
EJ Manuel
, but depth isn't a problem with both
Clint Trickett
and
Will Secord
competing for the No. 2 spot. It's not like it was last year, though, when there was a Gator Bowl MVP sitting on the bench.

6. North Carolina:
Not only is
Bryn Renner
unproven, so are his backups. Renner clearly distanced himself from the rest of the competition this spring. True freshman
Marquise Williams
will continue to compete with
Braden Hanson
and
A.J. Blue
, who was injured two years ago and redshirted last season, for the No. 2 spot.

7. Virginia Tech:
Logan Thomas
had an impressive spring and drew rave reviews from those within the program, but the backup situation remains a question. Redshirt freshman
Mark Leal
really pushed
Ju-Ju Clayton
for the No. 2 job and that competition will continue this summer.

8. Georgia Tech:
It's Tevin Washington's job to lose, but
Synjyn Days
had the better spring game and made the competition a bit more interesting heading into fall camp. True freshmen
Vad Lee
and
Demontevious Smith
would have to have stellar performances in camp to make a move, but there's definitely talent in the wings.

9. Clemson:
Tajh Boyd
was the only scholarship quarterback even on the roster until the early enrollees,
Cole Stoudt
and
Tony McNeal
, joined the team. The good news for Clemson fans is that Cole Stoudt, the son of former NFL quarterback Cliff Stoudt, had a productive spring and earned the No. 2 job.

10. Virginia:
If there's one problem the Hoos don't have, it's depth at the quarterback position. Mike London has yet to name a starter, and all of them lack significant game experience.
Ross Metheny
,
Michael Rocco
,
Michael Strauss
and
David Watford
all have a shot. Since they're all preparing as starters now, they should all have a good grasp of the offense if needed.

11. Maryland:
First-year coach Randy Edsall had five quarterbacks to work with when he was hired, and now he's down to two. He's got one of the best quarterbacks in the league to work with in
Danny O'Brien
, but he's got to keep him healthy.
C.J. Brown
and walk-on Troy Jones are the only other quarterbacks on the roster.

12. NC State:
If
Mike Glennon
gets hurt, the Wolfpack is in trouble. Redshirt freshman
Tyler Brosius
has a strong arm but no experience, and he's not ready for prime time yet. The departure of
Russell Wilson
might not affect the win-loss record, but it definitely hurt the depth.