January, 2, 2011
1/02/11
2:00
PM ET
Here are three keys for Virginia Tech in the Discover Orange Bowl against Stanford:

1. Stop Stanford's running game.
That should be the first priority. The Cardinal has the No. 17 rushing offense in the country with an average of 211 yards per game. Standford didn't miss a beat in replacing Toby Gerhart. The Cardinal have rushed for 2,532 yards this season – the second-highest total in school history.
Stepfan Taylor
leads the team with 85.2 yards per game.
2. Win the quarterback battle.
Virginia Tech's
Tyrod Taylor
and Stanford's
Andrew Luck
will take center stage in this game, but eventually, one will upstage the other. One of the reasons Luck has been so successful this year is because he's had great protection. Stanford is tied with Air Force at No. 1 in sacks allowed with five. Virginia Tech is No. 22 in the country in sacks with 2.54 per game. Both quarterbacks can run. Luck's 438 rushing yards is the highest single-season total by a Stanford quarterback. Taylor is the second-leading rusher for the Hokies with 637 yards and five touchdowns.
3. Continue red zone and third down defensive success.
Virginia Tech's defense will determine the Hokies' fate in this game, and it will increase its chances of coming out on the winning end if it continues to make the key stops. Virginia Tech is No. 21 in the country in third down defense efficiency, and No. 21 in red zone efficiency defense. The Hokies need to continue that trend against one of the best quarterbacks and offenses in the country.
January, 2, 2011
1/02/11
1:00
PM ET
This is the big one for the ACC, a chance for Virginia Tech and the conference to make a statement on the national stage against the No. 4 team in the country. Virginia Tech enters this game with an all-time record of 1-26 against teams ranked in the top 5 of the AP poll, and the Hokies are 0-22 in such games away from Blacksburg, Va.


This is Stanford's first Orange Bowl appearance and second BCS bowl appearance. At 11-1, Stanford is trying to finish a season with as few as one loss for the first time since 1940 (10-0). The Cardinal have already set a school record for most wins in a season. There's plenty to play for in the Discover Orange Bowl. Here's a quick preview:
WHO TO WATCH:
The quarterbacks. Stanford's
Andrew Luck
is a projected first-round NFL draft pick, and Virginia Tech's
Tyrod Taylor
was the ACC's Player of the Year after leading the Hokies on an 11-game winning streak. They're major reasons why their teams are ranked among the top 20 in the country in scoring offense. Both have been invaluable to their respective teams, both have given defenses fits, and both are too good to miss.
WHAT TO WATCH:
Virginia Tech's secondary against Stanford's receivers. Cornerbacks Jayron Hosley and Rashad Carmichael will have to win their matchups, especially when safeties Davon Morgan and Eddie Whitley line up closer to the box. Stanford receiver
Doug Baldwin
is one of Luck's top targets, and Carmichael will be tasked with disrupting that connection. The Hokies' pass efficiency defense is No. 8 in the country, while Stanford is No. 7 in passing efficiency.
WHY WATCH:
These programs have gone on remarkable runs this season and come a long way. Stanford made a turnaround from 1-11 in 2006 to a school-record 11-1 this year. Virginia Tech made a turnaround from its 0-2 start to win 11 straight and become the first team to go undefeated in ACC play since Florida State in 2000. Both have an opportunity to finish the season with unprecedented success.
PREDICTION:
Stanford 35, Virginia Tech 31. The difference in this game will be Stanford's ability to run the ball. If there has been one weakness in the Hokies' defense this year, it's been at linebacker, where injuries and youth have provided some bumps. Virginia Tech's run defense has been average, but when the Hokies dare to load the box, Luck can beat them with his arm.
December, 31, 2010
12/31/10
4:00
PM ET
FT. LAUDERDALE, Fla. -- Virginia Tech's blue-collar, lunch-pail reputation is not "geographically limited," according to Stanford associate head coach Greg Roman.
In fact, when Roman was coaching in the NFL and evaluating an offensive player, he would make sure to watch film of that prospect against Virginia Tech's defense if it was available.
"I made sure I did, because I could see them on the offensive line, I could see them have to deal with quickness, toughness, relentlessness," said Roman, who had stints with the Carolina Panthers, Houston Texans and Baltimore Ravens before arriving at Stanford in 2009. "As a tight end, I could see him having to deal with guys trying to beat him up at the line of scrimmage and having to match up with him in coverage. At quarterback I could see him evaluate him against all the different coverage looks they need to see with the variety that they'll see, which is somewhat NFL like, and as a wide receiver you could see him against defensive backs that are going to come up and try to lay you out. So I think their reputation is long and well deserved, and it travels everywhere."
Stanford quarterback
Andrew Luck
said it's "quite possibly the best defense" the Cardinal will face all year.
"I haven't been around football for too long, I guess, not like coach Roman," Luck said. "But from my short history, growing up and watching Virginia Tech, you always knew they were going to be a tough football team that flew around with the football. We know we're definitely going to have our hands full, and I think it's a great reputation anywhere in the United States."
Watching them on film, it's obvious why; you'd better pack your "A" game when you play Virginia Tech.
December, 31, 2010
12/31/10
1:00
PM ET
FT. LAUDERDALE, Fla. -- Virginia Tech coach Frank Beamer was reluctant to travel all the way from Blacksburg, Va., to Delray Beach, Fla., to woo a recruit until one former player persuaded Beamer to put in the effort to get to know a kid named Jayron Hosley out of Atlantic High School.
Former cornerback Brandon Flowers, also a graduate of Atlantic High, didn't have to say much -- only that Hosley was just like him.
"He told them, 'he might even be better than me,'" Hosley said with a smile. "That's a big compliment coming from Brandon, being a great corner that he was coming out of Tech. That was big."
[+] Enlarge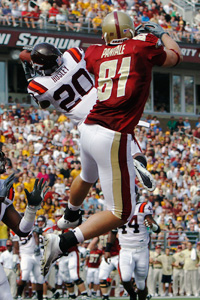 AP Photo/Michael DwyerSophomore cornerback Jayron Hosley grabbed eight interceptions this season.
Hosley is only a sophomore, but if this season has been any indication of what lies ahead, Beamer might want to send Flowers a little thank-you note. Hosley enters the Discover Orange Bowl against Stanford tied for the national lead in interceptions with eight and leads the country in interceptions per game with .67. He was a first-team All-America selection by the Walter Camp Foundation, and will be integral to the Hokies' chances of an upset over Stanford, which features a sure-fire first-round NFL draft pick in quarterback
Andrew Luck
(if he comes out).
"J-Hosley, man, he definitely brings a lot to the table," said cornerback Rashad Carmichael. "He's a playmaker -- I think one of the most pure corners I've ever seen. When he first came on campus, I was like, 'this guy's a corner. That's what he do.'"
Hosley, who grew up about 30 minutes from Sun Life Stadium, said he will have 15 or 20 family members in the stands, "depending on how many tickets" he can get.
"My family is definitely looking forward to it," Hosley said. "They want me to go out there and put on a show and do what I've been doing all season. They want to see me grow even more."
So does secondary coach Torrian Gray, who's had to "push and nudge" Hosley to be a little more aggressive. Gray said Hosley had the ability to play as a true freshman last year, but lacked a sense of urgency to be a starter.
"He's a very quiet, laid-back kid," Gray said, "almost too laid-back for my personality because I want you to be in it, communicate, talking, and that's not how Jayron is. That's the reason for his progression being kind of slow, but he's a smart football player. Once he gets it, he's got it."
This year, Hosley got it -- just ask NC State.
Hosley had six tackles, four pass breakups and three interceptions against quarterback
Russell Wilson
, one of the top quarterbacks in the ACC. He clinched the win against the Wolfpack with a 42-yard interception return for a touchdown. He also had a critical fourth-quarter interception he returned 32 yards in the win at Miami, and two interceptions against North Carolina.
"I've always said when he first got here as a true freshman he has an 'it factor,' and you can't teach it, whatever it is," Gray said. "His 'it' is to be able to make interceptions, make plays on the ball and finish plays. For him to have some of the games he's had, kept us in games or won some games for us, I can say that kind of took me by surprise for him to come on this quickly."
Hosley has also been an electric returner, and brought a punt back 80 yards for a touchdown in the win over Central Michigan. He has returned 19 punts this year for 239 yards (12.6-yard average) and a touchdown. He has 37 tackles this year, including one for loss, and seven pass breakups.
"I'm glad we came and got him," Beamer said. "He's just an exceptional player. He's kind of got it."
Flowers had 'it' too.
December, 31, 2010
12/31/10
11:00
AM ET
FT. LAUDERDALE, Fla. -- When it comes to offensive success against Stanford's defense, Virginia Tech's running backs are prepared to do more than just run.
They want to give ACC Player of the Year
Tyrod Taylor
enough time to make something happen.
"When I watch film, I don't really pay attention to [the whole defense]," said Hokies' running back
Ryan Williams
. "I treat every defense the same and my job really -- when I watch film -- is to protect Tyrod [Taylor] when it comes to blitzes and who I pick up and [which players that will be]. That's the biggest thing, because I run the ball and every defense is going to play you differently depending on how you run the ball and things of that sort. But they are going to do their job in terms of defending the run, but my job is protect Tyrod and the running comes natural. That is just me using my vision, picking the holes and seeing where I can go."
Running back
Darren Evans
compared Stanford's defense to Boise State's in that it is fundamentally sound, and praised the linebackers' ability to get to the ball.
"It can be tricky in the passing game, identifying the fronts," Evans said. "I might have to stay in more to protect Tyrod [Taylor] so he can have more time to throw."
December, 31, 2010
12/31/10
10:00
AM ET
ESPN's Stats & Info crew took a look at Stanford quarterback Andrew Luck and Virginia Tech quarterback Tyrod Taylor's numbers when passing outside the pocket. Taylor has completed half of his passes this season when outside the pocket, but those completions have gone for big yards.


December, 31, 2010
12/31/10
9:00
AM ET
FT. LAUDERDALE, Fla. -- Regardless of whether
he stays or goes
, there seems to be a general consensus that Stanford quarterback
Andrew Luck
would be one of the top picks in the 2011 NFL draft. He currently is the No. 1 player in the Scouts Inc. Top 32, and Todd McShay has him as
the No. 1 quarterback overall
. Mel Kiper has Luck
at No. 1 on his latest Big Board
.
[+] Enlarge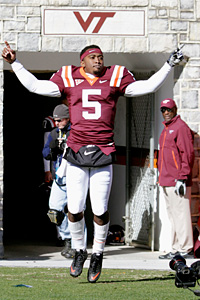 AP Photo/Steve HelberVirginia Tech's Tyrod Taylor might have an NFL future if he's willing to play several positions.
Virginia Tech quarterback
Tyrod Taylor
isn't as highly regarded by draft experts, but the Discover Orange Bowl will be the final audition for him. He's already improved his stock with an MVP performance against Florida State in the ACC championship game. Here's what Kevin Weidl of Scouts Inc. had to say about
Taylor's place in the NFL
after watching him play in Charlotte this year:
I've said before that Taylor is no more than a developmental prospect as a quarterback, and his lack of anticipation and inconsistent short accuracy showed up at times against Florida State. However, he is a gifted athlete and the physical tools Taylor showed in the title game give him a chance to come off the board in the middle rounds.
The 6-foot-1, 220-pound Taylor is put together well and has a low center of gravity, and with his impressive lateral agility he makes it look easy when evading defenders. He was able to sidestep pass-rushers and buy time in the pocket, and his second-quarter touchdown pass to WR Jarrett Boykin came after Taylor spun away from two defenders coming up the middle and allowed Boykin to get away from coverage in the back of the end zone.
His athleticism also showed up on a 5-yard touchdown run in the third quarter. Taylor rolled out of the pocket to his left, saw two defenders closing in on him, stopped on a dime and left both grabbing at air as he walked into the end zone.
Overall, Taylor has the skills to contribute as a Wildcat quarterback, returner on special teams and even at wide receiver. He reminds me of former college quarterbacks Antwaan Randle El and Josh Cribbs, both of whom have become versatile contributors in the NFL, and if he's willing to make the transition from quarterback Taylor looks like an intriguing mid-round pick.
Stanford defensive coordinator Vic Fangio, who spent 24 seasons in the NFL, said it's possible Taylor could be an NFL quarterback.
"You know, like a lot of the athletic quarterbacks, the Vince Youngs, Tebow, another name or two that's come out there, those guys, they've got to work on being more of a pocket passer and developing accuracy and timing that goes with being a competitive NFL quarterback," Fangio said. "But I think this guy definitely has the tools to do that. He's just going to have to develop. Will he be Vince Young who's had some success? Will he be
Pat White
who came down here and right now I think he's playing baseball, right, from West Virginia? There's all different varying degrees of success stories in the NFL with quarterbacks such as these. But I think this guy has got talent and some gifts that are going to intrigue some people."
He has certainly intrigued Stanford's defense. Taylor said he knows the spotlight will be on the quarterbacks in this game, and he's looking forward to it.
"I'm very excited," he said. "He's a great player. He's done all the right things for his team to be in the situation they're playing in now. I'm looking forward to the match-up. Like I said, it's not a me thing, not personally me against Luck. It's Stanford against Virginia Tech, and I'm going to go out there to do what I can to put my team in the best situation to win this football game."
December, 30, 2010
12/30/10
1:00
PM ET
FT. LAUDERDALE, Fla. -- Virginia Tech has a long list of impressive accomplishments under coach Frank Beamer, but beating top five teams is not one of them.


The Hokies will have another shot at that when they face No. 4 Stanford in the Discover Orange Bowl.
This is Virginia Tech's third appearance here in the past four years, and 18th straight bowl appearance, but the Hokies are 1-26 all-time against teams ranked in the top five of the Associated Press poll.
"No. 1 you probably go back and look at the top five teams we've played, and were we as good as they were at the time?" Beamer said. "I know when I first came to Virginia Tech it seemed like we were playing a lot of top five teams, and we weren't as good as they were. I think that's one part of it, but there's no question we need to be more successful. ... There's no question.
"I think it's important to this program at this time to be able to say, 'Ok, we can win a game against a top five team," Beamer said. "I told them this morning, that's going to be work, and a great preparation. Stanford is legit."
Offensive coordinator Bryan Stinespring said "people get caught up" in the Hokies' record against elite competition, but that it's "very, very important" they start to reverse that trend.
"But I think when you look at that, we were in a position to win those games," Stinespring said. "It's not like we've gone into those games and not stood face to face and not had opportunities to win them. The fact that we haven't is something that is the albatross right now in terms of trying to shake it off a little bit.
"But we need to go out there and win this one. We need to win this one because it's a great bowl, a great match-up, a great competition, but that record, that's something that obviously people want to focus on and concentrate on, but we understand what we are in terms of our program. That record is just something that is part of it that we've got to try to go out and try to help improve it here in a couple days. It will be difficult."
December, 29, 2010
12/29/10
9:00
AM ET
FT. LAUDERDALE, Fla. -- As Virginia Tech's players and coaches stepped off the plane and onto the orange carpet rolled out onto the tarmac at the Ft. Lauderdale/Hollywood International Jet Center on Tuesday, they were greeted by Discover Orange Bowl officials handing out oranges, pins and handshakes.
It was a familiar scene for a program that has been here three of the past four years, but an unlikely destination for a team that began the season as cold as the city they left. Virginia Tech, which seemed doomed after losses to Boise State and -- gasp -- James Madison, has since evolved into the No. 13 team in the nation and gone on an improbable 11-game winning streak that included the program's third ACC title in the past four years.
[+] Enlarge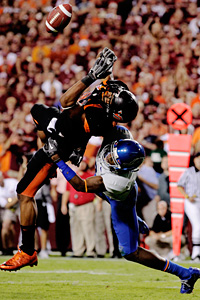 AP Photo/Carolyn KasterVirginia Tech has won 11 straight games since falling to Boise State and James Madison to open the season.
It was a remarkable turnaround from an 0-2 start, but those within the program agree that despite everything the Hokies accomplished this season, the Orange Bowl game against No. 4 Stanford is the game that could truly define their season and etch their place in school history.
"I think this game right here -- I told the team, if we can win this one, I'll be talking about this team for a long time," said coach Frank Beamer. "It's done some special things, but trying to beat a top 5 football team and end it that way, that is the way it needs to go."
Virginia Tech's record against elite competition can only go up.
The Hokies are 1-26 all-time against teams ranked in the top five of the Associated Press poll and 1-2 in their past three Orange Bowl appearances. Those are facts that aren't lost on quarterback
Tyrod Taylor
, who said the weather in South Florida is nice, but this is a business trip -- not a vacation.
"They're ranked very high and have a lot of great players," Taylor said. "I'm just looking forward to going out there and showcasing our talent on this national stage. We had a chance early on in the year against Boise State, and I think this is a similar type game as far as the media and everything that's going to be put on us."
The difference between now and the Boise State game, though, is that Virginia Tech has since earned its ranking with the fourth-longest active winning streak in the FBS. Heading into the season, Beamer said, expectations for a national championship might have been a little unrealistic for a defense that had to replace seven starters.
"In reality, the expectations were high, and maybe were a little bit too young in the beginning," he said. "But we have the same players we had before the Boise State game and after the James Madison game, they were still in our locker room, and we thought they were good before those two ball games, and it turned out to be that way. We needed to get a little better in some areas and grow up and mature in some areas, but we had the same players. The big thing we had was a lot of great character kids who really held us together, kept us together."
Not only did they keep it together, the Hokies became the first team in the history of the FBS to follow an 0-2 start with 11 straight wins. The last time Virginia Tech won 11 in a row was in 1999 when it won 11 straight en route to an appearance in the national championship game against Florida State. This is only the third time in school history that the program has had a winning streak of 10 games or more.
Defensive tackle John Graves said it's going to be an "emotional game" for him because he is a senior, and that it will mean more because of how the season started.
"A lot of teams could've folded after losing two games early in the season," he said. "The way these guys hung in there and kept fighting, it's a great story."
And it's not over yet.
December, 28, 2010
12/28/10
6:16
PM ET

Heather Dinich talks with Virginia Tech DT John Graves as the Hokies arrive for the Orange Bowl.