ACC:

2012 ACC spring meetings
May, 17, 2012
5/17/12
2:00
PM ET
AMELIA ISLAND, Fla. -- Every year, there are new rules to pay attention to, for coaches, players, officials and viewers watching games.

Here are several of particular note that could impact teams this season. ACC coordinator of officials Doug Rhoads spent time going over these changes with coaches during the spring meetings, and took some time to explain them for this post. These changes were made to help create more player safety.

1. Helmet comes off. This is big change that Rhoads spent the most time going over with the coaches. If a player's helmet comes off, he must leave the game for the following down. The only exception to the rule is if the helmet comes off as a result of a penalty (face mask, for example). If the ball carrier's helmet comes off, the play must be whistled dead immediately. No more running into the open field without a helmet.

If a player who is not the ball carrier loses his helmet, he must stop playing. He cannot make a tackle, continue blocking or running a route, for example. If he continues prolonged participation without a helmet, he will be whistled for a 15-yard penalty. There is some gray area here. One example mentioned -- what if an offensive lineman loses his helmet while blocking somebody coming after the quarterback? Does he stop playing to allow the end to go after the quarterback unimpeded? The key will be determining what "prolonged participation" is.

There is one more part to this rule change. With less than 1 minute remaining in either half, if the ball carrier's helmet comes off, and that is the only reason the play is being whistled dead, there is also a 10-second runoff. If a team has a timeout remaining, the coach can elect to use the timeout instead of running 10 seconds off the clock. But the player must still leave the field for one play, unless his helmet comes off as the result of a foul. Here is your ultimate nightmare hypothetical: Let's say 9 seconds are left in a game, and your team is driving. The ball carrier's helmet comes off, and the play is whistled dead. Your team has no timeouts left. Officials must announce the game is over by rule.

Last year, helmets came off an average of twice per game. Averaged out over the course of a season and you get a helmet coming off near 200 times. All of this is being done to make sure coaches, players and equipment managers do their due diligence to ensure helmets are secured properly, and to protect players in the event their helmets do come off.

2. Kickoffs. They move to the 35-yard line now. If there is a touchback, the ball is moved to the 25-yard line, up from the 20. The hope is for more touchbacks on kickoffs in order to avoid many of the jarring hits that injure players. But kicking teams may elect to squib it to try to pin a team inside the 25. Receiving teams may decide to run out of the end zone anyway, even with the extra five-yard cushion.

One rule change to the formation -- 10 players on the kicking team must have one foot on or inside the 30 in order to cut down on running starts.

On onside kicks, any player on the receiving team is given the same kick-catch and fair-catch protection whether the ball is kicked directly off the tee or is immediately driven into the ground and bounces into the air.
May, 16, 2012
5/16/12
3:30
PM ET
AMELIA ISLAND, Fla. -- ACC commissioner
John Swofford weighed in
Wednesday on the two hottest topics confronting his league during its annual spring meetings.
Florida State and the BCS.
Swofford said he has had positive talks with Florida State and reiterated: "It has been and I would anticipate that it will continue to be a very beneficial relationship to both parties, which is what it should be." Whether or not Florida State has a wandering eye toward the Big 12 has dominated recent speculation. When asked if he was concerned about losing the Seminoles, Swofford said, "I don't deal in hypotheticals, I deal with what's tangible. It's what we're doing as a league with the current 12, soon to be 14 membership league, and we're moving ahead on the basis of that full membership."
As for the format the ACC would like to see in the BCS, Swofford listed several points:
Sticking with current bowl sites for the playoffs, or at the very least, the semifinal games.
Strong preference for conference champions with a standard, such as finishing in the Top 5 or 6.
Keeping BCS bowls for those teams that do not qualify for the playoff.
When asked how all 11 league commissioners and Notre Dame athletic director Jack Swarbrick will come to an agreement when everybody has their own self interest to protect, Swofford said:
"That's what gets so challenging about this. A lot of this is -- we're representing our constituencies in that room. It's not like 12 guys walk in and we have total power and authority to do whatever we individually want to do. It's a representation kind of thing, and hopefully we'll reach that point and people will have enough flexibility in what they can represent to come to a consensus with something that can work. It will be challenging. Getting to that concept was challenging, but getting to the particulars of that concept and the methodology of that concept will be even more challenging in my opinion."
Some other notes:
Swofford would like to see Pitt and Syracuse join the ACC sooner rather than later, but that decision rests in the hands of the schools and the Big East. Pitt has filed suit against the league to be able to join in 2013, while Syracuse hopes to come to a resolution without resorting to a lawsuit. Whenever the two do join, Pitt will be in the Atlantic Division and Syracuse in the Coastal. Teams will also move to a nine-game league schedule. When that happens, Atlantic teams will play five home games in odd years, and Coastal teams will play five home games in even years.
The men's and women's basketball tournaments will also include all 14 teams and move to a Wednesday-Sunday format. Seeds 11-14 will play Wednesday. Both tournaments will be in Greensboro, N.C., through 2015.
Swofford would like the ACC to continue its bowl tie in with the Orange Bowl.
He also said future expansion is not on the horizon. "Every time you make a jump, it's a different configuration," Swofford said. "It brings a different set of circumstances and different challenges. But I would tell you that expansion to 16 at the moment is not something that's on our front burner."
May, 16, 2012
5/16/12
10:30
AM ET
AMELIA ISLAND, Fla. -- The topic of what the ACC has to do to improve its football image has been rehashed over and over, particularly after its BCS bowl losses.

Swinney
But that did not stop Clemson coach Dabo Swinney from weighing in on the topic during the ACC spring meetings. Swinney came to his league's defense after a reporter wondered how he dealt with the perception that the ACC was not a football conference. Then he gave his own twist on what the future looks like in this league, predicting that a national champion would eventually emerge.
Pretty bold statement. You guys know the BCS record. You guys know what happened to Clemson in the Orange Bowl last season. You guys know Florida State and Miami have been down, and Virginia Tech hasn't quite gotten over the top. So does Swinney, which must give him confidence that teams in this league are ready to turn a corner.
These are his comments, in their entirety:
"The ACC is a tremendous football conference. It's a tremendous conference as a whole," Swinney said. "We've got to do a better job as far as developing a dominant team from within our conference. We've had some good teams, but we haven't produced that 13-0 team yet, that 12-1 team that's going to get on the national scene. You look at us this year, we got to fifth. We're on our way and we just didn't quite finish like we need to finish. That's coming.
"I think we've got a lot of good programs. In five years from now, we'll look back and say this is where it changed. You look at the SEC and some of the traditionally really good teams that maybe haven't been as good of late. They'll get back. It's the same thing in our conference. Heck, it's been 20 years since we won the ACC. Twenty years. I was still playing 20 years ago. We're heading in the right direction as a conference. This is a tremendous conference. At some point we'll produce a national champion again, there's no doubt in my mind about that."
The ACC could have as many as four teams ranked in the preseason top 25 come August. Expectations are high at Florida State once again, while Clemson and Virginia Tech are near-certainties to be ranked. NC State could very well make the list, too. There no doubt have been opportunities.
We'll see if a different script is written in 2012.
May, 16, 2012
5/16/12
9:00
AM ET
AMELIA ISLAND, Fla. -- Nothing ratchets up expectations like winning.

So it goes that much more is expected out of Virginia coming off a surprising 8-5 season and appearance in the Chick-Fil-A Bowl. Coaches always say it is more difficult maintaining success than rebuilding from the bottom up, so this upcoming season will be a huge test for coach Mike London.
"Expectations are always at a point where you want to do well," London said at the ACC spring meetings. "I always make note that we won four games literally on the last play of the game last year. Look at whatever the record was, it could be four games less, two games less, but you want to attract very good student-athletes, guys that value an education. Virginia is the best of both world opportunities. The school's academic reputation as well as what's going on athletically, a chance to win, a chance to play, makes Virginia an attractive choice."
London may not have to find extra ways to motivate his team going into the fall. The Cavaliers are going to have enough to worry about with replacing seven starters on defense, as well as their punter, kicker, kickoff specialist and leading receiver.
Michael Rocco
returns at quarterback, but there may be a competition with Alabama transfer
Phillip Sims
, depending on his eligibility status.
"We just keep talking about getting better as a team and the experience we had going to a bowl game and those opportunities that were afforded to us," London said. "That work was forged long before the season started. It was last spring, the summer workouts. So we're hungry. Never satisfied. You're one game from playing for the conference championship and you can't sit back on what you did before. Now we have to do everything again, do it over and do it better. The mind-set of the players, particularly a lot of the young ones who played, that's what they want to do."
May, 15, 2012
5/15/12
5:00
PM ET
AMELIA ISLAND, Fla. -- Pitt and Syracuse are caught in a bit of no man's land right now. With one foot out of the Big East door and one foot in the ACC door, the two schools had their representatives at the ACC spring meetings this week.
It may seem strange or awkward, but the programs are persona non grata at the Big East, after announcing their defections last September. They will not be at the Big East spring meetings next week, and are trying to move forward with their eyes to the ACC future.
But when that future will begin remains up in the air. Though former Big East commissioner John Marinatto said previously he was hopeful a resolution could be reached to allow Pitt and Syracuse to leave the Big East a year early and join the ACC for the 2013 season, nothing has been determined.
[+] Enlarge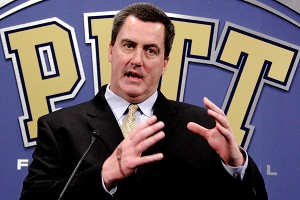 AP Photo/Gene J. Puskar Paul Chryst said his focus is on coaching football, not when Pitt is allowed to start playing in the ACC.
Pitt has grown frustrated with efforts to negotiate, and
filed suit against the Big East last week
in Pennsylvania in order to be allowed to leave a year earlier than the required 27-month waiting period. Pitt athletic director Steve Pederson declined further comment on the suit while at the ACC meetings.
Syracuse, on the other hand, has not taken any legal action. Athletic director Daryl Gross said Tuesday that he remained hopeful a deal could be arranged without resorting to a lawsuit.
"We're obviously going to keep all our options open, but I'm still confident that there's a lot of bright people, sophisticated people that can get together and solve this in a quick fashion," Gross said.
He recently had talks with Marinatto about getting out of the Big East after this season, now that the league has reconstituted itself. But Marinatto has since resigned, and Joe Bailey has been hired as interim commissioner.
"We've been collegial throughout this process," Gross said. "It seems they've gotten to a point where they have their teams solidified and now it's time for us to move out of the way. One, they need to move on with their life and set up whatever TV contracts and rights. Two, we need to move on with our life as an institution as well. We still believe we can sit down and negotiate and talk about a graceful departure."
Does he have a timetable for a resolution before taking another step? "I'm confident we can work things out and then we'll go from there."
Was he surprised Pitt went the legal route: "I'm not surprised because I think there's an urgency. I think folks have shown patience and we're getting to a point where we really need to move forward. There should be some urgency with this because folks have been patient. I understand."
For their parts, Syracuse coach Doug Marrone and Pitt coach Paul Chryst have stayed above the fray. When asked about his feelings about being at the ACC meetings, despite having a Big East schedule to play this year, Marrone said, "For us it's a standpoint of excitement. It's a great introduction and looking forward to what the future holds for us. My focus is to make sure that our football team, we need to win football games. It just changes, you put yourself in that mode but it's very exciting to see where we're going."
Chryst is attending his first spring meetings as a head coach, so this all was a new experience and conference affiliation hardly mattered. He doesn't have an opinion one way or the other about when Pitt should start ACC play.
"Not that you don't care about it, but really, they're not asking me," he said. "I have no problem taking what's in front of you and focusing on those things."
May, 15, 2012
5/15/12
10:00
AM ET
AMELIA ISLAND, Fla. -- Virginia will soon file all the necessary paperwork to get Alabama transfer quarterback
Phillip Sims
eligible for the 2012 season.

Whether he gets his hardship waiver approved by the NCAA or not, coach Mike London reiterated Tuesday at the ACC spring meetings that
Michael Rocco
is his team's starting quarterback.
"Mike is our starting quarterback, and I've said that time and time again and I think hopefully we're at a point in the program where players who come in, not only Phillip Sims, but the incoming freshmen class want to compete for opportunities," London said. "When you have players who want to compete for opportunities, then everybody gets better at that position. The quarterback is a high profile position. We don't talk about the defensive ends or the corners coming in that are going to be competing for playing time as well. But that's the mind-set you want to set for the team.
"Every year the team has to be re-formed and re-born. Hopefully, the guys who have been in the system have a comfort level and say,' Hey I don't care who you bring in. This is my job.' If we have that type of mind-set, I think we'll be OK."
Sims lost a quarterback competition to
AJ McCarron
last year at Alabama and spent the season as a backup, seeing time in five games. He decided to transfer closer to home because of an ailing family member, the reason Virginia is seeking a hardship waiver for Sims' immediate eligibility. If that waiver is denied, Sims would have to sit out one year because of NCAA transfer rules. London says he has been given no timetable for an answer from the NCAA.
"When I get back from these meetings, I'll be on the ground for a week and get a chance to find out where we are, how school ended up and see what compliance has turned in and then wait and see what the NCAA will tell us," London said. "Hopefully, things will work out."
Sims was a standout high school player in Virginia, when London was still coaching at Richmond. Virginia currently has two of Sims' former teammates at Oscar Smith High on the roster -- Perry Jones and Tim Smith. Jones' brother, Zack, has committed to sign with the Cavaliers in 2013.
Sims' addition is sure to be a hot topic as the season moves closer because of all the quarterbacks already on the roster. Rocco had a breakout season a year ago, throwing for 2,671 yards 13 touchdowns and 12 interceptions. He has two years of eligibility remaining. Backup quarterback
David Watford
also returns this fall, along with early enrollee Greyson Lambert. Three-star 2012 recruit Matt Johns also is set to arrive for fall practice.
May, 15, 2012
5/15/12
9:00
AM ET
AMELIA ISLAND, Fla. -- Miami coach Al Golden said Tuesday that quarterback
Stephen Morris
has been medically cleared and is ready to participate in the Hurricanes' offseason program.

Players report back to campus Tuesday, and Golden said Morris will get right to passing drills and working with receivers on individual routes. Golden has previously said that Morris was ahead of schedule in his return from back surgery. Morris did return for the final week of spring practice, but he was limited and didn't participate in the spring game.
Now that has changed, and Golden fully anticipates a quarterback competition this summer and into the fall between Morris and
Ryan Williams
, who emerged during the spring.
"I see a competition at every position to be honest with you," Golden said at the ACC spring meetings. "I wouldn't want it to be any other way, and it wouldn't be fair to portray it any other way. They'll work out for the next 90 days and then they'll have training camp to prove themselves. They'll have practices and two scrimmages, both will work with the ones, and then we'll name a starter from there."
Williams, a transfer from Memphis, had a productive spring with Morris on the sideline. Though Williams had a shaky spring game -- throwing two interceptions -- Golden was happy with the strides that were made.
"He did good overall," Golden said. "It was tough because at times we only had three scholarship wide receivers in the spring, which made it difficult. But overall, I think he commanded the offense, he learned it really well. He was a good leader for us on the field, and his intelligence is evident in his ability to see the defense and know where to put the ball."
Golden added that he expects his team to be totally healthy for the start of fall practice.
"We came out of spring really good," Golden said. "When people ask me, 'Did you have a good spring? I usually say because there's no major surgeries or anything, I say yes. We had guys who had lingering injuries from the season that we stopped during the spring, but nothing that occurred during the spring that will prohibit anybody from being at training camp."
May, 14, 2012
5/14/12
5:00
PM ET
AMELIA ISLAND, Fla. -- Coming changes to the BCS have captivated the college football world this offseason.
Coaches have been paying attention, too, and have their own opinions about how a future four-team playoff should look. One of the bigger discussion points at the ACC spring meetings Monday was about the BCS. Executive director Bill Hancock presented some of the ideas that have come up during meetings with the conference commissioners.
Nothing has been settled about who gets in, but one of the biggest debates has centered on whether winning a conference championship should be a requirement. Hancock polled the room to see what the ACC coaches want, and the consensus was that conference champions should be given preference.
"There has to be some stipulation in there about champions," Florida State coach Jimbo Fisher said. "Because not everybody plays the same schedule. We play a nine-game conference schedule. Other teams don't. That's weighed in. Some conferences have a conference championship game. Others don't. Being a conference champion is no small task. Not only are you going through your conference, then you turn around and play a conference championship game. There has to be a lot of weight given to conference champions."
Big Ten commissioner Jim Delany has already floated one plan that would
include only conference champions
. Under this plan, conference champions would be required to finish in the top six of the final standings; the top four advance to the four-team playoff. If four conference champions are not in the top six, then the highest ranked at-large teams would be selected.
Under this plan, Alabama would have made it into a four-team playoff last season. No. 4 Stanford would have been left out.
"The BCS is an evolving situation, and it has been in, what, 16 years, and they've improved on it every year and I think they will improve on it some more," Boston College coach Frank Spaziani said. "It's not black and white, and it's not clear cut. That's why it's a difficult question. There's good people running it and they have a good plan.
"I'm in favor of the BCS, what they're doing right now and opening up the dialogue and coming up with something. I do know the conference champion does need to be involved. A conference champion, certainly, in order to keep the season and the championship games relevant has to be involved in whatever the BCS comes up with."
The next BCS meeting is set for June, when details are expected to be worked out on how the final four teams would be selected, where the games will be played, how current BCS games factor in and whether bowl tie-ins to those BCS games remain.
May, 14, 2012
5/14/12
2:41
PM ET
AMELIA ISLAND, Fla. -- Florida State coach Jimbo Fisher tried Monday to quell the mini-firestorm that has engulfed his program, after fanning the flames with one comment in particular this past weekend.

While the school has released statements reaffirming its commitment to the ACC, the chair of the school's board of trustees and Fisher both said this weekend they
would have no problem
if the Seminoles looked elsewhere to gauge what is in their best interest.
Ahem, Big 12.
Fisher specifically said
Saturday to The Orlando Sentinel, "There have been no officials talks, but I think you always have to look out there to see what's best for Florida State," Fisher said. "If that (jumping to the Big 12) is what's best for Florida State, then that's what we need to do."
When asked about those comments during the ACC spring meetings Monday, Fisher said, "All I said Saturday was, I said I never read the contract, I have no idea what the contract was. I said the powers to be will make decisions for Florida State. That's the Board of Trustees and the president. They'll do what's best for Florida State. We're in the ACC and that's where we're at. I'm not a decision-maker."
Florida State athletic director Randy Spetman was not at the meetings Monday because he was attending a previously scheduled event at the Air Force Academy.
Fisher is referring to the new TV deal the ACC reached with ESPN. Andy Haggard, the board of trustees chair, voiced his unhappiness with some of the particulars of the new deal in a weekend interview with Warchant.com. But Haggard turned out to be misinformed and has since backed off his comments.
Either way, the damage has been done and the expansion rumors have begun to swirl once again, leading to renewed questions about the future of Florida State and the ACC. It also has drawn comparisons to in-state rival Florida, which already generates much more money from its TV deal with the SEC.
"TV revenue is big," Fisher said. "That's your largest contributor, your sales and tickets and your marketing. That's what's changed the landscape of college athletics, in particular college football. College football's driving that train. That's why there's controversy. Nothing's about money, but everything's about money."
When asked whether fans should have a voice in what happens, Fisher said, "You have to ask the president and trustees. Fans are always a part of everything we do, but you have to make a decision about what's logical. Fans don't always know the details. But they always have an opinion. Your powers to be have to listen to those things but you have to make decisions based on rational thoughts. When explanations are made then they'll understand."
As for whether he has voiced his own opinion to the school's administration, Fisher flat out said no.
"We're in the ACC," he said. "We're happy to be here. That's where we're playing. If they adjust, they adjust but that has nothing to do with me. We're in the ACC. We've got a good football conference."
May, 14, 2012
5/14/12
9:00
AM ET
This just in: Florida State will be in attendance at
today's ACC spring meetings
in Amelia Island, Fla. The Noles are still a part of the ACC. Jimbo Fisher has been spotted at the posh Ritz-Carlton resort, and he didn't appear to be
running toward the Big 12
-- at least not yet.

Thanks, Jimbo, for keeping the expansion talk alive.
Not that today's meetings needed any help. Representatives from Pitt and Syracuse are also in attendance, and Pitt
has sued the Big East
to leave early and join in 2013.
It's a Monday in May, but there will plenty on the coaches' agenda to talk about at this year's spring meetings. Here are three hot-button issues to keep an eye on:
1. The BCS and current bowl structure
. This should be one of the more time-consuming topics on the agenda, as the league aims to find out where the ACC and its coaches stand on the future structure of college football. BCS executive director Bill Hancock will be there.
2. The NCAA.
Julie Roe Lach, the NCAA's vice president of enforcement, and Kevin Lennon, the NCAA's vice president of academic and membership affairs, will be there to meet with all groups about enforcement in general and some of the legislation dealing with APR requirements for the postseason. Will
the vote on North Carolina come up
?
3. Expansion.
As mentioned above, Pitt and Syracuse coaches will be there to start their orientation with the league so they are prepared to join when the time comes. Fisher's recent comments about the Big 12 have already made things interesting.
Odds n' ends.
As usual, the coaches will also talk about officiating, with a specific focus on any rule changes, and they'll watch film on flagrant hits, etc. The coaches will also meet with ESPN and Raycom executives.
My colleague Andrea Adelson will be there to get the news, so check back for any updates.
ACC SCOREBOARD
Saturday, 12/20
Monday, 12/22
Tuesday, 12/23
Wednesday, 12/24
Friday, 12/26
Saturday, 12/27
Monday, 12/29
Tuesday, 12/30
Wednesday, 12/31
Thursday, 1/1
Friday, 1/2
Saturday, 1/3
Sunday, 1/4
Monday, 1/12
Tweets from https://twitter.com/ESPNCFB/lists/acc