ACC:

2012 ACC spring preview
February, 14, 2012
2/14/12
11:00
AM ET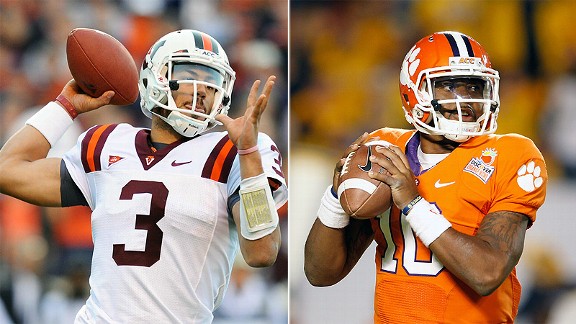 Getty Images, US PresswireVirginia Tech's Logan Thomas, left, and Clemson's Tajh Boyd are looking to build on a strong 2011.
Virginia Tech quarterback
Logan Thomas
and Clemson quarterback
Tajh Boyd
, two friends and competitors from the state of Virginia, have already begun texting and talking to each other about the upcoming season.
"It's been a nice break, but at the same time, you're definitely anxious to get back on the field," Thomas said.
ACC fans should be just as eager to see them this spring.
What was a position of question in the conference at this time a year ago has evolved into one of the league's biggest reasons for hope this fall. In 2011, at least half of the quarterbacks in the ACC were entering their rookie seasons, and Miami's
Jacory Harris
was the only senior starter. Now, they're seasoned, smarter and looking to improve upon successful debuts. For the first time in league history, the ACC had five quarterbacks top 3,000 passing yards, and all five of them -- Boyd, Thomas, UNC's
Bryn Renner
, NC State's
Mike Glennon
and Wake Forest's
Tanner Price
-- return. That doesn't include Duke's
Sean Renfree
, who threw for 3,131 yards as a sophomore in 2010 and also returns this season.
"I think it's going to be great for the conference as a whole," Thomas said. "All of the guys are exceptionally poised and getting ready to be a national title contender in the ACC. That's what all of us want and have been striving for since we've been here. All of us have a great chance because we've gone through our first year and we all had pretty good years. It's been very good for us to play as much as we did and as well as we did."
Boyd set a single-season league mark with 38 touchdowns responsible last season. Glennon (32) tied for the fourth-highest total with 32, while Thomas accounted for 30. All of them, plus Renner and Florida State's
EJ Manuel
, finished among the top 50 in the nation in passing efficiency in their first seasons as full-time starters. Georgia Tech's
Tevin Washington
, also a first-year starter last season, would have ranked 13th nationally if he had enough pass attempts to qualify for the pass efficiency ratings.
In the ACC's history, the league has had 24 quarterbacks record 30 3,000-yard seasons. Only three have had back-to-back 3,000-yard efforts in Florida State's Chris Weinke (1999, 2000), NC State's Philip Rivers (2002, 2003) and the Wolfpack's
Russell Wilson
(2009, 2010). That number could increase, though, if the ACC's current group of quarterbacks continues to mature at the rate it did from the first half of last season to the second half.
Manuel, who was hindered by a shoulder injury for part of last season, went the final eight games of the season without throwing an interception. Glennon threw 11 of his 31 touchdowns in the last three games and only four of his 12 picks in the last five games. Boyd completed eight of 24 passes in last year's spring game and after an 8-0 start to 2011-12 was a legitimate Heisman contender. Renner was one of the ACC's most efficient passers and he did it with bone spurs in his ankle. Both Renner and Glennon will have four returning starters on their respective offensive lines to work behind.
"The biggest difference for me the first year was getting used to going out there every series," Glennon said. "In the past, if I got in the game, I would go in for about two series and the game was over. It was different for me to get used to staying mentally focused each and every series knowing that when we go off the field in five minutes I'll be right back out there.
"I think I improved every game. Even if we lost and I didn't have my best game, I still improved as a player. I think I learned from my experiences and I definitely feel in the bowl game I was playing my best football of the year, and that was just building on each game, learning from mistakes and building on the good things."
As the quarterbacks continue to build on the good things, so will the ACC -- starting this spring.
February, 14, 2012
2/14/12
10:00
AM ET
By
ESPN.com staff
| ESPN.com

DUKE
Spring practice start date:
Feb. 22
Spring game:
March 31
What to watch:
The defense in the second season under coordinator Jim Knowles. The Blue Devils should be more comfortable in the 4-2-5 alignment that uses three safeties, but they lost their top safety, Matt Daniels. Will the comfort level of the rest of the defense help compensate for the departure of the team's top defensive playmaker? More players have a better understanding of the system and philosophy.
The health of the team. For Duke to stand a chance at reaching a bowl game, it must have its top players healthy. Guys like defensive end Kenny Anunike, linebacker Kelby Brown and safety Lee Butler have all proved they can make plays, but how quickly will they regain their form?
The running game. The offensive line should be deeper, more athletic and more competitive than in past years, and the running game should follow suit. Two of the highest-rated recruits in Duke's 2012 class were running backs, but will the Blue Devils have to wait until summer camp to see a difference?

GEORGIA TECH
Spring practice start date:
March 26
Spring game:
April 20
What to watch:
The quarterback competition. There's no question that Tevin Washington is the undisputed starter heading into the spring, but coach Paul Johnson has said he expects backups Vad Lee and Synjyn Days to push Washington. Finding the No. 2 will be a priority this offseason, but will either play well enough to unseat Washington?
The status of LB Julian Burnett. He has been the Jackets' leading tackler, but he also has a medical condition or injury that Johnson won't comment on publicly. Johnson has said he'll leave it up to Burnett, but signs are pointing toward his inability to play.
The defensive progress. Some Georgia Tech fans were expecting more in the second season of Al Groh's 3-4 defense, and Johnson is also among those hoping to see more progress this offseason. Groh has to replace two of three starters on the defensive line.

MIAMI
Spring practice start date:
March 3
Spring game:
April 14
What to watch:
The offensive overhaul. The coordinator is the same; it's the players who will change. How do you replace eight starters on offense? How will the young players contribute and where? The Canes need to replace their leading rusher from a year ago, Lamar Miller, and their starting quarterback, Jacory Harris.
The quarterback competition. Is Stephen Morris ready to take over the offense, or will Ryan Williams, Gray Crow or Preston Dewey win the job from him? Morris is the most experienced quarterback in the system, but Williams probably would have pushed Harris for the starting job last year if he didn't have to sit out for a season per NCAA transfer rules.
The new leader on defense. Miami will lose five starters on defense, but none of them had quite the leadership impact as linebacker Sean Spence. Who will be the new coach on the field for the Canes, not to mention compensate for the loss of Spence's playmaking abilities?

NORTH CAROLINA
Spring practice start date:
March 14
Spring game:
April 14
What to watch
:
Buying in. It shouldn't take much longer than spring practice to know whether the Tar Heels have bought in to first-year coach Larry Fedora, his staff and the changes they plan to make. Fedora has said he's changing just about everything within the program, including offensive and defensive schemes.
How the defense will look in the new scheme with new faces. UNC will switch to a 4-2-5 scheme, which will allow it to have multiple fronts and looks and go from four down linemen to three without subs. The Heels will need more defensive backs and more hybrid players who can play linebacker/safety and linebacker/defensive end. Will they find them this spring?
An exciting offense. As good as the offensive line was last season, it should be even better this season with four starters returning and untapped potential at center. And if quarterback Bryn Renner had a 3,000-yard, record-setting season with bone spurs in his ankle, how much better can he be after his surgery?

VIRGINIA
Spring practice start date:
March 19
Spring game:
April 14
What to watch:
Kicking competitions. They're all gone -- the placekicker, punter and kickoff specialist. When you lose all three of them, it's a question mark. The Hoos have some options but no answers.
Defensive replacements. Virginia has to replace seven starters on defense, including veterans like defensive end Cam Johnson and cornerback Chase Minnifield. Two of the three starting linebackers return, but the secondary is filled with guys who played sparingly or redshirted last year.
The next go-to receiver. Virginia has several young, talented receivers, but which one of them will emerge as the go-to player for quarterback Michael Rocco? Kris Burd leaves the biggest shoes to fill on the offense.

VIRIGNIA TECH
Spring practice start date:
March 28
Spring game:
April 21
What to watch:
Life without David Wilson. Virginia Tech begins the spring in search of its next great running back, as Wilson left early for the NFL draft, and his backup, Josh Oglesby, has graduated. True freshman J.C. Coleman and redshirt freshman Michael Holmes will be the top two options, as Tony Gregory will be out to recover from surgery on his knee.
New-look offensive line. Adding to the offensive uncertainty is the fact that Virginia Tech must replace four starters on the offensive line. All four were redshirt seniors, and there are likely to be growing pains while trying to compensate for the loss of their leadership and knowledge.
Secondary replacements. The Hokies will be challenged to find replacements for Jayron Hosley and Eddie Whitley in the secondary. Whitley had played cornerback, rover, outside linebacker and free safety during his career. Hosley, who led the nation in interceptions in 2010, decided to leave early for the NFL draft.
February, 14, 2012
2/14/12
9:00
AM ET
By
ESPN.com staff
| ESPN.com
For some, it might feel like the season just ended, but for others -- like Duke, Maryland and Boston College, which didn't get to play in a bowl game -- spring ball can't get here fast enough. The Eagles kick off spring practices in the ACC on Saturday, so today we'll take a quick look at the main storylines for each team in the conference heading into the spring:

BOSTON COLLEGE
Spring practice start date:
Feb. 18
Spring game:
March 31 (1 p.m. ET)
What to watch:
Yet another offensive transition. Doug Martin will be the Eagles' fifth offensive coordinator in five seasons, including Kevin Rogers, who took a medical leave of absence early last year and never returned, and Dave Brock, who replaced Rogers. Martin said he is looking for a physical downhill running game, wants to increase the tempo and add some no-huddle elements.
The return of running back Montel Harris. The ACC's leading rusher in 2010 missed most of last season with a knee injury, but he is expected to return for spring ball. How healthy and durable he is remains a question, but he's still aiming to break a 33-year-old ACC rushing record.
Who will replace All-American linebacker Luke Kuechly? It's an open competition as Kuechly is the only linebacker departing. Sean Duggan was his backup last year, but Steele Divitto put in a lot of work this offseason on his own time.

CLEMSON
Spring practice start date:
March 7
Spring game:
April 14 (4 p.m. ET)
What to watch:
The rebuilding efforts up front. Clemson has to replace three starters on both the offensive and defensive lines. On defense, Malliciah Goodman is the only starter returning on the line, and he'll be one of the candidates to replace the production of end Andre Branch, but Corey Crawford will be the next in line at the position.
The defensive transition under first-year defensive coordinator Brent Venables. After giving up 70 points to West Virginia in the Orange Bowl, Dabo Swinney fired Kevin Steele and hired Venables. How quickly will he be able to make a difference and will everyone buy in?
The linebackers. This is the year that the outstanding linebackers in the 2011 recruiting class will finally have their chance to shine. Venables is also the linebackers coach, and he'll have a young, talented group to work with. The lineup of the future should include Stephone Anthony, Lateek Townsend and Tony Steward, all top 100 players coming out of high school.

FLORIDA STATE
Spring practice start date:
March 19
Spring game:
April 14
What to watch:
Maturation of the offensive line. FSU started four freshmen in the Champs Sports Bowl against Notre Dame, and those players will be expected to continue their improvement this spring. The most important question is who will replace the top two tackles from a year ago in Zebrie Sanders and Andrew Datko.
The kicking game. Punters aren't usually in the spotlight, but that wasn't the case at FSU, where All-American Shawn Powell had an impact on every game. Finding a replacement for him this offseason will be a priority.
The running backs. Chris Thompson, who broke his back last year, is expected to return this spring, and has been cleared for the most part, but the coaching staff isn't likely to push him. Devonta Freeman will be the main man, but there are plenty of other candidates to emerge -- if, of course, the offensive line figures things out.

MARYLAND
Spring practice start date:
March 10
Spring game:
April 21
What to watch:
The quarterback drama. Maryland's two-quarterback storyline will continue this spring -- if, of course, Danny O'Brien decides to remain at Maryland instead of transferring. There has been much speculation about his future, but for now, the staff expects him to be limited this spring as he continues to recover from a broken arm. C.J. Brown should get the most reps.
An overhaul of schemes. Maryland hired a new offensive coordinator in Mike Locksley and a new defensive coordinator in Brian Stewart. How quickly the Terps buy into their systems and philosophies will be critical in turning around last year's 2-10 record.
The running backs. This is a position where a true freshman could earn some playing time this year, but standout recruit Stefon Diggs won't be on campus in time to compete this spring. Meanwhile, Justus Pickett returns, along with Brandon Ross, who redshirted last year. Wes Brown (who played at Good Counsel with Diggs) could also compete for major playing time when he arrives for summer camp.

NC STATE
Spring practice start date:
March 23
Spring game:
April 21 (1 p.m. ET)
What to watch:
Who will emerge as dependable linebackers. With Audie Cole and Terrell Manning gone, this position is a big question mark for the Wolfpack. Cole was the team's leading tackler each of the past two seasons, and Manning was one of the defense's most disruptive players last year.
The new go-to for Glennon. With T.J. Graham gone, NC State turns to a young group of receivers. Tobias Palmer and Bryan Underwood return, but there are several unheralded players who have a chance to make names for themselves by emerging as a go-to player for quarterback Mike Glennon.
The running game. NC State returns four of five starters on the offensive line, but will Mustafa Greene return in time for the spring? When he does, the Pack will have another new running backs coach, who has yet to be announced. NC State had the No. 109 rushing offense in the country last year. Greene would be a big boost.

WAKE FOREST
Spring practice start date:
March 1
Spring game:
April 14 (1 p.m. ET)
What to watch:
The revamped offensive line. The Deacs have to replace four starters up front. Coach Jim Grobe has played only one true freshman there in 11 years. He has several redshirt freshmen and sophomores who are expected to fill in.
The next playmakers. Wake Forest is thin at running back (Josh Harris returns, but has a history of hamstring injuries), the Deacs lose two starting wideouts -- including record-setter Chris Givens -- their top two tight ends and 2011 leading rusher Brandon Pendergrass.
Solidifying the secondary. The Deacs have to replace starting free safety Josh Bush and starting strong safety Cyhl Quarles. There is still plenty of talent at cornerback, but the safety position is thin.
ACC SCOREBOARD
Saturday, 12/27
Saturday, 12/20
Monday, 12/22
Tuesday, 12/23
Wednesday, 12/24
Friday, 12/26
Monday, 12/29
Tuesday, 12/30
Wednesday, 12/31
Thursday, 1/1
Friday, 1/2
Saturday, 1/3
Sunday, 1/4
Monday, 1/12
Tweets from https://twitter.com/ESPNCFB/lists/acc