December, 27, 2011
12/27/11
11:40
PM ET
There was no shortage of momentum swings in the Belk Bowl for both NC State and Louisville, two teams that finished the season on hot streaks and scraped their way into the postseason. Special-teams snafus were a highlight (or lowlight, depending on your seat), and both teams combined for five turnovers. Here's a look back at NC State's
31-24 win
over Louisville:


How the game was won:
NC State scored 14 points off turnovers, and came up with the big defensive stops when needed, including two on fourth downs. Louisville gave up too many big plays and made too many mistakes in the first half and couldn't overcome them in the second, despite a better defensive job on quarterback
Mike Glennon
. Glennon set the tone in the first half with a strong passing game and three first-half touchdowns.
Turning point:
On fourth-and-1 midway through the fourth quarter, Louisville tight end
Chris White
missed a block, freeing NC State linebacker Terrell Manning to push
Vic Anderson
back for a loss of a yard. The play negated an earlier turnover by NC State in which offensive lineman Rob Crisp grabbed a deflected ball, rumbled and fumbled, giving the Cardinals a great shot at making a comeback.
Player of the game:
NC State cornerback David Amerson. He had two interceptions, including one he returned 65 yards for a touchdown. His second sealed the win and ended Louisville's chances at a comeback.
Player of the game II:
NC State quarterback Glennon. He threw three touchdown passes and one interception in a hot first half and the impressive connection with receiver
T.J. Graham
was the difference early.
Unsung hero of the game:
Terrell Manning. His fourth-down stop of Anderson in the fourth quarter prevented another big momentum swing by Louisville and stifled a potential scoring drive, and he also intercepted Louisville's
Teddy Bridgewater
on the Cardinals' first drive of the game. The turnover led to NC State's first points of the game, a 7-0 lead on a clock-eating 14-play drive. Manning also came up with a big hit on Bridgewater in the waning minute of the game that helped stop Louisville's final attempt at a comeback.
Second-guessing:
Why kick the onside kick? With four minutes left in the game and two timeouts remaining, Louisville coach Charlie Strong elected for an onside kick. With 10 players ready to guard against it, there was no surprise element this time around. NC State recovered the ball on the 41-yard line. Let the defense make a stop and give the offense a chance to do its job.
Record performance:
Amerson ended the game with his 13th interception of the season. He became the ACC's leader for interceptions in a season with two against Louisville. His interception return for a touchdown gave NC State a 31-10 lead.
December, 27, 2011
12/27/11
2:00
PM ET
By
ESPN.com staff
| ESPN.com

Adam Rittenberg speaks with NC State CB David Amerson at The Home Depot College Football Awards about being nominated for the Jim Thorpe Award and the Wolfpack's preparation for their game against Louisville in the Belk Bowl on Dec. 27.
December, 27, 2011
12/27/11
10:30
AM ET
Here are three keys for the NC State heading into the Belk Bowl matchup against Louisvilee:

1. Win the field position battle.
Louisville is No. 2 in the country in punt return yardage defense, and opponents have returned 12 punts for a total of five net yards in 12 games. NC State's defense has the ability to create a short field with turnovers, but it also has one of the nation's top punt returners in
T.J. Graham
. If the Pack can put itself in a good position to begin with, quarterback
Mike Glennon
can take care of the rest. That's assuming, though, that the offensive line can ...
2. Protect Glennon
. NC State is No. 99 in the country in sacks allowed, with 33 overall this season. Louisville linebacker Dexter Heyman has three interceptions and four sacks on the year. NC State's offensive line has to give Glennon time to throw. He's got a strong, accurate arm, but Louisville is No. 17 in the country in sacks with 2.67 per game.
3. Three's the charm.
NC State is 7-0 this season when forcing three or more turnovers. Any fewer than that and they're winless. The Wolfpack leads the ACC and ranks fifth nationally in turnover margin with a +1.17 per game, +14 mark for the season. State ranks second nationally in turnovers gained, having picked off 24 passes and recovered a dozen fumbles.
December, 27, 2011
12/27/11
9:00
AM ET
It was a November to remember for coach Tom O'Brien and his Wolfpack, who entered last month with a 4-4 record and needed to win three of their last four to become bowl eligible. Nobody could have predicted the wild finish, but the Pack went 3-1 last month to earn its place in Charlotte. Here's a quick preview of the matchup against Louisville:


WHO TO WATCH:
Cornerback David Amerson. He didn't have one pick in 640 snaps last year as a true freshman, but this year has been a breakout season after his move from boundary to field corner. Amerson has tied the ACC's single-season record and is the nation's leader in interceptions with 11. That's four more than any other player in 2011, more than 63 FBS teams, and the most by any individual since Wisconsin's Jim Leonhard had 11 in 14 games in 2002.
WHAT TO WATCH:
Special teams. Both Louisville and NC State have had difference-makers in the return games. Louisville's opponents have returned 12 punts for a total of five net yards in 12 games and is No. 2 in the country in punt return defense. NC State receiver
T.J. Graham
is No. 12 in the country in punt returns, and NC State is No. 22 overall with 11.44 yards. The Cardinals beat West Virginia with the help of an 82-yard touchdown return of a blocked field goal, and beat Connecticut with help from a 100-yard kickoff return. NC State was also the only FBS school in the country this year that relied upon true freshmen at punter, placekicker and longsnapper this year, the first time in O'Brien's 36 years of coaching he's had a true freshman lineup in the kicking game.
WHY TO WATCH:
Fast finishes. Both of these teams scraped and clawed to become bowl eligible this year. Odds are neither program is going to take this opportunity lightly. Louisville got off to a 2-4 start, and NC State was 2-3. Louisville closed out the season with a 5-1 record and a share of its first Big East title since 2006. NC State had to win its final two games to become bowl eligible and pulled off a shocking upset of then-No. 7 Clemson before mustering the greatest comeback in school history with a 56-41 win over Maryland. Both of these teams have finally hit their stride and have peaked just in time for bowl season.
PREDICTION:
NC State 28, Louisville 21: Both quarterbacks will need to get better protection than they have for most of the season, and both teams have seen their defenses improve, but NC State has done a tremendous job this year of forcing opposing quarterbacks into mistakes, and
Teddy Bridgewater
will find that out quickly. The difference will be NC State's front seven on defense.
December, 26, 2011
12/26/11
11:00
AM ET
I finished the regular season with a picks percentage of 74.2, but I missed the one that mattered most and failed to pick the upset in the ACC championship game. That's why they call it an upset. My grand total for the season stands at 72-26 heading into bowl season. Plenty of room for improvement, but there are a lot of tough calls and games that can go either way this bowl season. Here are your picks for the non-BCS bowls:
Advocare V100 Independence Bowl -- Missouri 31, North Carolina 28:
The Tar Heels will get an inspired performance in interim coach Everett Withers' last game, but Missouri is a better team than its five losses indicate. North Carolina will make one or two costly turnovers, and the Tar Heels' defense won't be able to make enough stops in the red zone.
Belk Bowl -- NC State 28, Louisville 21:
Both quarterbacks will need to get better protection than they have for most of the season, and both teams have seen their defenses improve, but NC State has done a tremendous job this year of forcing opposing quarterbacks into mistakes, and
Teddy Bridgewater
will find that out quickly. The difference will be NC State's front seven on defense.
Champs Sports Bowl -- Florida State 21, Notre Dame 17:
This is significantly below the 30 points both teams are averaging this year, but Florida State's defense will again be the difference. Even if the Noles can't get things going again offensively, Florida State's defense and special teams are good enough to offset it against the Irish. Notre Dame is No. 116 in the country in turnover margin, and Florida State is capable not only of forcing quarterback
Tommy Rees
into a turnover, but also of scoring on it.
Franklin American Mortgage Music City Bowl -- Wake Forest 24, Mississippi State 21
. The Demon Deacons have too many difference-makers on both sides of the ball for the Bulldogs to overcome. It's been a record-setting year for Price and receiver Chris Givens, and freshman cornerback Merrill Noel leads the nation with 20 passes defended. The difference will be Wake Forest's passing game and its ability to protect the ball.
Hyundai Sun Bowl -- Georgia Tech 28, Utah 24.
The Utes couldn't handle a floundering Colorado team that had just one league win in the regular-season finale, and this will be a much more difficult challenge. Those within Georgia Tech's program are tired of hearing about the six-game losing streak, and coach Paul Johnson is at his best when he's got something to prove. Georgia Tech will catch Utah off-guard with several big plays, control the clock and in turn the game.
Chick-fil-A Bowl -- Virginia 24, Auburn 21:
The Tigers lost both coordinators in a span of a week, and leading rusher
Michael Dyer
has been suspended for the bowl game for a violation of team rules. Without those three components, Virginia has an edge. Plus, Auburn is a shadow of its 2010 national championship team, while Virginia has made a dramatic turnaround this year. Statistically, Auburn has one of the worst offenses in the country, and the defense has been at the bottom of the SEC.
December, 22, 2011
12/22/11
2:00
PM ET
From the outside looking in, it's easy to label NC State as one of the most inconsistent teams in the ACC.
From coach Tom O'Brien's perspective, there are only two versions of his team: the injured one and the healthy one.
[+] Enlarge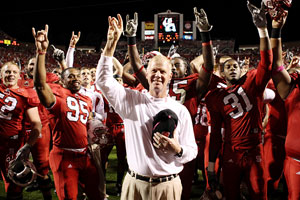 Streeter Lecka/Getty ImagesTom O'Brien and NC State overcame numerous injuries and a 2-3 start to earn a trip to the Belk Bowl.
"The two versions of the team was the team that was banged up, beat up and had no players for five games," O'Brien said. "We lost 51 games to injury. It's pretty remarkable we're in the position we're in. As I said through that whole stretch, once we start getting guys back and healthy, we're going to be able to be a pretty good football team."
The Wolfpack proved him right down the stretch, winning three of its last four games to become bowl eligible and earn a spot against Louisville in the Belk Bowl in nearby Charlotte. NC State ended the season with back-to-back wins, including an upset of then-No. 7 Clemson, which went on to win the ACC title. The Wolfpack is looking to continue that momentum into the bowl game, and it's as close to healthy as it's going to be this season.
"We are who we are," O'Brien said. "We're the team we put together from the sixth game of the year on and just kept getting better."
The bulk of the injuries were on defense, which gave up 412.2 yards in the first six games, but just 291.7 yards in the final six contests. More specifically, the Pack's first six opponents ran for 172.3 yards per game, while the last six averaged just 92.5. In the 12 games this season, State's defense has started eight different combinations.
While injuries help explain NC State's 2-3 start to the season, they don't account for a 27-point deficit in a must-win situation against Maryland. From one half to the next, NC State looked like an entirely different team, as the Wolfpack rallied for what would be the second-biggest comeback in ACC history. NC State trailed 41-14 with six minutes remaining in the third quarter and scored an astounding 35 points in the fourth quarter for a 56-41 win. It was that performance that assured NC State of bowl eligibility.
"That was a situation of the pressure of the situation and we tried too hard," O'Brien said. "
James Washington
catches the ball in the open field and beats a linebacker – we've thrown that pass to him no less than 25, maybe 50 times this year. He drops the ball. That doesn't happen. I think they just pressed too hard. They got to the point they wanted to make it happen so bad, and then the defense actually panicked a little bit. They tried to say we have to do everything instead of just doing what they were supposed to do. It was just a matter of getting that first score."
Louisville is a similar team in that it started slow but finished on a hot streak. The Cardinals were 2-4 in the first half of the season, but closed out the season with a 5-1 record and a share of their first Big East title since 2006.
"They're a team similar to us," O'Brien said. "They won five of their last six games. We went through injuries. They went through playing freshmen. As the freshmen got better and grew more and more as the season went on, they got to be a better football team. You've got one team that won five of its last seven to get there, and you've got another team that won five of the last six to get there. You've got two teams that have been pretty good over the last half of the season."
The question now is which one can sustain that momentum for one more game.