July, 26, 2013
7/26/13
9:00
AM ET
By
ESPN.com staff
| ESPN.com
Andrea Adelson talks to Maryland cornerback
Dexter McDougle
about the Terps' last season in the ACC, getting back to a bowl game, and the progress the team can make defensively without some key returnees.
July, 25, 2013
7/25/13
3:30
PM ET
Here's the truth: Not a lot was gleaned from ACC media days this year. The headlines were tame (unless your name is Doug Rhoads), and the tweets civil. In the big picture, though, here's what we came away with after two days at the ACC Football Kickoff in Greensboro, N.C.:
1. Clemson is the undisputed heavyweight -- at least for now.
For all of the talk about how the Clemson-Florida State game is going to determine this year's championship game winner, the votes indicated the Tigers should head into it as the overwhelming favorite. Clemson received 95 votes as this year's preseason favorite to win the ACC, while Florida State received just 15. You better believe the game will be much closer than that, but Clemson received 102 first-place votes in the Atlantic Division while FSU -- the defending ACC champ -- got 18. Clemson quarterback
Tajh Boyd
also received 105 of 120 votes for the ACC's preseason player of the year. The Tigers are shouldering the same kind of expectations FSU was last year.

2. Miami's potential is a story again.
Al Golden was actually talking about his football team more than the NCAA. How refreshing. In what should be another cluttered Coastal Division race, Miami received 65 first-place votes to win the division. That's a pretty significant vote of confidence considering the rest of the division should be better than it was a year ago, but nobody returns more starters than the Canes, and they have arguably the best quarterback, so it wasn't surprising. Never mind that we still don't know if Miami will even be eligible to win the division, but it's hard to believe that after two years of self-imposed postseason bans it won't.
3. The ACC is "stronger than ever."
That was commissioner John Swofford's message in his forum on Sunday afternoon, and he had plenty of talking points to back it up. Swofford mentioned the partial membership of Notre Dame, the extended partnership with the Orange Bowl, the new and improved bowl lineup, the addition of Louisville and the grant of rights when he spoke about the stability of the conference moving forward. A television network continues to be a possibility, but it is still two to three years away from becoming a reality, if that's what happens.
4. Virginia Tech is expected to be better
. After what was the worst season in 20 years, those within the program are adamant this year will be better, and the media seems to think so, too. The Hokies were picked to finish second in the Coastal Division behind Miami, and embattled quarterback
Logan Thomas
even got three votes as the ACC's player of the year. Coach Frank Beamer made sweeping changes to his offensive staff, hiring a new offensive coordinator, new offensive line coach and receivers coach, and Thomas said first-year coordinator Scot Loeffler has already made a difference. Regardless of what happens in the season-opener against Alabama, Virginia Tech is expected to prove last year was an anomaly in the conference race.
5. Pitt and Syracuse blend right in.
The coaches and players all seemed to be a good fit in the ACC, getting along well with each other at the ACC Football Kickoff. Their mere presence at media day was a difference, and the overall crowd seemed bigger in part because of their media contingents, but overall their interview sessions were just like everyone else's, and they joined the crowded no-man's land in the preseason predictions. Syracuse was picked to finish sixth and Pitt was voted fifth in the Coastal Division.
July, 23, 2013
7/23/13
5:00
PM ET
Earlier this week, Clemson was voted by the media as the preseason favorite to win the ACC title this fall, and Miami was chosen to win the Coastal Division.
Andrea Adelson and I both had those teams at the top of our respective ballots as well, and we both voted for Clemson quarterback
Tajh Boyd
as the ACC's preseason player of the year. Here are our full predictions from the ACC Football Kickoff:
AA'S BALLOT
Atlantic Division
Clemson
Florida State
NC State
Wake Forest
Maryland
Syracuse
Boston College
Coastal Division
Miami
Virginia Tech
North Carolina
Georgia Tech
Pitt
Virginia
Duke
HD's BALLOT
Atlantic Division
Clemson
Florida State
Wake Forest
NC State
Maryland
Syracuse
Boston College
Coastal Division
Miami
North Carolina
Georgia Tech
Virginia Tech
Pitt
Duke
Virginia
July, 22, 2013
7/22/13
6:15
PM ET
GREENSBORO, N.C. -- On Sunday evening, long after the interviews and dinner reception had ended at the ACC Football Kickoff, North Carolina coach Larry Fedora joined Georgia Tech coach Paul Johnson for a cigar outside the posh Grandover Resort, where this year's ACC media days are being held.
Somebody should get one for ACC commissioner John Swofford, too.
The good ol' boys of the ACC are feeling pretty good about themselves this year -- as they should.
There was an overriding sense of solidarity at the ACC Football Kickoff, a reflection of the confidence within the league moving forward with its new membership. Over the past two years, the ACC has quietly put itself in position to enter the 2013 season as strong as it's ever been -- not necessarily on the field, but collectively off it. The league has secured a grant of rights, the first step in even considering the possibility of a television channel. It has added Syracuse, Pittsburgh and Louisville to its membership. It has enhanced its bowl lineup, adding a partnership with the Big Ten. It has added Notre Dame as a partial member in football and extended its relationship with the Discover Orange Bowl.
The ACC has made all the right moves to remain a power conference, which means that at the very least, the ACC is winning off the field -- and that's a start.
"When you start talking about the population the ACC covers, the TV households the ACC covers, the whole East Coast we cover, you look at competition from within the league -- we're the strongest we've ever been, no question," said Virginia Tech coach Frank Beamer. "The perception of the conference has changed, the landscape has changed, the population of TV households you go into has changed, the turnout of the media here has changed -- but the reputation of the conference is still going to depend on us winning our share of games out of conference."
The ACC might very well go 0-for-3 in Week 1 versus Alabama, Georgia and South Carolina, but the message was clear at media days: Nobody is afraid of the SEC, or, as Fedora calls it, "the other league."
He won't name 'em. Why?
"Why should I?" he says.
[+] Enlarge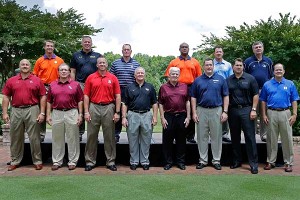 Chuck Burton/AP PhotoAll 14 of the league's head football coaches gathered in Greensboro, N.C., for ACC media days, and reports are they all got along fairly well.
Regardless of what others might think of the ACC, the conference is thinking a little more highly of itself. This is a league that year in and year out has to defend its record in BCS games and nonconference matchups, a league that is forever overshadowed by the SEC and that has been plagued by coaching turnover in recent years. With all the positive changes that have taken place in recent years, though, league officials this year made sure to promote "a new era" of ACC football.
Swofford on Sunday called the past year a "monumental one" for the ACC.
"It's hard to believe the many milestones that have taken place since we were in this same room at this same event last July," he said during his forum. "As we look to the future, we do so with great anticipation in this league. The composition of the long-term membership of the ACC has never been stronger."
And they all actually like each other.
Nobody here was talking out of the side of his mouth, calling out former coaches, or creating news with trash talk. Instead, they were golfing together, some coaches were having a glass of wine together, and some players went bowling together. Clemson quarterback
Tajh Boyd
and UNC quarterback
Bryn Renner
took time during their interviews to praise South Carolina's
Jadeveon Clowney
as one of the best defenders in the country -- after Clowney said Boyd was scared of him. Pitt receiver
Devin Street
talked about how it was an honor to be here, and Panthers coach Paul Chryst sat at dinner on Sunday night and talked about how he has enjoyed learning from veterans like Beamer and Duke's David Cutcliffe.
At the league's May spring meetings in Amelia Island, Fla., Chryst and Syracuse coach Scott Shafer had breakfast with Georgia Tech's Johnson. Wake's Jim Grobe, Cutcliffe and Beamer have long been good friends. And everyone in the ACC -- including Swofford -- has Al Golden's back as he waits for a decision from the NCAA.
"I think the ACC is really strong right now," Johnson said. "It's a fun conference to be a part of, unlike some of the other leagues, maybe, or whatever. The coaches do genuinely like each other, respect each other and get along. There's competition, and it's fierce on the field, but if you look at the big picture, from academic APR rates, to graduation rates, to performance on the field, of the five conferences, we're in the top two."
The ACC didn't just survive conference realignment, it found a way to benefit from it.
The next step?
Finding a way to beat "the other" conference in Week 1.
July, 22, 2013
7/22/13
10:00
AM ET
By
ESPN.com staff
| ESPN.com
ACC bloggers Heather Dinich and Andrea Adelson and NoleNation's David Hale will be at The Grandover Resort in Greensboro, N.C., for the 2013 ACC Football Kickoff. All 14 ACC coaches will be in attendance on Monday. The players' interview session concluded on Sunday, with Clemson QB Tajh Boyd, Florida State DB Lamarcus Joyner and Virginia Tech QB Logan Thomas among those in attendance.
Heather, Andrea and David will be commenting live from the coaches' interview session this afternoon and will be posting news and notes from their interviews with the players on Sunday. Who would you like to hear from? Send along your questions and comments below in the chat or on Twitter @ESPN_ACC and join us at 1 p.m. ET live from Greensboro, N.C.
July, 21, 2013
7/21/13
7:45
PM ET
GREENSBORO, N.C. -- Clemson quarterback
Tajh Boyd
said Sunday that
he is not afraid
of South Carolina defensive end
Jadeveon Clowney
.
[+] Enlarge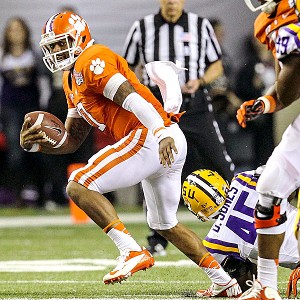 Daniel Shirey/USA TODAY SportsClemson's Tajh Boyd wants it to be clear that he does not fear South Carolina defensive end Jadeveon Clowney.
Add
Bryn Renner
to the
"not scared" list
, too.
Of course, both of those guys are friends with Virginia Tech quarterback
Logan Thomas
, who doesn't even play South Carolina this year, but added, "I'd imagine that nobody's afraid of anybody."
Just so there's no confusion.
"No, I'm not afraid of anybody, honestly," Boyd said. "It's never been in my nature, never been in my character. I'm a competitor. I'm going to compete against whoever wants to compete. And it'll all take care of itself in due time."
Renner gets to see Clowney first, as the Tar Heels open the season Aug. 29 at South Carolina, and Renner sounded far more in awe of his first opponent than fearful. Renner called Clowney "one of the most natural athletes" he has seen play -- and Renner has seen plenty of his first opponent: He has watched every game South Carolina played last year.
"He's phenomenal on tape," Renner said. "There's no player I can compare him to as far as who I've played against or seen on film. He's the best player in the country for a reason. In order to get better, you've got to play against better opponents and better players. That's the mindset our team has. We're looking forward to the opportunity."
So is Boyd, who has yet to beat South Carolina.
"He's a really good player -- one of the better defensive players in the country," Boyd said. "… I respect the way he plays, I respect his game. It'll be fun. We're looking forward to playing those guys down at their place. It'll be a fun one."
July, 21, 2013
7/21/13
7:30
PM ET
GREENSBORO, N.C. -- The drama has subsided in the ACC, so much so that commissioner John Swofford spent a good part of his news conference at the kickoff discussing bigger issues in collegiate athletics.
Not once was he asked about conference stability. It is a new era indeed.
Swofford instead answered questions about the college football playoff, paying players, a pending lawsuit against the NCAA, and the end of the BCS. His most noteworthy remarks concerned the pay-for-play issue. Last week, South Carolina coach Steve Spurrier said coaches in the SEC wanted to pay players in football $300 per game to provide some extra money.
[+] Enlarge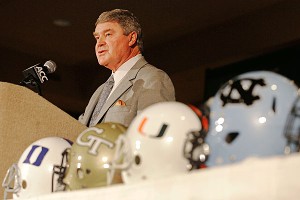 AP Photo/Chuck BurtonFor once, John Swofford did not have to address questions on the stability of the ACC.
Swofford is not on board with that approach, but said he would be in favor of enhancing scholarships for all student-athletes.
"The whole idea of trying to enhance the financial well-being of student-athletes that are on scholarship is on our radar, and we've been talking about this nationally for several years now, without finding something that works, that agrees with enough people that works, and I think part of that is because it's more complicated than first meets the eye," Swofford said.
"If we're going to enhance the financial well-being of our student-athletes, it's very difficult to look at it in terms of a sport or two sports. Just from a legal standpoint. Title IX and what's appropriate, what's legal. Personally, and this is a personal opinion and it's not one that I can tell you the majority of our schools support at this point in time, the full cost of attendance as a scholarship would be helpful. I'm not for paying players. I don't think that's what college athletics is about, but I am for looking very diligently at a way to enhance the scholarship itself, whether it's need-based, whether it's based on a simple stipend that once existed or some other way to approach it, whether it's going to the full cost of attendance. But you've got to be able to find something that enough people can accept and support to move it forward."
Swofford also was asked about the lawsuit Ed O'Bannon filed against the NCAA, which seeks to give players a cut of the money that goes to the NCAA, conferences and league schools. Clemson defensive back
Darius Robinson
recently
joined the lawsuit
, along with five other current football players.
"I don't think anybody really knows where that will ultimately end up," Swofford said. "That's more for the NCAA to speak to. Obviously it could have significant implications but who knows where it ends up. That's something we're going to have to keep our eye on and watch."
None of this is to say ACC football was completely ignored. It wasn't, not at all. Here are some of the league questions he addressed:
Swofford responded to Spurrier's assertion last week at media day that Notre Dame should join a conference in football. Notre Dame is in the ACC now for all sports but football.
"That was discussed when the league made the decision to bring Notre Dame in," Swofford said. "It's the right thing to do at this point in time. It was a unanimous decision by our institutions and a very positive one that has already benefitted us without question. ... I'm really pleased and I know the vast majority of people in our league are pleased that ND is part of the ACC family under the conditions they are currently under."
Swofford was asked about attending Miami's NCAA Committee on Infractions meeting in June in Indianapolis. "What I took away is I thought the University of Miami and their personnel and their leadership and Mike Glazier handled it extraordinarily well," Swofford said. "I would hope that whatever is coming from the NCAA will come before the season starts. I'd be very disappointed if that was not the case."
Best line of the day: Swofford was asked about the final year of the BCS. "I was the only guy crazy enough to be its coordinator twice," he said. "I say that in jest. The BCS for all its issues and problems has been good for college football. The growth of the game during the existence of the BCS has been phenomenal; it turned the sport from a regional sport to a national sport where people were interested in what was happening on the other side of the continent because it might affect who was playing in the national championship game. All of the controversy will not disappear. Will never disappear. We've taken a leap forward with the college football playoff approach."
As for the future site of the ACC championship game, Swofford anticipates a decision will be made around the time of this year's game. Charlotte is in the running to host again.
July, 19, 2013
7/19/13
4:00
PM ET
Hey guys,
Just a quick note to let you know what's going on this weekend,
when and where
:
The ACC Football Kickoff will begin on Sunday at the Grandover Resort in Greensboro, N.C. The full list of players attending
can be found here
.
Don't forget that Andrea Adelson and I will be hosting a live blog, starting at 1 p.m. ET on Monday, and we'll have a few special guests lined up for you to kick it off: Clemson quarterback Tajh Boyd (
@TajhB10
), North Carolina quarterback Bryn Renner (
@BrynRenner
), and Virginia Tech quarterback Logan Thomas (
@Lthomas_3
) will each be stopping by to chat through a live Twitter feed, so get your questions ready. All the more reason to follow us
@ESPN_ACC
. We'll retweet the best questions and get 'em answered for you.
Here's a look at the schedule of events:
SUNDAY
12:30-1:30 p.m.: ACC Commissioner John Swofford speaks to the media about the state of the conference.
Player interviews (1:30-6 p.m.)
1:30-2:40 p.m.-- Boston College, Miami, North Carolina, Wake Forest
2:29-3:39 p.m.-- Clemson, Duke, Virginia
3:50-5:00 p.m.-- Florida State, Maryland, Pitt, Syracuse
4:40-6:00 p.m.-- Georgia Tech, Virginia Tech, NC State
MONDAY
7:30 a.m.-12:30 p.m. Skeeter Francis Golf Tournament for players, coaches, and media members
10:30-11:30 p.m.: Officiating seminar for media
Coaches interviews (2-6 p.m.)
2:00-3:09 p.m.-- Dabo Swinney, Clemson; Mike London, Virginia; Randy Edsall, Maryland
2:59-4:09 p.m.-- Steve Addazio, Boston College; Paul Johnson, Georgia Tech; Al Golden, Miami; Larry Fedora, North Carolina
4:10-5:10 p.m.-- Paul Chryst, Pitt; Frank Beamer, Virginia Tech; Jim Grobe, Wake Forest
5:09-6:00 p.m.-- David Cutcliffe, Duke; Jimbo Fisher, Florida State; Dave Doeren, NC State; Scott Shafer, Syracuse
Andrea Adelson, David Hale of NoleNation and I will do our best to take you behind the scenes on Monday, with photos, videos, quotes and notes all day. Check the blog Sunday afternoon for notes from the commissioner's forum.
Thanks and see you in Gboro!
HD/AA
July, 18, 2013
7/18/13
5:00
PM ET
For those of you who have been paying attention to SEC media days, you might have noticed ESPN.com's
live blog coverage
.
The ACC is up next.
Colleague Andrea Adelson and I are both leaving this weekend for Greensboro, N.C., for two days of interviews with players and coaches. On Monday, we will be hosting a live blog along with colleague David Hale of NoleNation. The live blog will contain videos and pictures to help take you behind the scenes of what's going on at the Grandover Resort (besides golf), as well as constant live updates with quotes from the coaches.
We want you to join us.
If you have certain questions you'd like us to ask the players and coaches, feel free to
drop them into my mailbag
or
Andrea's
. You can also reach us via Twitter @ESPN_ACC, an account that is managed by both AA and myself year-round. Don't be surprised if we pose your question to
Tajh Boyd
and post his answer on video for everyone to see.
This is the unofficial start of the season. Join us on Monday as we kick it off, live from Greensboro.