May, 7, 2010
5/07/10
8:30
AM ET
MIAMI

2009 overall record:
9-4
2009 conference record:
5-3
Returning starters
Offense: 6, defense: 8, punter/kicker: 2
Top returners
QB
Jacory Harris
, T Orlando Franklin, WR
Leonard Hankerson
, WR
LaRon Byrd
, DE Allen Bailey, LB Sean Spence, LB Colin McCarthy, P/PK Matt Bosher, CB
Brandon Harris
, RB
Graig Cooper
(injured)
Key losses
OT Jason Fox, C A.J. Trump, TE Dedrick Epps, RB
Javarris James
, S Randy Phillips, CB Sam Shields, LB Darryl Sharpton, DT Joe Joseph
2009 statistical leaders (* returners)
Rushing
: Cooper* (695 yards)
Passing:
Harris* (3,352 yds)
Receiving:
Hankerson* (801 yds)
Tackles:
Sharpton (106)
Sacks:
Bailey* (7)
Interceptions:
Harris, Phillips, Micanor Regis* (2)
Spring answers
1. Depth at running back.
The running backs had arguably the best spring of any position group and proved they're still deep, despite the loss of James and not having Cooper, who is recovering from a torn ACL.
Lamar Miller
, a redshirt freshman, was tough to bring down in the open field, and had good speed. Storm Johnson, a true freshman who enrolled early, picked up the offense quickly and ran hard.
Damien Berry
showed the same form he had at the end of the season when he finished strong, and
Mike James
returned to running back from fullback.
2. Deeper at QB.
What a difference a year can make. After both backup quarterbacks transferred a year ago, this position has the best depth it's seen under coach Randy Shannon.
A.J. Highsmith
,
Spencer Whipple
and Stephen Morris all moved the ball this spring. Highsmith seemed to be the front-runner for the No. 2 job behind Jacory Harris, as he took most of the first-team reps with Harris out.
3. Defensive line shines.
First-year defensive line coach Rick Petri's group was one of the Canes' bright spots this spring. The defensive ends go about three deep on each side. Adewale Ojomo, who missed all of last season with a broken jaw, is back, and the tackles were solid.
Fall questions
1. Wanted: tight ends.
Miami only had two tight ends this spring, but the Canes will add four in the fall, including Chase Ford, a junior college transfer.
Richard Gordon
and
Billy Sanders
will finally get some competition. Gordon has the most experience and he's a senior, but he only played in one game last year. He was granted an extra year of eligibility and should have a bigger role this season. Sanders, a redshirt freshman, was on the scout team.
2. Transition at center.
Tyler Horn isn't a rookie, but it's unclear how he'll adjust to his new role in taking over for A.J. Trump. Horn was the top option at center this spring with true freshman Shane McDermott, an early enrollee, behind him. Horn has been there for three years, and it's his job to lose.
3. Stuck in the middle.
Who will take over at middle linebacker? Miami is still working out its depth issue here. Kylan Robinson started to emerge there in the spring, and Shayon Green was another option. At the end of spring, Colin McCarthy was still at strong side and Sean Spence was at weak side, but Shannon could make some moves to get the best group of linebackers in there. That could mean McCarthy moves to the middle. In the past two years, Shannon liked to put an older player there (Glenn Cook, Darryl Sharpton), but McCarthy played the majority of the spring at his usual spot. The return of Spence and Jordan Futch from injuries should help Shannon figure out the right combination.
May, 5, 2010
5/05/10
4:30
PM ET
For the past few years, the Atlantic Division has been the weaker of the two divisions and nobody has been afraid to say it.

The same is expected this fall, but there's one area where the teams in the Atlantic Division appear to be stronger, and that's on the offensive line.

Here's a look at the top three contenders in each division and how their lines look after this spring:

ATLANTIC

Florida State: All five starters return, and they have combined for 142 career starts -- the most of any line in the ACC. Guard Rodney Hudson was an All-America selection last year, and he'll be back along with center Ryan McMahon, guard David Spurlock, and tackles Andrew Datko and Zebrie Sanders.

Clemson: Four starters return to a group that got progressively better last year and should finally be reaching its peak. Tackle Chris Hairston was a second-team all-conference selection last year, and he'll be joined by tackle Landon Walker, guard Antoine McClain and center Dalton Freeman.

Boston College: The Eagles return four starters, including Anthony Castonzo, an Outland Trophy candidate who has made 41 career starts, guard Thomas Claiborne, tackle Rich Lapham and guard Nathan Richman. That's three seniors and a junior, all of whom have started at least 25 career games. This group should get the Eagles back to their rich tradition of powerful offensive lines.

COASTAL

Virginia Tech: Left tackle is a position of concern. The Hokies turned to sophomore Nick Becton this spring and he did well in place of Ed Wang. Virginia Tech also has to replace Sergio Render, who had 52 career starts.

Miami: The Canes have to replace three starters up front, and center was one of the biggest concerns for coach Randy Shannon this spring. Tyler Horn took over for A.J. Trump there and brings some experience. Orlando Franklin moved to left tackle and will be the leader of the group.

Georgia Tech: The Jackets have to replace three starters, including the transfer of Joseph Gilbert. New faces are working their way into the rotation, and the second team was composed entirely of freshmen in the spring game.
March, 2, 2010
3/02/10
11:00
AM ET
It wasn't intended to be a trick question, but it was one that Miami senior left tackle Orlando Franklin struggled to answer: Who is the leader of this year's offensive line?
"I don't know," Franklin said. "I guess you could say it's me."
[+] Enlarge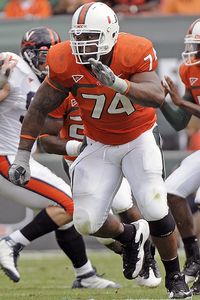 Richard C. Lewis/Icon SMISenior left tackle Orlando Franklin will likely assume more a leadership role in 2010.
He might not have much of a choice.
After two years in a starting role, Franklin said he's ready to take on more responsibility, and with new faces in new places, the offensive line could use a veteran to depend upon. The Canes have to replace three starters up front, including both tackles and center A.J. Trump. Franklin said he watched graduated veteran Jason Fox anchor the group the past two years, and learned what it takes to be a leader.
"I'm ready for that role, and I'm ready to get it done," Franklin said. "You're going to always have challenges going into spring, but I'm not really worried about it. I'm confident in these guys coming in. … We've got guys who have played already or haven't played but have been around and know a lot of football. It's exciting to see what they're going to do."
Coach Randy Shannon is equally as interested, especially in the center position, where Tyler Horn is expected to take over. Horn has been taking snaps at center for the past three years, but he lacks game experience.
"We've got some guys who are big, athletic, and we feel really good about who can keep us going on the offensive line," Shannon said. "But like anything, you're always worried about the quarterback and the guy who snaps the ball to the quarterback. Those are the two most key positions probably on the football team. It will be interesting to see. They're going to be tough, physical practices this spring."
Shannon said that part of the problem last year was depth, and that freshmen were the backups at every position. This year, Miami should have 15 offensive linemen on its roster by summer camp. The Canes can turn to Franklin, Harland Gunn, Brandon Washington and Joel Figueroa, who is out this spring while recovering from shoulder surgery, for some experience. Shane McDermott is a true freshman who enrolled in January and is competing with Horn for the starting job at center.
Franklin said the offensive line takes a lot of pride in keeping quarterback
Jacory Harris
healthy, but as a team, they failed to do that consistently last year. Miami ranked No. 100 in the country, allowing 2.69 sacks per game, but Franklin pointed out that the linemen aren't the only ones doing the blocking, and the entire offense has to be clicking in order for everything to work.
"When that kid's healthy and he has time," Franklin said of Harris, "we sure did see the results."
"A lot of things did go wrong at times because we didn't do as good as we should've done. With pass plays, if a receiver runs a wrong route, too far or too short, or Jacory takes the wrong step, or a running back misses a block, it's a sack. We all have to be on the same page, or it's going to be a bad situation."
Communication shouldn't be a problem up front.
For years, the offensive linemen have always met on Thursdays to eat together, changing places each week. This past season the starters added Wednesday meals to their routine. Recently, Horn sent Franklin a text message about "pool day" at his house. They planned to "throw some food on the grill."
They've gotten to know each other pretty well as they waited in the wings for their turn in the spotlight, which is now.
"We have a lot of guys who have been in the system for a couple of years now," Franklin said. "They've been waiting to get in. I'm quite confident they're going to do a good job."
January, 14, 2010
1/14/10
9:00
AM ET
The ACC will have 13 players among the 106 selected to play in the 85th annual East-West Shrine Game. The only problem with this game is that it's being held on the same field that provided the worst conditions of the bowl season -- the Florida Citrus Bowl in Orlando. We'll assume they've cleaned it up.
It's a prestigious all-star game, as 90 percent of the players from last year's roster were either drafted or signed as free agents. It's sort of like a final audition for the NFL, as the game is directed by an NFL-affiliated coaching staff, NFL officials and rules.
The ACC players will be coached by Romeo Crennel, who spent four seasons as head coach of the Cleveland Browns and has won five Super Bowls as an assistant coach.
This year's game will be Jan. 23 (3 p.m. ET/ESPN2). The following players will represent the ACC on the East team:
LB Mike McLaughlin, Boston College
OG Thomas Austin, Clemson
CB Chris Chancellor, Clemson
OLB Kavell Conner, Clemson
OG Cord Howard, Georgia Tech
RB
Javarris James
, Miami
C A.J. Trump, Miami
DE Willie Young, NC State
DT Nate Collins, Virginia
FS Kam Chancellor, Virginia Tech
OG Sergio Render, Virginia Tech
CB Stephan Virgil, Virginia Tech
OG Chris DeGeare, Wake Forest
August, 28, 2009
8/28/09
12:00
PM ET
Posted by ESPN.com's Heather Dinich

With the help of a few sports information offices and the hometown newspapers of the teams with practice reports, here's a quick trip around the league as we head into our final weekend of summer without any ACC football (thank God) ...


MARYLAND

The Terps had their final scrimmage of the summer, and while there were some bright spots, it doesn't sound like a lot was determined. However, coach Ralph Friedgen did put some order to the deep group of receivers he has. Friedgen said he thinks nine receivers will travel with the team. At X, it's likely to be Adrian Cannon, Kevin Dorsey and Emani Lee-Odai. At Z, expect to see Torrey Smith, Quintin McCree and Tony Logan, and in the slot position Ronnie Tyler, LaQuan Williams and Kerry Boykins.

Here are a few highlights from the scrimmage, according to the practice report:

Sophomore Torrey Smith, who will be counted on to be a big-play receiver this season, had a hand in two touchdowns. He set up Davin Meggett's 3-yard score by making an acrobatic 30-yard reception from Chris Turner, setting up first-and-goal. Smith also fielded a short kickoff and raced up the left sideline for an 87-yard touchdown. Freshman Nick Ferrara made two 48 yards-yard field goals and added a 45-yard extra point after Meggett's touchdown. Mike Barbour, also competing for the No. 1 place-kicking job, made a pair of 46-yard extra points. Chris Turner completed 6 of 8 passes for 102 yards. The defense also had two other interceptions with linebackers Hakeem Sule and Alex Wujciak forcing turnovers. In addition, coordinator Don Brown's unit posted four sacks.


CLEMSON

FSU isn't the only one with injury problems on the defensive line. Clemson defensive tackle Brandon Thompson broke his hand - again.

Clemson spent Thursday's short practice working on Middle Tennessee's tendencies.

Brandon Ford was in a yellow jersey as he continues to heal from a foot injury. Spencer Benton was out again, but is expected to return to kicking duties on Saturday when the team holds its annual "Beannie Bowl." Jacoby Ford continues to improve from a hamstring injury and should be ready for the opener. Brandon Clear is back at full strength after a rib injury.

"The Beannie Bowl is a full rehearsal for the first game," coach Dabo Swinney said. "We will go through our pregame warm ups, even run down the hill. They we will kick off right at 6:00 PM and practice various special situations."


FLORIDA STATE

It was a good day for the Noles on Thursday, both at practice and in recruiting. FSU picked up two more recruits, bringing its 2010 class to 13. Florida State also got its first workout in the rain. There's one problem - all three of the senior defensive tackles are injured. You know what that means? It's time to meet Jacobbi McDaniel.

From the practice report:

Senior cornerback Patrick Robinson swatted away a touchdown pass intended for Jarmon Fortson in the end zone during 11-on-11 work. ... The best collision of the day came when linebacker Kendall Smith buried tailback and lead blocker Jermaine Thomas o
n a running play. ... Tight end Beau Reliford shook off the doldrums from several long afternoons with a 30-yard grab. ... With senior defensive tackles Budd Thacker (toe) and Kendrick Stewart (knee) held out of contact work for a second consecutive day, heralded freshman Jacobbi McDaniel continued to receive significant snaps alongside Moses McCray with the first-team defense. Fellow freshman Demonte McAllister is also getting a load of repetitions. "They are getting a lot of work, which is what they need," Bowden said of the youngsters. "They look like they can handle it."... Redshirt freshman Everett Dawkins, who began the preseason at defensive tackle and moved out to defensive end, was moved back inside to bolster position coach Odell Haggins' under-manned unit. ... There are quite a few position battles still being waged as the Seminoles head into Saturday's closed scrimmage, including cornerback, rover, defensive end, offensive guard, tailback, wide receiver and kicker. The competition is a welcome sign, reflecting the team's improved depth. "We let (the players) know those scrimmages are so important because they are game-like," coach Bobby Bowden said. "We've got ACC officials out there, so it's time to show your stuff if you've got it." ... The Seminoles will practice Friday afternoon.


MIAMI

Rise n' shine, it's practice time. The Canes started at 5:45 a.m. in shells under the lights on Mark Light Field. Dyron Dye was held out of practice with a leg injury. Leonard Hankerson and A.J. Trump returned to practice after being limited the last few sessions.

The Miami Herald is reporting that Taylor Cook is heading to Rice. With the transfer of Cook and Cannon Smith, A.J. Highsmith got a lot more work on Thursday. Here's what offensive tackle Jason Fox had to say on the transfers:

"Sometimes it can be a distraction but as a football team you have to limit the distractions, not think about it and remember why we are here. We are here to play football and win football games and anything else besides that, we have to push off to the side. You can't really do anything about it. Those were personal decisions they wanted to do for their careers that is going to help them out personally. As a team, we have to send them on their way and wish them good luck, but we still have to get ready."
July, 20, 2009
7/20/09
11:07
AM ET
Posted by ESPN.com's Heather Dinich
Position rankings today will include who has what up front. While it's not exactly glamorous, it wins games.
Let's start with the offensive lines.
1. Florida State -- Ah, it's amazing what a year can do, no? At this point last season, I had the Noles ranked No. 12. That's right, and I'd do it again. There wasn't a senior in the group, and they were the youngest O-line in the FBS with a lot to prove. It was a work in progress, and the tight ends had to help out, but Rick Trickett did a heck of a job, and I take partial credit for the motivation. You're welcome, coach. Now this group, led by Rodney Hudson, Ryan McMahon and Andrew Datko could be one of the best in the country.
2. Boston College -- Four starters return who started all 14 games last year, including potential All-ACC candidates Anthony Castonzo and Matt Tennant. It took some time for this group to come together after Castonzo moved from right tackle to left, Thomas Claiborne was a defensive lineman who moved to the right guard spot and Rich Lapham came off the bench in nine games in 2007. Once they got comfortable, they were a major factor in the success of true freshmen running backs Montel Harris and Josh Haden. It should only be better this year.
3. Wake Forest -- This should be a much-improved group, and deeper, especially with the return of Chris DeGeare, who missed last fall for academic reasons, at left tackle. Seven players with starting experience return to the offensive line and they have combined for 95 career starts. Russell Nenon, who moved to center after Trey Bailey broke his ankle last year, has solidified the position, and Jeff Griffin, who had been a starting tackle, is now comfortable at right guard. Barrett McMillin returns at guard.
4. Clemson -- This is where the problems began last year, and it should be part of the solution in 2009. In 2008, Clemson had to replace four starters. This year, all five starters return. Since 1963, Clemson has had a winning percentage of 76 percent when it returns five starters on the offensive line. Thomas Austin has starting experience at center and guard and should be one of the top offensive linemen in the 2010 NFL draft.
5. Virginia Tech -- The Hokies should be more athletic up front, and this unit goes eight deep, which might be the best depth they've had in the past two seasons. Ed Wang, who is entering his third season as a starter and Sergio Render, who is entering his fourth, are the veterans of a group that includes seven redshirt freshmen and sophomores on the two-deep. Beau Warren is expected to replace Ryan Shuman at center and Jaymes Brooks took over the right guard position and played well in the Orange Bowl in place of an ineligible Nick Marshman.
6. Miami -- Depth remains a concern, but veteran tackle Jason Fox is as dependable as they come, with 36 career starts. There were some tweaks to the line this past spring, as Matt Pipho will be the new starter at right tackle, and the staff is eager to see how he handles that role. A.J. Trump moved from right guard to center, and Joel Figueroa took over at right guard. The health of the starters will be key through the tough stretch to start the season.
7. Georgia Tech -- There is definitely potential here, but first the Jackets have to replace Andrew Gardner and David Brown, which they started to do last season when that duo got hurt. Then they have to keep everyone healthy, which didn't happen this spring. With Dan Voss, Nick Claytor and Cord Howard back for summer camp, and Joseph Gilbert having started 12 games last year, this group should improve and be more consistent this fall, but it will get even better as Paul Johnson's staff begins to recruit more athletic linemen.
8. Virginia -- There are no athletic freaks on the line like coach Al Groh usually finds, but it should still be a solid group. Four starters return, including senior right tackle Will Barker, who has 37 starts. Junior B.J. Cabbell at right guard was a solid blocker last year in his first season as starter, as was Jack Shields, who improved as the season progressed. Sophomore Austin Pasztor moved into the starting lineup against Maryland and sophomore Landon Bradley was Eugene Monroe's backup.
9. NC State -- The good news is that the Pack have plenty of upperclassmen to depend on, and four of the five starters have combined to start 60 games. The only player listed as a current starter who has never started is redshirt senior Andy Barbee, who has spent the previous three years as a reserve center but has now moved to guard. Behind those veterans are several players who redshirted last year and will be given an equal opportunity for playing time.
10. North Carolina -- The Tar Heels took a hit early last month when starter Aaron Stahl decided to forgo his final year of eligibility to "move forward with the next phase of [his] life." His experience will be tough to replace, but there are a handful of players who had a good spring and will compete for his spot. Kyle Jolly, who is entering his third year as a starter, Alan Pelc, who earned a starting job at guard last year, and Lowell Dyer, who has started at center each of the past two seasons, will be the leaders of the line.
11. Maryland -- The Terps lost five of their top seven offensive linemen, including three starters, and the development of their replacements will go a long way in determining how their season unfolds. Despite the graduation of longtime center Edwin Williams, it's the position of least concern as the staff is confident in the leadership and playing abilities of Phil Costa. There are also high expectations for left tackle Bruce Campbell, a physically gifted athlete.
12. Duke -- This has been a trouble spot for the Blue Devils for years, and it's a work-in-progress for coach David Cutcliffe. This year should be another challenge as Duke has to replace three starters after making some progress last year. Center Bryan Morgan is the anchor of the group and enters his second season as a starter and is the only player back in his original position. Kyle Hill moved from left guard to left tackle, so this group will have a whole new look.
May, 7, 2009
5/07/09
9:25
AM ET
Posted by ESPN.com's Heather Dinich
Miami Hurricanes

2008 overall record: 7-6

2008 conference record: 4-4
Returning starters: Offense: 8, defense: 8, kicker/punter: 2
Top returners: QB Jacory Harris, OT Jason Fox, WR Aldarius Johnson, WR Travis Benjamin, RB Graig Cooper, RB Javarris James, LB Sean Spence, LB Darryl Sharpton, CB Chavez Grant, K/P Matt Bosher, DE Allen Bailey
Key losses: QB Robert Marve, OT Chris Rutledge, C Xavier Shannon, LB Glenn Cook, S Anthony Reddick
2007 statistical leaders (*returners)
Rushing: Graig Cooper* (888 yards)
Passing: Robert Marve (1,293 yards)
Receiving: Aldarius Johnson* (332 yards)
Tackles: Glenn Cook (76)
Sacks: Allen Bailey* (5)
Interceptions: Sean Spence*, Brandon Harris*, Bruce Johnson, Eric Moncur (1 each)
2009 Schedule
Sept. 7 at Florida State
Sept. 17 Georgia Tech
Sept. 26 at Virginia Tech
Oct. 3 Oklahoma
Oct. 10 Florida A&M
Oct. 17 at Central Florida
Oct. 24 Clemson
Oct. 31 at Wake Forest
Nov. 7 Virginia
Nov. 14 at North Carolina
Nov. 21 Duke
Nov. 28 at South Florida
Spring answers
1. Temporary answer. Miami coach Randy Shannon said Taylor Cook earned the backup quarterback job -- for now. Cook beat Cannon Smith for the job this spring, and Shannon said that if the season started today, it would be Cook's job. A.J. Highsmith will join the competition, though, this summer.
2. You've got to coordinate. New offensive coordinator Mark Whipple wasted no time in implementing his new system, the players and staff were very receptive to it. Defensive coordinator John Lovett was also well received, even though it was the players' third coordinator in as many seasons.
3. Position change. Sam Shields' move from wide receiver to cornerback proved to be a good one. Shields showed he can not only provide some depth, but also possibly challenge for a starting job. He'll definitely work hyis way into the rotation, and the staff needs more consistent play from the secondary.
Fall questions

1. From hoops to helmets. Former forward Jimmy Graham has reportedly said he will join the football team this fall as a tight end, and it's a position that can use some help, especially with the knee injury to Dedrick Epps. But how much will Graham be able to help considering he hasn't played the sport since high school?
2. Tweaks to the o-line. Matt Pipho will be the new starter at right tackle, and the staff is eager to see how he handles that role. A.J. Trump moved from right guard to center, and Joel Figueroa took over at right guard.
3. Depth at linebacker. It's a patchwork effort, as several young players who were defensive backs last season were moved to linebacker (C.J. Holton, Ramon Buchanan), and Colin McCarthy didn't practice all spring but will be back. Arthur Brown is in the mix in the middle with Darryl Sharpton, and Sean Spence proved himself as a freshman, but depth is a concern.
February, 25, 2009
2/25/09
9:01
AM ET
Posted by ESPN.com's Heather Dinich
The Miami Hurricanes were one of the first teams in the country to start spring practice on Tuesday. I spoke with coach Randy Shannon Tuesday morning about his expectations for the program heading into his third season. Here are the highlights of our conversation:
To start, what are some of your top priorities this spring?
| | |
| --- | --- |
| | |
| | Gary Rothstein/Icon SMI |
| | Miami coach Randy Shannon is putting a positive spin on his team's difficult 2009 schedule. |
RS: Building depth on the offensive line. The two positions we've got to get some depth at are offensive line and linebacker. We have your so-called first units, but you don't want to get caught in a situation without depth at those positions and that's the one thing we have to develop. We've got a lot of guys back -- (Jason) Fox was a starter, (Joel) Figueroa played a lot, Orlando (Franklin) played a lot, (A.J.) Trump played a lot, (Matt) Pipho played -- but that next batch, we need to develop that sixth, seventh guy.
How many early enrollees do you have?
RS: Six. The last two years we've had seven or eight.
How much will it help you to have those guys for the spring?
RS: It helped us a lot last year because we played so many of those young guys. Of the eight guys that came in, seven helped us last year. These guys come in and they may have an opportunity to help us also. They get ahead.
Do you think the fact that last year's class did that and played so much helped you guys recruit this year because people saw they do have a chance to play as true freshmen at Miami?
RS: I think it did. People understand we're not afraid to play young guys coming in, and that if they're better than the guys we have on the football team they'll definitely get an opportunity to play.
With that said, how big of a step does this sophomore class now have to take and grow up a little bit more?
RS: They have to grow up a lot. Those guys played a lot last year and we have to now move forward. The seniors we do have, they're going to be very key to being leaders now. These guys have played two or three years under the new staff and we look for big things from them.
How did you wind up with such a brutal schedule?
RS: It is what it is, Heather. We have to look at it from the standpoint of, after the first four games you have an opportunity to be in the top 10 in the country. That's how you've gotta look at it. You can't look at it like the world is coming to an end, how are we going to get through this? You can't.
How far back did you schedule Oklahoma?
RS: That was before I was the coach. That was some years ago.
January, 15, 2009
1/15/09
11:00
AM ET
Posted by ESPN.com's Heather Dinich
If there's one thing Miami doesn't have any problem doing, it's recruiting, and this year is no exception. Seven of its 19 current commitments are ranked among the ESPN 150, and the Canes currently have the No. 7 class in the nation.

With 37 true and redshirt freshmen on the 2008 roster, Miami was one of the youngest teams in the conference. The most pressing need is on the offensive line, where the Canes got four commitments and are still recruiting more.
Miami will need to bring in a center as Xavier Shannon was a senior, and his backup, A.J. Trump, who was also the starting right guard, will be a senior this season. The right tackle position will also be a need as starter Chris Rutledge and his backup, Reggie Youngblood, were both seniors. Starting left tackle Jason Fox will also be a senior this year.
The secondary is another area of concern as the Canes will lose two starters and Lavon Ponder, Anthony Reddick's backup, was also a senior. Miami will also lose experience at linebacker with the graduation of four players on the two-deep, including leading tackler Glenn Cook. Defensive tackle is another position that will lose veterans this year and next.
The staff would also like to bring in one or two more tight ends, two receivers, a quarterback to help with the depth after the transfer of Robert Marve, and three running backs.