ACC:

ACC championship 2012
November, 30, 2012
11/30/12
12:30
PM ET
CHARLOTTE, N.C. -- Georgia Tech leading rusher
Orwin Smith
did not practice on Thursday because of a right ankle injury and is listed as doubtful for Saturday's Dr Pepper ACC championship game against Florida State, according to a school spokesman.
Smith is the team's leading rusher with 673 yards this year and five touchdowns. He is averaging 9 yards per carry. He also has 14 kickoff returns for 267 yards. He injured his right ankle in a Nov. 17 win over Duke and missed last week's game against Georgia. On Monday, Smith
said he expected to play
, but he probably hasn't practiced enough this week.
Georgia Tech will turn to an A-back by committee approach should it need to replace him. The most likely candidates are
B.J. Bostic
, who started in Smith's place last week against Georgia, and
Synjyn Days
, who started the second half last week.
Tony Zenon
(25 carries, 191 yards and a touchdown) and
Deon Hill
(five carries, 42 yards) will also play.
November, 30, 2012
11/30/12
9:00
AM ET
My player to watch in the Dr Pepper ACC championship game is Florida State quarterback
EJ Manuel
.

Manuel has been here before, and last time it didn't turn out so well. Filling in for an injured Christian Ponder in the 2010 ACC championship game against Virginia Tech, Manuel threw two interceptions in a 44-33 loss to the Hokies, including one that was returned for a touchdown.
"In the future, we'll learn from it," Manuel
said that day
. "Just remember how to get back in this position and win."
He's back, and there's no question he's better.
Manuel enters Saturday's title game against Georgia Tech as one of the most efficient passers in the country. His career pass-efficiency rating of 151.54 would be the best in ACC history if maintained, surpassing the mark of 151.15 set by former FSU Heisman Trophy winner Chris Weinke during the 1997 to '99 seasons. Manuel has led Florida State to a 23-6 record as a starter, including consecutive bowl wins against West Virginia, South Carolina and Notre Dame. This season, he has thrown for 2,967 yards, 22 touchdowns and nine interceptions. Surprisingly, a third of those picks came last weekend.
Manuel is coming off an uncharacteristically poor performance in a loss to rival Florida during which he threw three interceptions and lost a fumble that eventually led to a touchdown. FSU coach Jimbo Fisher said one of the biggest differences between Manuel now and the last time he played for the ACC title is his maturity in tough situations.
"I think how he deals with things from day to day and the ups and downs, and he understands there are ups and downs," Fisher said. "There's going to be tough moments like [the loss to Florida] for him, and how he responds back and bounces back. I just think he's a much [more] mature player, and he has great knowledge of what we're doing."
Manuel followed his own advice and got the Noles back to Charlotte. Now he's got to finish the job and help them win.
November, 29, 2012
11/29/12
5:00
PM ET
Florida State is in. The Jackets are in. How they got here is a moot point. One of them will be crowned ACC champ on Saturday. Here's a primer for those of you who need to get caught up:
Who:
No. 13 Florida State (10-2, 7-1 ACC) vs. Georgia Tech (6-6, 5-3 ACC)
What:
Dr Pepper ACC Championship game
When:
Saturday at 8 p.m. ET


Where:
Bank of America Stadium, Charlotte, N.C.
TV/Radio:
ESPN
Twitter:
#ACCFCG
The coaches:
Jimbo Fisher:
29-10 (third year) at Florida State and overall
Paul Johnson
: 39-25 (fifth year) at Georgia Tech; 146-64 (16th year) overall
The series:
All games:
Florida State leads 12-9-1;
In bowls and at neutral sites:
First meeting
In ACC play:
Florida State leads 12-2
Last meeting:
Georgia Tech 49, Florida State 44 (Oct. 10, 2009 at FSU)
FSU title game history:
Florida State will be seeking its 13th ACC championship. The Seminoles won or shared the title for the first nine seasons after they joined the conference (1992-2000), and went on to capture the national championship in 1993 and 1999. The Seminoles were also ACC champions in 2002, 2003 and 2005. FSU is making its third appearance in the ACC championship game. The Seminoles defeated Virginia Tech 27-22 in the inaugural event in 2005 in Jacksonville, Fla., and suffered a 44-33 loss to the Hokies in 2010 in Charlotte.
GT title game history
: The Yellow Jackets captured their first of two ACC titles in 1990, when they went on to claim the national championship. Georgia Tech shared the title with Florida State in 1998. The Yellow Jackets are making their third appearance in the ACC championship game since its inception in 2005. Georgia Tech suffered a 9-6 loss to Wake Forest in the 2006 championship game in Jacksonville, Fla. The Yellow Jackets defeated Clemson 39-34 in 2009 in Tampa, Fla., but later vacated the win and the ACC title because of NCAA sanctions.
FSU stat stars
DE Bjoern Werner:
He ranks third nationally and leads the ACC in QB sacks per game with 1.08 and is tied for 15th in total tackles for lost yardage per game (1.50). Werner's 18 TFL this season have accounted for 134 yards in lost yardage. Werner now has 13 sacks this season.
QB EJ Manuel:
He ranks eighth nationally in passing efficiency with a 160.01 rating and leads an offense that averages 41.5 points per game and has scored at least 51 points in four regular-season games.
PK Dustin Hopkins:
He now ranks third on the all-time NCAA FBS scoring list with 456 points. Hopkins trails Travis Prentice of Miami (Ohio) by 12 points for second place all-time. He enters Saturday's game tied for the all-time lead in field goals among NCAA FBS kickers with 87.
WR Rodney Smith:
He has caught a pass in 37 consecutive games, one shy of the school record. E.G. Green (1994-97) holds the school record for most consecutive games with a reception at 38.
Georgia Tech stat stars
RB Orwin Smith:
His 9.43 career yards per carry is the best for any ACC running back who has gained 1,000 or more yards. Smith has 1,830 yards on 194 carries and 20 touchdowns. His 61.2 yards per game leads the team.
QB Tevin Washington:
His 36 career rushing touchdowns are an ACC and school record by a quarterback. Washington leads all active conference players in rushing touchdowns, and his 216 points scored rank seventh. He has improved his completion percentage by more than 12 percentage points (47.1 in 2011 to 59.6 in 2012).
KR Jamal Golden:
He ranks second in the ACC and 10th nationally in kickoff returns with 29.0 yards per runback, including two returns for touchdowns.
LB Jeremiah Attaochu:
He leads the team and ranks third in the ACC with eight sacks in 11 games (.73 per game).
November, 29, 2012
11/29/12
1:00
PM ET
Georgia Tech A-back
Orwin Smith
isn't blind to the perception of this game.
He knows Florida State has been penned in (not penciled) by many to play in the Discover Orange Bowl long before the season even began.
He knows the Seminoles are a two-touchdown favorite.
[+] Enlarge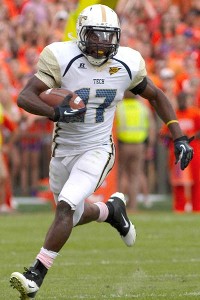 Joshua S. Kelly/US PresswireOrwin Smith says despite his team being labeled the underdog in the ACC title game, the Yellow Jackets will still come out fighting.
And he knows many outside the program scoff at Georgia Tech's back-door entrance into the Dr Pepper ACC Championship Game, thanks to Miami declaring itself ineligible.
If you don't think those things will add up to some motivation for the Yellow Jackets on Saturday in Charlotte, think again.
"Whoever we would be playing in the championship they wouldn't be giving Georgia Tech a shot," said Smith, whose status for Saturday's game is still uncertain. "It doesn't really matter who we'd be playing. We know that just from how the season has been going that we'll pretty much be the underdog in possibly every game. We're just coming into the game just like any other game with a chip on our shoulder and ready just to prove the doubters wrong."
Florida State, much like Georgia Tech, is coming off a disappointing loss to rival Florida, but if there's one thing seasoned ACC fans should be leery of, it's letdowns. Florida State has already proven to be beatable when it lost at NC State earlier this season. The Seminoles have not been a dominant team by any means outside the state of Florida. And if Florida State plays anywhere near the level it did last weekend against Florida -- with five turnovers and allowing 244 rushing yards -- you better believe there is a very good chance Georgia Tech won't need that bowl-eligibility waiver after all.
Florida State kicker
Dustin Hopkins
knows better than to assume this game has already been won.
"Oh, yeah, there's definitely a sense it's not a gimme," Hopkins said. "I mean, Georgia Tech ... has made the championship, first of all, that's not an accident, but they haven't played as well as I know they wish they would have, but the offense they run and just their team, they're going to have a chip on their shoulder, and they're scary, just because I know they're a talented team. They have a lot of weapons.
"Yeah, it's not a gimme game by any means," he added. "I hope none of our guys think that way, and I don't think we do. And I'm sure that's something that's going to be reiterated to us, that needs to be reiterated from our leadership positions to our guys because when you're playing for a championship game, teams come out to play, regardless of games in the past. It doesn't affect being in the moment and being ready to play on that Saturday on this Saturday coming up. So yeah, we'd be sadly mistaken, we'd be remiss if we came in lightly to this game."
Both teams have a chance to make a statement and finish the season on a positive note, but for Georgia Tech, the burden of proof is far greater. The Noles are the better team, from top to bottom. They should win. Georgia Tech, though, is looking to punctuate its season with its biggest turnaround yet.
"That would be a great story to end the year off of and to make it to the Orange Bowl," Smith said. "We've had a lot of adversity, and we feel like our story is very, very inspirational, and we just need to keep going and finish it off."
It would be the definition of an upset -- something Florida State, once ranked No. 3 in the country, is all-too familiar with.
November, 29, 2012
11/29/12
9:00
AM ET
It's a good thing I was assigned to only predict games last week, because there's no way I could have possibly foreseen the firing of two Atlantic Division coaches, the hiring of Mark Stoops at Kentucky, the ACC suing Maryland, and the addition of Louisville to the conference --
all in a span of four days.
This just in: The ACC still has a championship game to be played. Now THAT I can predict.
Heading into the final week of ACC play, my overall record stands at 77-19 (80.2 percent). I gave the ACC too much credit last week and struck out on picks for FSU and South Carolina for a 6-2 mark in Week 13. FSU needs to bounce back this week. So does Georgia Tech. So do I.
Here we go:
Florida State 35, Georgia Tech 31:
Defense isn't going to steal any headlines in this game. The Seminoles allowed Florida 244 rushing yards last week and will struggle to contain the No. 3 rushing offense in the country, especially after learning it will likely be the last game with Stoops on the sideline. The emotion of last week's letdown coupled with the news about Stoops and the difficulty of preparing for the spread option offense on a week's notice will be evident. On top of all that, leading tackler Tank Carradine will be on the sideline with a torn ACL.
Georgia Tech's defense isn't much better. It has been the Yellow Jackets' Achilles heel all season, and in the end it will be the difference in this game. Florida State has a deeper, more talented, more athletic roster with more options, and it will expose the weaknesses in the Yellow Jackets' defense.
FSU quarterback
EJ Manuel
will make the clutch plays in the fourth quarter, the Noles' defense will do just enough to win, and Florida State will win its first conference title since 2005, leaving Georgia Tech to apply for a waiver just to play in a bowl game.
November, 28, 2012
11/28/12
4:00
PM ET
On Sunday, Georgia Tech linebacker
Quayshawn Nealy
had no desire to watch any football. He was feeling down about the Jackets' 42-10 loss to rival Georgia and said he stayed in his room, "just chilling."
By Monday, Nealy said he was over it.
He didn't have much choice, and he's not the only one.
"I mean, it's one of the toughest games of the season basically just because it's Georgia," he said. "But I mean, it's no different than any other game we had to flush down this season. We've just got to move forward and look past this. It was a big loss, but we have something bigger to play for, which is the ACC championship. So everybody's mind is really focused in and dialed in on this."


Both Georgia Tech and Florida State have had to quickly move on from what could be arguably their most disappointing losses of the season in preparation for Saturday's Dr Pepper ACC championship game. The Jackets were beaten soundly by their in-state rivals, and Florida State turned the ball over five times in a humbling 37-26 home loss to Florida. Players within both programs have insisted this week that they have put those performances behind them and have refocused on the task at hand -- getting to the Discover Orange Bowl.
"Yeah, it's something we've just got to snap out of it," FSU coach Jimbo Fisher said on Sunday. "You understand your goals and your vision, and one of them is a conference championship with a BCS berth on the line and you have do that, and hopefully the maturity of our team will be able to push us through that. And I'm sure they'll be sore, they'll be hurting today. They'll be down today. But tomorrow when we get ready and juiced up, we've got to be ready to roll and get it done."
For Florida State, the loss to the Gators snapped a two-game winning streak in the series. For Georgia Tech, it was an all-too familiar situation, as the Yellow Jackets also lost to Georgia in 2009, the week before they played Clemson for the ACC title. That season, the Jackets overcame the 30-24 loss to Georgia with a 39-34 win over Clemson to win the league title, which was later vacated because of NCAA sanctions.
As Georgia Tech quarterback
Tevin Washington
pointed out, though, the Yellow Jackets have had to overcome far more this year than one loss to a bitter rival. Georgia Tech had to dig out of a 1-3 hole in league play midway through the season, and overcome the firing of defensive coordinator Al Groh during the bye week.
They've already bounced back from a three-game losing streak in September and a loss to BYU in October. Consider this their November challenge.
"We've been able to play through adversity the whole season, so this is just another pivotal point of the season that we can push through adversity, just come back this week with a lot of energy, correct the mistakes that we made in the last game and just seize the moment, realize the opportunity ahead of us, that we've got a chance to play for the ACC championship, and that's the No.1 goal for us," Washington said. "We've got a lot still to play for."
So does Florida State, which is looking for its first ACC title since 2005.
"It's tough, but at the same time, having a mature team and having a mature outlook on what we do as football players and as competitors, we understand we have another game next weekend," FSU quarterback
EJ Manuel
said on Monday. "That game is tough, as well, because it's a championship game, and it's something that hasn't been done here at Florida State since '05, and you just have to move on. It's a process, understanding why you made those mistakes, and you can't go out there and do it again next week."
November, 28, 2012
11/28/12
2:00
PM ET
According to Florida State safety
Lamarcus Joyner
, you'd never know by watching practice on Tuesday that the Seminoles lost a starting defensive end to a torn ACL, or that their prized defensive coordinator was just hired as head coach at Kentucky – all just days before facing Georgia Tech's spread option offense in Saturday's Dr Pepper ACC championship game.
"It was a great environment today in practice," Joyner told NoleNation's David Hale. "Guys like [Ronald] Darby, P.J. [Williams], young future stars just enjoying themselves. They know they can play ball. That's where we're at now as a program because we have a lot of great kids. Everybody was into it. No one's walking around with their heads down. We're just trying to win a championship that hasn't been done here in a long time."
[+] Enlarge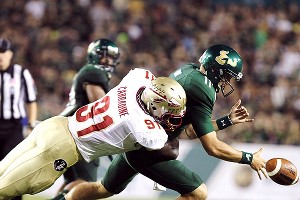 Kim Klement/US PresswireFlorida State will have to move on after losing its leading tackler, Cornellius Carradine, for the rest of the season to a torn ACL.
Florida State's defense has to bounce back big time in order for the Noles to win the program's first ACC title since 2005. With defensive coordinator Mark Stoops having one foot out the door, and leading tackler Tank Carradine sidelined with a torn ACL he suffered against the Gators, Florida State has to somehow find a way to play disciplined enough to slow down Georgia Tech's unfamiliar triple option. These two programs haven't faced each other in over three years, and FSU's usually stingy defense is coming off an unflattering performance in a 37-26 loss to rival Florida.
The Gators ran for 244 yards on Saturday – easily the most FSU had allowed all season. By comparison, Florida State didn't allow Atlantic Division opponents Maryland, Boston College, Wake Forest and NC State that many rushing yards
combined
(239). Clemson was the only team in the division to rush for more than 100 yards against the Noles, and three other teams -- FCS schools Savannah State and Murray State, and rival Miami, were each held under 40 rushing yards.
For the first time all year, the Seminoles' defensive line was beaten up front for a majority of the game.
"Well, it wasn't a bad game," said defensive end
Bjoern Werner
. "[We] didn't have a good rushing defense, but we're going to fix things up this week and prepare well against Georgia Tech and their triple option and hopefully have a good game.
"Everybody in the box has to play their assignment," he said. "They can't get greedy and try to make a play. Everybody has to just play his assignment, what they're supposed to do, and then we'll be successful."
Successful at slowing the Jackets down, maybe, but not stopping them entirely. Georgia Tech is averaging 323.33 rushing yards per game, trailing only Army and Air Force nationally. The Yellow Jackets have rushed for more yards than any FBS team since 2008, and the program is 115 yards shy of rushing for
20,000 total yards
in the five seasons under head coach Paul Johnson.
"Oh, it's a huge challenge, and it's going to be a very -- we have to have a lot of discipline, we have to have a lot of confidence in what we're doing," FSU coach Jimbo Fisher said. "We've been developing a plan, and we're looking at it and we're going to have to be very disciplined how we go about it and deep great leverage on the ball, and it will be a huge challenge. That's one of the advantages that Georgia Tech does have is that when you don't play them off an off week or a long period of time, that one week turnaround is extremely tough."
Having to do it without Carradine and knowing it will be the last game for Stoops could make for an emotional sideline. Those kinds of intangibles have also been known to be inspiring, too, and everyone within FSU's program was thrilled for Stoops' opportunity. It just so happens he still has one more game to coach with FSU, and it's the most important one.
Fisher said the news about Stoops hasn't been a distraction to the team's preparation this week.
"We've got to get through this week," Fisher said. "It's all about Georgia Tech right now and we're doing a great job of keeping focus on Georgia Tech."
"They know that's part of this business," he said of his players. "Our kids are very good, and they came out and responded very well."
The question is how they'll respond against the No. 3 rushing offense in the country.
November, 27, 2012
11/27/12
2:00
PM ET
There is no bye week to prepare for Georgia Tech's spread option, and it's been more than three years since Florida State and Georgia Tech last faced each other, but Yellow Jackets coach Paul Johnson said on Sunday the advantage in preparation for the Dr Pepper ACC championship game leans in favor of Florida State.

"We've played before, and both teams are going to have the same amount of time to prepare," Johnson said. "We have no idea how they're going to line up. They haven't played anybody that's remotely close to us. It'll be a guessing game for both I imagine.

"They'll have a better idea what we're going to do because they'll have seen us on tape against all kinds of different defenses. We'll have to guess what they're going to play."

It's been a long time since FSU defensive coordinator Mark Stoops has had to prepare for the spread option, but FSU coach Jimbo Fisher said the staff at least thought about the possibility this past summer. He's not necessarily convinced they'll have any advantage.

"I mean, we have to go see it and we have to simulate it," Fisher said, "so it's six one way, half a dozen the other."
November, 27, 2012
11/27/12
9:00
AM ET
Georgia Tech was its own version of a Wreck this year during the Oct. 13 bye week.
The Yellow Jackets had sunk to 2-4 with only one conference win, had lost three straight games and fired their defensive coordinator. A bowl game seemed improbable, let alone a division title.
And yet here they are, preparing to face Atlantic Division champion Florida State on Saturday in the Dr Pepper ACC championship game for a chance to play in the Discover Orange Bowl. While some of Georgia Tech's resurgence can be attributed to the weakness of the rest of the ACC and the ineligibility of Miami, the Jackets deserve credit for finishing strong and not coming unraveled despite a change in staff and being written off by many outside the program. Instead of folding, Georgia Tech finished the regular season by winning four straight ACC games -- its longest conference win streak in a season since 2009.
[+] Enlarge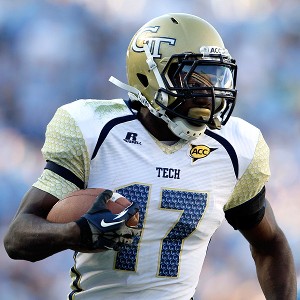 AP Photo/Gerry BroomeOrwin Smith and his teammates aren't apologizing for how they got to the ACC championship game.
"I would say after that bye week, guys kind of buckled down and knew that we could still do it," said A-back
Orwin Smith
. "Coach reminded us after the bye week that it wasn't over and we still had a shot and that he believed in us. I feel like after that bye week, guys actually changed their mindset and believed in themselves."
The midseason firing of former defensive coordinator Al Groh came as a surprise (the timing of it, not the firing), but in retrospect, it became a turning point for the program. Groh's defensive philosophy had been too complicated for the players, according to coach Paul Johnson, and the bye week was spent simplifying things and adjusting to new staff assignments. Groh's departure didn't magically fix all of Georgia Tech's defensive problems (they are still allowing 30 points per game), but how the decision was handled internally was pivotal to the team's comeback.
"Well, I think it could have gone either way, and clearly getting off to a good start in the second half was important," Johnson said. "But you know, this group and the coaches and the guys, we haven't had very many losing seasons. I think that it was a goal to try to finish the thing off, and that's where we are now. We need to try to finish it off. We've got another opportunity on Saturday, and we've got to go see if we can't play a whole lot better than we did this past Saturday or we'll get the same result."
Georgia Tech came out of the bye week and beat a struggling Boston College team only to lose the following week to BYU. By reeling off wins against Maryland, North Carolina and Duke, the Jackets were able to remain in contention for the Coastal Division title. Georgia Tech finished 5-3 in league play, but it's not the first time a division champ has advanced to the title game with three losses.
It has happened three previous times since ACC divisional play began in 2005. Twice -- Virginia Tech in 2008 and Florida State in 2005 -- a 5-3 team has gone on to win the ACC championship game. Georgia Tech has finished 5-3 four times, but this is the first time it has won the division with that record.
Had Miami not self-imposed a postseason ban, the Hurricanes would have won the division title for the first time since joining the league.
Those within Georgia Tech's program don't seem to mind how they got to the title game.
"I mean, it's a championship game," Smith said. "We're here. It doesn't really matter. It doesn't matter to me how we got here, and I'm pretty sure it doesn't matter to any of the other guys because this is a great opportunity, even if we was playing for the national championship [and] five teams got suspended. We're still going to treat it like we made it. It's a great time, and we're going to definitely enjoy it."