March, 21, 2014
Mar 21
10:30
AM ET
Virginia
kicker
Alec Vozenilek
is prepared to lose sleep over the NCAA tournament -- literally.
With his younger brother,
Rob
, a junior walk-on guard for the
No. 1- seeded Hoos
, playing against one of their best friends and the starting center for No. 16-seeded
Coastal Carolina
on Friday night, Vozenilek is going to do everything he possibly can on Friday afternoon to drive from Charlottesville, Va., to Raleigh, N.C., to see the 9:25 p.m. ET tipoff.
[+] Enlarge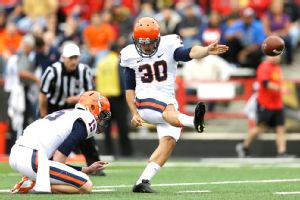 AP Photo/Patrick SemanskyVirginia kicker/punter Alec Vozenilek will watch on Friday his brother play against his a foreign exchange student who lived with him.
And then drive back four hours for spring football practice at 9:30 a.m. on Saturday.
And then turn around again for what he hopes will be a second tourney game for Virginia.
Talk about family ties.
Vozenilek, one of five children, also has an extended family -- one comprised of foreign exchange students who lived with the Vozenileks at their home in Richmond. (One summer, Vozenilek says, there were nine kids living in their house.) Coastal Carolina starting center
El Hadji Ndieguene
, of Senegal, spent two years with the family and became so close to them that parents Tom and Betty Baugh Vozenilek skipped Virginia's hoops game against Syracuse -- one of the biggest games of the season -- to drive eight hours to attend Ndieguene's Senior Night at Coastal Carolina.
"It's really ironic and amazing that Virginia ended up playing Coastal in the NCAA tournament," Alec said. "My dad was trying to figure out how he was going to fly to watch El Hadji play and fly to see Rob. It was getting complicated. We were sitting in the car on the way back from Greensboro, and we had a wireless hotspot set up in the van, we had the TV on and were listening on the radio, and we were like, 'Oh my God. We're about to get matched up against Coastal Carolina.' Really, he's a part of the family."
And they'll all be reunited Friday night in Raleigh -- yet another road trip in the books for the sports-loving family.
Betty played tennis at North Carolina, and Tom played tennis at Pacific Lutheran. Basketball, though, was the first sport both Alec and Rob fell in love with. They trained together throughout high school, used the facilities at the University of Richmond, and spent countless hours travelling to AAU basketball games together throughout the Richmond area. With two younger brothers and a younger sister -- plus the rotation of foreign exchange students -- the average minivan wouldn't cut it.
They call it their "limo van," a 15-passenger Ford van that had all of the back seats removed to make room for a luxury ride. There's a table in the middle, with six reclining bucket seats and a TV. The whole family piled in to travel to the ACC tournament in Greensboro, N.C., last week, where Virginia captured the school's first league title since 1976.
It's a non-stop schedule, as Rob and the rest of the family go to all of the home football games to watch Alec, who in turn finds his family at every home basketball game to watch Rob. The years of dedication are now paying off.
While Rob gets to experience the NCAA tournament, Alec is entering his second season as the Cavaliers' starting punter and placekicker.
Last season he averaged 41.2 yards per punt, which ranked No. 9 in the ACC. He had 13 punts of more than 50 yards, and led the ACC with 23 punts inside the 20. He made 12 of 15 field goal attempts, including the final six of the season.
"I definitely think it's been humbling, seeing everything that we did in high school at such a young age paying off for both of us," Alec said. "I think we really owe a lot to our parents for giving us the opportunities, and our high school had a great strength and conditioning program, great facilities, really just pushing us. We owe a lot to each other, just for every time we were tired and didn't want to work out or do whatever, we pushed each other to the next level. I definitely appreciate that from him. I really think that's why this has all panned out the way it has."
Some things are worth losing sleep over.
January, 15, 2014
Jan 15
5:30
AM ET
On Nov. 19, 2011, Virginia knocked off Florida State in Tallahassee for perhaps the biggest victory of Mike London's tenure as coach. Virginia was 8-3 and London would soon have a lucrative new contract. The future looked bright.

In the 26 games since, London's squad is 6-20, with just two ACC wins. In 2013, the Cavaliers went winless in conference play (2-10 overall), and it's difficult to find one clear cause for all the problems. There were games when the defense was exceptional (Pitt, Virginia Tech) but the offense couldn't score. There were games when the offense figured ways to move the ball (Ball State, Maryland) but the defense couldn't hold. Then there were games when everything looked out of sync (Clemson, UNC) and London's job security was tenuous at best.
In the end, it was a season to forget at Virginia, but there remain building blocks in place for the future, and a few performances from 2013 were worth remembering.
Offensive MVP:
Kevin Parks
(Jr., RB)
It was a tough season for Virginia's offense, which finished 111th in the nation in scoring and 90th in total offense. But while the passing game struggled routinely, Parks provided a consistent threat for the Cavaliers. The junior finished with 1,031 rushing yards and 11 touchdowns, topping 100 yards six times, including each of Virginia's final three games. Parks finished second only to Heisman finalist
Andre Williams
in rushing in the ACC.
Defensive MVP:
Anthony Harris
(Jr., S)
The 2013 season didn't go according to plan for Virginia, but Harris provided more than a few highlights. He finished third on the team with 80 tackles, led the nation with eight interceptions and landed on numerous All-America teams. Harris was the star on a defense that showed some signs of significant progress -- particularly against BYU, Pitt and Virginia Tech -- and offers some hope that the Hoos can turn things around in 2014.
Best moment:
Harris' INT against BYU
Trailing 16-12 late in the fourth quarter of its opener against BYU, Virginia got its biggest play of the season when Harris picked off a pass from
Taysom Hill
, then flipped the ball to teammate
Henry Coley
, who ran it back to the BYU 13-yard line. Moments later, Parks ran for a touchdown, and the Cavaliers won their first -- and only -- game of the season against an FBS foe. At the time, it seemed like a turning point for Virginia. Instead, it proved to be one of the few highlights in a lost season.
Worst moment:
the loss to Maryland
There were plenty of ugly games for Virginia this season, but the 0-8 record in ACC play tends to overshadow the fact that UVA was actually competitive early. A loss to high-flying Oregon and highly regarded Ball State were excusable. Virginia played Pitt close in its ACC opener, holding the Panthers without a point in the second half. Then the Cavaliers appeared in position to pick up a conference win on Oct. 12 when
Alec Vozenilek
lined up for a 42-yard, game-winning field goal attempt against the Terps. But he missed, and Virginia lost its next six games by an average of 22 points.
October, 12, 2013
10/12/13
10:25
PM ET
CLEMSON, S.C. -- It was safe for Clemson players to talk about Florida State once day turned to night Saturday. But given what unfolded on the football field, you had to wonder whether the Noles might have been on their minds all afternoon.
Boston College wanted no part of making a nice, simple script for the showdown between No. 3 Clemson and No. 6 Florida State one week from tonight. For three quarters, Boston College outplayed the heavily favored Tigers and held the lead heading into the fourth quarter.
The Clemson season, the looming top-10 matchup between the ACC heavyweights, the respect the league has garnered through the first half of the year? About to go poof. It should be no surprise, then, that the phrase the Tigers and their fans so desperately despise started being tossed around.
This would have been the ultimate example.
Instead, normalcy was restored in the span of one minute in the fourth quarter.
Tajh Boyd
ran 6 yards for a touchdown to put the Tigers ahead. On the following series,
Vic Beasley
returned a fumble by
Chase Rettig
13 yards for a score to seal the
24-14 win
over the feisty Eagles.
ACC officials surely exhaled. So did "College GameDay," headed to Death Valley next Saturday.
"It's good to know that we can win a street fight," Clemson coach Dabo Swinney said afterward.
[+] Enlarge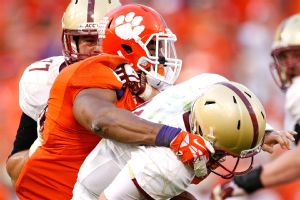 Tyler Smith/Getty ImagesVic Beasley and the Clemson defense produced five sacks and four quarterback hurries Saturday.
Make no mistake. Boston College is a vastly improved team from a season ago thanks to coach Steve Addazio, who has completely changed the culture in Chestnut Hill. The Eagles play with a physicality that has been missing for years, a physicality that also flummoxed Florida State several weeks ago.
Even still, the Clemson offense looked ragged. The Tigers had four fumbles, losing two. They converted only two times in four red zone opportunities. They went only 4-of-17 on third down.
Sammy Watkins
had uncharacteristic drops. The offensive line was inconsistent.
The last time Clemson failed to dominate offensively, the defense made a game-changing play at NC State. The same happened against Boston College, further proof this defense has grown from good to great. The Tigers limited the NCAA's top rusher,
Andre Williams
, to 70 yards and an average of 2.9 yards per carry.
Boston College had only 12 first downs and 286 yards of total offense. The Beasley play happened after
Tony Steward
sacked Rettig and forced the fumble. The defensive front was relentless, with five sacks and 11 tackles for loss, along with four quarterback hurries.
"Our defensive front made a big statement today," said Beasley, who won the replica leather helmet given out to the MVP of this game annually. "This is definitely the most complete game we have played. This is the most dominant."
Clemson will need that dominance next week against Florida State quarterback
Jameis Winston
, who has found himself in the Heisman conversation after five games. Florida State had a bye Saturday, so perhaps the Noles got a peek at what awaits them next week.
If not, they will watch the tape soon enough. It was not the prettiest offensive effort, but Clemson (6-0) did enough to become bowl eligible. So did No. 24 Virginia Tech (6-1), which ended its four-game losing streak to Pitt with a
19-9 win
in Blacksburg.
Once again, the Hokies defense dominated, sacking Pitt quarterback
Tom Savage
eight times. Savage has now been sacked 17 times in his past two games. Indeed, Clemson and Virginia Tech have put up the most impressive sack numbers in the league to date -- the Hokies now have 27 sacks in seven games; the Tigers have 24 in six games.
Maryland (5-1), meanwhile, moved one game away from becoming bowl eligible, bouncing back from a dispiriting loss to Florida State to beat Virginia
27-26
in the last scheduled meeting between the two rivals. Virginia had a shot at the upset, but
Alec Vozenilek
missed a 42-yard field goal with 10 seconds left.
C.J. Brown
sat out after sustaining a concussion last week. But one starter did make his return Saturday. Duke quarterback
Anthony Boone
was impressive in a
35-7 win
over Navy. Boone was not supposed to play, but
Brandon Connette
hurt his ankle on the way to the practice field Thursday and informed coach David Cutcliffe during pregame warm-ups he would not be able to play.
Boone was told 10 minutes before kickoff that he would be starting. He went 31-of-38 passing for a career-high 295 yards and three touchdowns in perhaps the gutsiest performance Saturday. Syracuse showed some, too, in a
24-10 win
at NC State.
Jerome Smith
and
Prince-Tyson Gulley
each gained more than 100 yards. The Orange have run for 685 yards in their past two games, against the Wolfpack and these very Tigers.
Clemson fixed the issues in their run defense. There are other areas that must be addressed this week. Perhaps it was good the Tigers got a test like this before the biggest game of the season.
"We just weathered the storm, and that's all that matters right now," Watkins said.
October, 2, 2013
10/02/13
12:00
PM ET
The last time the Pittsburgh Pirates won a playoff game, the ACC had just added its ninth member, and no one knew what the Internet was. How far we've come...
August, 27, 2012
8/27/12
3:45
PM ET
Virginia quarterback
Michael Rocco
has been able to hold on to his starting job despite competition from Alabama transfer
Phillip Sims
, coach Mike London announced Monday.
Rocco started all 13 games last season, throwing for 2,671 yards with 13 touchdowns and 12 interceptions. But London opened up the competition once Sims arrived and was granted his immediate eligibility. Rocco, Sims and
David Watford
were involved in an open quarterback competition during preseason practice, but London always maintained that Rocco had the edge over the other two quarterbacks in the race to win the job.
He confirmed that Monday.
"It just became apparent that Michael has the best grasp of the offense right now," London said during his weekly news conference. "He's the guy that we feel most comfortable with right now because of what he knows, knowing the system and the schemes and knowing the players he'll be throwing the ball to or handing the ball off to. He's done nothing to lose his position. We talked about his leadership, his knowledge of the offense, and so he's put himself in a position to be the guy right now and I'm quite sure he'll work hard at it, he takes pride in it. That's how it worked out."
"I believe that I was the starter throughout the spring and the summer," Rocco said. "It was my job to lose. I root for Phil and David as hard as I can. I would never want anything bad to happen in their career and their life. But I believe I'm here to play quarterback at a high level. I was excited when I heard Coach London was going with me, but in my mind I was preparing to be the starting quarterback. I was excited, but I had a confidence in my mind, too."
London added that he knew it would be a tall order for Sims to overtake Rocco while learning a new offensive system.
"With respect to Phillip, he has a big arm, strong arm, been in college games as well. He's a guy that's learning our offense," London said. "To expect him to know our whole offense by the time the season started, I don't think that would be fair on him. He knows enough of the offense that we understand his situation will be on-the-job training as the season goes on, how much he picks up, the communication, all those things."
London also said he would try to redshirt Watford, who served as the backup to Rocco last season.
"With David, it was a tough call," London said. "David has done everything that we've asked and then some. He's matured tremendously, his physical talents and skills improved greatly. They are three selfless players. They want what's best for the team. My plan is to try to redshirt him."
A few other UVa notes: