May, 8, 2012
5/08/12
9:00
AM ET
2011 overall record:
2-10
2011 conference record:
1-7 (6th, Atlantic)
Returning starters:
Offense: 5; defense: 10; kicker/punter: 2
Top
returners

LG
Pete White
, RG
Josh Cary
, C
Bennett Fulper
, TE
Matt Furstenburg
, WR
Kevin Dorsey
, DE Marcus Whittifield, DE
Keith Bowers
, NG
Andre Monroe
, DT
Joe Vellano
, LB
Demetrius Hartsfield
, LB Darrin Drakeford, LB
Lorne Goree
, LB
Kenny Tate
, CB
Dexter McDougle
, S
Eric Franklin
, S
A.J. Hendy
Key losses
LT
R.J. Dill
, RT
Max Garcia
, LG Andre Donnella, QB
Danny O'Brien
, RB Davin Meggett, WR
Quintin McCree
, CB Cameron Chism
2011 statistical leaders (* returners)
Rushing
: Davin Meggett (896 yards)
Passing
: Danny O'Brien (1,648 yards)
Receiving
: Kevin Dorsey* (573 yards)
Tackles
: Demetrius Hartsfield* (108)
Sacks
: Andre Monroe* (5)
Interceptions
: Dexter McDougle*/Cameron Chism (3)
Spring answers
1. Defense has come a long way:
The unit passed with flying colors in its first public test under new coordinator Brian Stewart and his 3-4 scheme. It overpowered the offense in the squad's spring game despite missing Joe Vellano and Kenny Tate. Both players should be back for the fall, giving the defense 10 returning starters.
2. Who is there and who isn't:
Spring No. 2 is in the books and the remaining players are on board with Randy Edsall, giving the program a chance to push forward with less doubt regarding those who may not be all-in. After the Terrapins' spring game, senior
Justin Gilbert
told the Fredericksburg Free Lance-Star: "I hate saying it, but now that the guys who don't want to be here are gone, we can really focus on next season. We don't have any distractions anymore. Everybody who's here wants to be here. I really saw that this spring with guys. The chemistry was better. There was no cancers on the team. Everybody was all together."
3. C.J. Brown holding steady:
Brown was the only quarterback this spring who had any actual game experience, so he received most of the attention. With five starts under his belt, Brown, whom colleague Heather Dinich
has labeled the conference's most indispensable signal-caller
, survived the spring and enters the fall as the No. 1 guy.
Fall questions
1. Will anyone challenge Brown?
Despite said strengths, Brown, who rushed for more than 500 yards last season, is switching from a spread attack to new coordinator Mike Locksley's pro-style system. Recruits Perry Hills and Caleb Rowe enter this summer and, depending on Brown's transition, could challenge for some snaps.
2. How will the new coordinators transition?
We said this earlier with Wake Forest: Things have gone smoothly this spring, but the ultimate test comes in game action this fall. How Locksley, Stewart and Andre Powell (special teams) adjust in-season will ultimately affect the ruling on the reshuffled staff.
3. Everything else …
It would appear, at this moment, that the defections have subsided. Two dozen players have left Maryland since Edsall arrived, none bigger than quarterback Danny O'Brien. Some were calling for Edsall's job after Year 1, and a debut season that featured just one win over an FBS team didn't do the program any favors. The spotlight is on College Park this season for the wrong reasons, and how the program adjusts this fall can possibly dictate its fate.
February, 23, 2012
2/23/12
12:30
PM ET
Maryland will make two adjustments with staff assignments, according to a release from the school on Thursday.

With the change to a 3-4 defense, Lyndon Johnson will now oversee both outside linebacker positions (Sam and Will), while Andre Powell will take over as special-teams coordinator, in addition to coaching the running backs.
"With our scheme changes defensively, the Sam and Will are two of the most critical components of the scheme and I wanted Lyndon devoting his full attention to these positions," coach Randy Edsall said in a prepared statement.
Last season, Johnson was responsible for the Star position (hybrid linebacker/safety). Powell was a special-teams coordinator at Clemson (2007-10) and North Carolina (2001-06). He handled both running backs and special-teams duties the final three seasons at each job.
March, 8, 2011
3/08/11
9:00
AM ET
COLLEGE PARK, Md. -- Maryland running backs coach Andre Powell put change into a parking meter in downtown College Park for 20 minutes -- just long enough to run into Boston Market for a quick bite.
Twenty-two minutes later, he had a ticket.
Win or lose, moving takes some getting used to.
[+] Enlarge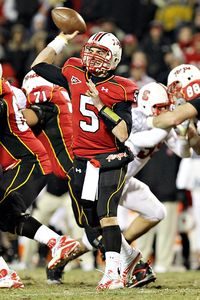 Mitch Stringer/US PresswireDanny O'Brien passed for 2,438 yards and 22 touchdowns on his way to earning conference rookie of the year honors.
Randy Edsall's staff has made a bizarre transition. Instead of replacing a group of coaches that were fired for losing, they're tasked with improving a program that won nine games last season, including a bowl game, and had the ACC's Rookie of the Year and Coach of the Year. While there is obviously talent still remaining on the roster (14 starters return), the new assistants downplayed the notion that their transition might be any easier because they inherited a good team.
"In this profession it's never easy, it's always harder because everything is brand new," said special teams and outside linebackers coach Lyndon Johnson, who was on Edsall's staff at Connecticut. "We're coming in with a different philosophy, different schemes, so there's a learning curve not just for players, but for us as coaches. Our defensive staff, the four of us, none of us come from the same background. We all have to learn Todd (Bradford's) system in order to be able to teach it to our players. It's always going to be an uphill battle, but this isn't like it was an empty-shelf program. These guys were very successful."
And yet only two assistants -- receivers coach Lee Hull and offensive line coach Tom Brattan -- remain from Ralph Freidgen's staff.
"It's a business, and in this business things happen," Hull said. "You just adjust to it and go with the flow. Has it been an easy transition? No, but any new job is an adjustment. Had I left here and gone to another job that would have been an adjustment, too. Coach Edsall has been great through this whole transition and very understanding that Tom and I were on the previous staff. He's been sensitive to that."
The staff is comprised of a variety of backgrounds and two former head coaches in defensive line coach Greg Gattuso (Duquesne) and offensive coordinator Gary Crowton (Louisiana Tech and BYU). Defensive coordinator Todd Bradford and Crowton will both install new schemes and terminology this spring, which will obviously require an adjustment for even ACC Rookie of the Year quarterback
Danny O'Brien
.
Bradford was on the road speaking at a clinic when former defensive coordinator Don Brown left Maryland for a job at Connecticut. A month later, Bradford was hired as Maryland's defensive coordinator.
He said it's still too early to get a read on the talent level the staff inherited.
"It's hard to say because we haven't coached these players yet," he said. "It's hard to say until we start coaching these guys. I don't think it's ever easy when you're a new staff because there's transition, there's coaches getting to know players, there's the learning curve that the players have, there's a transition of how do we handle academics, how do we handle recruiting? Those are the same no matter what happened before we got there. Those challenges are always there. I think it's very similar to any other place I've gone into when I've been on a new staff -- you have the things that have to get done in transition."
Bradford said the staff has all of the necessary resources to be successful, including financial and fan support -- two areas that have been problems for Maryland in the past.
"That's one of the reasons why we came, no question," Bradford said. "I think everyone felt that way, that Maryland's resources, where it was located, the tradition -- all of the things you look for when you're talking about can you win every game, we felt like we had it."
Now their challenge is to get more out of it than their predecessors did.
February, 8, 2011
2/08/11
10:00
AM ET
Maryland AD Kevin Anderson wanted change.
Well, he got it -- and then some.
The moves that have been made at Maryland this offseason have raised some eyebrows, starting at the top with the hire of coach Randy Edsall. Not that Edsall isn't a good coach -- he'll win at Maryland and make the Terps a contender in the Atlantic Division. The hire didn't exactly make the splash Maryland fans were hoping for, though, and Edsall only brought two of the assistants from Connecticut with him who helped him get to a BCS bowl. The latest move -- defensive coordinator Don Brown to Edsall's old stomping grounds, Connecticut -- was a lateral move at best. Brown said it was to be closer to his family, but the timing of it was indeed "
peculiar
," as one local high school coach called it.
The Terps have hired Clemson's former running backs coach, Andre Powell,
to coach the same position
, but the defensive coordinator job is still up for grabs. Bruce Feldman wrote that a source told him former Miami coach Randy Shannon
will interview
for the job this week. Shannon and Powell would both be good additions to the staff, but Brown's departure will take some time to adjust to, as the players will now have to adapt to a new system, philosophy, terminology and coach.
The question is whether all of these moves will actually make Maryland
better
than its 9-4 season in 2010. That's a tall task in College Park. It has to be significantly better in order to justify firing the ACC's coach of the year, and Maryland doesn't appear ready to take that kind of leap in 2011. With the recent top-10 recruiting classes they just lured in, Florida State and Clemson should be the teams to beat in the Atlantic Division in the near future.
January, 3, 2011
1/03/11
2:00
PM ET
Clemson's offense was less than impressive this year, but there was enough talent on the roster to make it better than that -- even without injured running back
Andre Ellington
. One ACC assistant coach who played against the Tigers this year told me as much. Yes, the Tigers missed their playmakers of 2009, but Clemson recruits well enough that a losing season was avoidable.
You never like to see coaches get fired -- some of us tend to forget they've got families, too -- but at the end of the day it's a business, and Clemson's offense wasn't generating any profit. At some point, somebody has to be held accountable, and coach Dabo Swinney did what he had to do to make sure it wasn't him -- this year.
Swinney fired offensive coordinator Billy Napier and running backs coach Andre Powell, but the margin for error in the hire of a new coordinator will be slim. Swinney needs a veteran he can hand the offense over to; one who shares the same philosophies, one who can have immediate success. But if the Tigers suffer another losing season, the next person most likely to be held accountable in this business model will be Swinney.
January, 2, 2011
1/02/11
7:54
PM ET
Clemson offensive coordinator Billy Napier and running backs coach Andre Powell will not return next year, the school announced on Sunday. Napier served as Clemson's offensive coordinator and quarterbacks coach, while Powell served as running backs coach and special teams coordinator.

"I appreciate the hard work and dedication coach Napier and coach Powell put forth for this program," Swinney said in a prepared statement. "They have had a positive impact on the lives of many young men in the Clemson program and I will do whatever I can to help both of them as they advance in their respective careers. They have always represented this program well.

"This was a difficult decision, one that was not made hastily. But, we must make significant improvement on the offensive side of the ball. I have to do what I believe is best for the program going forward, and make sure we don't experience another season like the one we just had."

Napier released the following statement:

"It is unfortunate that my time at Clemson has come to an end under these circumstances. I want to thank Coach Tommy Bowden and Coach Dabo Swinney for the opportunity they gave me to work at Clemson. I was blessed and am thankful for the interaction I had with so many great people.

"Clemson University is truly a special place. My wife Ali and I are thankful for our time here. I wish the current coaching staff, the support staff, the athletic administration and most of all the Clemson players the best of luck in the future."
March, 23, 2010
3/23/10
11:00
AM ET
Clemson coach Dabo Swinney can rattle off last year's accomplishments and statistics seemingly without taking a breath, as effortlessly as an auctioneer.
Among those at the top of his list are the facts that Clemson finished the season ranked, won the Atlantic Division for the first time with the school's best ACC record since 1991 (6-2), and won a bowl game for the first time since 2005.
It was an impressive season considering the doubt that engulfed the program and the staff at this time a year ago. A young head coach, an even younger offensive coordinator, a new staff and new quarterback had many questioning the direction the program was heading. Now, with the graduation of
C.J. Spiller
and
Jacoby Ford
, who completed their college careers with more all-purpose yardage than any other duo in college football history, the question is whether or not the staff can maintain the standard it set in Year 1.
"If anything, we've just wetted our appetite here," offensive coordinator Billy Napier said. "We've smelled the roses to some degree. There's no complacency here. There's no loss of an edge – maybe a little less anxious – but at the same time what we did is we've positioned ourselves to where we saw what it was about. If anything we're more driven and more excited and more waking up each day looking for those opportunities to compete and get better.
"We're the same people we were last year, we just have a year under our belts now and we can go to work and do our jobs," he said. "Now the question marks are more about our personnel than about us."
With their first full recruiting class behind them and the task of replacing 10 starters ahead of them – including their leading rusher, receiver and tackler - the 2010 season is a chance for Swinney and his staff to put their stamp on the program. The Tigers are looking for new playmakers, the go-to receiver and a tight end to replace
Michael Palmer
, who set school records for receptions and reception yards by a tight end.
"There are questions, but I think we have more answers than we did last year," Swinney said. "… I'd say that we accomplished a lot of our goals, but people don't want to look at where you came from. We all get greedy. Unless you win the championship, nobody's happy. You don't finish the way you want. But at the end of the day, as I evaluate where we are and where we're going, we did a good job. Hopefully we can take what we've built and that foundation and get better this year."
Is there anything left for this staff to prove? After all, they did take the Tigers to a place their predecessor, Tommy Bowden, was unable to – the ACC title game.
"Until we play in the last game of the season," said running backs coach Andre Powell, "there's always something to prove. And then after you do that, you have to prove you can do it again."
March, 23, 2010
3/23/10
9:00
AM ET
At least on paper, one player might not be enough to replace the production of former Clemson running back
C.J. Spiller
whose conference-best 7,588 career all-purpose yards are all gone.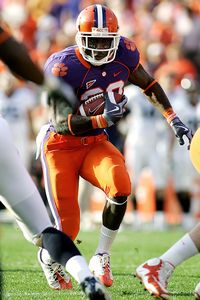 Brian Schneider-US PRESSWIREIt won't be easy for Clemson to replace C.J. Spiller.
Clemson running backs coach Andre Powell has faced a challenge like this before. When he was an assistant at Virginia in 1996, Powell had to find a way to fill the void left by Tiki Barber, another all-purpose record setter who ended his career as the school's all-time leading rusher.
There's only one big difference.
"Tiki Barber was a special guy," Powell said. "But he wasn't C.J."
As Clemson practices this spring, it does so in search of a new playmaker, somebody who can not only lead the running game, but also contribute on special teams. Last year, Spiller accounted for an ACC-record 191.4 yards per game and scored a touchdown in every game. Over his four-year career, he racked up more than 3,000 yards rushing, 2,000 yards in kickoff returns, 1,000 yards receiving and 500 yards in punt returns.
"The unique thing about our situation," coach Dabo Swinney said, "is C.J. was like three players. It's not like replacing just one guy. We're replacing three guys, because he was such a good receiver, a good rusher and also an excellent returner."
As it turned out at Virginia, Powell had another record-setting running back named Thomas Jones waiting in the wings. At Clemson, the Tigers will turn to
Andre Ellington
and
Jamie Harper
, two very talented backs who actually combined for a higher yards per carry average than Spiller did. Because Spiller was used in so many different ways, it allowed for his backups to gain substantial experience. Ellington was the team's second leading rusher with 491 yards, and had a whopping team-high 7.2 yards per carry. Harper, who is the better receiver of the two, had 418 yards and 5.2 yards per carry.
"Hopefully those two guys can pick up the slack of one C.J.," Swinney said. "And then we'll have to figure out the return game. … At the running back position, between Ellington and Harper and the other guys, I think we're going to be really, really good. I'm not as freaked out about that as I am who's going to be the returners?"
A bigger question remains, though: If Clemson couldn't win the ACC title with Spiller, how are the Tigers going to win it without him?
"I'm kind of glad people are doubting us right now," Ellington said. "It will just give them something to see once we're out there, to show them that Clemson is still Clemson without C.J. He did what he did -- a lot for the program -- and we thank him for that, but we still have more ball players here."
And the staff has plenty of confidence in them.
Powell said Ellington could be the most disciplined runner he's ever been around as far as keeping his eyes on his keys, and reacting to defenses. Ellington also has an uncanny knack for "getting in the smallest cracks." Harper has good speed for a player who's around 230 pounds, and is probably faster than Ellington. Powell said Harper is one of the smartest players he's been around in terms of understanding the game. Both, Powell said, are as "tough as nails."
"They'll be the toughest backs Clemson has had in a long time," Powell said.
Powell said he'll likely use them the same way the staff did Spiller and
James Davis
-- both will be specialized in certain areas, but comfortable with the entire game plan. Both will contribute on special teams, but that could be where Spiller is missed most.
"Some of the runs that C.J. made on special teams, he was untouched, which gives a lot of credit to those guys up front for blocking," Powell said. "But at some point he had to outrun someone, and I'm not sure either one of the guys we have now will be able to outrun as many guys as C.J. did going down the stretch, but they'll both be able to help us on special teams."
When asked how the staff will go about replacing Spiller this spring, offensive coordinator Billy Napier said, "I don't think you do."
"C.J. is one of those guys who's few and far between," Napier said. "He's a guy who, 25-30 years from now, we'll still be talking about. I do think we have some young, talented kids who are very capable and up to the challenge. Just like any year, it's a process to get those guys ready to go play. … They're going to get their chance, and that's what they were recruited here to do."
Ellington said that Spiller taught him how to manage his grades, and how to behave off field, as well as how to be a tough running back on it, and make the defenses miss. He's still working on his blocking techniques and learning different defenses and blitz schemes. Spiller took the attention of the defenses last year, but now Ellington and Harper will be the focus.
"I think it's a big responsibility I have to take on," Ellington said. "I'm going to be prepared for it as much as I can."
And he can't be the only one.
"As far as having just one guy replace C.J. Spiller," Swinney said, "I don't think that's possible."