July, 24, 2014
Jul 24
4:00
PM ET
Let's begin with a little either-or exercise.
Below are the basic stats for two defensive backs — tackles, tackles for loss, interceptions and passes defended. If forced to choose Player A or Player B for your team, which one would you want?
Player A:
121 tackles, 9.5 TFL, 4 INTs, 8 PD
Player B:
49 tackles, 2.0 TFL, 1 INT, 2 PD
Look over the numbers for a minute or 10, but really, it should't take that long. It's pretty clear that by any of our regularly deployed metrics, Player A is a clear frontrunner, right?
But here's where it gets a little tricky. Player A is Duke safety
Jeremy Cash
, and those gaudy numbers from 2013
earned him a spot on the media's preseason All-ACC team
.
[+] Enlarge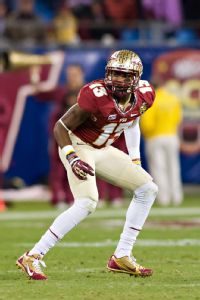 Jeremy Brevard/USA TODAY SportsFlorida State's Jalen Ramsey isn't on the preseason All-ACC team. Was it an oversight?
The funny thing, however, is after that happened, a whole host of fans and media erupted in confusion because of the clear oversight that Player B, who happens to be Florida State's
Jalen Ramsey
, was left off the squad.
So how is it that in the eyes of many experts, Cash seems not just the wrong choice compared to Ramsey, but a ludicrous one?
I'll admit, I was one of the many offering confusion that Ramsey could miss out on first-team All-ACC status, and my basic rationale was two-fold. On one hand, Ramsey passes the eye test. He looks like a great player, was a five-star recruit and coaches and scouts gushed about his quick grasp of Florida State's defense. He was a true freshman last season and started every game, playing both safety and corner. Secondly, Duke's defense, which did post some gaudy stats when it comes to tackles and takeaways, was also pretty darned bad. Florida State's secondary allowed 90 fewer yards per game and 11 fewer passing touchdowns than Duke. So shouldn't the Seminoles' defensive backs earn the rewards?
It's an argument that makes sense, too, which only goes to underscore how limited our typical metrics for evaluating defensive backs are.
Cash has more tackles, more interceptions, more passes defended. Ramsey was a key figure in a secondary that was perhaps the best in the country. But maybe Cash benefited from opposing QBs attacking him more often because they weren't concerned he'd beat them. Or maybe Ramsey benefited from having so many elite players around him. For every argument, there's a perfectly reasonable counterargument.
Of course, we also don't have to live with just those basic metrics, either. We wanted to dig a little deeper.
Stats LLC uses a stat called "burn rate" to track defensive backs. It looks at the number of times they were targeted and how many of those passes were completed. This should be a far better way of isolating a single DB, right?
So, using those numbers, how does our theory about Cash being a more ripe target for opposing QBs hold up? Actually, not too well. According to Stats LLC, Cash was targeted 41 times last season, 32nd-most in the ACC. Ramsey was targeted a tick less — 35 times, 47th-most in the ACC. So yes, it does speak highly of Ramsey that a true freshman was targeted, on average, just 2.5 times per game, but the numbers also don't entirely serve the simple narrative that Cash's counting stats (tackles, INTs, etc.) benefited from more opportunities.
But if Cash wasn't targeted significantly more often, surely he didn't snuff out those targets quite as well as Ramsey. Again, the numbers don't make the case quite so clear.
Cash's burn rate (43.9 percent) ranked 22nd in the ACC and was better than Ramsey's (45.7 percent, 27th in ACC). Cash picked off four passes, the 10th-best rate in the ACC, to Ramsey's one. Cash defended 19.5 percent of passes, good for 25th in the conference and better than Ramsey's rate of 5.7 percent (good for 85th). The one area where Ramsey stood out was that, when he was burned, it was rarely for a lot of yards. His 9.7 yards per completion ranked eighth-best in the ACC and his 4.4 yards per attempt was seventh. And, after all, limiting the big plays is the primary job of a safety. Cash allowed 15.2 yards per completion (53rd in ACC) and 6.7 yards per attempt (32nd).
Those last two numbers probably sum the argument up the best. When Cash was good, he was exceptionally good. He made a lot of tackles because his teammates didn't. He made big plays when he had the chance, but he gave up quite a few, too. Ramsey wasn't nearly as flashy and clearly had better teammates around him (
Terrence Brooks
, FSU's other starting safety last season, had the lowest yards-per-completion rate in the ACC) and wasn't tested in the running game nearly as often. He didn't post dynamic numbers because he didn't have to.
So where has all this gotten us?
I'd argue that the numbers prove Cash certainly wasn't a bad choice for first-team All-ACC honors. His play in 2013 and the assumption he'll be better in 2014 more than qualifies him for the honor.
But I'd also argue that Ramsey's vote total (just 13 votes, nine at safety and four at corner, where FSU had him listed on the ballot) was far shy of any of the winners and appallingly low considering his talent.
But hey, a little friendly debate is really the best part of these preseason lists because, regardless of what the numbers say today, odds are they'll all look a lot different by season's end.
And since we tracked down the numbers, here's a quick look at the best burn rates, defended pass rates, and YPC, per Stats LLC, among returning ACC defenders (min. 25 targets).
BURN RATE
1.
Ronald Darby
(Florida State), 33.3%
2.
Maurice Canady
(Virginia), 36.2%
3.
Breon Borders
(Duke), 37.5%
4.
Ant Harris
(Virginia), 37.8%
5. Justin Simmons (BC), 38.1%
PASS DEFENDED RATE
1. Borders (Duke), 37.5%
2. Harris (Virginia), 31.1%
3.
Brandon Facyson
(Virginia Tech), 27.7%
4.
Hakim Jones
(NC State), 27.0%
5. Ray Vinopal (Pitt), 25.7%
YARDS PER COMPLETION
1.
Quayshawn Nealy
(Georgia Tech), 9.3
2.
Cameron Lynch
(Syracuse), 9.6
T3.
Denzel Perryman
(Miami), 9.7
T3. Ramsey (Florida State), 9.7*
5.
Brandon Chubb
(Wake Forest), 9.8
*Note: Ramsey is the best among returning defensive backs. Nealy, Lynch and Perryman are linebackers. The next best returning DBs were Boston College's
Justin Simmons
(10.3), Duke's
Bryon Fields
(11.7) and Miami's
Deon Bush
(11.8).
July, 14, 2014
Jul 14
12:00
PM ET
The Roanoke Times is counting down to ACC Kickoff by digging deeper into some of Virginia Tech's impact players, and
today's installment
features a look at receiver
Josh Stanford
.
Here's the basics:
"It didn't seem like Stanford was anything too special for the first half of last year. He was inconsistent, had bouts of drops (like all the receivers), making an occasional solid grab but never really taking command of a game. Then the Boston College game went to the second half. From there to the rest of the season, Stanford shined."
I don't know that "shined" is really the right word. Stanford had an incredible second half against BC, though Virginia Tech still lost that game. He had a big day the next week -- 7 catches, 107 yards and a TD — against a reeling Miami team in a win that salvaged some of Tech's season. After that though?
Against Maryland: 2 catches, 29 yards
Against UVA: 1 catch, 15 yards
Against UCLA: 3 catches, 34 yards
Indeed, his final three games accounted for the lowest amount of production during a three-game stretch Stanford had all year.
The BC and Miami games confirmed Stanford's potential, but they didn't exactly mark a turning of the tide. This is the problem for the Hokies' offense (and really, it has been for two years): There is talent in the receiving corps, but consistency has been non-existent.
Here's a look at the top returning receivers in the conference this year, based on 2013 yards:
1.
Jamison Crowder
(Duke), 1,360
2.
Tyler Boyd
(Pitt), 1,174
3.
Rashad Greene
(FSU), 1,128
4.
DeVante Parker
(Lou), 885
5.
Quinshad Davis
(UNC), 730
6.
Willie Byrn
(VT), 660
7.
Demitri Knowles
(VT), 641
8. Stanford (VT), 640
Of the top eight returning receivers, three play at Virginia Tech. That should be a real sign of encouragement for a passing game dealing with transition at the QB spot, but it's also worth pointing out that Byrn, Knowles and Stanford caught just 56 percent of their total targets last year. Overall, Virginia Tech finished ninth in the ACC in passing last year and 10th in completion percentage, despite what seems like a deep receiving corps.
Some of that can probably be blamed on the erratic aim of Logan Thomas, but the history of drops and bad routes among the Hokies' receivers is already well documented.
Byrn had his moments, including 100-yard games against UNC and Miami. He was also shut out against Alabama, had just 15 yards against Marshall and 26 in a loss to Duke.
Knowles had 99 yards against ECU and 101 against UVA. He was also limited to just two catches in six different games.
And yes, Stanford showed his potential against BC and Miami. He's only a redshirt sophomore, so the inconsistency the rest of the season was to be expected. But Virginia Tech is already well aware of potential. What the Hokies need from receivers now are consistently strong results.
More links:
May, 16, 2014
May 16
9:00
AM ET
Last weekend's
NFL draft
in which 42 ACC players were selected was a reminder of how much talent was departing the conference. But just as
Sammy Watkins
,
Aaron Donald
and
Kyle Fuller
say goodbye, the focus turns to the players who'll step into the spotlight in 2014.
With that in mind, here's a quick look at the top returning players in the ACC this upcoming season, based on their stats from 2013. (Last year's ACC ranking in parentheses.)
[+] Enlarge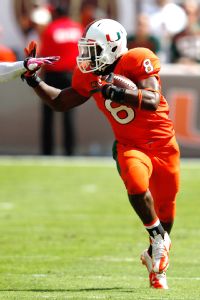 Robert Mayer/USA TODAY SportsMiami tailback Duke Johnson rushed for 920 yards in 2013, despite missing five games due to injury.
PASSING YARDS
1.
Jameis Winston
, FSU - 4,057 (1st)
2.
Anthony Boone
, Duke - 2,260 (6th)
3.
David Watford
, Virginia - 2,202 (9th)
Of note:
The turnover at the quarterback position has already gotten its share of press, but it's almost impossible to overstate how green the QBs across the ACC will be in 2014. Of the 23 players who passed for at least 250 yards in 2013, only seven will be back in 2014. Watford, the third-leading returning QB, isn't projected to start at Virginia, and
Marquise Williams
, who ranks fourth among returners, is locked in a battle for the starting job at North Carolina, too. Next up among definitive starters is Syracuse's
Terrel Hunt
, who finished 14th in the league in passing last season.
RUSHING YARDS
1.
Kevin Parks
, Virginia - 1,031 (2nd)
2.
Duke Johnson
, Miami - 920 (5th)
3.
James Conner
, Pitt - 799 (8th)
4.
Isaac Bennett
, Pitt - 797 (9th)
5.
Shad Thornton
, NC State - 768 (11th)
Of note:
Louisville's
Dominique Brown
would actually rank third on this list after racking up 825 rushing yards last season, good for fourth in the AAC. Including Brown, the ACC returns 11 running backs this year who accounted for at least 500 yards on the ground in 2013, though Miami's
Dallas Crawford
(558 yards) is currently working with the Hurricanes' secondary. Parks returns after a 1,000-yard season. The last running backs to return following a 1,000-yard effort in the ACC were Gio Bernard and Andre Ellington in 2012. Both topped 1,000 again in their follow-up campaigns.
RECEIVING YARDS
1.
Jamison Crowder
, Duke - 1,360 (2nd)
2.
Tyler Boyd
, Pitt - 1,174 (3rd)
3.
Rashad Greene
, FSU - 1,128 (5th)
4.
Quinshad Davis
, UNC - 730 (13th)
5.
Willie Byrn
, Virginia Tech - 660 (14th)
Of note:
Louisville's
DeVante Parker
would rank fourth on this list. He had 885 yards last season, good for seventh in the AAC. Crowder is in position to reach 1,000 receiving yards for the third straight season and is 1,153 yards shy of breaking former teammate Conner Vernon's ACC record. The Hokies have three of the top seven returning receivers in terms of yards.
TACKLES PER GAME
1.
David Helton
, Duke - 9.5 (1st)
2.
Jeremy Cash
, Duke - 8.6 (3rd)
3.
Denzel Perryman
, Miami - 8.3 (5th)
4.
Kelby Brown
, Duke - 8.1 (7th)
5.
Ryan Janvion
, Wake Forest - 7.9 (8th)
[+] Enlarge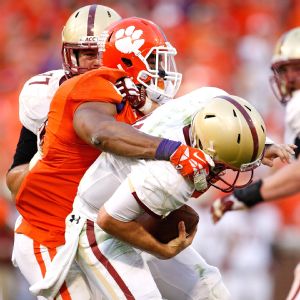 Tyler Smith/Getty ImagesClemson's Vic Beasley has 21 sacks in his career.
Of note:
Duke's front four took a big hit with the loss of three senior starters, but the back seven should be one of the most experienced and productive in the conference. Of the 25 ACC players with at least 50 solo tackles last season, 12 return this season.
INTERCEPTIONS
1.
Ant Harris
, Virginia - 8 (1st)
2.
Kendall Fuller
, Virginia Tech - 6 (2nd)
3.
Brandon Facyson
, Virginia Tech - 5 (3rd)
Of note:
Eleven ACC players had at least four interceptions last season, and a whopping nine of them return in 2014, including sophomores Facyson and Fuller at Virginia Tech. Add to that list two more returners from Louisville in
Charles Gaines
(5 picks) and
Terell Floyd
(4 picks), and the young QBs in the ACC in 2014 are going to have a lot to worry about.
SACKS
1.
Vic Beasley
, Clemson - 13 (1st)
2.
Eli Harold
, Virginia - 8.5 (9th)
2.
Norkeithus Otis
, UNC - 8.5 (9th)
4.
Luther Maddy
, Virginia Tech - 6.5 (12th)
5. Adam Gostis, Georgia Tech - 5.5 (16th)
Of note:
Louisville's
Lorenzo Mauldin
(9.5 sacks) would be second on this list. And here's a number that should have a lot of Clemson fans excited: Of the 32 players who finished with at least 10 tackles for loss last season, just 13 will be back in the ACC in 2014. Of those 13 returners, five play for the Tigers.