December, 27, 2010
12/27/10
8:00
AM ET
By
ESPN.com staff
| ESPN.com
For those of you who were still celebrating with family Sunday, here's a quick recap of the weekend's news:
Georgia Tech senior DE Anthony Egbuniwe, junior DB Michael Peterson and freshman DB Louis Young will sit out the first half of Monday's AdvoCare V100 Independence Bowl against Air Force because they missed a team curfew. Egbuniwe started all 12 regular-season games. Young has been one of the top reserves in the secondary, and Peterson is a backup corner and a member of special teams.
Virginia Tech's arrival to South Florida for the Discover Orange Bowl has been delayed until 3:30 p.m. on Tuesday because of heavy snow to in eastern Virginia. The NC State Champs Sports Bowl pep rally, which was scheduled for 5:45 p.m. on Monday at Pointe Orlando, has been canceled. The Wolfpack band and cheerleaders had planned to leave from campus on Sunday morning, but because of snow in the area, students in both groups were unable to get back to Raleigh after spending Christmas at home. The band and cheerleaders are now scheduled to leave Raleigh this morning and will be in Orlando in plenty of time for game-day activities on Tuesday.
Florida State starting tight end Beau Reliford is academically ineligible to compete in the Chick-Fil-A Bowl and was not with the team in Atlanta. Junior left tackle Andrew Datko, whose shoulder injuries prevented him from practicing in Tallahassee, worked with the first team throughout Sunday's session in Atlanta. Quarterback Christian Ponder and offensive lineman Rodney Hudson have both accepted invitations to the Under Armour Senior Bowl. The game is Jan. 29 in Ladd-Peebles Stadium in Mobile, Ala., and will be televised live on NFL Network.
October, 21, 2010
10/21/10
1:00
PM ET
Georgia Tech B-back
Anthony Allen
has a new appreciation for what his predecessor, Jonathan Dwyer, had to endure as the Jackets' primary ball carrier. This year, Allen is getting the ball in the trenches, as opposed to last year, when he was able to make defenders miss on the perimeter.
"I knew all the hits he was taking and everything like that, but I definitely have a new respect for the role on the team because, man, I was getting body-slammed," Allen said with a laugh. "I'm like, 'Man, I don't even have the ball!'"
It's been a learning curve for a lot of players on Georgia Tech's roster this year, as the Jackets had to replace their leading receiver, leading rusher and top defender, who were all selected in the NFL draft. The defense has also had to adjust to an entirely new scheme under first-year coordinator Al Groh. The result has been some mistake-laden football that got the Jackets off to a rocky start but is coming together just in time to make a push at a second straight ACC title.
[+] Enlarge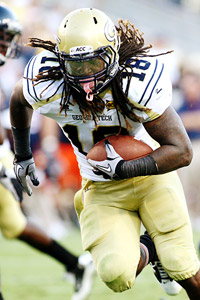 Marvin Gentry/US PresswireAnthony Allen says the Jackets are back to playing "Georgia Tech football."
"It's a thing where we had to get back in that groove of playing Georgia Tech football," said Allen. "I don't think those first couple of weeks we were doing that. Unfortunately it took a few wake-up calls, but now we're playing Georgia Tech football."
And what, exactly, might that be?
"Smashmouth, running that ball at you type football," he said. "You know what's coming at you and we're daring you to stop it. That type of football."
That type of football works. The bad news for Clemson is that Georgia Tech has won five straight ACC road games, and has not lost on the road against an ACC Atlantic Division team since 2007.
Georgia Tech is a good team, there's no question about it. But is it good enough to defend its conference title? The Jackets have won, but it hasn't always been pretty. They've made mental mistakes, fumbled the ball and have been average, at best, defensively. Still, Georgia Tech has as good a chance as any team to win its division again.
"Well, I think you always want to play better," said coach Paul Johnson, who is 3-0 against Clemson. "I think anytime you win, you should be pleased, because it's hard to win. We've got an expectation level that we try to meet. Just because you win sometimes doesn't always mean you met that expectation level. We're never going to be happy when we fumble the ball or when we do things that get you beat, even when we win the game.
"As I said earlier, there's a lot to work on. But the positive thing is we've played ourselves a little past halfway through the season and we're still in position to control our own destiny. Are we good enough to do that? We'll find out. But at least we're there with a shot.
That's because they've started to play with a greater sense of urgency since losing at Kansas, 28-25, on Sept. 11, and losing at home to NC State, 45-28, two weeks later.
In Georgia Tech's current three-game winning streak, the Jackets have averaged 430 yards of total offense, including 338.3 yards per game rushing. The defense has allowed just 18.3 points and 320.0 yards per game.
"It's all about accountability on the team right now," said linebacker Anthony Egbuniwe. "Everybody knows that there's a winner and a loser on every play and you don't want to be the loser, so play your butt off and do your assignment."
The problem -- at least early on -- was missed assignments. It played a large role in the otherwise inexplicable loss to Kansas, but Georgia Tech has since cut down on those mistakes. Some fumbles have occurred at the mesh point between Allen and quarterback
Joshua Nesbitt
, but Allen said it has started to "clean up now a little bit."
While Johnson once questioned the effort of his team, he said there's no reason to do that heading into Saturday's game at Death Valley.
"I don't think it's so much physical effort as just getting ready to play and mentally being into it," he said. "Take nothing away from Kansas, they played well that day. I don't want to do that.
"I felt like we just rolled in there and showed up and felt like if we rolled our helmets out, they were going to bow down and we couldn't lose the game. We found out otherwise. It's as much a mental game as it is physical. That's the situation.
"I can't imagine that would even be a thought going into this game with the history and tradition, rivalry, how close the games have been. I think both teams will be ready to play. I'm sure they will."
August, 11, 2010
8/11/10
9:00
AM ET
By
ESPN.com staff
| ESPN.com
The first thing Georgia Tech defensive coordinator Al Groh told his players was the three things he expects them to be able to do as hybrid linebackers/defensive ends:
1. Rush the passer.
2. Destroy tight ends.
3. Be able to move in space.
For Anthony Egbuniwe, a former defensive end who is now at outside linebacker and experimenting with the combination of the two positions in Groh's 3-4 defense, it's a welcome challenge.
[+] Enlarge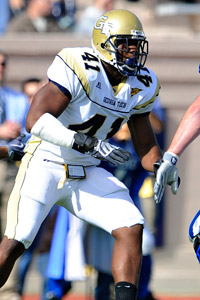 Sean Meyers/Icon SMIAnthony Egbuniwe is excited about the changes in Georgia Tech's defense.
"I love it," said Egbuniwe (pronounced E-boon-a-way).
As Georgia Tech transitions to the 3-4 scheme, players like Egbuniwe are finding new homes and learning new responsibilities. Not only do these athletes need speed to come off the edge, but they also have to be able to drop back into coverages. It's a growing trend in college football, and one that Groh has mastered during his 40-plus years on the sidelines. Groh says calling it a hybrid end position, though, doesn't do the athleticism needed to play it any justice.
"They're athletic players whose body type isn't quite what it's going to take to play defensive line in the NFL," Groh said. "They're 6-3ish, 250-plus players. But they do have to be players who have the physical strength to destroy blocks at the line of scrimmage, the burst off the edge to rush the passer and the athletic ability to function in space.
"These are the fun guys," he said. "These are the guys who make it work. It takes a lot of athletic ability to play the position."
Egbuniwe said he wants to show the coaches, the ACC and "the world that I am the guy for that position."
"The advantages are that you're able to show more of your athleticism," Egbuniwe said. "You're able to handle tight ends in coverage, you're able to even cover slot receivers. As a defensive end, you don't get to do that. You just get to rush the passer. That in itself is very fun, don't get me wrong, but you get to show a lot more of what you can do by moving in coverage and also rushing the passer."
There's more responsibility with the hybrid position, but Egbuniwe also said there's a lot more freedom.
"You're able to just go sometimes," he said. "That's the good thing about it."
This is the season to turn Egbuniwe loose. The former Tulsa transfer sat out the 2007 season because of NCAA transfer rules, and then dealt with nagging injuries in 2008. Last year he moved into the starting lineup in mid-September at the end position opposite Derrick Morgan. The best game of his career came at Mississippi State, when he had four solo tackles, a sack, two forced fumbles, two fumble recoveries and one pass breakup.
To help him make more game-changing plays, Egbuniwe has been watching a lot of NFL film, and has found a role model in Steelers' linebacker James Harrison.
"He is the epitome of that position," Egbuniwe said. "He does everything my coach asks us to do. He rushes the passer great, he destroys blocks like no other and he's great in space."
Coach Paul Johnson said he didn't hire the 3-4 system, he hired Groh.
"It didn't have to be a 3-4, it just happened to be his system," Johnson said. "Any time you can get a coach like that, with that much experience and success, it's great for our program."
May, 7, 2010
5/07/10
9:30
AM ET
By
ESPN.com staff
| ESPN.com
GEORGIA TECH

2009 overall record
: 11-3
2009 conference record:
7-1, ACC champions
Returning starters
Offense: 7, defense 8: punter/kicker: 2
Top returners
QB
Josh Nesbitt
, RB
Anthony Allen
, RB
Roddy Jones
, C Sean Bedford, WR
Tyler Melton
, WR
Stephen Hill
, LB Brad Jefferson, CB Mario Butler, S Dominique Reese, PK Scott Blair
Key losses
WR Demaryius Thomas, RB Jonathan Dwyer, OG Cord Howard, DE Derrick Morgan, LB Sedric Griffin, S Morgan Burnett
2009 statistical leaders (* returners)
Rushing:
Dwyer (1,395 yards)
Passing:
Nesbitt* (1,701 yards)
Receiving:
Thomas (1,154 yards)
Tackles
: Jefferson* (95)
Sacks:
Morgan (12.5)
Interceptions:
Burnett (4)
Spring answers
1. Who's No. 2.
Tevin Washington
earned the No. 2 quarterback job behind Josh Nesbitt, who was out this spring recovering from minor ankle surgery. Washington ran for three touchdowns and threw for another in the Jackets' spring game. He made the most of
Jaybo Shaw
's transfer to Georgia Southern and beat
David Sims
and
Jordan Luallen
for the job.
2. Receiver by committee
. Yes, Stephen Hill has the chance to be the program's next elite receiver, but there were signs the passing game will have some more help this fall. Look for the Jackets to make an effort to throw more to the A-backs, or slot backs, this year.
3. Finding homes on defense
. Georgia Tech won't solve all of its defensive problems in one spring, but the transition to Al Groh's 3-4 defense helped a few players who were in between positions find a spot. Anthony Egbuniwe, who was a defensive end last year, is now an outside linebacker. And Anthony Barnes, who was a nomad last year, seems to have found a home at the other outside linebacker spot. Jason Peters, who has bounced between defensive tackle and end, showed significant improvement at end this spring.
Fall questions
1. How much better can the defense be?
Overall, the transition under Groh remains a question. Specifically, the biggest concern on the line is the nose tackle position. T.J. Barnes played there in the spring, and Ben Anderson missed all of spring recovering from a knee injury he suffered late last season. When Anderson comes back in August, he'll compete with Barnes for that job. There were too many runs up the middle during the spring game to stop a team like Virginia Tech or Miami.
2. Nesbitt's health.
The ankle injury was minor -- he could have participated this spring had he wanted to -- but Nesbitt's health will be a concern this year. There is still a big difference between Nesbitt and Washington, and Nesbitt has to stay healthy if the Jackets are going to defend their ACC crown.
3. Unsettled offensive line.
There are a lot of new players working their way into the rotation, and competition will continue. Georgia Tech lost three starters, including the transfer of guard Joseph Gilbert. The second team was composed entirely of freshmen in the Jackets' spring game.
October, 24, 2009
10/24/09
11:36
AM ET
By
ESPN.com staff
| ESPN.com
Posted by ESPN.com's Heather Dinich
CHARLOTTESVILLE, Va. -- Maybe it's a sign of change, but former Georgia Tech coach Bobby Ross is in attendance today. Yes, the same Bobby Ross who won the national title in 1990, which also happens to be the last time Georgia Tech won here in Scott Stadium.
Will the streak stop today?
If Georgia Tech wins, they take the lead in the Coastal Division, and that's what's on the line here. Here's a scenario for you, though: If Virginia, Clemson and Duke win today, and Virginia Tech would somehow lose on Thursday night, Virginia and Duke would be playing for the Coastal lead next weekend. Unlikely, but possible.
Georgia Tech defensive end Anthony Egbuniwe is back in the lineup for the first time in two weeks after an undisclosed illness, and it's possible Rashaad Reid might start over Dominique Reese. There's no question Virginia quarterback
Jameel Sewell
will be starting as will
Mikell Simpson
. The only question in their lineup is how the defensive end position shakes out without Matt Conrath.
October, 23, 2009
10/23/09
9:00
AM ET
By
ESPN.com staff
| ESPN.com
Posted by ESPN.com's Heather Dinich

If you don't see it, that means I didn't get it:

CLEMSON

Out

Kantrell Brown, DB, Concussion

Scotty Cooper, LB, Concussion

DUKE

RB Re'quan Boyette (knee) -- OUT

LB Abraham Kromah (leg) -- OUT

WR Tyree Watkins (leg) -- OUT

RB Kyle Griswould (leg) -- OUT FOR SEASON

S Anthony Young-Wiseman (knee) -- OUT FOR SEASON

GEORGIA TECH

Out

Kevin Cone, r-Jr., WR (ankle)

Robert Hall, r-Jr., DE (knee)

Doubtful

Julian Burnett, Fr., LB (knee)

Questionable

Anthony Egbuniwe, Jr., DE (illness)

Cooper Taylor, So., S (undisclosed)

Out For Season

Kyle Jackson, r-So., LB (foot)

MARYLAND

Out for season:

Tyler Bowen (foot)

Nolan Carroll (leg)

Out:

Kerry Boykins (upper body)

Gary Douglas (upper body)

Bennett Fulper (upper body)

Demetrius Hartsfield (hand)

Da'Rel Scott (wrist)

Lansford Watson (lower body)

Questionable:

Lamar Young (upper body)

MIAMI

Probable

RB Graig Cooper – Lower Extremity

OL Joel Figueroa – Lower Extremity

DL Josh Holmes – Lower Extremity

RB Javarris James – Lower Extremity

RB Mike James – Lower Extremity

WR Aldarius Johnson – Upper Extremity

DL Eric Moncur – Lower Extremity

DB JoJo Nicolas – Upper Extremity

DB Randy Phillips – Upper Extremity

Out

FB Patrick Hill – Lower Extremity

Surgery and Out for the Season

DL Dyron Dye – Lower Extremity

DL Marcus Forston – Lower Extremity

LB Jordan Futch – Lower Extremity

TE Richard Gordon – Upper Extremity

LB Shayon Green – Lower Extremity

DE Gavin Hardin – Upper Extremity

DB Ryan Hill – Upper Extremity

DE Adewale Ojomo – Jaw

VIRGINIA

Out

Matt Conrath (ankle)

Doubtful

none

Questionable

Oday Aboushi (knee)

Joe Torchia (shoulder)

Probable

Javaris Brown (ankle)

Cam Johnson (knee)

Corey Mosley (shoulder)

Mike Parker (knee)

LaRoy Reynolds (knee)

Jameel Sewell (ankle)

Brandon Woods (shoulder)
October, 16, 2009
10/16/09
9:00
AM ET
By
ESPN.com staff
| ESPN.com

Posted by ESPN.com's Heather Dinich
BOSTON COLLEGE
OUT FOR SEASON
LB Mark Herzlich (illness)
FOR NC STATE GAME
WR Ifeanyi Momah (knee) – OUT
TE Jordon McMichael (hip) – DOUBTFUL
LB Will Thompson (shoulder) – DOUBTFUL
FB James McCluskey (Achilles) – QUESTIONABLE
FS Okechukwu Okoroha (leg) – PROBABLE
DT Austin Giles (back) – PROBABLE
CB Roderick Rollins (Leg) – PROBABLE
DE Alex Albright (ankle) – PROBABLE
DT Damik Scafe (neck/shoulder) – PROBABLE
CLEMSON
I don't have an injury report, but I do have the following lineup changes:
After practice Thursday coach Dabo Swinney announced that Dalton Freeman would start at center. Scotty Cooper will miss the game while still recovering from a concussion suffered at Maryland. Daniel Andrews will move up to second-team strongside linebacker behind Kevin Alexander.
GEORGIA TECH
Out
Kevin Cone, r-Jr., WR (ankle)
Robert Hall, r-Jr., DE (knee)
Questionable
Anthony Egbuniwe, Jr., DE (illness)
Cooper Taylor, So., S (undisclosed)
Out For Season
Kyle Jackson, r-So., LB (foot)
MARYLAND
Out for season:
Tyler Bowen (foot)
Nolan Carroll (leg)
Out:
Travis Baltz (ankle)
Masengo Kabongo (leg)
Da'Rel Scott (wrist)
Questionable:
Bruce Campbell (leg)
Demetrius Hartsfield (hand)
MIAMI
Probable
RB Lee Chambers – Lower Extremity
RB Graig Cooper – Lower Extremity
Doubtful
OL Joel Figueroa – Lower Extremity
Out
FB Patrick Hill – Lower Extremity
DL Josh Holmes – Lower Extremity
WR Aldarius Johnson – Upper Extremity
DL Eric Moncur – Lower Extremity
DB JoJo Nicolas – Upper Extremity
DB Randy Phillips – Upper Extremity
Surgery and Out for the Season
DL Dyron Dye – Lower Extremity
DL Marcus Forston – Lower Extremity
LB Jordan Futch – Lower Extremity
TE Richard Gordon – Upper Extremity
LB Shayon Green – Lower Extremity
DE Gavin Hardin – Upper Extremity
DB Ryan Hill – Upper Extremity
DE Adewale Ojomo – Jaw
NC STATE
OUT FOR SEASON
Mario Carter, TE - knee
Ryan Cheek, LB - hip
Denzelle Good, OL - shoulder
Nate Irving, LB - leg
Colby Jackson, FB - knee
Everett Proctor, QB - shoulder
Javon Walker, S - knee
OUT
Jeff Rieskamp, DE – hip
Jesse Riley, DB - knee
VIRGINIA
Out
Javaris Brown (ankle)
Doubtful
Mikell Simpson (neck)
Questionable
none
Probable
Landon Bradley (knee)
BJ Cabbell (ankle)
Patch Duda (flu)
Mike Parker (knee)
Zane Parr (ankle)
Brandon Woods (foot)
VIRGINIA TECH
Out for Season
Darren Evans (ACL)
Probable
Marcus Davis (ankle)
Mark Muncey (knee)
Sergio Render (pec strain)
Eddie Whitley (ankle)
Ryan Williams (illness)
Out
Brandon Dillard (ankle)
October, 13, 2009
10/13/09
9:00
AM ET
By
ESPN.com staff
| ESPN.com

Posted by ESPN.com's Heather Dinich
Georgia Tech defensive coordinator Dave Wommack has tried just about everything. He's moved players around. He's switched from a 4-3 to a 3-4 scheme because he was running out of healthy defensive ends. Now, with the injury situation having limited his options, he's given his players one more task -- have fun.
| | |
| --- | --- |
| | |
| | AP Photo/Gregory Smith |
| | Safety Morgan Burnett knows the defense needs to pick things up. |
Georgia Tech safety Morgan Burnett said the message this week was not to become preoccupied with making mistakes or worrying about past errors made against Florida State. Instead, it was to let loose and have some fun on Saturday against the Hokies.
There's no question, though, that the Yellow Jackets' pride has taken a hit in the past two weeks. Despite winning both games, Georgia Tech allowed Florida State 539 yards of total offense and Mississippi State racked up 487. Both teams averaged 37.5 points against Georgia Tech, and with the way Virginia Tech's offense has been clicking lately, the better defense should win on Saturday in what could be a season-defining Coastal Division game.
"You take that real personal because football is a competitive sport, so no matter what you do, you want to be the best," Burnett said. "You want to be the best unit and you want to try to stop the offense. When a team puts up that many points, it's very frustrating, and it gets you really upset. But you can't get frustrated. We have to move on to Virginia Tech. We can't sit back and worry about what happened at Florida State. The only thing we can do is fix it and get better."
Georgia Tech's defense was the Jackets' lone question mark entering this year, as it lost three of four starting defensive linemen who are now in the NFL. With the exception of Burnett and defensive end Derrick Morgan, this defense lacks the superstar lineup it had a year ago, and injuries have compounded the problem.
Linebacker Kyle Jackson suffered a season-ending foot injury, and two defensive ends -- Anthony Egbuniwe and Robert Hall -- have both missed time. Hall could return from a knee injury in November, and Egbuniwe missed one game with an illness. Two star safeties -- Cooper Taylor and Dominique Reese -- have missed a combined four games. Taylor has missed the past three games with a heart problem, but began to practice lightly on Monday. Reese has a shoulder injury and missed one full game and played only a snap at MSU. Combined, those players have missed 13 games.
"You hate to sit there and say that because it sounds like you're making excuses," Wommack said, "but I think that's it as much as anything, I really do."
It's caused a lack of continuity, and the Jackets have gotten away from the experienced reps they had during spring and two-a-days. Wommack said he doesn't expect to get anyone healthy this week. Instead, he's had to move a corner who's never played safety to free safety in Rashaad Reid, and that's part of the reason he's been tweaking his defensive philosophy midseason, which is usually unheard of.
"It's the worst thing you can do, to keep changing this and that," Wommack said. "We've got new players playing different positions and so forth, but it's somewhat been out of necessity, too."
Georgia Tech is ranked 108th in the nation in pass efficiency defense. Its rushing defense is allowing 135.5 yards per game. The number that counts, though, is how many points they're allowing, and that's 26.5 points per game. None of those statistics match up well against the No. 4 ranked Hokies, who are scoring 34 points per game, and rushing for 208.5 yards per game. Virginia Tech is ranked among the top 20 in the country in both categories.
"You just fight through it, that's what you've gotta do," Wommack said. "You try to point out the mistakes to the kids when you review the film and why, where the breakdowns were, and all of a sudden you start getting better. It doesn't happen overnight. It really doesn't happen overnight."
It's got to happen by Saturday, though, or the Jackets will be behind the Hokies in the Coastal Division standings -- again.
March, 23, 2009
3/23/09
10:00
AM ET
By
ESPN.com staff
| ESPN.com
Posted by ESPN.com's Heather Dinich

At 6-foot-7, 325 pounds, and from the football-rich state of Alabama, massive Georgia Tech redshirt freshman T.J. Barnes wowed a lot of college coaches during his recruiting process as a potential offensive tackle or guard -- two positions he had absolutely no interest in playing anymore. Alabama and Louisville were among his suitors, as was Auburn, where his father, Terry Jones, was a defensive lineman and his cousins, Fred Baxter and Randy Hart both played.
"All my offers were for offense," Barnes said. "Nobody really believed I could play defense except for Auburn and Georgia Tech."
Georgia Tech had no doubt he'd have a future as a defensive tackle.
"That's all I wanted to do," Barnes said, "play defense."
That and make a name for himself somewhere other than Auburn, where expectations to continue the family legacy would be high.
This spring, Barnes will get his chance to do both.
Georgia Tech only lost six starters from last year's nine-win team that tied with Virginia Tech for the Coastal Division title, but three of them were on the defensive line and had combined for 87 career starts. That leaves the door wide open for Barnes -- and several other young players -- to win starting jobs this spring and summer. The unit lacks both depth and experience, and is easily the Yellow Jackets' biggest question mark heading into the fall, as junior defensive end Derrick Morgan is the only player returning with any starting experience.
"Coach (Giff) Smith instills in us we have to be the best group on the team," said Morgan, who cracked the starting lineup as a true freshman in 2007. "That's what we strive for. I know we're losing four seniors, but we're not looking at it as a lack of talent. We have talent. We don't want to lower our expectations coming into next year just because we're losing four seniors. We're setting the bar high."
Morgan has set the standard high for himself. He was second on the team and eighth in the ACC with seven sacks last year. He had 9.5 tackles for loss and was tied for second nationally in fumble recoveries with four. He led all of Tech's linemen with 51 tackles, but soaked up his teammates' knowledge on a daily basis.
Former starters Vance Walker, Michael Johnson and Darryl Richard often shared different pass rush techniques and how to see blocks. Morgan said he's still learning from the trio as they audition for NFL scouts, and give him advice on going through the NFL combine and handling his post-collegiate career. They've also added to the growing list of voices telling him he has to be a leader this season.
"I'll probably have a bigger leadership role amongst my teammates," said Morgan, a junior who recently turned 20 years old. "I'm ready for that. A couple of coaches have said I have to step up and become one of the leaders of our team, and I have no problem doing that."
He'll be anchoring a group that includes defensive end Robert Hall and defensive tackle Ben Anderson, both who played significant snaps last year. Defensive end Jason Peters returns, along with defensive end Anthony Egbuniwe, who played sparingly last season after transferring from Tulsa. Defensive end Emmanuel Dieke (D-A-K) enrolled early and has impressed the staff, and defensive end Antonio Wilson is a redshirt freshman who didn't start playing football until his junior year in high school. There's no shortage of bodies at end, but experience and the interior line is another matter.
"Anytime you lose guys that have played as much football as they have, there's an adjustment," Smith said, "but I think we've done a good job of keeping talent coming in. Although it will be a little bit inexperienced, I think it's a great challenge. It's like I told them last year, all the eyes were on us for one reason, now all the eyes are on us again for a different reason. I think they're excited about the challenge and I think people will be surprised when they see the caliber of players we have at Georgia Tech."
Morgan said he's heard all off-season about what the Yellow Jackets don't have coming back on the defensive line.
"I kind of expected that," Morgan said. "We're just going to take that with a grain of salt, work hard, and use it as motivation, which is kind of an advantage. Teams are going to probably underestimate our d-line and not take as much time to game-plan for us like they did last year. We're going to have to go out there and prove ourselves, which is no problem for us."
Like Barnes, Morgan, too, has something to prove. He said he wants to silence come critics who don't think he can be as effective as he was last year without the veteran lineup beside him.
"God-willing that's what I'm aiming for, that's what I'm working for," he said of a breakout season. "I know there are going to be skeptics who say, well, can he do the same thing he did last year without the three veterans? I want to go out there and prove I can do everything I did last year and more."
There's no doubt the Yellow Jackets will need him to.
December, 22, 2008
12/22/08
1:30
PM ET
By
ESPN.com staff
| ESPN.com
Posted by ESPN.com's Heather Dinich
Georgia Tech's sports information office got creative and asked a few of the players where they were spending the holiday and what they hope to find under the tree. Some of them are funny, so I thought I'd share it:
Georgia Tech Wish List
Player
Where They're Going
Gift They Hope to Get
Roddy Jones
Birmingham, Ala.
Playstation 3
Nick Claytor
Toledo, Ohio
A car
A.J. Smith
Tampa, Fla.
A job
Cord Howard
Phenix City, Ala.
Hunting equipment
Josh Nesbitt
College Park, Ga.
Some new all-black clothes
Morgan Burnett
Wrightsville, Ga.
The complete Ninja Turtles set
Jonathan Dwyer
Maple Hill, N.C.
Boosters (Very large inner quad
muscles like Brad Jefferson has)
Anthony Egbuniwe
Greenville, S.C.
Some new 23-inch rims for my car
Brad Jefferson
Green County, Ga.
The Gladiator action figure and a Gameboy Color
Richard Watson
Tallahassee, Fla.
A real vacation
Kyle Jackson
McDonough, Ga.
A 32-gig iPod touch
Darryl Richard
Destrehan, La.
Sleep