June, 27, 2014
Jun 27
3:00
PM ET
Have a great weekend, everyone!

Dave in Baltimore writes:
OK, the division realignment discussion is getting old at this point -- how many years has it been going on? We've all got our ideas of what we want to see, but let's talk about something that is maybe a little more plausible. I love the idea of entire conference ACC-SEC matchups every year. We've already got four built in, so it is a perfect match. Being a Virginia Tech fan, I would love to see VT play Tennessee a lot more often. I think you have to keep the core four matchups, but I wouldn't force the others because not every pair of teams has a natural "rival." There are several good options for VT in Tennessee (proximity), Texas A&M (very similar schools and the best road trip I've been on) and Alabama (we have played them 13 times in the past). One problem I see is that VT has a lot of B1G teams on the future schedule through 2023 (OSU, Wisconsin, Michigan, Penn State, Purdue), many of which are also great games. I don't see them scheduling both SEC and B1G teams in the same year unless strength of schedule really becomes a factor. It stinks when you're looking forward to these games for a decade and then they get bought out and canceled. My OSU friends and I have been waiting 10 years for the OSU series!
Adelson writes:
Every fan has to live with the idea that a terrific matchup scheduled way down the road could end up getting canceled. But let's not go there. It is true every athletic director has to balance nonconference scheduling -- creating a solid slate without killing their team. But it is not unheard of to have two challenging nonconference games on the slate, like a Tennessee and an Ohio State. Clemson has it this year with Georgia and South Carolina; Florida State has it with Oklahoma State and Florida. During the spring meetings, I asked Virginia Tech athletic director Whit Babcock how he would approach scheduling in years the Hokies played Notre Dame, considering the Big Ten games already on the table. He replied, "In Blacksburg, if we have Michigan and Notre Dame on the schedule, I think our fans would be fine with that." Another option exists, if all ACC teams end up with a yearly game against the SEC. In the seasons Virginia Tech plays one of the tougher Big Ten opponents, or Notre Dame, perhaps the Hokies get paired up with Kentucky (still in geographic proximity). I know the matchup is not nearly as glamorous as Tennessee, Alabama or Texas A&M, but it does balance out the schedule a little more.
---

Justin in Ocala, Florida, writes:
So, Andrea, I know you know my city is here in the heart of Gator country, and I have been hearing a lot of talk lately about UF having some serious interest in setting up a home and home with Clemson. Of course, this is just fan talk, but the local radio guys (former Gator greats) have all been saying they really like what Clemson brings to college football and would love to set up some crossovers. Granted, Clemson is in the deep South, which is clearly college football country, but with big-time SEC teams expressing interest in another ACC matchup (they already get FSU every year), do you think this is a good sign for the rise of the ACC? It would appear that the interest is there from the SEC (I consider UF a power player for the SEC) to get some real nontraditional but still power games set up. Since we all expect the ADs to take a wait-and-see approach on strength of schedule versus college playoff entrance, are there any real discussions to get these games set up? It seems that it would be a real recruiting coup for the ACC and SEC if they could get some inter-conference power games yearly, which could definitely help pull some of those California kids back East. By the way, how awesome would it be to see UF-Clemson square off in some night games in Death Valley and the Swamp?
Adelson writes:
Yes, please! The ACC and SEC
have been in discussions
about setting up yearly matchups between their schools. I think we can all agree that would be a huge positive for the ACC. Clemson has not been shy about scheduling nonconference games against SEC teams outside of South Carolina. Note the recent home-and-home with Georgia and regular-season matchups against Auburn. Florida is the school that has been much more reluctant to schedule a tougher nonconference schedule, if only because the Gators are not in the habit of playing home-and-home contests. Miami was an exception to that, and the series has ended. However, the recent scheduling news that Florida will play Michigan in 2017 in Arlington, Texas, provides a glimmer of hope that perhaps scheduling philosophies are shifting. Florida already has its yearly ACC game, so it won't be required to add another. As opposed to a home-and-home, perhaps the Gators would agree to a one-off against a team at a neutral site, like Atlanta. That would be a win-win for everyone.
---

Michael in Atlanta writes:
What players do you feel will step up for Miami this year on the defensive side?
Adelson writes:
I am looking for a big year out of defensive end
Al-Quadin Muhammad
. There is no doubt Miami needs to increase the pressure from the defensive line, and Muhammad is poised to take advantage after having a good spring. The coaches have raved about
Tracy Howard
and
Artie Burns
at cornerback, a position where Miami needs much more consistent play. Howard has taken on much more of a leadership role, which the coaches have been happy to see.
---
Colin in Orlando writes:
Wow...... No
Duke Johnson
or
Stacy Coley
for best special teams players? Not even one of them? That is horrendous reporting. It shows a lack of detail and credibility. I am a Hurricane fan, but I am also a realist. We have no QB and the defense hasn't played together in years. That doesn't mean we still don't have some of the best talent in the nation. I would take Stacy Coley and Duke Johnson over
Kermit (Whitfield)
any day. He has one gear and one move (straight and fast), and yeah he is good at that, but come on man! I would take Duke and Coley over anyone on that list! To not even mention one of them is ludicrous.
Adelson writes:
When I did the
special teams position analysis video
you are referring to, I geared it specifically toward the players who either led the NCAA or were among the best in the NCAA in returns. As in any of these videos, there is never truly enough time to go into detail on every player on every team. Are Johnson and Coley good returners? Absolutely. You can see where Coley ranks among ACC kickoff returners
here
. But neither player did what Whitfield or
Ryan Switzer
or even
DeVon Edwards
did last season, so that is why they were not included in the video discussion. That does not diminish their skills or talents. Looking forward to watching them both in a very stacked group of ACC specialists.
May, 9, 2014
May 9
10:30
AM ET
The 2013 signing class has already made its mark on the ACC, from
Tyler Boyd
and
Stacy Coley
shining on offense to
Jalen Ramsey
and
Kendall Fuller
starring on defense to
Ryan Switzer
racking up All-America honors on special teams. But for most players, the transition from high school to college takes a little time, and it's not until Year 2 that they truly shine. With that in mind, we're taking a look at the best candidates for second-year stardom in the conference -- the players who didn't quite hit the big time as freshmen, but are poised for a breakthrough in 2014.

See our previous projections
here
.
Class recap:
Despite extenuating circumstances, Al Golden brought in a terrific haul to Miami, landing the No. 15 recruiting class in the country, third overall in the ACC. The Hurricanes' class included eight ESPN 300 prospects and 10 four-star prospects. Coley made the biggest impact, scoring 10 touchdowns and totaling 1,461 all-purpose yards as a rusher, receiver and return man.
Second-year star:
QB
Kevin Olsen
(6-foot-3, 210 pounds)
Recruiting stock:
Olsen, the younger brother of former Hurricanes and current NFL tight end
Greg Olsen
, was Miami's fifth-highest-rated recruit from the Class of 2013. He was a four-star prospect and the No. 5 overall quarterback among pocket-passing signal callers. He comes from Wayne Hills, New Jersey, where his father, Chris, coached for 26 years before retiring in 2013.
[+] Enlarge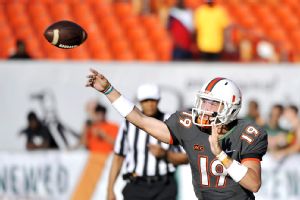 Steve Mitchell/USA TODAY SportsKevin Olsen has a chance to be the Miami starting QB and really break out this fall.
2013 in review:
Olsen redshirted during his first year at Miami, working with the scout team as
Stephen Morris
manned the starting role under center for the Hurricanes.
2014 potential:
Few second-year players in the ACC will get the kind of opportunity Olsen will next season. Starter
Ryan Williams
went down with an ACL tear during the spring, leaving Miami scrambling to find his replacement for the top job. Neither Olsen nor
Gray Crow
impressed during the spring game, but it will come down to them with the 2014 season approaching, with Olsen being the presumed front-runner. Olsen showed flashes of maturity issues as a rookie in Coral Gables and was left at home for the Russell Athletic Bowl in December. But he has to grow up fast now. His pedigree suggests he can do that, as he was the No. 3 player in the state of New Jersey for the Class of 2013 and possesses a strong pocket presence, capable of taking off on the run when things break down.
Also watch for:
Defensive end
Al-Quadin Muhammad
, another Jersey prospect, showed flashes of potential in 2013, notching two sacks and two quarterback hurries. Miami Northwestern prospect
Artie Burns
made his presence felt last year as a defensive back, picking off a pass, forcing a fumble and blocking a kick, and he returned 10 kicks for 261 yards.
May, 9, 2012
5/09/12
9:00
AM ET
Tuesday
was ACC spring wrap day
, as we looked at the storylines following each conference school. RecruitingNation's Corey Long also took a look at recruiting around the conference with spring in the rearview mirror.
It should come as no surprise that Clemson and Florida State, the recent recruiting heavyweights of the ACC, headline what's heating up in conference recruiting with the summer fast approaching.
It doesn't get bigger than the nation's No. 1 prospect, and even though five-star DE Robert Nkemdiche (Loganville, Ga./Grayson) has been a strong Alabama lean for months, it's clear that Clemson has made a big push. The Tigers' chances for the 6-foot-5, 265-pound prospect, along with those of LSU, Georgia and Ole Miss, appear to climb a little more every day that Nkemdiche decides to wait before making his decision.

In the meantime, Clemson isn't standing pat and continues to position itself for a top-rated class. The Tigers are looking strong in Georgia, where they are in good standing for ESPN 150 running back Tyshon Dye (Elberton, Ga./Elbert County) and four-star wide receiver Demarcus Robinson (Fort Valley, Ga./Peach County)
The Seminoles, meanwhile, are in position to add to their already star-studded class.
For the past few years, Florida State has landed splashy commitments early in the recruiting cycle en route to finishing with classes that ranked among the best in the nation. This year the Seminoles have signed eight four-star prospects, including three ESPN 150 prospects, but the best may be yet to come. Florida State is in good standing with five-star CB Mackensie Alexander (Immokalee, Fla./Immokalee), who is No. 6 in the ESPN 150; Matthew Thomas (Miami, Fla./Booker T. Washington), the nation's top OLB who is No. 20 in the 150; Ryan Green (St. Petersburg, Fla./St. Pete Catholic), a top-five RB who is No. 48 in the rankings; Alvin Bailey (Seffner, Fla./Armwood), a top-five athlete who is No. 49 in the ESPN 150; and CB Artie Burns (Miami, Fla./Northwestern), who is No. 67 in the ESPN 150.
Long has plenty of more tidbits in his wrap, including Miami's pursuit of another Olsen, Larry Fedora's in-state plan and the closing of the gap between Virginia Tech and Virginia. Be sure to check it all out
here

.