July, 14, 2014
7/14/14
12:00
PM ET
The Roanoke Times is counting down to ACC Kickoff by digging deeper into some of Virginia Tech's impact players, and
today's installment
features a look at receiver
Josh Stanford
.
Here's the basics:
"It didn't seem like Stanford was anything too special for the first half of last year. He was inconsistent, had bouts of drops (like all the receivers), making an occasional solid grab but never really taking command of a game. Then the Boston College game went to the second half. From there to the rest of the season, Stanford shined."
I don't know that "shined" is really the right word. Stanford had an incredible second half against BC, though Virginia Tech still lost that game. He had a big day the next week -- 7 catches, 107 yards and a TD — against a reeling Miami team in a win that salvaged some of Tech's season. After that though?
Against Maryland: 2 catches, 29 yards
Against UVA: 1 catch, 15 yards
Against UCLA: 3 catches, 34 yards
Indeed, his final three games accounted for the lowest amount of production during a three-game stretch Stanford had all year.
The BC and Miami games confirmed Stanford's potential, but they didn't exactly mark a turning of the tide. This is the problem for the Hokies' offense (and really, it has been for two years): There is talent in the receiving corps, but consistency has been non-existent.
Here's a look at the top returning receivers in the conference this year, based on 2013 yards:
1.
Jamison Crowder
(Duke), 1,360
2.
Tyler Boyd
(Pitt), 1,174
3.
Rashad Greene
(FSU), 1,128
4.
DeVante Parker
(Lou), 885
5.
Quinshad Davis
(UNC), 730
6.
Willie Byrn
(VT), 660
7.
Demitri Knowles
(VT), 641
8. Stanford (VT), 640
Of the top eight returning receivers, three play at Virginia Tech. That should be a real sign of encouragement for a passing game dealing with transition at the QB spot, but it's also worth pointing out that Byrn, Knowles and Stanford caught just 56 percent of their total targets last year. Overall, Virginia Tech finished ninth in the ACC in passing last year and 10th in completion percentage, despite what seems like a deep receiving corps.
Some of that can probably be blamed on the erratic aim of Logan Thomas, but the history of drops and bad routes among the Hokies' receivers is already well documented.
Byrn had his moments, including 100-yard games against UNC and Miami. He was also shut out against Alabama, had just 15 yards against Marshall and 26 in a loss to Duke.
Knowles had 99 yards against ECU and 101 against UVA. He was also limited to just two catches in six different games.
And yes, Stanford showed his potential against BC and Miami. He's only a redshirt sophomore, so the inconsistency the rest of the season was to be expected. But Virginia Tech is already well aware of potential. What the Hokies need from receivers now are consistently strong results.
More links:
May, 13, 2014
5/13/14
2:00
PM ET
The
NFL draft
concluded with 42 ACC players selected last weekend, and a slew more ended up signing free-agent deals in the days afterward.
Here's a quick rundown of where the ACC's undrafted free agents landed.

BOSTON COLLEGE
QB
Chase Rettig
,
Green Bay Packers
OLB
Kasim Edebali
,
New Orleans Saints
LB
Steele Divitto
,
New York Jets
OT
Ian White
,
San Diego Chargers
OT
Matt Patchan
,
Tampa Bay Buccaneers
DB Albert Louis-Jean, Chicago Bears

CLEMSON
K
Chandler Catanzaro
,
Arizona Cardinals
G
Tyler Shatley
,
Jacksonville Jaguars
LB
Spencer Shuey
, Jacksonville Jaguars
CB
Darius Robinson
,
Buffalo Bills

DUKE
RB
Juwan Thompson
,
Denver Broncos
DE
Kenny Anunike
, Denver Broncos

FLORIDA STATE
LB
Christian Jones
,
Chicago Bears
RB
James Wilder Jr
.,
Cincinnati Bengals
WR
Kenny Shaw
,
Cleveland Browns
FB
Chad Abram
,
Detroit Lions
DT
Demonte McAllister
,
Seattle Seahawks
DT
Jacobbi McDaniel
, Cleveland Browns

GEORGIA TECH
DT
Euclid Cummings
, Tampa Bay Buccaneers
CB
Lou Young
, Denver Broncos
DE
Emmanuel Dieke
,
New York Giants

LOUISVILLE
DT
Roy Philon
,
Pittsburgh Steelers
S
Hakeem Smith
,
Tennessee Titans
DT
Brandon Dunn
, Chicago Bears
WR
Damian Copeland
, Jacksonville Jaguars

MIAMI
WR
Allen Hurns
, Jacksonville Jaguars
QB
Stephen Morris
, Jacksonville Jaguars
TE
Asante Cleveland
,
San Francisco 49ers
DT
Justin Renfrow
, Arizona Cardinals
FB
Maurice Hagens
,
Atlanta Falcons
S
A.J. Highsmith
, San Francisco 49ers
OG
Jared Wheeler
,
Carolina Panthers
LB
Jimmy Gaines
, Buffalo Bills

NORTH CAROLINA
OT
James Hurst
,
Baltimore Ravens
QB
Bryn Renner
, Denver Broncos

NC STATE
DE
Carlos Gray
, Green Bay Packers
TE
Asa Watson
,
New England Patriots
DL
Deylan Buntyn
, New England Patriots

PITTSBURGH
P
Matt Yoklic
, Atlanta Falcons
SYRACUSE

CB
Keon Lyn
,
Indianapolis Colts
CB
Ri'Shard Anderson
, Tennessee Titans
RB
Jerome Smith
, Atlanta Falcons

VIRGINIA
DE
Jake Snyder
,
Minnesota Vikings
VIRGINIA TECH
DT
Derrick Hopkins
, Baltimore Ravens

LB
Tariq Edwards
,
Miami Dolphins
WR
D.J. Coles
,
Oakland Raiders
G
Andrew Miller
, Tampa Bay Buccaneers
DE
James Gayle
, Tennessee Titans

WAKE FOREST
DT
Nikita Whitlock
, Cincinnati Bengals
LB
Justin Jackson
, Detroit Lions
LB
Zach Thompson
, New York Jets
November, 20, 2013
11/20/13
12:00
PM ET
July, 17, 2013
7/17/13
1:00
PM ET
The American Football Coaches Association announced 151 nominees for the 2013 Allstate AFCA Good Works Team on Wednesday, the most ever in the award's 22-year history.
The award recognizes college football players who have "made a commitment to enriching the lives of others while contributing to the greater good of their communities."
Here are the nominees from the ACC:
To be eligible, each player must be actively involved and committed to working with a charitable organization, service group or community service while maintaining a strong academic standing.
A voting panel of former Allstate AFCA Good Works Team members and media members will select 11 FBS players and 11 players from FCS, Division II, Division III and NAIA to the 2013 Good Works Team. The team will be announced in September.
July, 9, 2013
7/09/13
2:00
PM ET
The
John Mackey Award
is presented annually to the most outstanding tight end in FBS college football, and the ACC has several candidates on
this year's watch list
:
One more tight end worth watching in the ACC this year: Duke's
Braxton Deaver
. Those within the program say he is
a complete tight end
.
J.P. Holtz
at Pitt is another tight end who should have a bigger role this fall.
The Rimington Trophy watch list
was also announced today. This trophy is presented to the nation's premier center by the Boomer Esiason Foundation. Here are your ACC representatives:
There will be
more watch lists announced
this week and next week. As usual, once more come out I'll compile them for you in a one-stop shopping post so you can see all of your ACC candidates.
May, 30, 2013
5/30/13
2:00
PM ET
On Wednesday we started an interview with first-year NC State offensive coordinator Matt Canada. Here is the second part of our interview:
How is the running game looking? Who's coming back?
Matt Canada:
We've got Shad, [
Shadrach Thornton
] Shad's coming back.
Right, he was a nice surprise last year.
MC:
Yeah, he had a very good freshman year. And
Tony Creecy
is a great kid, a very durable, solid guy who had a very, very good spring. Those two guys certainly carried most of the load this spring. And we've got some guys coming in here in the fall, so there will be some freshmen at the skill positions who might be able to have an impact a little faster than the linemen, those types of spots. You never know.
[+] Enlarge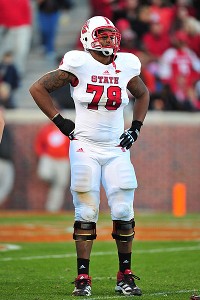 David Scearce /Icon SMIAfter losing four offensive linemen from last season, NC State will be relying on Rob Crisp for leadership.
And how do you look up front?
MC:
That's the key to everything.
Rob Crisp
, he's a guy who played a lot of football. He's a guy coming back, and we're certainly counting on him to be a leader in every way, starting with his play and the way he leads that group. I think he understands that. When you lose four linemen, there's a lot of leadership that left the room. You work through that and understand that. The other guys have played,
Tyson Chandler
has played, [Duran] Christophe, everyone is still competing. Competition is a great thing, and we're going to continue to have it every day until the opener.
Just in general, what was the most challenging thing for you guys this spring?
MC:
I don't know. Putting in a new offense is fun, it's exciting. Spring is the best time of year to do those things. You go out, you just ball. Changing the tempo, we've done it a couple times now -- once at Northern and once here now. Those are things you see and have to work through, those things have been good.
How has Pete [Thomas] done in the no-huddle?
MC:
Very good. He's a smart quarterback, understands it, and has done a good job.
What's your main priority to get done this summer?
MC:
We'll just continue to evaluate the spring film, look at what we did well, decide exactly where we're going to head, and how we're going to attack the season with the players we have. We've got 15 days of film.
You mentioned Asa Watson, what kinds of things can he do in this offense? How does he fit in?
MC:
He can do it all. He blocks well, he can catch the football. I think he's a very versatile player, so I'm excited about him and watching him develop. … He'll be full strength in camp. He's a leader. He's a very good person, a great kid, and a guy we're looking to to lead us.
May, 13, 2013
5/13/13
2:00
PM ET
Asa Watson
says he has always had the heart to help people.
In quite a twist, it was his bad heart that got him started on one of his first mission trips at NC State.
[+] Enlarge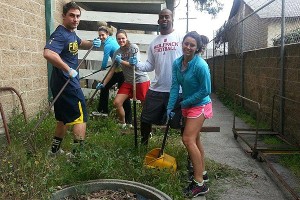 NC State sports informationNC State tight end Asa Watson volunteered with Athletes in Action's "Urban Project L.A."
It was 2011, the year Watson had his first heart surgery to correct a rapid heartbeat. Coaches told him he would have to redshirt. Watson decided he wanted to do something big. So rather than attend the first session of summer school, he volunteered with Athletes In Action's "Urban Project L.A."
Watson spent three weeks volunteering and was mainly in the Skid Row section of the city, helping out kids, working on urban renewal projects and getting to know the community itself.
The trip had such a profound impact on him, he volunteered with the project again during spring break last March.
"That was a really eye-opening experience because I had never been around an area so stricken by poverty," Watson said in a recent phone interview. "That had such an impact on me. I also had great experiences with the people I met, and leading up to this year, I realized as a senior my time is running out. I always wanted to do something for my spring break. I decided this was the time to do it."
Watson spent time in Compton on his second trip, working on a prayer tour, visiting local ministries and connecting with children in the area. He also did some work around the community as well, and spent time at the local Salvation Army.
When Watson was younger, he did some mission trips as well. His dad, Ken, is a pastor in Norfolk, Va. His mom went on many trips. The first one they went on together was to Belize. "That one started my heart for helping people," Watson said.
Along the way, there have been trips to Jamaica and Canada, as well. But the two trips to Los Angeles opened his eyes to an even bigger truth. Spending a few weeks somewhere is really only a start.
"In order to get lasting, sustainable change you have to spend a long time investing in a place, you have to learn to know the people in the community and figure out what their real need is," Watson said. "People don't need just a meal and a pair of shoes. They need better resources and a vision to see that there is a way to improve their lives, improve their situations."
Watson has given of himself during times of great uncertainty in his own life. As a sophomore at NC State, he started feeling lightheaded sometimes during practices, and his heart would race uncontrollably. Doctors discovered he had too many electrical pathways to his heart.
"Instead of one heartbeat, I had three," he said.
After the first procedure did not completely correct the problem, Watson underwent a second heart surgery in 2012. He remains on medication to help control his heartbeat. Though it sounds downright scary, doctors tell Watson his heart condition puts him in no extra danger when playing contact sports.
"When I explain to people, most can't understand. It just felt like my heart was tired," Watson said. "I've learned to deal with it. It doesn't happen as much as it used to, but there's still those instances when my heart beats too fast, and I get lightheaded and have to stop."
Now going into his final season, Watson has one last shot to make an impact on the offense. New coach Dave Doeren has Watson listed as the first-team tight end on the post-spring depth chart.
"I think the tight end is going to play a pretty big role in the offense," Watson said. "I'm going to have to be a great blocker, and I'm going to have to be able to receive the ball when asked. I'm looking forward to the change."
April, 19, 2013
4/19/13
3:00
PM ET
NC State announced its leadership council for 2013 on Friday, a group of 20 players voted on by the team that represents each position on the field.
They are:
Jarvis Byrd, DB
Dontae Johnson, DB
Art Norman, DL
D.J. Green, LB
Zach Gentry, LB
Ryan Cheek, LB
Tony Creecy, RB
Milton Hall, RB
Anthony Talbert, TE
Asa Watson, TE
Quintin Payton, WR
Rashard Smith, WR
Jacoby Brissett, QB
Pete Thomas, QB
Duran Christophe, OL
Rob Crisp, OL
Joe Thuney, OL
Niklas Sade, Specialist
Scott Thompson, Specialist
Since coach Dave Doeren became head coach, he has had meetings every two weeks to discuss the importance of leadership.
"In each meeting, we have discussed the 'Wolfpack Commandments,' which are the qualities and characteristics that I want our team to display," Doeren said in a statement. "In spring practice and in our offseason conditioning program, the team was able to identify which players best display these qualities."
The "Wolfpack Commandments" are: accountability, hard work, family, faith, detail, loyalty, pride, discipline, urgency, focus, perseverance and "the three P's" -- preparation, practice, playing to win.
One name that stood out to me: Brissett, who transferred in from Florida and must sit out this season because of NCAA rules. Brissett has only been in Raleigh since January, so he clearly has made a mark on his teammates and coaches with all the hard work he has done in a short period of time, all while knowing he cannot play this season.
May, 21, 2012
5/21/12
12:00
PM ET
By
ESPN.com staff
| ESPN.com
Florida State. Big 12. SEC. Rumors. Sigh ...
July, 20, 2011
7/20/11
10:00
AM ET
By
ESPN.com staff
| ESPN.com
Allstate Insurance Company and the American Football Coaches Association (AFCA)
recently announced
a record 132 nominees for the 2011 Allstate AFCA Good Works TeamŽ. The award recognizes the selfless contributions to volunteerism and community service made by college football players across the nation.
Congrats to the following ACC players who have been nominated in the program's 20th season:
Dwayne Allen, TE, Clemson
Roddy Jones, AB, Georgia Tech
Asa Watson, TE, NC State
Matt Merletti, S, UNC
Chase Minnifield, CB, Virginia.
April, 19, 2010
4/19/10
9:50
AM ET
NC State came into the spring looking for major improvement in its secondary.
There was some good and bad to be found in the Wolfpack's spring game on Saturday.
Quarterbacks
Mike Glennon
and
Daniel Imhoff
each had strong days. Glennon was 21-for-38 for 423 yards and three touchdowns. Imhoff, a walk-on, was 11-for-24 for 221 yards and three scores, and he led the Red team to a 31-21 victory.
Receiver
Owen Spencer
caught four passes for 165 yards, including a 93-yard touchdown.
Asa Watson
had an 86-yard touchdown.
On the plus side for the secondary, it came up with three interceptions.
"I saw them pick off some passes, which I thought was good," coach Tom O'Brien told reporters. "We've got to continue to do that and work hard. I think we tackled better. ... I don't know if I'm happy with them, but I'm not dissatisfied with them. I think they played hard."
How much does it all mean? NC State used only 46 scholarship players in the spring game, holding out more than 20 because of injuries.
"Of those 20 guys who were out, with the exception of a couple, all should be ready for when we begin practice in the fall," O'Brien said. "We had to get everybody fixed so they could be ready for the fall, so we could start the fall healthy.
"We can't go through another fall here with the number of injuries we had last year."