December, 28, 2013
12/28/13
6:45
PM ET
The Belk Bowl unfolded quickly as North Carolina jumped out to an early lead over Cincinnati and never looked back Saturday, running away with a
39-17 win
. Here's how it all happened:


It was over when:
Can a game be over almost as soon as it begins? North Carolina started off as strong as conceivably possible, scoring the game's first touchdown on a 2-yard run from
Romar Morris
with 5 minutes, 40 seconds left in the first quarter. Just three minutes later, the Tar Heels delivered what proved to be a debilitating series of jabs as
Kareem Martin
got the sack-safety and
T.J. Logan
followed that up by taking the ensuing kickoff 78 yards for a score, resulting in a 9-point swing. Cincinnati showed some life in the second half, but the 16-point deficit was ultimately too much to overcome.
Game ball goes to:
Even without Blake Anderson calling plays, North Carolina didn't miss a beat.
Marquise Williams
executed the offense in perfect tandem with head coach Larry Fedora, who subbed in while his former offensive coordinator was off starting his own head-coaching career at Arkansas State. Williams, a talented sophomore, spread the ball around in the air, completing passes to seven different receivers while rushing for 46 yards. He finished the game with 171 yards, one touchdown and no interceptions on 19-of-33 passing.
Unsung hero:
Make no mistake, North Carolina won the Belk Bowl in the trenches. A tip of the cap should go to both the offensive and defensive lines. The Tar Heels wouldn't have jumped out to such a big lead without the defense providing four sacks and three three-and-outs in the first half. Cincinnati's line entered the game having allowed 12 sacks all season, but UNC wound up with five on the day. UNC's offensive line, meanwhile, allowed for a balanced offensive attack, with 171 yards through the air and 174 yards on the ground.
Stat of the game:
North Carolina got the monkey off its back by finally not rejecting some good old-fashioned home cooking. The Tar Heels won a bowl game in their home state for the first time after losing the three previous bowl games they played in Charlotte.
Ryan Switzer
, meanwhile, managed to tie an NCAA record by returning his fifth punt for a touchdown this season. Where many would have called for a fair catch in the third quarter against the Bearcats, Switzer hung in, caught the ball with a number of defenders in the vicinity and weaved upfield 85 yards for the score.
What North Carolina learned:
Fedora taught his Tar Heels that it's not how you start but how you finish. Ending the season with six wins in seven games was impressive. Getting above .500 after starting off the year 1-5 was incredible. The hope for North Carolina is that the momentum coming out of the Belk Bowl will carry over into next season and such a furious surge won't be necessary to reach the postseason again. With Williams, freshman tailback Logan, freshman receiver Switzer and sophomore receivers
T.J. Thorpe
and
Quinshad Davis
all returning to Chapel Hill, the future is bright.
What Cincinnati learned:
The Bearcats, on the other hand, end the season on a sour note. The momentum of winning six straight games late in the year was almost entirely wiped out after losing in overtime against Louisville on Dec. 5 and then getting blown out by North Carolina on Saturday. Next season will be tough for head coach Tommy Tuberville, as he will be without senior quarterback
Brendon Kay
and the quarterback of the defense in senior linebacker
Greg Blair
. But with the much-traveled redshirt freshman transfer quarterback
Gunner Kiel
entering the fold, there's reason for optimism. The former No. 3-ranked quarterback in the 2012 class has all the tools to do well in the Bearcats' spread offense.
To watch the trophy presentation of the Belk Bowl,
click here
.
December, 28, 2013
12/28/13
10:00
AM ET
New coach. Same result. Cincinnati hired Tommy Tuberville in the offseason to replace former coach Butch Jones, but the Bearcats are headed back to the Belk Bowl, where they will face North Carolina on Saturday (3:20 p.m. ET, ESPN).


Here's a quick preview:
Who to watch:
The best player on the field likely will be North Carolina tight end
Eric Ebron
. The Mackey Award finalist led the team with 55 catches for 895 yards. He already has announced that he will forgo his senior season and enter the 2014 NFL draft, where he's projected to go in the first round. However, the most intriguing matchup is between the two "replacement" quarterbacks. Each took over at some point this season and led his team to a bowl game. For Cincinnati,
Brendon Kay
replaced injured
Munchie Legaux
in Week 2 and became only the fourth quarterback in program history to throw for more than 3,000 yards. The Tar Heels turned to
Marquise Williams
in early November when starter
Bryn Renner
suffered a season-ending shoulder injury. The dual-threat quarterback won four straight games under center before losing the regular-season finale to Duke.
What to watch:
For the second straight year, Cincinnati will essentially play a road game when the team travels to Charlotte for the Belk Bowl. Last year, the Bearcats handled Duke, 48-34, but this year they will face a North Carolina team playing as well as anybody in the country right now. The Tar Heels have won five of their past six games and are just the sixth team since the regular season expanded to 12 games in 2006 to start 1-5 and still reach a bowl game. The question is how North Carolina's up-tempo, spread-oriented offense will fare against a Cincinnati defense that comes in ninth in the nation in total defense, giving up 313.2 yards per game, and fifth against the run. For the Tar Heels, it should help that offensive coordinator Blake Anderson will still be on the sideline. The second-year assistant coach accepted a head-coaching position with Arkansas State earlier this month but will stay and coach the bowl game.
Why to watch:
Although it's a similar matchup to last year's Belk Bowl and one that might not grab your attention, it should be an entertaining game. Both offenses have thrived with their new quarterbacks, and both are capable of making explosive plays at any time. It could very well turn into a shootout. There is also motivation on both sides. Cincinnati (9-3) is looking to win its third consecutive bowl game and reach 10 wins for the sixth time in the past seven seasons. Meanwhile, North Carolina is seeking its first bowl victory in its home state. The Tar Heels have lost three previous bowls played in Charlotte.
Prediction:
North Carolina 31, Cincinnati 28
December, 26, 2013
12/26/13
2:00
PM ET
They'd been on campus for just a few months, but North Carolina's freshmen felt the sting of a 1-5 start as deeply as anyone. It was a tight-knit group from the outset, and they'd hoped to be contributing more. Instead, the Tar Heels stumbled early, and the freshmen had made little impact.


Things finally began to change by mid-October, though. The freshmen held an impromptu meeting, vowing to make the most of their chances -- no matter how rare those opportunities might be.
That week, tailback
T.J. Logan
got a season-high 16 carries in a loss to Miami, and suddenly the door swung open for a wave of freshmen to make their mark.
It was a turning point in the season, freshman receiver
Ryan Switzer
said.
"The coaches finally gave us an opportunity," Switzer said. "It was a big turning point for us, confidence-wise. The young guys just talked amongst ourselves and knew we could help this team win and took it upon our shoulders to do our part. Once we started playing, I think our production helped flip the season around."
Logan was solid all season, finishing the regular season with his two best games of the year.
Brian Walker
had a pick and defended seven passes.
Dominique Green
finished the regular season with 56 tackles and three interceptions.
[+] Enlarge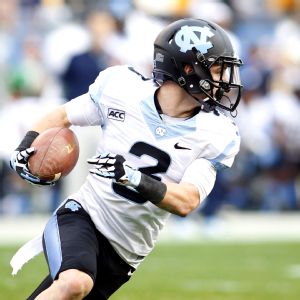 Charles LeClaire/USA TODAY SportsFreshman receiver Ryan Switzer led something of a youth movement for the Tar Heels this season.
But it was Switzer who served as the Tar Heels' biggest breakout star. After a slow start to the season, Switzer blossomed down the stretch, compiling 544 total yards and six touchdowns in his final four games.
In September, Switzer wondered when he'd get his chance to shine. By December, he was North Carolina's first freshman All-American in 36 years.
"I took a little bit longer than I thought adjusting to the speed and different aspects to the game," said Switzer, whose 419 yards and four TDs earned him first team All-America status as a punt returner. "When I started just playing and relaxing, things started coming to me."
Taking a deep breath, relaxing and enjoying the ride wasn't only what Switzer needed to salvage his season. It worked for the entire team.
After the late loss to Miami, the Tar Heels rebounded to win five straight games and capture a bowl bid that once seemed utterly out of reach. Switzer and the influx of energy from the true freshmen were a big reason for the rejuvenation.
"We knew that we were going to break through at some point," Switzer said. "I think when we started just relaxing and having fun playing the game again, that's when we were at our best. That's one of the big keys to success that we had -- especially our young underclassmen."
Switzer and the rest of the Tar Heels have one final chance to put their stamp on the season Saturday when they play Cincinnati in the Belk Bowl in nearby Charlotte (3:20 p.m. ET, ESPN).
To end the year with a winning record and send the seniors out on a high note has become the primary goal for Switzer and the young Tar Heels.
"If we can get a win against a nine-win Cincinnati team in our backyard in front of our home crowd, that'd be real nice," said Switzer, whose UNC team has just one bowl victory since 2001. "It would help us in recruiting, help us in a lot of things. We're working hard right now to prepare. We'll see what we can do on the 28th."
But while ending this season strong is the immediate goal, getting a jump start on 2014 is big, too. After treading water for six weeks this year, Switzer and the rest of North Carolina's young guns want to hit the ground running next season. And after racking up All-America honors as a freshman, Switzer knows the expectations will only get bigger.
"The expectations are high now -- for me and this team -- for next year," Switzer said. "It's our job, it's my job, to prepare accordingly. I'm not going to take teams by surprise anymore. And if I want to get to the next level I've got to continue to produce and get better."
December, 10, 2013
12/10/13
2:00
PM ET
At this time a year ago, North Carolina was an eight-win team with nowhere to go.
[+] Enlarge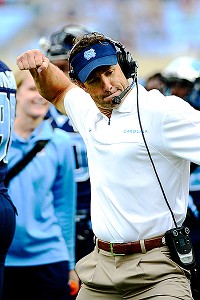 Bob Donnan/USA TODAY SportsLarry Fedora's Tar Heels won five straight games to reach bowl eligibility.
This year, the Tar Heels are a six-win team and ecstatic.
UNC is bowl-bound once again after serving a one-year postseason ban because of NCAA sanctions. Not only did the Tar Heels have to overcome an abysmal 1-5 start to the season, but many of the seniors on the roster were freshmen when the NCAA launched its highly publicized investigation into academic misconduct and improper benefits. The sloppy start to the season paled in comparison to the turn their collegiate careers took in the summer of 2010.
"We talked about this going into the last game," UNC coach Larry Fedora said. "These guys have overcome a lot. They came in at the beginning of an NCAA investigation and saw it through to the end, and had to accept those sanctions against them. They had three head coaches, two staffs. Some of these guys had five or six position coaches in their careers here. It's a pretty unique group, so I'm very proud of the way that they held this team together when we were 1-5. I just think they're very appreciative and really excited about the opportunity."
North Carolina will face Cincinnati (Dec. 28 at 3:20 p.m. ET on ESPN) in the Belk Bowl, the program's first bowl game since losing to Missouri in the 2011 Independence Bowl under then-interim coach Everett Withers. This will be UNC's fourth appearance in the Charlotte-based bowl, but the program is looking for its first win there, having lost to Boston College (2004), West Virginia (2008) and Pittsburgh (2009). Few if any gave the Tar Heels a chance to become bowl eligible this year after four straight losses dropped them to 1-5. UNC had to win five of its final six games in order to qualify.
Remarkably, it did.
North Carolina became just the sixth team since the regular season expanded to 12 games in 2006 to start the season 1-5 and make a bowl game. UNC didn't win its first ACC game of the season until Oct. 26 against Boston College. The 34-10 win over the Eagles was the start of a five-game winning streak punctuated by an 80-20 drubbing of Old Dominion that made UNC bowl-eligible once again.
Fedora said the players felt the pressure mount with each week.
"It's impossible not to," Fedora said. "That's why we started the 1-0 deal and just focusing on trying to be better and trying to be 1-0 each week, not looking at the big picture, but just trying to take some of that pressure off of them. Just focusing one week at a time, one day at a time on being 1-0 and I think it was really good for our football team."
Playing in the postseason will be, too.
December, 8, 2013
12/08/13
9:45
PM ET
Dec. 28, 3:20 p.m. ET, Charlotte, N.C. (ESPN)
CINCINNATI BEARCATS BREAKDOWN
Tommy Tuberville's tenure as Cincinnati coach got off to a perplexing start. A season-opening 35-point rout of Big Ten bottom-feeder Purdue was followed by a 28-point loss at underwhelming Illinois. Even worse, the Bearcats lost their starting quarterback for the season that day, as
Munchie Legaux
suffered a gruesome knee injury.
[+] Enlarge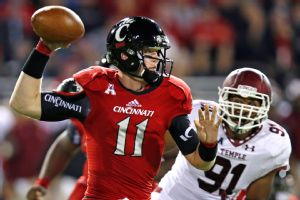 AP Photo/Al BehrmanSixth-year senior quarterback Brendon Kay filled in again in 2013 and helped Cincinnati win six games in a row in the American.
A four-turnover performance at then-winless USF resulted in another surprising loss, leaving Cincinnati at 3-2 in early October. But the Bearcats hit a groove shortly thereafter, winning six in a row before an overtime home loss to rival Louisville in the regular-season finale.
The Bearcats once again were led down the stretch by quarterback
Brendon Kay
, just as they were late last season. A sixth-year senior, Kay replaced an ineffective Legaux late in the 2012 season and filled in for an injured Legaux this year. He threw for at least 299 yards in each of Cincinnati's final six games, including consecutive 400-yard performances heading into the Louisville game.
Cincinnati is 9-3, and a second consecutive berth in the Belk Bowl will give it a chance to clinch a double-digit win season under Tuberville. That would give the Bearcats their sixth 10-win season in the past seven. To put that into perspective, the program had never done that until 2007, under Brian Kelly. Tuberville would be the third coach to take Cincinnati to that plateau.
-- Matt Fortuna

vs.

NORTH CAROLINA TAR HEELS BREAKDOWN
The Tar Heels had one of the most impressive turnarounds in college football, as they started out 1-5 then reeled off five straight wins to become bowl eligible. UNC became just the sixth team since the regular season expanded to 12 games in 2006 to start 1-5 and still make it to a bowl game.
[+] Enlarge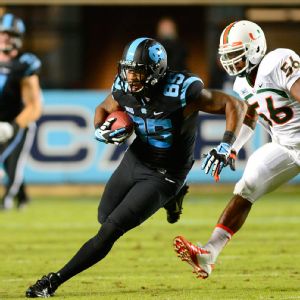 Bob Donnan/USA TODAY SportsCarolina likely would have to trade up in the first round of the NFL draft to have a shot at selecting Eric Ebron.
It was even more impressive considering starting quarterback
Bryn Renner
suffered a season-ending shoulder injury and had surgery Nov. 6. Despite the injury to Renner, backup
Marquise Williams
has proved to be a dependable option who is more than capable of winning, especially when he has an NFL-bound tight end to throw to in
Eric Ebron
, who has announced he will forgo his senior season to enter the draft.
Ebron finished the regular season with 55 catches for 895 yards, an ACC single-season record for receiving yards by a tight end. Williams has 1,058 total offense yards in the past three games, the most in any three-game stretch in school history.
UNC has also gotten a boost from its return game this year, as freshman
Ryan Switzer
tied the single-season ACC record with four punt return touchdowns. The Tar Heels couldn't get it done against rival Duke, though, and lost to the Blue Devils for the second straight season. With 13 seconds left in the game, Williams was intercepted.
Fortunately for UNC, though, its bowl bid was secured a week earlier with an 80-20 win over Old Dominion. After missing the postseason in 2012 because the program was ineligible, North Carolina will embrace its return to a bowl game.
-- Heather Dinich