May, 14, 2012
5/14/12
5:00
PM ET
AMELIA ISLAND, Fla. -- Coming changes to the BCS have captivated the college football world this offseason.
Coaches have been paying attention, too, and have their own opinions about how a future four-team playoff should look. One of the bigger discussion points at the ACC spring meetings Monday was about the BCS. Executive director Bill Hancock presented some of the ideas that have come up during meetings with the conference commissioners.
Nothing has been settled about who gets in, but one of the biggest debates has centered on whether winning a conference championship should be a requirement. Hancock polled the room to see what the ACC coaches want, and the consensus was that conference champions should be given preference.
"There has to be some stipulation in there about champions," Florida State coach Jimbo Fisher said. "Because not everybody plays the same schedule. We play a nine-game conference schedule. Other teams don't. That's weighed in. Some conferences have a conference championship game. Others don't. Being a conference champion is no small task. Not only are you going through your conference, then you turn around and play a conference championship game. There has to be a lot of weight given to conference champions."
Big Ten commissioner Jim Delany has already floated one plan that would
include only conference champions
. Under this plan, conference champions would be required to finish in the top six of the final standings; the top four advance to the four-team playoff. If four conference champions are not in the top six, then the highest ranked at-large teams would be selected.
Under this plan, Alabama would have made it into a four-team playoff last season. No. 4 Stanford would have been left out.
"The BCS is an evolving situation, and it has been in, what, 16 years, and they've improved on it every year and I think they will improve on it some more," Boston College coach Frank Spaziani said. "It's not black and white, and it's not clear cut. That's why it's a difficult question. There's good people running it and they have a good plan.
"I'm in favor of the BCS, what they're doing right now and opening up the dialogue and coming up with something. I do know the conference champion does need to be involved. A conference champion, certainly, in order to keep the season and the championship games relevant has to be involved in whatever the BCS comes up with."
The next BCS meeting is set for June, when details are expected to be worked out on how the final four teams would be selected, where the games will be played, how current BCS games factor in and whether bowl tie-ins to those BCS games remain.
July, 19, 2011
7/19/11
11:00
AM ET
This week is when summer officially ends and the season begins -- at least for me, anyway.
[+] Enlarge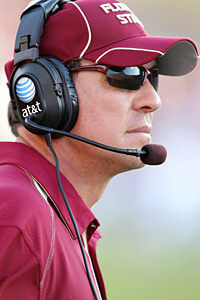 Matthew Emmons/US PresswireCoach Jimbo Fisher and FSU landed another gem for the 2012 class, No. 1 QB Jameis Winston.
I love the ACC's football kickoff. It's the first true sign that summer camp is about to begin and the season is right around the corner. I'll be leaving Saturday evening for Pinehurst, N.C., for the two-day event. On Sunday and Monday, I'll be running around like a crazy woman trying to get as many interviews and videos with players and coaches as I possibly can while blogging and giving you a constant feed of news and notes. This is where you'll get the preseason all-conference and player of the year nominations, and much more. Here are the highlights from the schedule:
SUNDAY
Commissioner's 2011 football forum, 12:30-1:30 p.m. (This is basically a state-of-the-state address by John Swofford that's usually followed by a Q&A session with the media.)

Player interviews, 2-5:45 p.m.: Two players will represent each school. You'll notice that these run pretty late into the evening, so the blog will be going later than usual.
MONDAY
ACC football rules/officiating media clinic, 10:30-11:30 a.m.: This is hosted by Doug Rhoads, the ACC's supervisor of officials. He's very knowledgeable and will school us on any new rules and clarify the rules that already exist. I went to this last year and will attend again if time permits.

BCS/ACC bowl partners forum with BCS executive director Bill Hancock and ACC bowl partners, 1:30-2 p.m.

Head coaches' interviews, 2-6 p.m.: This is the main event. The coaches are split up by divisions and rotated in. Each coach sits at a table, and reporters come and go as they please. It's a good time to talk about everything from the upcoming season to issues in the game like pay-for-play.
Here are three topics that should create some buzz this year:
Quarterbacks. I guarantee it won't be three seconds at Tom O'Brien's table before Russell Wilson's name comes up. Wilson could be starting for Wisconsin this year, while Mike Glennon is taking over as a first-year starter. It's one of the most interesting plotlines of the quarterbacks, but more than half the league will introduce rookies. There's also an interesting Commonwealth connection with many of these quarterbacks hailing from the state of Virginia. It's going to be fun to watch these guys compete this year.

Off-the-field issues. I might have to arm wrestle somebody for a seat at Butch Davis' table this year, as the NCAA investigation has been the main storyline in Chapel Hill since the week leading up to last year's opener against LSU. It's not over 'til it's over. And Georgia Tech? The Jackets were just hit with NCAA sanctions that included four years' probation, a $100,000 fine and vacation of the 2009 ACC title. Odds are there will be a question or two about how and why the decision was made to play an athlete whose eligibility was in question.

Florida State. I've said it, written about it and heard about it all offseason -- expectations are soaring for the Seminoles in only Year 2 under Jimbo Fisher. How good is this team? Are the Seminoles the national title contender the ACC has been waiting for?
There are also two new head coaches in the league in Maryland's Randy Edsall and Miami's Al Golden, and plenty of other storylines to follow. Follow me on
Twitter
@ESPN_ACC and on the blog for complete coverage.
July, 20, 2010
7/20/10
2:30
PM ET
By
ESPN.com staff
| ESPN.com
A quick look at the ACC's record in BCS bowls is not impressive. It's bad. The league has a 2-10 record with wins coming from Florida State and Virginia Tech.

The ACC, though, is better than its record indicates if you measure the conference's performance during the regular season like the BCS officials do. Bill Hancock, executive director of the BCS, said the ACC has solidly earned its automatic berth in the BCS and there has never been any hesitancy on the part of Orange Bowl officials to continue their partnership. Instead, the data from the 2004-2007 regular seasons shows the league fared no worse than fifth among the 11 conferences in the major rankings used by the BCS to determine which conferences earn automatic qualifying status.

"The ACC and the Big East are solid," Hancock said in a recent interview. "A lot of people when they talk about conferences don't remember that the top to bottom conference rankings is one of the three thresholds, and those conferences are solid. I know the Orange Bowl is tickled with their ACC relationship."

There are two ways to earn annual automatic qualification: (1) have a contract with a bowl, or (2) earn it on the field by meeting the thresholds which you'll see in the charts below. In order to meet the thresholds, conferences must finish among the top six in the first two rankings and top 50 percent in the third. The five conferences earned it because they have contracts with bowls. Maybe not coincidentally, they also met the thresholds. And met them easily.

Here's how the ACC fared against the other conferences in the most recent BCS evaluations:


ACC SCOREBOARD
Saturday, 12/20
Monday, 12/22
Tuesday, 12/23
Wednesday, 12/24
Friday, 12/26
Saturday, 12/27
Monday, 12/29
Tuesday, 12/30
Wednesday, 12/31
Thursday, 1/1
Friday, 1/2
Saturday, 1/3
Sunday, 1/4
Monday, 1/12
Tweets from https://twitter.com/ESPNCFB/lists/acc