January, 21, 2014
1/21/14
5:05
PM ET
Indiana offensive coordinator Seth Littrell is leaving to take the same position with North Carolina,
IU announced Tuesday
. North Carolina has not officially announced this yet, and a release is not expected today. Still, it's not a surprise, as
several news outlets
have already
reported the expected move
.
Littrell will replace Blake Anderson, who left North Carolina in December to become head coach at Arkansas State. Littrell, who spent the past two seasons at IU coaching the tight ends and fullbacks, is expected to oversee the same groups at UNC, according to Big Ten reporter Adam Rittenberg.
We'll have more on this from the UNC side once the Tar Heels make it official.
December, 19, 2013
12/19/13
11:25
AM ET
Arkansas State has hired North Carolina offensive coordinator Blake Anderson as its head coach, athletic director Terry Mohajir announced Thursday.

Anderson spent the last two seasons with the Tar Heels and replaces Bryan Harsin, who left after one season to coach at Boise State.

North Carolina coach Larry Fedora said in a statement: "Blake is an outstanding football coach and I'm thrilled he has the chance to be the head coach at Arkansas State. It's been a goal of his for a long time to be a Division I head coach and he deserves this opportunity. Blake has been with me for the last six seasons and we've had success at both Southern Miss and North Carolina, setting several offensive school records. When you have that kind of success other schools are going to notice. I want our assistants to have these types of opportunities and I'm excited for Blake and his family as they make the move to Arkansas State. Going forward, we will take our time to find the best fit for our program."
June, 5, 2013
6/05/13
2:00
PM ET
North Carolina quarterback
Bryn Renner
has all the physical tools to become an elite quarterback in college football this season.
So I posed a simple question to North Carolina offensive coordinator Blake Anderson during a recent phone interview. What does Renner have to do to reach that level? Here is what Anderson said:
"Neither one of us thought he played very good the first six games of the year. We thought he was really sporadic, a lot of stuff going through his head, forcing the ball and most of his turnovers came early in the season when he was not sure where things should start or finish. I think he was trying to do too much, he was trying to prove himself whether it being to the people in the stands or to me or the team. I felt like the last six games of the year he played as good or better than anybody in the country at that position. Our goal was to build on that this spring and I would say he did that. He did a really good job. His work ethic is better, he's stronger than he was, he has a better understanding of the offense, so I wanted him to step it up a notch, I wanted him to be in more command of what we're doing. I wanted him to be more aware of what's happening around him. I don't want him to just know his job. I want him to know what his guys are doing and why.
"He's taking steps toward being a well-rounded comprehensive quarterback -- not just a guy who plays the position and can throw, but a coach on the field. His work ethic's allowed him to do that. He does have all the physical tools to play at an elite level and we're going to need him to do that, with as many new parts as we have on offense, we're going to need him to be solid every week and not make the rookie mistake, not make the forced throw, not take the sack when he's got outlets to get rid of the ball. Reducing bad plays that he had last year is something we've really focused on and just being calmer and more of a communicator to the guys around him, and I think he's doing all those things."
Renner's last four games in particular were solid. Renner threw for over 300 yards in each of those games, with 11 touchdowns to two interceptions, and UNC went 3-1. He completed over 70 percent of his passes in each of his last two games. You see why Anderson is so hopeful Renner can just pick up where he left off.
May, 9, 2013
5/09/13
2:00
PM ET
North Carolina is a team folks are not sleeping on in the Coastal this year, thanks to immediate results in Year 1 under Larry Fedora.
But there certainly are some questions that have to be addressed on offense, with players like Giovani Bernard, Jonathan Cooper and Brennan Williams gone. I had a chance to check in with North Carolina offensive coordinator Blake Anderson to see how his offense has progressed in filling those spots and addressing other key areas. Here is a little of what he had to say.
Where do you feel you guys stand after the spring?
Blake Anderson:
We're a long ways away from where we've got to be. We lost some really good players, and it's not going to be easy but in terms of this spring, one of the things we focused on was we wanted to increase our transition speed -- play faster. The first year of a tempo offense from a pro-style team to a tempo-style team was good but we felt like we can improve and I thought we did that. We focused on being faster between plays, the ability to get the next play off quicker, to communicate. I thought we took a step forward in that.
We simplified things offensively to try to be better technically and better positionally and allow guys to maybe fine-tune their craft. We did a better job as a staff of being more streamlined and narrowing a few things down and that allowed guys to get better at a few things. We have so many new faces on offense, we wanted some young guys to step in and play early so it's a combination of a couple different things.
And really, the rest of it is a work in progress. How many of our tailbacks take over the load that Gio's leaving and then with three offensive linemen getting drafted we have to find who our starting five is and even more importantly who Nos. 6 and 7 are. We've started on that process, but we're not near finished with it.
In terms of playing faster, how many plays did you end up running per game?
BA:
It was somewhere around 74, 74.5 last year, a good bit lower than what we would like it to be.
Where do you want it to be?
BA:
Well, we'd love to average 80 a game. That's always been a ballpark number. Some of that is outside of our control. Some of that is how the opponent plays offensively in terms of the clock they run, what are they doing -- are they trying to milk the clock? Some of it had to do with games we had the lead in and we consciously slowed the game down in the second half. I look at it in a game-by-game basis but I felt like overall our transition tempo can improve and it should and it is. Now I don't know if our average play per game will be a whole lot different or not. But 80 is a good marker for us. It gives us a good average number. If we're around that number we're moving in the right direction.
How does the transition up front impact Bryn Renner?
[+] Enlarge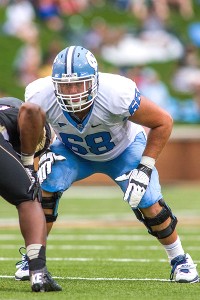 Jeremy Brevard/USA TODAY SportsThe Tar Heels have to replace three starters on the offensive line, but they are set at left tackle with James Hurst.
BA:
I'd be lying if I said he doesn't think about it but I don't want him worried about what's happening up front. I think he has some comfort in knowing he's going to have one of the best left tackles in the country with
James Hurst
on one side, and for a right-handed quarterback that obviously is a good amount of comfort. There's not a guy that's going to outwork Hurst.
Russell Bodine
at center has come a long way. He's become one of the best at that position in the country as well so he has a tremendous amount of confidence in those guys. We're fortunate that
Landon Turner
played as many snaps as he did last year with Brennan Williams being injured. Even though three guys went in the draft, there's three guys coming back that played basically the entire season for us. I don't think Bryn's that concerned or I hope he's not that concerned about those other two spots. We took big steps with
Kiaro Holts
and
Caleb Peterson
this spring at getting them to be functional up there. Are we going to be as talented as we were last year? Probably not. Maybe in the long run we'll be just as good. Initially, there's going to be some growing pains but that's not something Bryn's got a lot of time to be worried about. I think he's aware he has to get the ball out quickly at times, he's aware of where some pressures might come from. His biggest role is communicating well and feeling poised so those guys aren't rattled, so Bodine and Hurst and Landon Turner can bring those other two guys along. It's going to be a team effort. I don't want him to worry. His job is already tough enough as it is.
Coach Larry Fedora mentioned if the season started today, A.J. Blue would get the starting nod at running back over Romar Morris because of his experience. How do you envision the rotation working out?
BA:
It's going to be running back by committee to some degree. Even as good as Gio was and as good a year as he had, it took all those guys to get through the season. So it's going to take them all. They're all a little bit different, and injury at some point is going to keep somebody out for a game or a quarter or a half and we're going to need everybody, all hands on deck. I would say the walk-on
Charles Brunson
that went through the spring or T.J. Logan, the freshman coming in, I would say those guys would end up touching the ball as well. It's just the nature of college football.
How do you think Khris Francis fits into the mix?
BA:
Really surprised at how quickly Khris Francis picked up things. He put the ball on the ground early but got better as the spring went on. For a freshman coming in, it's always an eye-opening experience. Defenses at this level attack the football and try to take the football away. He's got the skill level to be good. I think it's going to be a one-two punch, you may see A.J.-Romar one week and maybe Romar-Khris or maybe Khris and A.J. depending on who's healthy, who's got the hot hand, who's having a great day and how the season is going. I can see a one-two punch with three or four guys.
Quinshad Davis emerged for you at receiver last year but maybe you didn't have the depth you wanted. Where does that group stand now?
BA:
Just the transition from the old style to what we do, that's the position where it takes the longest to get your numbers built the way you want to get them built. You're getting a lot more plays than you've gotten. We're asking more guys to be on the field than they have in the past. So we're still seeing some growing pains. We are thin, we were beat up. We've been unfortunate with a few guys who have ability but haven't been physically able to get out there.
T.J. Thorpe
is one of those guys we have to get on the field. I thought Quinshad had a great freshman year, better than expected. He had a really good spring. I saw him step up, his personality, he became even more competitive on a daily basis whereas in the fall he was playing well, but you didn't see him step up and try to lead in any way. He was just following the group. I thought this spring he stepped up his competitive nature and led some drills, led the group, and that will make him a better player.
And then
Kendrick Singleton
and
Sean Tapley
both played several different positions during the spring. We bounced them around and utilized them different ways, which is going to benefit us in the fall. It's going to make us more versatile. We're trying to find out what role they can play. The way we operate you have to talk about the tight end at the same time. Without
Eric Ebron
this spring, I thought
Jack Tabb
had a very, very good spring. He trimmed down a little bit, got a step faster and became more versatile. Once you throw Ebron back in the mix with Tabb and those guys I mentioned and hopefully we can infuse a couple young guys coming in, I think we're going to be still inexperienced but I think we have a chance to be a step better.
January, 3, 2012
1/03/12
2:29
PM ET
By
ESPN.com staff
| ESPN.com
North Carolina
announced the hiring of eight assistant coaches
Tuesday, including six who worked with first-year coach Larry Fedora at Southern Miss., one who was a former defensive coordinator in the ACC, and another who is returning for a second coaching stop in Chapel Hill.
From Southern Miss, Fedora hired defensive coordinator Dan Disch, defensive assistant and special teams coordinator David Duggan, defensive line coach Deke Adams, offensive coordinator and quarterbacks coach Blake Anderson, tight ends coach Walt Bell and offensive line coach Chris Kapilovic.
Gunter Brewer, who coached five years at Carolina from 2000-2004 and was most recently the offensive coordinator at Mississippi for two seasons, returns to Chapel Hill to coach wide receivers and serve as UNC's passing game coordinator. Brewer has coached several outstanding wide receivers in stops at Marshall, Oklahoma State, UNC and Mississippi, including three Biletnikoff Award finalists.
Vic Koenning will serve as Carolina's associate head coach for defense. He recently led Illinois to a 20-14 win over UCLA in the Kraft FightHunger Bowl as the interim head coach. Koenning is a 24-year college coaching veteran who served three years as Clemson's defensive coordinator from 2005-08. Each of his four Tiger defenses finished in the top 25 in scoring, total, and pass efficiency defense. He also was head coach at Wyoming in the early 2000s.
Fedora will retain strength and conditioning coach Tom Myslinski, who recently completed his first year in Chapel Hill.
Carolina has hired eight of its nine on-field assistant coaches. Fedora plans to hire a running backs coach in the near future.