September, 14, 2010
9/14/10
9:26
AM ET
Both the ACC and the Big East are off to rough starts in 2010. The ACC flopped on the big stage last weekend, while the Big East has yet to win any high-profile matchups. So which league is hurting more? ACC blogger Heather Dinich and Big East blogger Brian Bennett commiserate and communicate about their under-performing conferences.
[+] Enlarge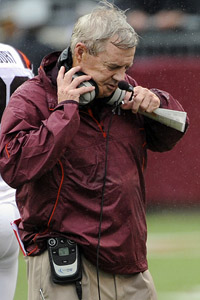 AP Photo/Don PetersenFrank Beamer and Virginia Tech have personified the ACC's slow start this season.
Brian Bennett:
Heather, we have to stop meeting like this. Seriously, it seems like every year we're both trying to defend the conferences we cover. The Big East is 0-6 against teams from the other five power leagues, the Mountain West and the WAC. But the ACC might be even more disappointing, because expectations were so high for so many teams from that league. Which conference do you think has had a worse start to 2010?
Heather Dinich:
It's a toss-up, Bennett, it really is, but we've got a few games coming up that will help answer that, starting Thursday night with NC State-Cincy, and then Maryland at West Virginia on Saturday. The marquee matchup, though, will be Miami at Pittsburgh. Until then, though, I will argue that the Almost Competitive Conference beats the Big Least in the most disappointing start to the season. There's one loss that was the deciding factor -- Virginia Tech losing (AT HOME!!) to James Madison. Correct me if I'm wrong, but I don't think the Big East stooped even that low, despite a 1-4 start on Weak 1 and West Virginia's scare from Marshall in Weak 2.
BB:
You're right that the Big East doesn't have any embarrassing losses. Its defeats have come against Florida, Michigan, Utah, Washington, Kentucky and Fresno State, and all but one of those came on the road. The league has beaten up on its lower-division competition.
What's troubling, though, is that no one from the Big East stepped up and grabbed a marquee win. Pitt was the preseason favorite and Top 15 club before it lost a sloppy overtime game to the Utes. UConn was a buzz team that got smacked around by
Denard Robinson
at the Big House. The two-time defending league champ, Cincinnati, was manhandled in Fresno. It looks like the Big East will once again be shut out of the national championship picture unless West Virginia can play much better than it did last Friday night.
But I guess I don't have to tell you about missing out on marquee wins. What has been the most disappointing thing in the ACC so far? And can we table all this "Florida State and Miami are back" talk for yet another year?
[+] Enlarge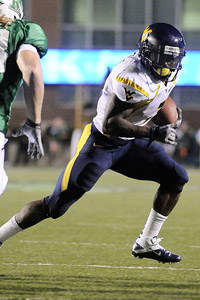 AP Photo/Jeff GentnerNoel Devine and West Virginia can still dream about the national title ... for now.
HD:
Wait, did you just use national championship and West Virginia in the same sentence? Poor guy. Keep reaching, my friend, keep reaching. Maybe the Mountaineers will face Miami for it all. But don't worry, you won't hear anymore Miami-Florida State hype from this blogger until one of those programs does something to deserve it. I will say, though, that just because both of them faltered on the national stage doesn't mean they're out of the running for the ACC championship game. Then again, Duke and Maryland could wind up in Charlotte and it wouldn't surprise me. Well, ok, maybe just a little …
As for the most disappointing thing in the ACC so far? I would say it was how these big games have been lost. For Florida State, it was convincingly. For Miami it was turnovers. Both of those programs looked to similar to their 2009 form. For Virginia Tech it was fundamental mistakes and turnovers. Virginia beat itself against USC. North Carolina had missed opportunities against LSU, and it was missing half its starting lineups. It's impossible not to wonder what UNC would have been able to do this year if it had been full strength when everyone else appears to be down. Ah, the what-ifs of the ACC. So where does the Big East turn now? Can the conference redeem itself?
BB:
Hey, West Virginia was almost there in 2007 and Cincinnati was maybe a second away last year, so it's possible. I don't remember the ACC even sniffing the BCS title game in recent years. Miami only did it when the Hurricanes were in the Big East; clearly, they need to come back. No hard feelings.
The good news for the Big East is it still has some spotlight games left. Next week alone, Cincinnati plays Oklahoma, West Virginia goes to LSU, Pittsburgh welcomes those 'Canes to Heinz Field and Rutgers takes on the tattered shreds of the North Carolina program. The bad news is, none of those teams has yet shown the ability to beat a high-caliber opponent, with the possible exception of Pitt (wait -- did I just use ACC teams and "high-caliber" in the same sentence?).
Heck, I'm not even sure Cincinnati can beat an NC State team that squeaked by Big East wannabe Central Florida last week. But at least one of our leagues will get some nonconference victories in the next couple of weeks, because they're playing each other. Can the ACC earn back any of its squandered respect?
HD:
You don't remember Virginia Tech ranked No. 3 in the BCS in 2007? You almost let that slip by like a Big East defense. But yes, there are still plenty of opportunities for redemption -- half the SEC is still on the schedule starting this week when Clemson travels to Auburn. There's also the rivalry games against Florida, Georgia and South Carolina. Those are the games the ACC still has to win, because you and I both know that beating Cincinnati and Rutgers won't do much for the ACC's reputation.
September, 9, 2010
9/09/10
7:37
PM ET
Saturday's game between Florida State and Oklahoma will feature two programs stacked with history and tradition -- a combined nine national titles, 82 bowl appearances, and 54 conference titles. When it comes to the current college football landscape, though, there is a significant gap between them. The Sooners are just two seasons removed from their runner-up finish for the national title while Florida State enters this game under first-year coach Jimbo Fisher looking to regain national relevance. Can the Seminoles pull the upset? ACC blogger Heather Dinich and Big 12 blogger David Ubben break it down:
[+] Enlarge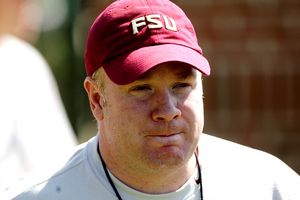 AP Photo/Phil CoaleFSU defensive coordinator Mark Stoops will be matching wits with his brother Bob in Oklahoma.
Heather Dinich:
Well, Ubben, it's time for the unofficial Stoops Bowl, which to me is the key matchup in this game -- Oklahoma coach Bob Stoops against his little bro and first-year FSU defensive coordinator Mark Stoops. If Florida State is going to have any chance at the upset, the Seminoles' defense has to stop DeMarco Murray first, but a young secondary that includes three starters will have to grow up quickly and adjust to Stoops' new zone scheme, which requires discipline and communication. How do you see Oklahoma's offense faring against a defense that was downright bad a year ago, but starting to make some progress?
David Ubben:
Oklahoma definitely has the skill-position talent to give the Noles trouble, and based on Saturday's game, you're right, the offense will run through Murray, who got a career-high 35 carries against Utah State. But if Oklahoma sees a big weakness in that secondary it can exploit, look for some of those touches to go Ryan Broyles' way. There might not be a tougher guy to get a hand on in the open field in all of college football. They might use a lot of slants and bubble screens just to get the ball in his hands and dare Florida State to tackle him.
On the other side, there's been a lot of talk about how Christian Ponder's offensive line makes life easy for their Heisman candidate. How will they fare against a pair of the best defensive ends just about anywhere, Jeremy Beal and Frank Alexander, and defensive coordinator Brent Venables' blitz packages intent on putting Ponder on his back as much possible?
HD:
That's where I see the Noles having their biggest advantage, my friend. Florida State's offensive line will get the edge, particularly in the running game against those inexperienced defensive tackles. That can also affect the pass rush, but Ponder is poised enough to sense pressure coming off the edge while keeping his eyes downfield. Senior guard Rodney Hudson and senior center Ryan McMahon are in their fourth seasons as starters, and collectively, all five starters return a combined 147 career starts. I see all of that adding up to a balanced offense for the Noles, with the Sooners biting on the play-action pass. Besides, Oklahoma's pass defense is rather friendly. Just ask Utah State, which racked up 341 passing yards.
DU:
Maybe so, and they'll be tested for sure, but Bob Stoops has faith in the plays he's seen Demontre Hurst and Jamell Fleming make when they played last season and what he saw in them through spring and fall practice. I get the sense that this will be somewhat of a high-scoring affair. Oklahoma looked invincible at home last season and has only lost twice at Owen Field under Bob Stoops.
What makes you think Jimbo's boys have the chops to be the third?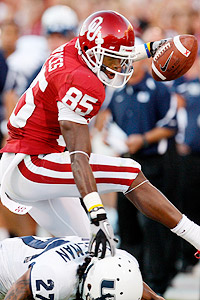 AP Photo/Sue OgrockiThe Sooners are counting on big plays from Ryan Broyles against a young FSU secondary.
HD:
The intangibles. There's a difference at Florida State this year under Fisher. Not only in optimism, but in preparation. The Seminoles will go in there focused and ready to take care of business undaunted by the nation's longest home winning streak at 31 games. The leadership of Ponder will also be a factor, as he's got the poise and the brains to keep the offense calm. And don't forget about the third phase of the game -- special teams. The Sooners need to be ready for a home run threat in punt returner Greg Reid. Word of advice? Don't kick it his way. I say all of those things will add up to an upset, but I'll give you the final word.
DU:
Greg Reid? You mean the poor man's Ryan Broyles? Oklahoma can match the Seminoles playmaker for playmaker, but this thing's going to come down to whichever team can stop the other. I'll take the Sooners' proven defense that slipped up for one week over Florida State's, which was in a free fall for all of last season. New corners? Sure, but two guys and some inexperienced defensive tackles aren't enough to make up for 15.5 points, the difference between what Oklahoma's defense allowed last season and what Florida State allowed.
September, 25, 2009
9/25/09
11:00
AM ET
By
ESPN.com staff
| ESPN.com

Posted by ESPN.com's Brian Bennett and Heather Dinich
The ACC and Big East will square off three times on Saturday -- South Florida at Florida State, Rutgers at Maryland and Pittsburgh at NC State. Which means it's time for another round of blogger debate between the conferences.
| | |
| --- | --- |
| | |
| | Melissa Majchrzak via Getty Images |
| | Christian Ponder has gotten off to a fast start this season, passing for 813 yards and 4 TDs. |
Brian Bennett:
Heather, I've got some good news and some bad news for the ACC. The good news is, William & Mary, Richmond and Middle Tennessee aren't on the schedule this week. The bad news is, three ACC teams will have to play against opponents from an actual BCS conference, the Big East. Should the ACC just go ahead and forfeit all of them now and save itself further embarrassment?
Heather Dinich:
Is it March yet? Look, Bennett, last I checked the ACC had four teams in the national rankings and the Big East had ... oh, that's right, Cincinnati. Isn't that the same team Virginia Tech beat in the Orange Bowl last year? South Florida lost its quarterback and Florida State found one. UNC beat Connecticut, and Rutgers ... well, I might have to give you that one. The Pitt game should be interesting, unless, of course, NC State uses the same
offense it did against South Carolina. But what exactly is it you think the Big East has on the ACC heading into this week?
BB:
The Big East has a 16-5 nonconference record, compared to the ACC's 17-10 mark. Hey, we could sit here all day and discuss which conference is better -- and I'm sure some people would want us to do that -- but why don't we look at this week's games instead?
Let's start with South Florida at Florida State. What has gotten into the Seminoles? Are they really as good as they looked at BYU this week? I had to check my calendar because I thought for a minute it was 1999 again.
HD:
Well, let's just say the Noles CAN be that good.
Christian Ponder
has been overshadowed by
Jacory Harris
at Miami, but he's played just as well, and I expect him to be the difference in that game, especially with Grothe out. The question for FSU is which defense will show up. They seem to have given up as many big plays as they've made. What are you expecting from that Tally quarterback,
B.J. Daniels
?
| | |
| --- | --- |
| | |
| | AP Photo/Chris O'Meara |
| | Tallahassee native B.J. Daniels will be making his first start versus FSU. |
BB:
Daniels is really good. He's got a rifle arm and the speed and moves of a basketball player, which he is for the Bulls in the winter. I think they're going to be able to make some plays in the passing game, where they have a lot of weapons. I worry, of course, about his inexperience and whether South Florida can run the ball.
Matt Grothe
, after all, was their leading rusher the past three years.
I think we both agree that FSU has the edge in that game. What about Pitt at NC State? I watched the Wolfpack get crushed by South Florida last year and lose to Rutgers in the bowl game. Any reason not to think another Big East team will whip them?
HD:
I picked NC State, but it's probably the one I was least sure of. The Pack could be starting its fourth different offensive line in as many games, and they've been banged up too much to have any consistency in their secondary. Tom O'Brien has been talking about those units as areas of concern all week, and rightfully so. He's so excited, though, to finally play some "smashmouth football," and he's hoping a win over the Panthers will open some recruiting doors in Pennsylvania.
I'll tell you what, though, Bennett, if there's one difference in this game it's on the sideline, and I'd take O'Brien over Wannstedt. You think he'll have the Panthers in the Top 25 this season? I see you have them at No. 2 in this week's power ranking behind Cincinnati.
| | |
| --- | --- |
| | |
| | Randy Litzinger/Icon SMI |
| | Dave Wannstedt has Pitt off to a 3-0 start. |
BB:
You're harsh on Wanny. Did you know he's 13-4 in his last 17 games? He's got about twice as many wins over FBS opponents as O'Brien does during that time.
I think Pitt is one of the most underrated teams in the country right now. The Panthers have gobs of talent all over the field, and their one big question mark -- quarterback -- has thus far been answered by
Bill Stull
's solid play. He's completing 70 percent of his passes and making great decisions. If NC State has problems on the O-line and in the secondary, the Wolfpack are in trouble. Because Pitt is absolutely loaded on the defensive line and has plenty of receivers to burn those DBs, especially freakish athlete
Jonathan Baldwin
. I like Pitt to control this game from start to finish and win a low-scoring battle.
OK, let's get to the Rutgers-Maryland game. The Scarlet Knights apparently have three FCS teams on their schedule now with the way the Terrapins have been playing. What in the world is going on with Ralph Freidgen's team?
HD:
Oh, man, there's not even enough space in the blogosphere to start dissecting Maryland's problems. The big man has pinned the Terps' 1-2 start on a bit of bad luck and a young roster, but the truth is their problems range from recruiting to staff continuity -- much deeper issues than their woes up front on both lines. At first it was the defense not holding up its end of the deal, but last week it was the offense, which had four turnovers. To lose to Middle Tennessee two years in a row and
barely
beat James Madison at home is worse than bad luck -- it's inexcusable.
This is quite a different Rutgers team, though, than when these teams last met in 2007 and the Terps upended a top 10 team. How low has Rutgers sunk since then?
BB:
Well, I thought Rutgers was ready to break through this year, and I picked them to win the Big East -- and then they went out and laid an egg in the opener against Cincinnati. This is a team that should be pretty good, with an experienced offensive line and a talented defense. But the passing game has been slow to develop, and now they're starting a true freshman quarterback (
Tom Savage
) who is a little groggy from a head injury last week. The running game hasn't blossomed and the Scarlet Knights have struggled to score points. Perhaps Maryland will be the cure to what ails them, though I think this could be a sloppy game.
So let's wrap this up. I say the Big East goes 2-1 this week, with Rutgers and Pitt winning. Not bad considering all three games are on ACC turf. What do you say?
HD:
Well, I say the ACC goes 2-1, with the lone loss coming in College Park. If I'm wrong, I'll talk to you in March.