December, 11, 2014
Dec 11
2:00
PM ET
A year after going winless in conference play, NC State wrapped up the regular season with a 7-5 record and a berth in the BITCOIN St. Petersburg Bowl against UCF. We talked with Wolfpack head coach Dave Doeren last week about the improvement of his team down the stretch and the big win against North Carolina to end the season.
At the end of October, you were riding a four-game losing streak and had lost 12 straight in ACC play, but by the end of November, you were playing your best football of the year. How much changed in that last month of the season?
[+] Enlarge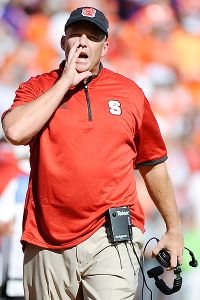 AP Photo/Rainier EhrhardtDave Doeren believes his team is more balanced offensively now than it was early in the season.
Dave Doeren:
We won three of our last four, and I really feel like our last two games against Wake and UNC, we were dominating in all three phases. We got better after the stretch [of losses]. We played pretty good against Florida State and lost, and we played pretty good against Louisville and lost. We're a seven-win team that really had a chance to win nine games. Georgia Tech and Clemson we didn't, but the others we did, and to finish the way we did, dominating the lines of scrimmage in both games, I was really proud of our players.
You have talked a lot about the challenges of having such a young team, but that those players managed to bounce back from a really rough stretch midseason has to speak highly of their maturation, right?
Doeren:
Yeah, we had a team meeting where I thanked our seniors for just that, keeping the guys together. The younger players followed their leadership, and I told our staff that they did a great job keeping the ship the way it needed to be kept. Guys that wanted to win were willing to throw it in there and compete, and [it] showed in the small victories as we went through that process and came out of it playing pretty good football.
Early on, it seemed like if Jacoby Brissett was playing well, the team played well. But down the stretch, it looked like you found a little more diversity offensively, playing a bit more physical and using the run game. Is that a fair assessment?
Doeren:
I've been searching for balance ever since I got here. We had it throughout the season in most of our games. When you get behind the way we did in the Clemson game or the second half of Georgia Tech, it forces your hand. The only game I thought we abandoned who we were was Boston College. We got in a throwing mode too much. Since that game, I think our offensive staff has really done a great job of game-planning and being balanced and using Shad Thornton or
Matt Dayes
throughout the game, and
David Grinnage
in the play-action game and finding some hits for
Bryan Underwood
or getting
Bo Hines
the ball in the slot. They just used their personnel and really found the identity I want to have as a running football team that can control the clock. We've been able to find that.
Hakim Jones made some headlines with his comments about playing physical against North Carolina, and QB Marquise Williams in particular. I'm sure you weren't thrilled with the bulletin-board material, but does it speak to your team's progress that they actually went out and backed up those comments with their performance on the field?
Doeren:
The first thing I did when I heard the comment was I called him and [said], 'You better back it up.' I respect Marquise Williams a lot. He's a really good player. And I think Hakim does, too, but he got in the moment of the press conference and he definitely said what he was thinking, but he didn't need to say it. But he backed it up, and the guys supported him. That's not something I want to repeat, but I'm glad they did back it up, because those moments can go the other way on you in a hurry. Our defensive kids played really good football in that game. We dominated the line of scrimmage, we tackled well, and they were physical when they got there.
The other big issue you had midseason was the suspension of several key players for an off-field incident. Was that a turning point in giving those players a little bit of an eye-opening experience and getting some young guys game-day reps?
Doeren:
That game was a really big learning experience for those kids that had to sit out. They had to earn their way back into the lineup, and they did. But it allowed some other kids to get out there and play, which in turn helped our depth.
Bradley Chubb
and
Airius Moore
got some really big playing time because of it, and I think when you ask about our improvement, it's our coaching staff and players working together and buying into that process that you have to practice and prepare well to play well. As a young team, sometimes guys don't understand how hard you need to practice, but by the end of the season we were a very different football team when it came to the effort we were giving on a daily basis on the practice field.
December, 2, 2014
Dec 2
10:30
AM ET
The ACC announced its all-conference teams yesterday, but there were certainly a number of good players who didn't get recognized. So with that in mind, we put together our all-overlooked team focusing exclusively on ACC standouts who didn't earn first-, second- or third-team honors from the league.
QB:
Brad Kaaya
(Miami)
RB:
Shadrach Thornton
(NC State)
RB:
Wayne Gallman
(Clemson)
WR:
Jarrod West
(Syracuse)
WR:
Bo Hines
(NC State)
WR:
(tie)
Cam Phillips
and
Isaiah Ford
(VT)
TE:
Cam Serigne
(Wake)
OL:
Ian Silberman
(BC)
OL:
Eric Smith
(UVA)
OL:
Brian Chamberlain (GT)
OL:
Kalon Davis
(Clemson)
C:
Quinton Schooley
(NC State)
Kaaya led the ACC in touchdowns, yards-per-attempt and passer rating. He had his flaws, but that's a great season to go unnoticed. Thornton was actually the league's third-leading rusher among tailbacks. West somehow finished ninth in catches and 10th in receiving in the ACC despite an atrocious situation at QB for Syracuse. Hines was a go-to receiver from Day 1 as a true freshman at NC State and was among the nation's most reliable pass-catchers. The two freshmen at Virginia Tech, Cam Phillips and Isaiah Ford, will make plenty of All-ACC lists before their careers are done. Serigne's emergence was one of the very few bright spots on offense for Wake Forest. Silberman, a Florida transfer, set the stage for fellow former Gator
Tyler Murphy
to set the ACC record for rushing yards by a QB. Schooley was perhaps NC State's top lineman on a group that got significantly better as the year went along and helped the Wolfpack to finish second in the ACC in yards-per-rush. Smith gets a nod, but Virginia's line was largely a group effort, and until injuries began piling up in November, few lines had protected its QB better.
DE:
KeShun Freeman
(GT)
DE:
Corey Crawford
(Clemson)
DT:
David Dean
(UVA)
LB:
Josh Keyes
(BC)
LB:
Marquel Lee
(Wake)
LB:
Dyshawn Davis (Syracuse)
LB:
P.J. Davis (GT)
S:
James Sample
(Louisville)
S:
Robert Smith
(Clemson)
CB:
Mackensie Alexander (Clemson)
CB:
Kevin Johnson
(Wake)
All you need to know about Crawford's impact is that when he was out against Georgia, the Tigers allowed 328 rushing yards and five touchdowns. In the next 11 games with him, they allowed 844 yards and five touchdowns. Freeman stepped up for Georgia Tech as a freshman to provide some much-needed pass rush. Keyes was one of the most versatile linebackers in the league, helping BC's defense rank fourth nationally against the run. Lee finished in the top 10 in the ACC in both tackles and tackles for loss on an under-appreciated Wake defense. Davis, like the rest of the Syracuse D, was largely ignored but finished the year with six TFL, seven QB hurries and three forced fumbles. Smith was the veteran voice in a young Clemson secondary, and his influence helped Alexander blossom into one of the league's best corners. While the defensive front got so much of the credit, Clemson's secondary also finished fourth nationally in pass defense.
K:
Ammon Lakip
(Clemson)
P:
Riley Dixon (Syracuse)
Ret:
Myles Willis
(BC)
Lakip missed three of his first four kicks against FBS teams, and Clemson lost both games. But he showed ample resilience in connecting on 15 of his next 16. Willis led the ACC in kick return yardage and was responsible for one of the league's five return TDs. And Dixon, of course, was a Heisman candidate after a game-saving Week 1 TD pass, and we're just not ready to give up that dream.
October, 20, 2014
Oct 20
2:00
PM ET
Digging into some numbers from Week 8 in the ACC ...
Winston is the comeback kid
Amid all the off-field chaos, it's easy to forget how good
Jameis Winston
is on the field, and he's been particularly impressive when his team needs him most. Winston is awfully good at rallying his team. In the second-half comeback against
Notre Dame on Saturday
, Winston was a sterling 15-of-16 for 181 yards, leading two touchdown drives.
This is nothing new. While Winston hasn't been tested often, his numbers when playing from behind are off the charts. Since the start of last season, Winston has completed 81-of-109 passes (74 percent) for 1,104 yards (13.6 yards-per-attempt) with 12 touchdowns and one interception when FSU is trailing. That's absurd.
Winston also excelled against the blitz Saturday. In 2013, he completed 69 percent of his throws, averaged 11.8 yards-per-attempt and tossed 21 TDs to just three picks vs. the blitz, but to start this season, his YPA dropped to 8.1 and he had just three TDs on 54 attempts. Against the Irish, however, Winston was 9-of-11 for 113 yards with two TDs and no picks when facing the blitz.
Noles' ground game struggling
On Saturday, FSU mustered just 50 yards on 26 rushing attempts -- a dismal 1.92 YPC. Last season, FSU averaged 5.6 yards per rush, but it has yet to hit that mark in any game against an FBS foe this season.
It's not all on the tailbacks, however. The biggest difference appears to be the O-line.
.
FSU's runners are averaging roughly the exact same number of yards after first contact as they did in the previous two seasons, but they're getting more than two yards-per-carry less before contact than they did in 2012.
Boyd and nothing else
Pitt
toppled Virginia Tech
on Thursday despite QB
Chad Voytik
completing just 10 passes (on 17 attempts). What's perhaps even more noteworthy about Pitt's passing game, however, is that the only wide receiver to catch a pass was
Tyler Boyd
, who had six receptions on nine targets.
That's hardly a surprise. For the season, Boyd has 34 catches against FBS teams. The rest of Pitt's receiving corps has 22.
Overall, Boyd has accounted for 41.4 percent of Pitt's targets and 49.7 percent of its receiving yards vs. FBS foes -- both the highest rates in the nation.
Clemson stuffs the run
Remember in the opener when
Todd Gurley
ran all over Clemson's defense? Georgia racked up 328 rushing yards and five TDs on 41 carries. It was ugly.
Since then, however, the Tigers have surrendered just 395 more yards in six games. Clemson is allowing just 2.0 yards-per-carry since the opener, the best rate in the nation. Against
Boston College on Saturday
, it held the Eagles to nearly 200 yards below their season rushing average, and the Tigers racked up 14 tackles for loss. It was the fourth time in the last six games Clemson has had double-digit TFLs, and since that opening game against UGA, no defense in the country has created a higher percentage of negative rushing plays than Clemson's (36.5 percent).
Marquise the magician
For the second straight week, North Carolina QB
Marquise Williams
was terrific. Williams enjoyed his third 300-yard game of the season (Winston is the only other ACC QB with as many), chucking four TD passes and adding a fifth score -- along with 70 rushing yards -- on the ground in a
win against Georgia Tech
.
It's the second straight game Williams had 300 passing yards, 70 rushing yards and at least three total touchdowns. In the past decade, the only other Power 5 conference QB to do that in back-to-back games was Heisman winner Robert Griffin III.
Heels, Jackets struggle on D
Entering Saturday's game, the only Power 5 conference team allowing more yards-per-play than Georgia Tech (6.3) and North Carolina (6.2) was South Carolina (6.35), so it was no surprise that the two defenses coughed up 1,190 yards and 91 points when they faced off.
For Georgia Tech, it's the continuation of a downward trend. In Ted Roof's first eight games against FBS teams as Tech's defensive coordinator, the Yellow Jackets allowed 5.5 yards-per-play and held five opponents below 101 yards rushing. In his last nine, opponents have rushed for an average of 173 yards per game and are averaging 6.5 yards-per-play overall, good for 115th in the nation in that span.
But things are even worse for the Tar Heels. In the last decade, just five Power 5 conference teams have allowed more yards in their first seven games than UNC (3,659) and only four have allowed more touchdowns (40).
Quick hitters
Entering the game, Virginia QBs were completing 63 percent of their throws to wide receivers this season, but against Duke, the Hoos completed just 45 percent. Matt Johns targeted wideouts on 70.2 percent of his throws in the game — the second-highest percentage of throws to WRs for Virginia quarterbacks this season. Cavaliers wideouts haven't caught a touchdown pass in their past three games after hauling in six in the first four.
Johns did hit running back Khalek Shepherd for a passing touchdown. It was just the third one Duke has allowed this season. Only San Jose State and Ole Miss have allowed a lower rate of touchdown throws in the nation.
Ryan Switzer in 13 games last season: 32 catches, 341 yards, three TDs. Switzer in seven games this season: 34 catches, 429 yards, three TDs.
The two highest completion percentages for Power 5 wideouts (min. 30 targets) reside in the ACC, and both are true freshmen: Clemson's Artavis Scott (38 catches on 46 targets) and NC State's Bo Hines (28 catches on 35 targets).
UNC's defense has struggled, but it has also been opportunistic. The Heels have 80 points off turnovers this year, the third-best total in the country. On the flip side, the Heels have allowed 77 points off turnovers, the second-worst total in the country.
September, 29, 2014
Sep 29
2:00
PM ET
Breaking down some interesting stats after five weeks of games in the ACC.
* Jameis Winston's Heisman campaign shouldn't be on life support just yet. His numbers are down from last year, but not by as much as you might think.
Last season, Winston led 137 drives and Florida State scored on 66 percent of them, averaging 4.1 points per drive.
This season, Winston has led 33 drives and the Seminoles have scored 61 percent of the time and averaged 3.7 points per drive.
It's really a small blip, and given that Winston is breaking in a lot of new faces in new roles at the skill positions, it's certainly not too surprising.
Winston also ranks 10th nationally in passing yards per game, 15th in yards per attempt and 19th in passer rating. Again, off a bit from last season, but certainly well within range of climbing back into the Heisman race by year's end.
* In Florida State's first eight quarters of action against Power 5 opponents, it had tallied just 131 yards and two TDs on 45 non-QB rushing attempts (2.9 yards per carry). Since the start of overtime against Clemson, however, those numbers have jumped to 194 yards and five TDs on 30 carries (6.5 YPC).
*
Rashad Greene
is FSU's Mr. Reliable. Since he arrived in 2011, he's responsible for 36 percent of all of the Noles' receptions on third or fourth down (48). This season, he's been targeted on 11 of 21 third-down passes.
More Greene: He's played in 19 games decided by two touchdowns or less. In those games, he's caught 118 passes for 1,658 yards and 12 TDs. No other FSU receiver has had more than three touchdown catches in those games.
* The bad news for FSU is the defense. The Seminoles have allowed more than 400 yards of offense to ACC teams in consecutive games for the first time since 2009 — a season in which Florida State finished 108th nationally in total defense.
* Looking for a dark horse for the ACC's top freshman? How about NC State's
Bo Hines
, who has 24 catches for 312 yards already this season. Only three other true freshmen in the nation have more catches and only two have more yards than Hines, and no Power 5 conference receiver in the nation (min. 25 targets) has caught a higher percentage of his passes (87.5).
*
Jacoby Brissett
was exceptional against Florida State, with Jimbo Fisher comparing the NC State QB's game to that of his own Heisman winner. But beyond the highlight plays, what's perhaps been so impressive about Brissett so far this season is that he hasn't made many mistakes. In fact, the NC State QB currently has a streak of 156 straight attempts without an interception — the longest streak by any quarterback since Baylor's
Bryce Petty
went 229 straight throws from Oct. 5 through Nov. 30 of last season.
* While Brissett avoided picks, Virginia Tech's
Michael Brewer
keeps racking them up. Brewer threw two more against Western Michigan, giving him 10 for the year, which is tied with Wake Forest's
John Wolford
for the most in the country. Brewer has thrown multiple interceptions in four straight games. That's the longest streak by a Power 5 QB since USC's Matt Barkley tossed multiple INTs in four straight in 2012. In the last decade, the only Power 5 QB with two or more picks in five straight games was Oregon State's Matt Moore in 2005.
* Speaking of Wolford, he threw three more picks Saturday, which Louisville turned into two touchdowns and a missed field goal. Overall, Wake Forest has allowed 59 points off turnovers this year, the third most by any Power 5 team. Those 59 points account for 59 percent of all the points the Demon Deacons have surrendered this season, third most of any team in the country.
Worse news for Wake: It has Florida State up next on the schedule. Last year, the Deacons turned the ball over seven times against FSU, leading to 38 points for the Seminoles. Ouch.
* Saturday marked the first time this season that Pitt's
James Conner
failed to reach 100 yards rushing and the first time that Miami's
Duke Johnson
topped the century mark. Still, Conner and Johnson are the only running backs in the nation to have exceeded 90 yards in every game so far this season.
For Johnson, Saturday's win over Duke was his 14th career game topping 90 yards rushing. Only three other active Power 5 running backs have had more since the start of 2012: Nebraska's
Ameer Abdullah
(22), Georgia's
Todd Gurley
(18) and Wisconsin's
Melvin Gordon
(15). That's pretty good company.
* Of course
Deshaun Watson
is great, but here are a few numbers to illustrate how good he's been: Watson leads the nation in yards per attempt (11.9). He's second only to Oregon's
Marcus Mariota
in passer rating (212.7). He's third behind Mariota and Alabama's
Blake Sims
in completion percentage (72.7). He has the third-best rate of TD-to-attempts in the country behind Mariota and Cal's
Jared Goff
. And no QB in the nation has had a higher percentage of his passes result in plays of 20 yards or more than Watson (21.1).
* Impressive early work by Todd Grantham. Louisville currently leads the nation in total defense (208.5 yards per game) against FBS teams. Virginia is the next closest in the ACC, allowing more than 100 additional yards per game than the Cardinals (313.0). Louisville's 18 sacks and nine interceptions against FBS teams are also tops in the nation, and only TCU has had a higher percentage of opponent drives end without gaining a first down (58%). ESPN's metrics note the Cardinals' defensive win probability added of 2.40 nearly doubles any other team in the country (Ole Miss and Utah State are next at 1.23).
* Virginia's offense still won't be confused with Oregon or Baylor, but the Hoos have scored 20 points or more in five straight games for the first time since Oct. 6, 2007. They haven't hit that mark in six straight since 2002, but that could change Saturday against reeling Pittsburgh.
September, 12, 2014
Sep 12
10:30
AM ET
It's been two weeks of close games for NC State, but it's also been two wins. For a team that hadn't celebrated a victory since Sept. 28 of last year, that's progress.
Still, there's no question the Wolfpack have work to do still, particularly on the defensive side of the ball.
In the first two weeks of the season, NC State faced Georgia Southern and Old Dominion -- hardly teams that will be confused for Texas A&M or Oregon -- but the defensive numbers were not pretty.
Georgia Southern racked up 438 yards of offense, including 246 on the ground, and led the game in the final two minutes.
Old Dominion topped those numbers, totaling 504 yards of offense (196 on the ground) and also took a lead into the second half.
The early struggles aren't entirely a surprise for the Wolfpack, who have plenty of youth on the roster, but that doesn't mean the two wins will overshadow the bad mistakes.
"A win's a win. But now we've got to get those mistakes off the film," said senior defensive tackle
T.Y. McGill
.
Indeed, the mistakes are easy to spot.
After two weeks, the Wolfpack have allowed the second-most rushing yards after contact in the nation (345). No Power 5-conference team has surrendered more yards after contact per rush than NC State (4.11). Overall, 78 percent of the rushing yards it has surrendered came after contact.
"You can't be at a D-I program and have all those missed tackles," McGill said.
That's particularly discouraging since the defensive line, which features seniors McGill,
Art Norman
and
Thomas Teal
, along with fourth-year junior
Mike Rose
, is one of the Wolfpack's rare groups stocked with veterans.
Still, the best part of mistakes on film, McGill said, is that the problems are obvious. The job now is to correct them.
Unlike last season, however, the Wolfpack have the luxury of an offense that appears poised to make up for a few missed tackles and missed assignments.
Jacoby Brissett
has the NC State offense rolling to the tune of 959 yards and 70 points. Brissett leads the ACC in passer rating, while no receiver in the conference has hauled in a higher rate of targets than freshman
Bo Hines
.
A road trip to South Florida this week should be a bit bigger test for the NC State offense, however, which means it's incumbent upon that defense to take a big step forward in Week 3, too.
"It's great having an offense that can drive the ball down the field," McGill said, "but the defense has got to step up."
September, 8, 2014
Sep 8
12:00
PM ET
With two games in the books for most of the ACC, we're taking a look at some stats that have stood out thus far.
* There's plenty of credit to go around for Virginia Tech's huge win at The Horseshoe on Saturday, but it should start with the defensive front. Ohio State had three drives with a chance to tie the game at 28 in the fourth quarter that included 14 total plays. Two resulted in incompletions, six in sacks and two more in interceptions.
* The Hokies were particularly strong up the middle. According to ESPN Stats & Information, Ohio State had 14 designed runs between the tackles that netted the Buckeyes a total of 42 yards, only four of which came before contact. Virginia Tech defenders hit Ohio State's ball carrier at or behind the line of scrimmage on nine of those 14 runs.
* Of course, plenty of credit also goes to defensive coordinator Bud Foster, who had an exceptional game plan. Knowing that his secondary could operate in man coverage, he brought the blitz on 79 percent of Ohio State's dropbacks. Those 20 dropbacks resulted in more sacks (7) than completions (6).
* And here's just how important all that was: From the start of the second quarter on, Ohio State's starting field position was its own 41-yard line (including 10 drives that started at its own 30 or better). On four of those drives, Ohio State went backward. On three more, the Buckeyes failed to pick up a first down. On only two did they score — and one of those was a drive that began at the Tech 15. In other words, Ohio State spent virtually the entire game with advantageous field position and did nothing with it.
* It's been tough to get too excited about NC State's 2-0 start to the season, given that the Wolfpack trailed in the second half against both Georgia Southern and Old Dominion. But while the defense has been concerning (106th nationally, surrendering 6.24 yards-per-play), quarterback
Jacoby Brissett
has been impressive.
Through two weeks, Brissett's passer rating (158.25) and touchdown passes (5) lead the ACC, and his completion percentage (71 percent) and yards per attempt (7.9) are second in the conference. In fact, erase a shaky start in the first half of NC State's opener and here's what Brissett has done in his last six quarters of action: 39-of-52 (75 percent) for 466 yards (9.0 YPA) with five touchdowns and no picks. NC State has scored on 10 of 14 drives during that stretch.
* It's not that
Cole Stoudt
has struggled, but Clemson fans are still getting antsy to see their highly touted freshman get more work. Both Stoudt and
Deshaun Watson
had some early success against Georgia before struggling, and both put up gaudy numbers against South Carolina State last week. Here are their total numbers from two games:
Stoudt: 38-of-60 (63 percent) for 446 yards, 1 TD, 1 INT
Watson: 10-of-13 (77 percent) for 213 yards, 4 TD, 0 INT
Both benefitted from easy competition last week, and both made at least one or two throws that might have been picked off by better opposition. Watson, too, has had the luxury of a small sample size, while Stoudt had to endure the bulk of that awful second half in Athens, Georgia.
But there's also this: On Stoudt-led drives, the Tigers are averaging 5.1 yards per play and have cashed in for points nine of 21 times. On Watson-led drives, Clemson averages 9.5 yards per play and has scored touchdowns on five of seven drives.
* Watson isn't the only true freshman getting work at quarterback this year, but he's certainly performed a bit better than the others.
Miami's
Brad Kaaya
has completed 57 percent of his throws, averaged 6.9 yards per attempt, tossed three TDs and four interceptions in two games, while Wake Forest's
John Wolford
has completed 70 percent of his throws for 388 yards with two TDs and four interceptions.
Both saw marked improvement from Week 1 to Week 2, but both also played more accommodating opposition, too.
* How good has Pitt's
James Conner
been? The sophomore has 366 yards rushing so far, which leads the ACC and is 179 yards more than any other running back in the conference (
Duke Johnson
is second with 187 yards). That difference between Conner and Johnson accounts for more yards than all but one other ACC running back has mustered thus far (Louisville's
Dominique Brown
, 183 yards).
* Johnson has the second most rushing yards in the conference by a tailback, but Conner's closest competition on the ground is actually Boston College QB
Tyler Murphy
, who has racked up 210 yards rushing and averaged 7.2 yards per carry so far. In fact, Murphy's rushing and passing (307 yards) account for 66 percent of all of the Eagles' offense.
* It's not surprising that
Jamison Crowder
is again among the ACC's leading receivers. His 14 catches is tied for second in the conference behind FSU's
Rashad Greene
. But what's encouraging for Duke is that the Blue Devils seem to have identified a true second option in 6-foot-6 senior Issac Blakeney. Before the season started, QB
Anthony Boone
described Blakeney as "Kelvin Benjamin-like" and so far, that's looked accurate. Blakeney's three receiving touchdowns matches Pitt's
Tyler Boyd
for the most by an ACC receiver.
* Blakeney has hauled in 82 percent of his targets this season, which ranks third among receivers with at least 10 targets in the ACC. Ahead of him? NC State true freshman
Bo Hines
(93 percent) and UNC sophomore
Ryan Switzer
(82.4 percent).
* Last season, Virginia Tech targeted its tight ends just 41 times (with 26 receptions). Through two games this year,
Ryan Malleck
and
Bucky Hodges
have already been targeted a whopping 22 times (17 catches) and the Hokies' tight ends are on pace for 143 targets this season. So, Frank Beamer wasn't kidding when he said the lack of tight end options last season limited what the Hokies wanted to do offensively.
*
Michael Brewer
hasn't been lauded for his arm, but no ACC QB has more completions on throws of 10 yards or more than he does (17).
* He got benched in Week 1, but oddly enough, Virginia's
Greyson Lambert
leads the ACC and is second in the nation in completion percentage (76.3 percent). Of course, 29 of his 38 attempts (and 24 of his 29 completions) have come on throws that traveled 5 yards or less. Lambert's percentage of attempts that traveled 5 yards or less is by far the highest in the ACC (Brissett is next at 65 percent), while no one in the conference has a lower percentage of short passes than Clemson's Watson (23.1 percent).
August, 14, 2014
Aug 14
10:30
AM ET
»
More team previews:
ACC
|
Big 12
|
Big Ten
|
Pac-12
|
SEC
Previewing the 2014 season for the NC State Wolfpack:
Key returners:
RB
Shadrach Thornton
(768 yards, 4 TD), WR
Bryan Underwood
(32 catches, 382 yards), OT
Joe Thuney
, DE
Art Norman
(9 TFL, 4.5 sacks), DT
Thomas Teal
(10.5 TFL, 3 sacks), S
Hakim Jones
(61 tackles, 2 INT), LB
Brandon Pittman
(63 tackles, 8 TFL, 3 sacks)
Key losses:
WR
Rashard Smith
, WR
Quintin Payton
, DB
Dontae Johnson
, LB D.J. Green, LB Robert Caldwell
Most important games:
Sept. 27 versus FSU, Oct. 4 at Clemson, Oct. 18 at Louisville, Nov. 29 at North Carolina
Projected win percentage:
.479
Vegas over/under:
5.5 wins
[+] Enlarge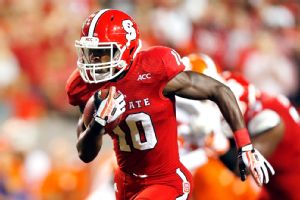 MCT via Getty ImagesShadrach Thornton rushed for 768 yards and four touchdowns last season.
Instant impact newcomers:
Jacoby Brissett
sat out 2013 after transferring from Florida. He'll now be counted on not just as the team's starting quarterback, but as its offensive leader and, in many ways, the program's savior. Freshman wideout
Bo Hines
had a huge spring game and has quickly emerged as one of Brissett's favorite targets. Defensive end
Kentavius Street
and tackle
Justin Jones
could add some serious physicality to a defensive line that was often boom-or-bust in 2013.
Biggest question mark:
For a team that went winless in ACC play last year, there are plenty of question marks. Brissett's emergence is chief among them, but coach Dave Doeren seems more than pleased with his QB. Who will emerge among the young receivers for Brissett to throw to? Can the offensive line protect better than it did a year ago? Can the defensive line be more consistently disruptive? Can injured veterans like Underwood,
Rob Crisp
and
Jarvis Byrd
come back to make an impact? The list goes on and on, but there's certainly hope that the Wolfpack have far more answers than they did a year ago.
Best-case scenario for 2014:
Brissett proves to be the answer to many of last year's offensive woes and instantly transforms the Wolfpack into a more dynamic team. The running game proves a strength and the defensive line routinely disrupts the opposition's game plan. Injured veterans return and young depth emerges. NC State improves as the season progresses, pulls off an upset or two, and returns to postseason play with seven or eight wins.
Worst-case scenario for 2014:
Brissett isn't the answer State's fans had hoped for, and he struggles with a shaky supporting cast. The offensive line never comes together and the defensive front can't stop the run. Early tests against FSU and Clemson sink the season, and the Wolfpack limp to another lowly finish in an increasingly difficult division.
Number to know:
100, 100, 100. State tailback
Matt Dayes
is one of just four returning ACC players to accumulate 100 yards rushing, receiving and in the return game last year. He's not exactly entrenched atop the Wolfpack's depth chart now, but Doeren did show a propensity for utilizing his most versatile talent last season, when Rashard Smith topped 100 yards rushing (121), receiving (530), on kick returns (310) and punt returns (240). Dayes could easily fill a similar all-purpose role this year.
They said it:
"He wants to win, and it's personal. He's got to go do it. We've got to get players around him to help him and all those things, but he has the skill set and the intangibles that you look for when you recruit that position." - Doeren on Brissett's role as the team's leader
May, 13, 2014
May 13
9:00
AM ET
The 2013 signing class has already made its mark on the ACC, from
Tyler Boyd
and
Stacy Coley
shining on offense to
Jalen Ramsey
and
Kendall Fuller
starring on defense to
Ryan Switzer
racking up All-America honors on special teams. But for most players, the transition from high school to college takes a little time, and it's not until Year 2 that they truly shine. With that in mind, we're taking a look at the best candidates for second-year stardom in the conference — the players who didn't quite hit the big time as true freshmen, but are poised for a breakthrough in 2014.

See our previous projections
here
.
Next up:
NC State
Class recap:
Dave Doeren's first signing class didn't stand out in the rankings — No. 66 by ESPN's math — but he did get some early contributions, even if it was as much out of necessity as ability.
Matt Dayes
played in all 12 games and scored four times.
Jack Tocho
started seven games at corner, finishing with 25 tackles and two picks.
Monty Nelson
started five games at defensive tackle and was second on the team with 8.5 sacks. Meanwhile, a bevy of freshmen receivers saw action, with mixed results.
Second-year star:
WR
Jumichael Ramos
(6-foot-3, 197 pounds)
[+] Enlarge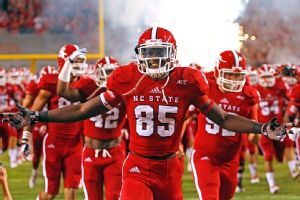 AP Photo/Karl B DeBlakerJumichael Ramos showed his potential late in the 2013 season with a 109-yard game against Boston College.
Recruiting stock:
A three-star prospect out of Georgia, Ramos wasn't even among NC State's top signees at receiver (he was No. 191 overall at the position, according to ESPN), but he did bring both size and speed and showed increased development late in his high school career.
2013 in review:
The Wolfpack's offense was a mess throughout 2013, with rotating quarterbacks and offensive styles and, of course, a plethora of erratic receivers. But while several of the other first-year pass-catchers flashed early before disappearing down the stretch (either because of injury or inconsistency), Ramos consistently improved as the year progressed. He caught at least one pass in 10 of 12 games, and he finished the season with 11 receptions and three TDs in his final three contests, including a five-catch, 109-yard performance against Boston College. He finished the season with 24 receptions for 352 yards.
2014 potential:
Projecting Ramos to be the breakout receiver among a horde of unproven talent is based largely off his strong finish to last season. The spring game was a showcase for an established veteran (
Bryan Underwood
) and an early enrollee (
Bo Hines
), while Ramos and fellow sophomore
Marquez Valdes-Scantling
played smaller parts. Still, the addition of
Jacoby Brissett
to stabilize the QB situation is good news for all of NC State's receivers, and Ramos' combination of speed and size should make him an inviting target. He's got some stiff competition — in terms of both quantity and quality — throughout fall camp, but Doeren is looking for weapons in the passing game and Ramos has been the one young receiver who has shown he can be a weapon on game day.
Also watch for:
Take your pick from the rest of the group of receivers. Valdes-Scantling needs maturity and consistency, and
Johnathan Alston
and
Bra'Lon Cherry
need to stay healthy to continue their development. Alston might have the biggest upside of the group. Keep an eye on Dayes getting a bigger role in the running game this season, while top signee
Sean Paul
shouldn't be relegated to just special teams, as he was in 2013.
May, 1, 2014
May 1
2:00
PM ET
NC State offensive coordinator Matt Canada and coach Dave Doeren both noticed the same wide receiver this spring:
Bo Hines
.
Hines, a true freshman from Charlotte, N.C., who enrolled early, was the Pack's most consistent receiver this spring, bringing a bit of separation to a crowded group filled with youth and inexperience. Nine of the 12 receivers on the spring roster are either freshmen or sophomores. Senior
Bryan Underwood
was NC State's second-leading receiver last year, but the Pack has to replace two starters from 2013, and the competition remains wide open heading into the summer.
[+] Enlarge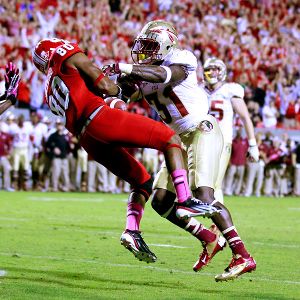 Ethan Hyman/Raleigh News & Observer/MCTSenior Bryan Underwood is NC State's leading returning receiver with 32 catches in 2013.
"Now you look for the guys who are going to come up and make plays consistently and in games," Canada said. "It's just a matter of where things go. There's a lot of guys out there, we just have to sort it out a little bit. We had some of that sort itself out through the spring, but not enough to declare one way or another who's going to do what, but we'll move in that direction as we get into camp. We'll have a better handle on what we're going to do."
Jumichael Ramos
, who finished the last three games of 2013 strong, is one of the top sophomore candidates, along with
Marquez Valdes-Scantling
, who led the team in receiving at one point last year as a true freshman, and
Bra'lon Cherry
, who suffered a season-ending injury against Duke. Ramos finished third on the team last year with 24 catches for 352 yards and three touchdowns.
"All three of them played and had some catches, but obviously as they step up here now, they have a chance to maybe separate themselves from what they did with a few catches here and there, and becoming a more consistent receiver," Canada said. "I think that's where having a quarterback and getting some timing down will certainly allow that to occur."
Freshman
Stephen Louis
enrolled early, and redshirt freshman
Gavin Locklear
is also in the mix. Doeren said Underwood finished the spring strong. He is the fastest receiver on the roster, but he still needs to be more consistent. Underwood had 32 catches last year for 382 yards and a touchdown.
"He was really coming on last year when he hurt his collarbone and so missed a lot of practice and development there, and he needs to have a good summer physically to put himself in the right place," Doeren said. "You'd like him to play the way he can and the way he was early in the year last year.
"And then Marquez Valdes and Jumichael Ramos are guys that were two true freshmen that played a lot for us a year ago that need to play better, I guess, than I thought they would in the spring. I thought Valdes had a really good finish, started a little slow, and Ramos was the opposite. So just need to get a consistent performance. A lot of times when a guy plays as a true freshman he gets a big head, and that's the one thing those guys can't do. There's good players coming in, and we've got a couple other freshmen that will be here that we'll add to the depth and competition. But those two guys need to have tremendous summers for us."
April, 29, 2014
Apr 29
7:00
AM ET
Three things we learned in the spring about the North Carolina State Wolfpack:

1. Having a quarterback helps.
Last spring, the
NC State
offense looked dismal and new coach Dave Doeren didn't know who his quarterback would be. That problem persisted throughout the fall, and the Wolfpack went winless in ACC play. Now that Florida transfer
Jacoby Brissett
is eligible to play, however, there's a consistency on offense that was missing throughout 2013. More importantly, Doeren knows who his QB is, and Brissett can play the role of leader throughout the offseason.
2. Hines is a playmaker.
NC State had a huge class of early enrollees, and while all made strides this spring, it was
Bo Hines
who stood out. The freshman had a fabulous spring game, catching 10 passes for 132 yards. It wasn't just a big day in front of fans either. Doeren raved that Hines made at least one play every day throughout spring practice.
3. There's depth at tailback.
Shad Thornton
finished sixth in the ACC in rushing last season, but after a strong spring by NC State's tailbacks, the starting job won't just be handed to the incumbent. Thornton worked on the second-team offense in the spring game, while Doeren praised
Tony Creecy
and
Matt Dayes
, too, and with a QB who can force defenses to respect the passing game, there could be plenty of yards to be had on the ground in 2014 for the Wolfpack.
Three questions for the fall:
[+] Enlarge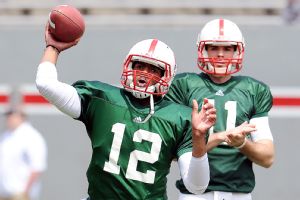 Lance King/Getty ImagesFlorida transfer Jacoby Brissett will start at quarterback for the Wolfpack in 2014.
1. Will other young receivers step up?
Hines impressed. Veteran
Bryan Underwood
looks healthy and should be a leader. But what about the rest of Brissett's weapons in the passing game? The Wolfpack need more consistency out of sophomores
Jumichael Ramos
and
Marquez Valdes-Scantling
, and Hines' fellow early enrollee
Stephen Louis
didn't have a catch in the spring game.
2. Has the pass rush improved?
It's hard to make any grand pronouncements based on the spring game, where QBs weren't live, but both the first- and second-string defenses racked up five sacks on the day. That's the good news, but the defensive front remains young and inexperienced, with nowhere to go but up after last year's D mustered a league-worst 20 sacks.
3. Can Doeren develop depth?
Doeren has been quick to point out that 70 percent of NC State's roster is made up of freshmen and sophomores, which means there's not a ton of experience down the depth chart. That showed up in the spring game when the No. 2 defense did little to corral Brissett and the second-string offense produced a mere 65 yards. There are reasons for optimism with early enrollee safety
Germaine Pratt
(an INT in the spring game) and receiver-turned-pass rusher
Pharoah McKever
, among others, but the staff has its work cut out for it in developing the raw materials into productive players.
One way-too-early prediction:
Yes, the Wolfpack were 0-8 in ACC play last season, but there weren't many blowouts. Doeren's crew showed plenty of fight despite a litany of problems, and that's a good sign for what's to come in 2014. The big change, however, is Brissett, who breathes new life into the offense and provides some real direction for NC State going forward. A conference title probably isn't in the cards, but a bowl appearance wouldn't be unrealistic.
April, 14, 2014
Apr 14
10:30
AM ET
RALEIGH, N.C. — It didn't start as anything formal, just a few hungry players after NC State's regular Saturday walk-through. The quarterbacks and receivers would show up in the morning, run through drills and practice routes, then head to breakfast.
Slowly, the weekly ritual evolved into an ideal bonding experience for a group that desperately needed to build a rapport on the fast track.
"We had a lot of extra time to go out and get some chemistry," quarterback
Jacoby Brissett
said. "Any time we had an opportunity to sit and talk about the things we were learning — we got the time to get to know each other better away from the field, and that's helped our chemistry on the field."
[+] Enlarge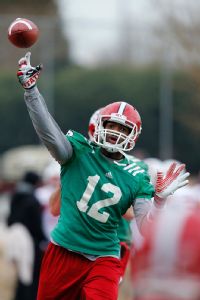 Ethan Hyman/Raleigh News & Observer/MCT/Getty ImagesNC State has a leader at quarterback in transfer Jacoby Brissett.
Whether pancakes and waffles actually make a difference in NC State's passing game in 2014 remains to be seen, but as the Wolfpack wrapped up spring practice Saturday, it certainly appeared that Brissett, the new starting quarterback, and his young receivers were a well-oiled machine.
Brissett and the first-team offense rolled up 34 points, and the junior quarterback, who transferred from Florida last year, completed throws of 36, 60 and 72 yards. He was particularly effective on third down, converting 13 of 18 tries, often shuffling in the pocket to create more time and find receivers downfield.
Early enrollee
Bo Hines
led all receivers, grabbing 10 passes for 132 yards, including a nifty 40-yard run after a catch on Brissett's 60-yard completion. His star is clearly on the rise, coach Dave Doeren said, and after just a few months on campus — and a dozen or so breakfasts with Brissett — he looks right at home.
"Bo Hines is a reliable player," Doeren said. "He's the same guy every day — in the right place, catches the ball well with people around him, made some one-handed catches and has the ability to catch it and run. … We've had 15 practices and I don't think we've had one where he didn't make a play."
Sophomores
Jumichael Ramos
and
Marquez Valdes-Scantling
had four catches each.
Bryan Underwood
, the lone veteran of the ensemble, caught three passes for 112 yards and two scores.
"[Brissett] is giving us a chance," Underwood said. "It's a good start, leaving spring with how we did today."
It's worth noting, of course, that the offensive fireworks came against an overmatched second-team defense that featured few veterans, and the road back from last year's struggles — NC State finished 11th in the ACC in yards per attempt and had more interceptions than TD throws — will be a long one. Doeren was also quick to point out Brissett's struggles running the ball — he was sacked five times behind a line missing three starters — and his one interception. But just as last year's struggles in the spring game portended a woeful regular season, the hope is that this year's success will be equally prophetic.
Whether this year's results are also a sign of things to come likely depends largely on how much more Brissett and his receivers continue to bond during the summer. But Doeren is encouraged by where things stand, and a year after NC State dealt with a massive quarterback dilemma, it soothes a lot of nerves to simply know Brissett is in charge, and there's a ringleader for the remainder of the offseason.
"I can focus my attention on certain things, and it's his job to stay hungry, keep the chip on his shoulder and know he has to do his job the right way," Doeren said. "I don't have to worry about who it is, but he still has to handle his end of the responsibility. He will, and he knows that."
April, 10, 2014
Apr 10
2:00
PM ET
Seven ACC teams will play their spring games this weekend, and eight will officially close spring practices in the coming days, as Pitt has opted to have a more fan-friendly event instead of an actual spring game on Sunday before closing practice on Tuesday.
For all of these teams -- including Florida State -- the quarterbacks will be among the most-watched players on the field. In Tallahassee, fans will get a chance to see the Heisman Trophy winner, returning starter
Jameis Winston
. At every other school, there is an ongoing storyline and competition with the quarterbacks. We're giving you one
additional
thing to keep an eye on that might not be so obvious.
Check it out, and enjoy the games this weekend!
CLEMSON

When:
4 p.m. on Saturday (ESPNU) and on
WatchESPN
Where:
Death Valley
One thing to watch:
The true freshman wide receivers.
Artavis Scott
,
Demarre Kitt
and
Kyrin Priester
were all highly touted recruits who enrolled early to help Clemson try to replace
Sammy Watkins
and
Martavis Bryant
(a combined 2,292 receiving yards and 19 touchdowns in 2013).
FLORIDA STATE

When:
3 p.m. on Saturday (ESPN) and on
WatchESPN
Where:
Doak Campbell Stadium
One thing to watch:
The wide receivers. They haven't exactly earned high praise from coach Jimbo Fisher, who called the receivers out last week for not getting open and making catches.
Rashad Greene
is the most experienced option as the Noles try to replace
Kelvin Benjamin
and
Kenny Shaw
, but the staff also needs to see more from players like
Bobo Wilson
and
Kermit Whitfield
.
LOUISVILLE

When:
7:30 p.m. on Friday
Where:
Papa John's Cardinal Stadium
One thing to watch:
The safeties. Louisville lost
Hakeem Smith
, who started 51 straight games, and projected first-round draft pick
Calvin Pryor
.
Jermaine Reve
,
Gerod Holliman
and
Chucky Williams
are the leading candidates for those spots, but Reve is out for the spring with an injury. Reve and Holliman are the only players with game experience.
MIAMI

When:
6 p.m. on Saturday
(ESPN3)
Where:
Sun Life Stadium
One thing to watch:
Defense, defense, defense. It's been an area of concern, but the defense showed signs of progress this spring. The Canes return eight starters and 16 players from the two-deep depth chart.
Denzel Perryman
is now playing middle linebacker, and
Dallas Crawford
moved to safety to give that position a boost. Those within the program have said repeatedly that the defense has made strides since last season, and overall it was a good spring for the defense. We'll see if they can punctuate it in the spring game.
NORTH CAROLINA

When:
3 p.m. on Saturday
(ESPN3)
Where:
Kenan Stadium
One thing to watch:
True freshman running back
Elijah Hood
. The four-star recruit was rated the nation's No. 9 running back in the Class of 2014 by ESPN.com and No. 80 overall in the ESPN 300. The early enrollee has had such a good spring that he could see some immediate playing time, even though the Tar Heels are deep at the position.
NC STATE

When:
1 p.m. on Saturday
Where:
Carter-Finley Stadium
One thing to watch:
More young wide receivers. NC State has to replace
Quintin Payton
and
Rashard Smith
, both starters from last year. The talent pool to choose from includes a host of sophomores and freshmen, including two early enrollees. The leading sophomore candidates are:
Jumichael Ramos
, who finished the last three games of 2013 strong;
Marquez Valdes-Scantling
, who led the team in receiving at one point last year as a true freshman; and
Bra'lon Cherry
, who suffered a season-ending injury against Duke. Freshmen
Bo Hines
and
Stephen Louis
enrolled early, and redshirt freshman
Gavin Locklear
is also in the mix.
VIRGINIA

When:
1 p.m. on Saturday
Where:
Scott Stadium
One thing to watch:
Improved wide receivers. This is a group coach Mike London has praised this spring, for both its height and athleticism, as the staff has moved toward a longer, leaner look. London recently singled out
Miles Gooch
,
Keeon Johnson
and
Kyle Dockins
-- all listed at 6-foot-3 -- as players who have excelled this spring. Unfortunately, fans won't be able to see starter
Jake McGee
, the Hoos' star tight end who moved to receiver this spring, as he'll be sidelined with a hamstring injury.
PITT

(No spring game)

When:
From 2-4 p.m. on Sunday, Pitt will host its "Pitt Football Field Pass"
Where:
The UPMC Sports Performance Complex
One thing to watch:
Instead of a game, Pitt will hold a public event that will include a kids' clinic, an offensive strategy session with coordinator Joe Rudolph, a defensive strategy session with coordinator Matt House, a recruiting session with coordinator Dann Kabala and a strength and conditioning session with assistant coach Ross Kolodziej.
March, 26, 2014
Mar 26
2:00
PM ET
RALEIGH, N.C. -- In most places, it would speak volumes that
Kalen McCain
and
Germaine Pratt
, both just a few weeks into their college careers, were running with the second-team defense Saturday during NC State's first scrimmage of the spring.
Indeed, both freshmen safeties have impressed teammates so far. McCain is instinctive, according to senior
Jarvis Byrd
, looking like a ball hawk in coverage. In that scrimmage, McCain picked off a pass and returned it for a touchdown, but at just 175 pounds, he needs to add some bulk. Pratt, on the other hand, is a charging bull in the secondary. At 6-foot-3, nearly 200 pounds, he plays like a linebacker -- a throwback to his high school days when he spent significant time in the box, playing the run -- and still needs refinement in coverage. But when he hits, he hits hard.
[+] Enlarge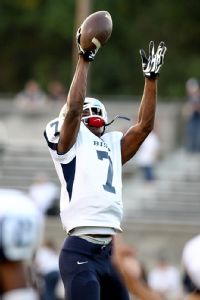 Miller Safrit/ESPN.comJust months ago, Germaine Pratt was a three-star prospect. Now he's pushing for a big role in NC State's secondary.
It's a promising start for both players, but for the Wolfpack, their spot on the depth chart is a matter of necessity.
"They're running with the twos because they have to," safety
Hakim Jones
said. "We only have four safeties."
This is the landscape in Raleigh for the nine early enrollees at NC State -- seven scholarship freshmen, along with long snapper Robert Brunstetter and preferred walk-on
Ty Linton
, a former North Carolina commitment who has played professional baseball for the past four years. There is opportunity at every turn, the result of a disproportionately young roster, but it is also a trial by fire.
"You go through this whole recruiting process and it seems like it should take a long time, but then you get here and it's fast," said
Bo Hines
, one of two freshman wide receivers enrolled for the spring. "Everything is moving."
By coach Dave Doeren's math, 71 percent of NC State's roster this year will be freshmen or sophomores. Many saw action last year as the Wolfpack struggled to fill out a depth chart amid myriad injuries en route to a disastrous 3-9 season in which they didn't win a game in conference play. The new arrivals, meanwhile, are getting a healthy dose of snaps on the practice field with an eye toward playing time this fall.
It's a challenge, Doeren admits, but it's also an investment in the viability of a crucial freshmen class this fall.
"[Many of] those guys are playing with the ones at times out there," Doeren said. "Just imagine the learning curve for them in August when the other freshmen are coming in. It helps a lot."
And this spring isn't simply a chance for the freshmen to dip their toes in the pool and test the waters of life in the ACC. It's a blank slate, with a chance for them to etch their names into permanent jobs when the Wolfpack open the 2014 season.
"Since Day 1, since we went into the first meeting, [Doeren] said nobody had a guaranteed spot," Pratt said. "I'm pushing hard to earn my spot."
Perhaps as important, Doeren said, is the veterans are now pushing harder to keep their spots.
With such a thin roster a year ago, Doeren had little choice but to hand playing time over to unproven players. The results were mixed. Some blossomed, like receiver
Jumichael Ramos
, who caught 11 passes and scored three times in the final three games of his freshman campaign last year. Some struggled, including a defensive line that featured a trio of freshmen and sophomores who earned regular playing time, but finished 103rd nationally in run defense. Others, like receiver
Marquez Valdes-Scantling
(12 catches for 174 yards in his first two games, 10 catches for 107 the rest of the way) did a little of both.
"

[Many of] those guys are playing with the ones at times out there. Just imagine the learning curve for them in August when the other freshmen are coming in. It helps a lot.

"

-- NC State coach Dave Doeren on early enrollees
All of that was to be expected, Doeren said. What concerned the second-year coach was that, after winning playing time by default in 2013, complacency could set in this season. The nine new faces this spring can go a long way toward alleviating those concerns.
"The freshmen are coming to me, asking how to run a route and what the concepts are or just asking how we felt when we came in as freshmen and what we did to play," Ramos said. "I do feel older. I don't feel like a freshman anymore."
Still, Doeren is aware of the reality. Most of the time, it's 18-year old freshmen asking 19-year old veterans for advice, and that's not an ideal recipe for success. That makes NC State's real veterans -- the handful of juniors and seniors like Byrd and Jones -- an immensely valuable asset this spring.
It's a role they've been happy to take on, receiver
Bryan Underwood
said. Last year, he was a mentor for Ramos and Valdes-Scantling. Now, he's finding more room under his wing for the new arrivals.
Jones busies himself each night hosting his new protégés in the secondary, too. Pratt and McCain are fixtures in his room, the playbook spread open throughout the evening.
"We came to them with open arms and just -- welcome to the team," Jones said.
That's exactly what Doeren was hoping for, but it's hardly the end of his concerns.
Pratt and Hines and the rest of the new arrivals are still wide-eyed and overmatched more often than not. It's a learning experience, and for now at least, most of the lessons will be tough ones.
But that's the other advantage of this big class of early enrollees for NC State. Even after the toughest workouts, the miserable have plenty of company.
"Having those guys around," Hines said, "we're all going through the same thing."
ACC SCOREBOARD
Saturday, 12/20
Monday, 12/22
Tuesday, 12/23
Wednesday, 12/24
Friday, 12/26
Saturday, 12/27
Monday, 12/29
Tuesday, 12/30
Wednesday, 12/31
Thursday, 1/1
Friday, 1/2
Saturday, 1/3
Sunday, 1/4
Monday, 1/12
Tweets from https://twitter.com/ESPNCFB/lists/acc