September, 15, 2011
9/15/11
4:00
PM ET
According to ESPN's Stats & Information crew, Oklahoma quarterback
Landry Jones
' interceptions
have contributed
to the Sooners' well-documented struggles on the road.
Jones has thrown 15 of his 26 interceptions on the road, and he'll face a very stingy Florida State defense with the home-field advantage on Saturday. This is a much better defense than the one that faced Oklahoma last year, but the first two wins have come against inferior opponents.
Once again, the unofficial Stoops Bowl will determine the outcome of this game, as FSU defensive coordinator Mark Stoops matches wits with his brother, Oklahoma coach Bob Stoops.
If Florida State is going to win this game, it's fair to say the defense will have to play the larger role in getting it done.
September, 12, 2010
9/12/10
10:00
AM ET
Sometimes, you're better off not knowing. This is one of those times. Here's a look at what we learned in the ACC after the second weekend of games:
[+] Enlarge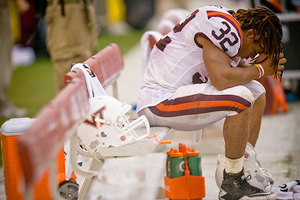 AP Photo/Justin CookJMU stunned Virginia Tech as the preseason conference favorites have now lost their second game in a row.
The ACC has a better chance at winning the lottery than a national title.
Virginia Tech, because of its high preseason ranking and supposedly favorable nonconference schedule, started out as the ACC's best hope at a national title. The Hokies are now 0-2 with a mortifying home loss to James Madison -- one of the worst losses under Frank Beamer. And no, don't make the argument that JMU is a title contender. FCS title contender, maybe. Big difference. Even Virginia was able to beat Richmond. And then came the double and triple-whammies: Florida State and Miami's losses with the whole nation watching. This weekend revealed there's still a significant gap between the nation's elite and those two former powers. And defending league champion Georgia Tech lost to Kansas, which had lost to North Dakota State, an FCS team, in Week 1.
The ACC's Heisman hopefuls need more than a campaign.
FSU quarterback
Christian Ponder
was outplayed by Oklahoma's
Landry Jones
.
Jacory Harris
threw four interceptions.
Ryan Williams
still hasn't reached the 100-yard mark. Even NC State quarterback
Russell Wilson
had an off-night, completing just 10 of 30 passes. And
Joshua Nesbitt
? He completed five passes, none of which helped when the game was on the line in the fourth quarter.
Georgia Tech's passing game is status quo and Al Groh's defense still needs work.
Groh's defense got gashed for 407 yards and was beaten by a freshman quarterback making his first start.
Jordan Webb
threw for 179 yards, three touchdowns and an interception. Meanwhile, veteran quarterback Nesbitt completed 5 of 15 passes for 116 yards and a touchdown, and couldn't convert on fourth down with the game on the line. (A costly false start penalty didn't help him). It was hardly all on Nesbitt, as there were times when his receivers couldn't make the play on a catchable ball.
The Coastal Division isn't as strong as we thought.
Virginia Tech is 0-2. Georgia Tech lost to a Kansas team that was on an eight-game losing streak. Miami turned it over four times. Duke lost to Wake Forest. And North Carolina? The Tar Heels have to be kicking themselves. If ever the door was open for Butch Davis to make a move in the division, this would be it. Instead, the program is in the midst of two NCAA investigations. Meanwhile, the Atlantic Division went 5-1, with Florida State earning the only loss.
Florida State's defense is still bad.
It would be an understatement to say Oklahoma coach Bob Stoops had the upper hand on his little bro, Florida State defensive coordinator Mark Stoops. The Sooners racked up 487 total yards and Jones looked like the Heisman candidate Florida State was campaigning for. A learning curve was expected, as FSU is transitioning to a zone scheme and there are young players being asked to contribute immediately, but there were times when the Noles lined up improperly and hurt themselves with missed tackles.
September, 11, 2010
9/11/10
5:18
PM ET
You knew it wasn't going to happen overnight.
The transformation from one of the worst defenses to the country to one of the more respectable ones is going to take some time. As in, longer than four quarters at Oklahoma.
The Seminoles trail, 34-7
, heading into the half, and there have been times when the defense has been caught out of position or lined up improperly, and times when it has been doomed by fundamentals and missed tackles. First-year defensive coordinator Mark Stoops is getting upstaged by his big bro, as Bob Stoops' Sooners have already racked up almost 400 yards.
September, 10, 2010
9/10/10
10:00
AM ET
On Sept. 25, 1976, first-year Florida State coach Bobby Bowden took his unimpressive program across the country to face No. 4 Oklahoma. The odds seemed stacked against the Seminoles, as Bowden had inherited a program that had considered dropping the sport after a 4-29 overall record over the previous four seasons.
[+] Enlarge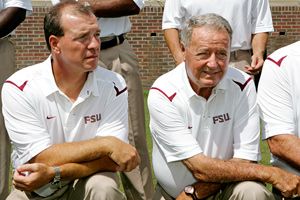 AP Photo/Steve CannonJimbo Fisher (left) has big shoes to fill as Bobby Bowden's successor at Florida State.
On Saturday, FSU coach Jimbo Fisher finds himself in a strangely similar situation. The No. 17 Seminoles have officially moved on to life without Bowden, but it's hard not to draw parallels this weekend, as the matchup against the No. 10 Sooners will be an opportunity for Fisher to make a name for himself just as Bowden did with numerous signature nonconference wins.
"The difference in the parallel is the program wasn't the same as it is now," said Fisher, who was hired to restore the program's championship tradition after three seven-win seasons in the past four years. "Florida State is a much bigger program than when coach Bowden had it back then, but there are some parallels as far as we haven't won as much as we have in the past, and it would be a great game to get back in the national media and the national spotlight, but I don't think it's do-or-die. It's a great opportunity, a great chance for our players to see where they're at and to see where we stand right now in relationship to a great team like Oklahoma."
Right now, only seven spots separate these programs in the Associated Press Top 25, but the disparity on the field has been much greater. The Sooners were playing for the national title with a Heisman Trophy winner as recently as 2008, while Florida State hasn't been able to win its own conference since 2005. Oklahoma's defense ranked among the top 10 in the nation last season in every major statistical category while Florida State's was one of the worst of 120 teams.
It will take more than a win on Saturday for Florida State to be entrenched among the nation's elite again, but it would bring instant credibility to the staff trying to get it there.
"I think this is a test for our whole organization," Fisher said. "By the whole organization I mean that is the head coach, the assistant coaches, our players, our administration, the way we prepare, the way we do things and just our mindset at Florida State. Is about where we want to go and how we want to get there. I think it's a test for everybody. Every game is a test, and this is just bigger because it is on a national scale, it is on the road with two nationally ranked teams."
On the road with two nationally ranked teams is how Bowden put Florida State at the forefront of the college football landscape. In 1981, Bowden's No. 20-ranked Seminoles defeated No. 7 Ohio State 36-27 in Columbus, his signature win in a "play anyone, anywhere" season that also included road trips to Nebraska, Notre Dame, Pitt and LSU. In 1980, No. 16 Florida State defeated No. 3 Nebraska 18-14, marking the highest ranked team the program had ever beaten at that time.
"You know I think Florida State's program then, he was really establishing them in the limelight, and he established them, so now hopefully we can handle those pressures and go out there," Fisher said.
Fisher enters this game with an offensive reputation as a coordinator, and Oklahoma coach Bob Stoops built his resume as a defensive coordinator. To add to the twist for this staff, first-year Florida State defensive coordinator Mark Stoops is the younger brother of Oklahoma's Stoops.
Florida State's entire staff will be measured in part by the outcome of this game, though it's hardly a precursor to a career. Bowden lost that game in 1976, 24-9, in the third game of what went on to be a 34-year career in Tallahassee.
"Every game is a measuring stick for a coach," Fisher said. "You want to do well. I don't think that just because if we win this game all of a sudden I'm one of the best coaches in America, or if I lose it I'm the worst coach. I don't look at it that way. It's another game on our schedule, it's one win or one loss, but it is a great opportunity for our staff and our organization to do that."
So far, he's already off to a better start than his predecessor.
September, 9, 2010
9/09/10
7:37
PM ET
Saturday's game between Florida State and Oklahoma will feature two programs stacked with history and tradition -- a combined nine national titles, 82 bowl appearances, and 54 conference titles. When it comes to the current college football landscape, though, there is a significant gap between them. The Sooners are just two seasons removed from their runner-up finish for the national title while Florida State enters this game under first-year coach Jimbo Fisher looking to regain national relevance. Can the Seminoles pull the upset? ACC blogger Heather Dinich and Big 12 blogger David Ubben break it down:
[+] Enlarge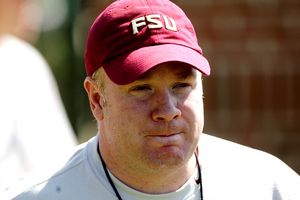 AP Photo/Phil CoaleFSU defensive coordinator Mark Stoops will be matching wits with his brother Bob in Oklahoma.
Heather Dinich:
Well, Ubben, it's time for the unofficial Stoops Bowl, which to me is the key matchup in this game -- Oklahoma coach Bob Stoops against his little bro and first-year FSU defensive coordinator Mark Stoops. If Florida State is going to have any chance at the upset, the Seminoles' defense has to stop DeMarco Murray first, but a young secondary that includes three starters will have to grow up quickly and adjust to Stoops' new zone scheme, which requires discipline and communication. How do you see Oklahoma's offense faring against a defense that was downright bad a year ago, but starting to make some progress?
David Ubben:
Oklahoma definitely has the skill-position talent to give the Noles trouble, and based on Saturday's game, you're right, the offense will run through Murray, who got a career-high 35 carries against Utah State. But if Oklahoma sees a big weakness in that secondary it can exploit, look for some of those touches to go Ryan Broyles' way. There might not be a tougher guy to get a hand on in the open field in all of college football. They might use a lot of slants and bubble screens just to get the ball in his hands and dare Florida State to tackle him.
On the other side, there's been a lot of talk about how Christian Ponder's offensive line makes life easy for their Heisman candidate. How will they fare against a pair of the best defensive ends just about anywhere, Jeremy Beal and Frank Alexander, and defensive coordinator Brent Venables' blitz packages intent on putting Ponder on his back as much possible?
HD:
That's where I see the Noles having their biggest advantage, my friend. Florida State's offensive line will get the edge, particularly in the running game against those inexperienced defensive tackles. That can also affect the pass rush, but Ponder is poised enough to sense pressure coming off the edge while keeping his eyes downfield. Senior guard Rodney Hudson and senior center Ryan McMahon are in their fourth seasons as starters, and collectively, all five starters return a combined 147 career starts. I see all of that adding up to a balanced offense for the Noles, with the Sooners biting on the play-action pass. Besides, Oklahoma's pass defense is rather friendly. Just ask Utah State, which racked up 341 passing yards.
DU:
Maybe so, and they'll be tested for sure, but Bob Stoops has faith in the plays he's seen Demontre Hurst and Jamell Fleming make when they played last season and what he saw in them through spring and fall practice. I get the sense that this will be somewhat of a high-scoring affair. Oklahoma looked invincible at home last season and has only lost twice at Owen Field under Bob Stoops.
What makes you think Jimbo's boys have the chops to be the third?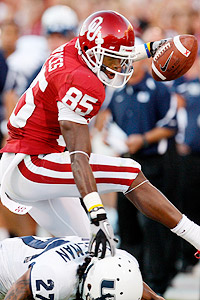 AP Photo/Sue OgrockiThe Sooners are counting on big plays from Ryan Broyles against a young FSU secondary.
HD:
The intangibles. There's a difference at Florida State this year under Fisher. Not only in optimism, but in preparation. The Seminoles will go in there focused and ready to take care of business undaunted by the nation's longest home winning streak at 31 games. The leadership of Ponder will also be a factor, as he's got the poise and the brains to keep the offense calm. And don't forget about the third phase of the game -- special teams. The Sooners need to be ready for a home run threat in punt returner Greg Reid. Word of advice? Don't kick it his way. I say all of those things will add up to an upset, but I'll give you the final word.
DU:
Greg Reid? You mean the poor man's Ryan Broyles? Oklahoma can match the Seminoles playmaker for playmaker, but this thing's going to come down to whichever team can stop the other. I'll take the Sooners' proven defense that slipped up for one week over Florida State's, which was in a free fall for all of last season. New corners? Sure, but two guys and some inexperienced defensive tackles aren't enough to make up for 15.5 points, the difference between what Oklahoma's defense allowed last season and what Florida State allowed.
October, 3, 2009
10/03/09
7:31
PM ET

Posted by ESPN.com's Heather Dinich
MIAMI -- I'm watching Miami warm-up right now, and the receivers catch the deep ball with such ease. That's one advantage
Jacory Harris
will have over
Landry Jones
in this game. However, it's going to get a lot tougher here in the next half hour when the Sooners are in Harris' facemask. Regardless of who the opponent was, Oklahoma's defense deserves credit for back-to-to-back shutout wins.
Oklahoma coach Bob Stoops and Miami offensive coordinator Mark Whipple had a rather extended conversation on the field earlier when the teams started to warm up. Would've loved to hear that conversation.
Miami has still not given me its official lineup changes, so I'll post those as soon as I get them.
If Miami wins this game, it will be the Canes' third win over a ranked opponent this season. That is worthy of a top 10 ranking. It would also be a big win for the conference considering how so many of the other teams struggled today. This is a chance for Miami to reassert itself as a frontrunner in the ACC.
The challenge for Miami's defense will be to contain running back
DeMarco Murray
. Jones isn't going to be asked to win this game by himself. Murray is the Sooners' top option on offense, and the Canes will have to do a better job on him than they did on Virginia Tech's
Ryan Williams
. The Canes' depleted secondary will key in on
Ryan Broyles
, who has been Jones' go-to receiver so far. He's already got 309 receiving yards and a team-high seven touchdowns.
Updates on the lineups to follow.
November, 12, 2008
11/12/08
2:06
PM ET
Posted by ESPN.com's Heather Dinich
Clemson has interviewed Brent Venables for the head coaching job, Bruce Feldman reported today, confirmation that athletic director Terry Don Phillips isn't quite sold on Dabo Swinney. Swinney told me today that's nothing he's worried about because it's not something he can control. But it can't make the rest of the season much easier on him, considering the Tigers have to win all three of their remaining games to go to a bowl.
As for Venables, his name has also been tied to the opening at his alma mater, K-State, but Clemson is a better job.
Venables is the recruiting closer for the Sooners and word in the business is he's an all-around good guy. He's up-tempo, well-liked and not pretentious.
Still, the defense hasn't been as good as it was a few years ago, and not all Sooners fans would be sad to see him go. Then again, nobody is playing defense like they used to in the Big 12, and that has a lot to do with the evolution of the offense. Does Venables have the resume of Bud Foster? No, but his connection to Bob Stoops helps.
The big question is if Venables would bring the quarterbacks coach with him, Josh Heupel, and make him the offensive coordinator. Heupel has been credited for bringing Sam Bradford along. If there's one thing the ACC could use, it's a Heisman-like quarterback.
The other thing to note would be that Venables would probably be a less expensive choice than Texas defensive coordinator Will Muschamp.
Overall, it sounds like Venables would be a good hire for Clemson.