October, 19, 2011
10/19/11
9:00
AM ET
This past summer, Clemson tight end
Dwayne Allen
kept watching, waiting for true freshman
Sammy Watkins
to act his age.
Go to the wrong locker. Wear the wrong uniform. Get lost on campus. Get leveled at practice. Anything.
It never happened.
"Sammy steps on campus at 6-2, 205-210 -- he's put together, now -- and I'm just like, 'Let's see what he does in our first summer workouts,'" Allen said. "We go out for summer workouts and he burns by people. I'm like, 'OK, that's going to stop in fall camp when we put the pads on.' We put the pads on, and we were going through blocking drills, Sammy was running full speed, low, running through guys, blocking his tail off, and I'm like, 'Does he catch every pass, too?' I just keep looking for holes, and I tell you, there are none."
[+] Enlarge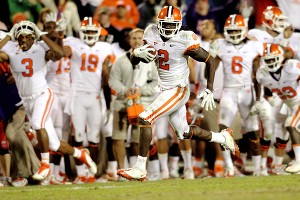 Jeff Fishbein/Icon SMI Sammy Watkins accounts for 89 of his school-record 345 all-purpose yards with this kickoff return for a touchdown against Maryland.
At only 18 years old, Watkins has made it easy to forget he is only a true freshman. After all, Watkins already owns 11 school freshman records and he's on pace to set more with five games remaining. Watkins has captured the attention of college football fans across the country with his speed, his exciting versatility, and his uncanny ability to single-handedly change a game. Equally if not more impressive, though, has been his maturity off the field. He's a regular in the academic center, has developed a reputation for his business-like attitude on and off the field, and he has managed to remain humble despite the abundance of individual and team success this year.
"(Receivers) coach (
Jeff Scott
) tells me, 'Don't be a typical freshman,' so I can't do what all the other freshmen do," he said. "Like being late, dressing up in the wrong stuff, or getting into trouble and not making the tutoring and stuff like that.
"I just know from my point of view, I just have to keep working and getting better and better," he said. "I can't say, 'Oh, I'm a freshman, I got this or that.' That doesn't matter. At the end of the day, I have to keep performing every game."
Watkins' combination of talent and attitude should concern the rest of the ACC. And it does.
"I don't know if anybody's got somebody that can cover Sammy Watkins," said Duke coach David Cutcliffe. "What I watched Saturday night, I'd have to call him right now the best player in college football. He's a brand new 'Cat, but good gosh! He looked like that on tape too. The only thing I know to cover him is to have him arrested before the ballgame."
And it's just the beginning. Much like No. 7 Clemson as a team, Watkins has yet to reach his peak.
"He's smart enough to know that he has not arrived, and he has one of the best work ethics on our football team," said former offensive line coach Brad Scott, who recruited Watkins with his son, receivers coach Jeff Scott. "… He keeps it all in perspective. That's what I think is pretty unique about him."
That and his instant success.
Watkins enters Saturday's game against North Carolina ranked No. 10 in the nation in all-purpose running (172.1) and No. 18 in receiving yards per game (104). He is tied for third in touchdown receptions with eight.
His 345 all-purpose yards in last week's 56-45 win over Maryland were not only a Clemson record, but the fourth-highest single game total in ACC history.
"His performance at Maryland was one of the best individual performances I've seen since -- who's that one guy we had a couple of years ago, C.J. Spiller?" Allen said with a laugh.
Watkins broke Spiller's all-purpose yardage record last week and now has 46 receptions for 728 yards and eight touchdowns, all school freshman records. He leads all freshmen nationally in reception yards per game, all-purpose running yards per game and touchdown receptions.
"He looks like Spider-Man," said Clemson coach Dabo Swinney. "The ball just sticks to his hands."
Brad Scott, who has since moved into an administrative role as director or recruiting, began watching Watkins at South Fort Myers High in Florida in the spring before his sophomore season.
"I've coached for a little over 32 years, so you've seen some good players, and I was around some good teams," Scott said. "As I kept watching him into his senior year ... the further along I just kept seeing him doing some amazing things in a high school game and having the ability to single-handedly put his team on his back and carry them to victory.
"I remember walking away the last game I saw him in, just kind of shaking my head and thinking, 'Hey, this guy could be really special,'" Scott said. "He's right up there in the category with some of the very best I've ever seen in high school."
Despite the fact he was oozing with potential, Watkins was given no promises about playing time. In fact, he said he was surprised he cracked the starting lineup so early. It wasn't until the week of the Auburn game that Watkins realized just how much of a factor he was expected to be in the new offense. The coaches had designed the plays for Watkins to be the first option, and he has repeatedly come through for them and first-year starting quarterback
Tajh Boyd
.
"When God made this one," Swinney said, "He was in a great mood that day."
Not a bad start -- for a freshman.
February, 22, 2011
2/22/11
12:30
PM ET
By
ESPN.com staff
| ESPN.com
Some teams just make more headlines than others ...
February, 2, 2011
2/02/11
7:47
PM ET
By
ESPN.com staff
| ESPN.com
Former Clemson offensive line coach Brad Scott has retired from coaching and former Vanderbilt coach Robbie Caldwell has been hired as his replacement.

This is a great hire for Clemson, and an important piece to the offensive puzzle.

Caldwell has 33 years experience in college coaching, including stints at Furman (1978-85), NC State (1986-99), North Carolina (2000-01) and Vanderbilt (2002-10). He served as Vanderbilt's head coach this past season after eight years as offensive line coach with the Commodores.

"Robbie Caldwell is a great fit for Clemson, our players and our coaching staff," coach Dabo Swinney said in a prepared statement. "He is very similar to Coach Brad Scott in a number of ways and it should be a good transition for our players. It is a good time for a change from the standpoint that we have four returning starters in the offensive line.

"Robbie is one of the most respected coaches in the business. He is a proven offensive line coach and recruiter. He has 30 years of coaching experience and has developed some outstanding players over the years.

"He is a native of South Carolina who had a great career as a player and a coach at Furman. He knows this state and will be an asset to us in recruiting this area. We are pleased to have him join our staff."

Scott will move into an administrative area within the Clemson athletic department, working primarily with the football office.
June, 21, 2010
6/21/10
9:00
AM ET
By
ESPN.com staff
| ESPN.com
Clemson offensive line coach Brad Scott isn't quite ready to say his group is "there yet," but he saw definite signs this past spring that the Tigers' front should be better than it was a year ago.
It's going to have to be.
[+] Enlarge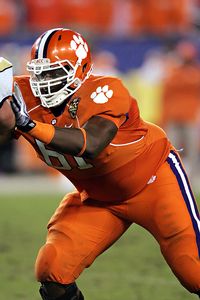 Cliff Welch/Icon SMILeft tackle Chris Hairston has evolved into the leader of Clemson's veteran offensive line.
The roles have reversed at Clemson, where the superstar skill players have graduated, and the offensive linemen are now among the most experienced players on the field. With four starters returning, they'll be depended upon heavily this fall to usher in a new duo of running backs while the offense could possibly also be under the direction of a rookie quarterback, should
Kyle Parker
decide to pursue his baseball career.
"We're the veteran bunch now," Scott said. "We lost Jacoby [Ford] out there at receiver, we lost C.J. [Spiller] at running back. ... We need to be able to load the team up on our shoulders. We don't need to be the weak link. I think that our guys understand that. Even though we're young at running back, we're talented there still. They know that both of those backs have gotten some experience last year and are good players. This spring there was evidence these guys are going to do what they need to do to accept that role and that responsibility."
It starts with left tackle Chris Hairston, who will be in his third season as a starter and has become the leader of the group. Hairston has started 23 of the past 27 games and was missed when he was out of the lineup. Clemson was 9-3 last year when he started and 0-2 when he was out with an injury. His performance in the Tigers' 40-37 overtime win against Miami was key, as Hairston graded out at 85 percent and had seven knockdown blocks.
Landon Walker is also a returning two-year starter at tackle. He started 12 games last year and had 33 knockdown blocks, including five against TCU when he held All-American Jerry Hughes without a sack and just two tackles.
Dalton Freeman is the returning starter at center, a position he took over for the final nine games of 2009. His first start came against Wake Forest, the school his father played for. The Tigers also have Mason Cloy, who started five games last year at center but suffered a broken leg in the ACC title game.
Junior Antoine McClain started all 14 games last year and was second on the team with 68 knockdown blocks. He had 12.5 against Georgia Tech in the regular season and 10 more in the ACC title game.
Scott said the most progress has been seen in run blocking, but the overall communication has been better, as is their ability to know the calls and techniques that need to be executed in a split second against ever-changing defenses. Both Hairston and Walker's pass protection also continues to improve. That will be vital if rookie
Tajh Boyd
will be taking over at quarterback.
"Certainly we think we'll be a solid group again," Scott said. "They made great strides last year and by the end of the year were playing pretty doggone good. The kids have matured, they're more confident, certainly understand the system, and had a pretty good spring. The depth is always the issue, developing the young players, but I think we're gaining from the experience most of these young men have had over the last two years."
April, 13, 2009
4/13/09
2:00
PM ET
By
ESPN.com staff
| ESPN.com
Posted by ESPN.com's Heather Dinich
CLEMSON, S.C. -- Clemson offensive coordinator Billy Napier folded his arms, leaned back in his chair in the offensive meeting room and stared at a play frozen on the projector screen.
| | |
| --- | --- |
| | Clemson Athletics |
| | Clemson offensive coordinator Billy Napier hopes to make waves despite his age. |
"Talk me through this, Kyle Parker," he said to one of his potential starting quarterbacks before a recent spring practice. "Two safeties, what are you thinking? ... We need to help these young buck receivers. Coach 'em up. Grab the guy, explain the concept to him. We gotta help those guys come along."
"Yessir," Parker said.
Their respect for Napier is evident, even though at 29 years old, he looks more like their older brother than a coordinator at a big-time BCS school.
"He's a very knowledgeable guy," Parker said. "You can tell he knows what he's talking about. He's a great guy to learn from. The plays are on the board, we're getting printouts every day -- he's always one step ahead and is always teaching us."
The thing is, Napier is learning, too.
Clemson, ranked No. 9 in the 2008 preseason, finished ranked 99th in the country in rushing offense and 88th in total offense despite having a 2,000-yard rusher, a 3,000-yard rusher, a 2,000-yard receiver and a 3,000-yard passer. While there were numerous problems and injuries up front on the patchwork offensive line, it was one of the most underutilized groups of offensive skill players in the country.
And Napier, who had never called plays at the BCS level until midway through last season when former offensive coordinator Rob Spence was fired, has been tasked with changing that.
"Yeah, I could've gone and brought some veteran guy in here, but I didn't want to have to learn his offense, and I didn't want to have to teach him what I want to do," said coach Dabo Swinney. "I have a great, young coach here. You just kind of know when things are right.
"I think he's a guy that will prove to be a great offensive coordinator, just like I hope to prove to be a great head coach. There's a lot of people out there saying to Terry Don, 'Gosh, this guy's not even 40. Why would you hire him to be the head coach at Clemson? He hasn't even been a head coach.' It's the same thing. I look at Billy in the same regard hopefully Terry Don looks at me, and that is, I believe in him."
Napier will have a few veterans in C.J. Spiller and Jacoby Ford and the offensive line should be notably better, but the Tigers will have a new starting quarterback. Parker, Willy Korn and Michael Wade are in a competition set to continue through August, but Parker had the best spring and put on a show in Saturday's Orange & White exhibition.
There are still plenty of questions surrounding the Tigers' offense heading into summer camp, and Napier is one of them. Those within the program, though, don't doubt his ability. Instead, they look to him for answers.
"Check that before I go any further," first-year assistant Danny Pearman said at a recent staff meeting, sliding his scripted plays in front of Napier.
"You want to run that one the other way," Napier said. "Get some vanilla looks."
"There was a respect there he had to earn, which I think he has," said offensive line coach Brad Scott, a former head coach. "The fact that he's so organized and he has a plan, you're -- as Dabo likes to say, 'all in' and want to help him and support him."
With the exception of Scott's son, Jeff, Napier is the youngest member of the staff.
"I have no trouble with it," Napier said of the age difference. "When it comes time to talk ball and get on the board, I hope they feel I look to those guys for their opinions and we make a lot of decisions as a group."
Napier's ascension to coordinator came quicker than even he expected, but he said it's something he's been preparing for since he played in college. (As a student and quarterback at Furman, Napier wrote a term paper on how he would run his own football program.)
Napier is a coach's son, and carried a lot of responsibility as the starting quarterback in Bobby Johnson's offense at Furman. He had never been a recruiting coordinator until his second year at Clemson, and he lured the No. 2 class in the country to Clemson in 2008. He had never been a tight ends coach until 2006.
"I'm just going to do as good as I can do," he said. "There's a reason I got the job. I'm looking forward to it. I've confidence in our players and our staff, and in the way I'm working. I'm going to work around the clock to get it done. ... I think we can move the ball and score points. I think I know how to win. I think I know what it takes to win. Obviously I've got a lot to learn -- make no bones about it. I want to make sure everybody knows that. I'm going to try to be as humble as I can be. But at the same time, I'm not going to be meek. That's not what's gotten me here."
This year, Napier and Swinney are intent on getting the ball to their playmakers, having the quarterback run more, becoming much more of a vertical football team, and attacking more downfield. This fall, Napier will be calling the plays from the box and Swinney will obviously have veto power from the sideline.
Clemson's offense did show some improvement in the second half of the season under Swinney and Napier, but the offense was held under 100 yards rushing four times in the final six games -- including a whopping four yards on 26 attempts in a 26-21 loss to Nebraska in the Gator Bowl.
Spiller rushed for only 17 yards in that game and only 18 in a 13-3 win over Virginia, but saw enough signs that helped convince him to return for his senior season instead of entering the NFL draft.
"I knew I was coming back in a great situation," Spiller said. "I know this -- I know coach Napier is going to do whatever he can to get me the ball and the other guys that make plays. That's what it's really all about -- just putting the ball in guys hands that are going to make plays for us."
Those within the program rave about Napier's work ethic, his attention to detail and preparedness. He and Ali Napier were married last July, and on the afternoon of their rehearsal dinner, Napier was still in the office working until around 5 p.m.
"Billy's doing his part and more," Scott said. "Obviously the proof is in the pudding as they say. We're going to have to deliver. I say 'we' collectively as a staff. It's not just all coach Napier's problem."
January, 12, 2009
1/12/09
2:59
PM ET
By
ESPN.com staff
| ESPN.com
Posted by ESPN.com's Heather Dinich
Clemson coach Dabo Swinney today announced staff assignments, the most newsworthy being the official promotion of Billy Napier to offensive coordinator. Considering Napier and Swinney called plays together for the final seven games of the season, this shouldn't come as a shock.
It is, however, a big deal for Napier, who isn't even 30 yet (he'll reach that mark in July). Considering he and I are the same age, I'll be the last person to second-guess him because of it. His experience, though, is another matter.
Napier just finished his third season as a full-time assistant coach. He was previously the tight ends coach and recruiting coordinator, the latter being a position he'll continue to hold through the end of this recruiting cycle. Now he's tasked with helping an offense that was at the root of this program's problems this season, despite its numerous playmakers.
How much better was the tandem of Swinney and Napier than former offensive coordinator Rob Spence and coach Tommy Bowden? Not much, and don't forget they had a healthy offensive line to work with.
Despite the tandem of James Davis and C.J. Spiller, Clemson had just 4 yards rushing in the Konica Minolta Gator Bowl against Nebraska and was held to under 100 yards rushing in four other games under the direction of Swinney and Napier. Clemson averaged 85.8 rushing yards during the coaching change and 102 under the previous regime (and that's NOT including cupcake wins over South Carolina State and The Citadel).
Napier and Swinney did average more points -- 23.8 to Spence's 15 -- and had a slightly higher average in passing yards and total offense. The difference, though, was hardly glaring. Of course, they were in a transition phase, but if Clemson is going to rebound, the offense and play calling still needs a makeover, and it looks like Napier is going to give it one.
"We will have some changes next year," Swinney said in a release. "We will basically be a spread-formation team. What will be different next year is that we will use the quarterback more in the running game. Billy is one of the fine young coaches in the nation. He will be a head coach some day."
Swinney made a small but smart move in regards to the offensive line. Brad Scott will continue to serve as associate head coach and he will coach the offensive guards and centers, but Danny Pearman, who joined the staff at the end of the regular season from Maryland, will coach the offensive tackles and tight ends and serve as assistant head coach. Pearman is a former Clemson tight end.
This should help devote more attention to what was an obvious weakness.
Outside linebackers coach Ron West's name is nowhere to be found on the final list of assignments, so he will either find a new job or move into an administrative position. The trendy thing to do these days is name a co-coordinator, and Swinney did that on defense with Kevin Steele and Charlie Harbison.
Here is the final list:
Offensive Assistants
Billy Napier -- Offensive Coordinator, quarterbacks
Danny Pearman -- Assistant head coach, tackles, tight ends
Andre Powell -- Running backs, Special teams coordinator
Brad Scott -- Associate Head Coach, Offensive guards and centers
Jeff Scott -- Wide Receivers
Defensive Assistants
David Blackwell -- Defensive tackles
Charlie Harbison -- Co-Defensive Coordinator, Defensive Backs
Chris Rumph -- Defensive Ends
Kevin Steele -- Defensive Coordinator, inside linebackers
November, 28, 2008
11/28/08
9:00
AM ET
By
ESPN.com staff
| ESPN.com
Posted by ESPN.com's Heather Dinich
Bobby Hutchinson's mind was made up.
He wanted to be a football coach, not a career backup offensive lineman.
Former Clemson coach Tommy Bowden and offensive line coach Brad Scott made it happen, but there was one caveat: If there were too many injuries, Hutchinson -- the only senior offensive lineman on scholarship -- was back in the game.
| | |
| --- | --- |
| | |
| | Greg M. Cooper/US Presswire |
| | The versatile Bobby Hutchinson has been both a student coach and the starting center for Clemson. |
Hutchinson agreed, and went to work as a student assistant coach.
During summer camp, he taught the younger linemen fundamentals like footwork and hand placement. During team drills, he would go to the scout team, and make sure they were lined up right. He even sat in on a few coaches' meetings. During the season opener against Alabama, Hutchinson watched one side of the line while Scott watched the other.
"It was a great experience," Hutchinson said. "I wouldn't trade that for anything."
Except for maybe a starting role.
Hutchinson, a fifth-year senior, certainly didn't think both would be possible this season. After an abundance of injuries crippled the Tigers' offensive line and any hopes of winning the ACC title, Clemson's coaching staff had little choice but to turn to their dependable backup. Now, as Hutchinson prepares to play his final game in Death Valley on Saturday against rival South Carolina, he'll do so having played two very important roles for the Tigers -- student coach and starting center.
"It hit me really at the Boston College game," Hutchinson said. "I wasn't expecting to start that game and then coach Scott said we're going to make some decisions and some movement, and that's when it finally hit me. In a span of a couple months, I was able to be a student coach and at the same time come back, get into shape and start. It's been fun."
Getting back into shape wasn't. In fact, Hutchinson said he still isn't quite there. He gained 10 pounds. He was about 310 before camp started, now he's at 320.
"It takes you so long to gain your conditioning level and work yourself into shape, and at the same time, you can lose it in two or three days," he said. "Especially being off for a month ... that was the toughest part."
Hutchinson has played well enough that it has allowed Thomas Austin to shift to guard. The improvement and much-needed stability on the offensive line has been the difference for Clemson in recent weeks. Clemson had seven different starting offensive line combinations through the first 11 games, but have used the same one in all three of interim head coach Dabo Swinney's wins.
Hutchinson entered the starting lineup for the Maryland game at guard and Clemson had its best rushing performance of the year against an ACC opponent. He moved to starting center for the Boston College game, Swinney's first win as head coach, and the Tigers beat BC for the first time since 1958.
Swinney said "you cannot say enough about Bobby Hutchinson."
"This young man has worked his tail off," Swinney said. "He's really like having a coach out on the field. His snaps have been great, his awareness, his checks at the line and setting our protections for the running game. He has given us every ounce of what he has every week and has really brought a stabilizing factor to us in there."
November, 18, 2008
11/18/08
5:22
PM ET
By
ESPN.com staff
| ESPN.com
Posted by ESPN.com's Heather Dinich
Clemson's offensive line -- the subject of so much preseason debate, and the heart of so many offensive struggles during the season -- has finally come together. It only took three quarters of the season. Over the past three weeks, the Tigers' revamped starting line has been playing the most consistently it has all season, and it's no coincidence Clemson's playmakers are finally getting their yards.
"I've never been through anything like this one, where I've had so many injuries and at key positions," offensive line coach Brad Scott said. "It's been a challenge."
Quite frankly, it's been a wreck.
Starting left tackle Chris Hairston was zipping around campus on his scooter, hit a pothole, and the scooter went one way and Hairston went the other. He missed two games with a knee injury.
"I said there's gotta be a South Carolina law against a 310-pound guy riding a dang scooter," Scott said.
Hairston, Barry Humphries (knee) and David Smith (high ankle sprain) have missed a combined 13 games so far this year. This was the first time since 1943 that Clemson has had to use three redshirt freshmen in the starting lineup at the same time. None of the offensive linemen have started every game at the same position.
Scott has had to use seven different starting combinations in the first 10 games. But this week, it will be the same lineup the Tigers used against Boston College and Duke -- Dabo Swinney's two wins as head coach. Here's a look at the lineup that has won ACC games for Clemson:
LG: Thomas Austin -- Originally the starting center, the only one to start all 10 games this season. Leader of the group.
RG: Mason Cloy -- Redshirt freshman who took over at Wake Forest for an injured Cory Lambert, but played just half the game because of a knee injury.
C: Bobby Hutchinson -- A fifth-year senior and career backup who was supposed to spend the season as a student-assistant coach, but injuries changed that plan.
LT: Chris Hairston -- Injured in moped accident after the game against the Citadel.
RT: Landon Walker -- Redshirt freshman who has started seven games here.
Heading into the Alabama game, Scott had fourth-year juniors Jamarcus Grant (left guard) and Lambert (right tackle) slated to start. Their experience was supposed to compensate for the loss of four starters. They're still valuable members of the offensive line, but younger players -- Cloy and Walker -- have won their jobs.
"It's our best lineup right now," Scott said. "We've played probably better than we have been playing. Not that we've played terrible, we've been OK all year. We've taken some hits, but I'm going to tell you, this is going to be an outstanding offensive line in the future. Every one of these kids are going to be back. There are going to be some good days ahead."
October, 13, 2008
10/13/08
3:49
PM ET
By
ESPN.com staff
| ESPN.com
Posted by ESPN.com's Heather Dinich
Clemson, in need of a new head coach in mid-season, expectedly turned to its own staff for a replacement. Unexpectedly, though, the administration snubbed the only two assistants with head coaching experience on their resume in favor of wide receivers coach Dabo Swinney.
| | |
| --- | --- |
| | |
| | Rex Brown/Getty Images |
| | Dabo Swinney will take over as head coach for Tommy Bowden. |
Who?
Swinney, who is 39 years old and in his sixth season at Clemson, has never been a head coach before. He got his start in coaching at Alabama, his alma mater, where he coached the receivers and tight ends until 2000. Swinney took over Clemson's receivers in 2003. Much was written about Swinney this preseason because of his ties to the Tigers' opponent in the season opener.
This story in the Birmingham News covered the ups and downs of his career, including last season when Swinney was almost lured back to Alabama by Nick Saban.
Swinney has earned a reputation as a top-notch recruiter who's a smooth talker and good with boosters and the media. He was chosen over defensive coordinator Vic Koenning, who was head coach at Wyoming and more than capable of taking over the team. Koenning is a good coach whose candor with the media might have been a factor in the decision.
Swinney was also chosen over associate head coach Brad Scott, who was head coach at South Carolina. His 23-32-1 record there from 1994-1998 might have hurt a bit. So might the struggles of the offensive line, the position he coaches.
Then again, it could be as simple as a vote of confidence in Swinney.
"I think that just speaks about how much respect they have for [Swinney]," center Thomas Austin said. "We have a lot of veteran coaches on our staff. I just think the kind of person he is, and I think he can bring a level of intensity and enthusiasm that can really help the team."
Right now, heading into a tough game against Georgia Tech, this team needs all the help it can get.
August, 12, 2008
8/12/08
12:30
PM ET
By
ESPN.com staff
| ESPN.com
Posted by ESPN.com's Heather Dinich
CLEMSON, S.C. -- Everywhere Clemson associate head coach and offensive line coach Brad Scott goes around this small town, he's asked about his offensive line. Church. Restaurants. The grocery store.

"I hear it everywhere I go," he said with a laugh. "My wife asks the same question. I said that's not fair, don't you dare ask me that question."
He knows, though, that his group is the biggest question mark the Tigers have heading into a season bursting with expectations.
"We've got the bull's-eye on our backs," Scott said.
There's something about this group, though, he likes. They're friends. They live together, eat together. What they're lacking right now is continuity and starting experience. Scott is trying to make decisions as quickly as he can so he can keep five guys together for the remainder of camp and they develop that trust factor.
So far, here's what he's looking at:
Center Thomas Austin is the lone returning starter. He's mature. He's married. And he's making sure the younger players keep their focus.
Right guard Barry Humphries started seven games, including five at center and two at right guard. ("But he's got 700 snaps" Scott said, "so I would call him a veteran player.")
Left tackle Chris Hairston started in the Chick-fil-A Bowl game against Auburn at right tackle, and logged about 250 snaps in 2007.
Right Tackle Cory Lambert played about 150 snaps last season and 26 straight games over the past two seasons, but has just one start.
Left guard Jamarcus Grant has played less than 100 snaps.
"He's been the biggest question coming in, but has had one of our best camps," Scott said. "These guys understand they've got to produce. They're working extremely hard. There's a nice chemistry to this group. We are a little unproven but I love their work ethic. If that has anything to do with them having success, then I think we're going to be OK, but it's like a bag of tea. You don't know what you're going to get until you put it in hot water."
There's no doubt the temperature will rise in the season opener against Alabama. Nick Saban is bound to throw multiple defenses at this young group, and while the Tigers have film to study, the question is what Saban is working on this summer that isn't on film, and how quickly Clemson's younger players can adjust to things they haven't seen.
"You've got guys like Barry Humphries and Jamarcus Grant and Cory and Chris who have been in the program for several years and know the terminology," Austin said. "Watching it and practicing it is completely different from doing it full-speed live. Taking that head knowledge and applying it is what we're working on, and building that cohesion that is so vital for an offensive line."
The coaches have done preliminary work on Alabama, but the players are still working on installing offenses and fundamentals. The last 10 practices will be used to game plan for the season opener in the Georgia Dome.
"I don't think it's a group that's going to go out there and lay an egg," Scott said.
Especially with all of the playmakers around them.
"These backs are capable of making some guys miss," Scott said. "Certainly this is the best scenario to have, no doubt about it."
All they need, running back C.J. Spiller said, is a split second.
"That's all we ask of those guys," he said. "A split second I think will get it done."
This will be the second year in a row Clemson will have to replace four starters on the offensive line. The difference was last year, there were fifth-year seniors taking over. Now there is an infusion of youth.
"They're coming along very good," Spiller said. "They're doing way better than what people expect them to do. They're going up against a great defensive line, and that will only make them better every day. And I like the chemistry that they have up there.
"They believe in each other, they make the right calls. They're not letting the outside pressure get to them. With Thomas Austin anchoring the o-line, he's making sure those guys stay focused and don't worry about what people say about them. They'll be ready by the time games start."