October, 7, 2010
10/07/10
10:15
AM ET
Here are 10 things to keep an eye on this week in the ACC, in no particular order:
1. Miami freshman offensive tackle Seantrel Henderson.
He made his first career start last week in the win at Clemson, and impressed coach Randy Shannon. He's likely to continue to see more playing time, sharing snaps at right tackle with Jermaine Johnson.
2. Defenses in Miami.
Florida State and Miami are among the nation's best at getting pressure on their opponents. FSU leads the nation in sacks and is second in tackles for loss, while Miami is first in tackles for loss and second in sacks. Quarterbacks
Christian Ponder
and
Jacory Harris
will be playing under pressure. Harris has thrown eight interceptions in the past three games while Ponder and
E.J. Manuel
have been interception free over the past 89 pass attempts.
3. Ailing quarterbacks.
Wake Forest is hoping
Tanner Price
(concussion) is healed in time for Saturday's game against Navy and the status of Boston College quarterback
Chase Rettig
(ankle) is expected to be learned today. The injury-laden position has been a disaster for the Deacs, as three have been sidelined. Just when the Eagles seemed to find someone who could manage the offense without turning it over, Rettig hurt his ankle and they're "back at square one."
[+] Enlarge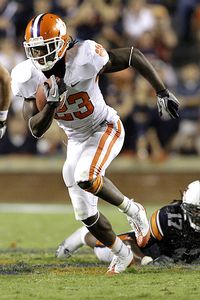 John Reed/US PresswireClemson's Andre Ellington has rushed for 380 yards and seven touchdowns this season.
4. Clemson sophomore running back Andre Ellington.
He needs 129 more yards in his next 19 rushing attempts to break C.J. Spiller's school record for fewest rushing attempts to reach 1,000 yards. Ellington leads the ACC in rushing (95.0) and touchdowns (7) so far this season. For his career he has 871 yards in 122 carries. It took Spiller 142 carries to reach that milestone in 2007.
5. NC State's third-down defense.
NC State leads the ACC and ranks seventh nationally in third-down conversion defense. The Wolfpack is allowing opponents to convert on just 26.6 percent of third-down attempts (17-of-64). The Wolfpack has also forced opponents into 23 three-and-outs this season, an average of 4.6 per game. That mark ranks sixth in the nation.
6. North Carolina's secondary
. The Tar Heels will have both starting safeties in the lineup against Clemson with the return of strong safety Da'Norris Searcy and free safety Deunta Williams. Searcy, who missed the first three games of the season, came back last week with a 46-yard interception return for a touchdown. Williams ranks third at UNC with 12 career interceptions.
7. Virginia's offense vs. the 3-4 defense.
The Cavaliers should be well-prepared as they face their former coach in Georgia Tech defensive coordinator Al Groh. Groh said this week that Virginia has the advantage because of coach Mike London's familiarity with Groh's philosophies.
8. Clemson's receivers
. Coach Dabo Swinney made a change this week. Out:
Xavier Dye
,
Terrance Ashe
and
Brandon Clear
. In:
DeAndre Hopkins
,
Bryce McNeal
and
Jaron Brown
. Why? It took nine minutes into the third quarter until a Clemson receiver caught a pass against Miami. The Tigers will face a similar challenge against the Tar Heels.
9. BC's running game.
Or lack thereof. Despite a veteran offensive line and one of the most productive running backs in the ACC in
Montel Harris
, the Eagles rank 108th in the country in rushing offense at just 87.5 yards per game. NC State's rushing defense took a hit against Virginia Tech and is now allowing 164 yards per game. The Hokies ran for 317 and 8.6 yards per carry.
10. Virginia Tech's secondary
. Nine different players have broken up passes this season, and Jayron Hosley is coming off an impressive performance in which he tied a single-game school record with three interceptions against NC State. Central Michigan has the No. 19 passing offense in the country with 290.8 yards per game.
September, 7, 2010
9/07/10
12:30
PM ET
By
ESPN.com staff
| ESPN.com
September, 4, 2010
9/04/10
7:14
PM ET
I did a double-take at the box score on this one.
North Texas' time of possession: 41:52. Clemson: 18:08.
Clemson barely had the ball and yet somehow was able to win,
35-10
. The Tigers only converted two third-downs and
Kyle Parker
only threw the ball 17 times.
Jamie Harper
and
Andre Ellington
carried the team offensively, but the 70-yard touchdown pass from Parker to
Brandon Clear
was spectacular and showed what that offense is capable of when the passing game is working. Seven different players caught the ball (including Ellington and Harper), but nobody had more than two catches. Do the Tigers have a go-to receiver?
Clemson got the win -- mission accomplished -- but it's going to take a lot more to get another one on the road against Auburn.
August, 5, 2010
8/05/10
7:00
AM ET
By
ESPN.com staff
| ESPN.com
Here is Clemson's practice report from Wednesday, as provided by the sports information department:
The team worked in helmets and shorts for a little over two-and-a-half hours in humid weather conditions.

Highlights: Brandon Ford made several diving catches. Junior Marquan Jones caught a 70-yard bomb from Kyle Parker near the end of the practice.

Missing: Brandon Thompson and Rashard Hall both missed the practice to take final exams. Landon Walker and Brandon Clear both missed Tuesday's first practice, but were back on Wednesday. Final exams for the summer session ended on Wednesday evening.

Swinney says: "We got better tonight; it was a good practice," said coach Dabo Swinney. "I thought the tempo was good, especially among the offensive line. The young guys are also catching on. I was encouraged by the hustle I saw over the course of the practice. Our leadership got better also. You look for your players to take some ownership. I saw that tonight."

On toughness: "We are definitely tougher now than we were at this time last year. We still want to improve, but we have made strides. We want to be the tougher team in every game this year, that is the mark of a championship team."

On the receivers: "They had a solid night. They worked hard. We have some talented players at the wide receiver position, we just haven't had a lot of guys who have had opportunities yet. When talented players get an opportunity good things happen and I saw some good things out there tonight."

On running backs Andre Ellington and Jamie Harper: "I am sure both of them rolled their eyes last year when C.J.[Spiller] announced he was coming back. But, I am also sure today they would tell you they benefited by working under C.J. They learned a lot from him.

"Andre and Jamie are two pretty good players also and they are capable of putting it together in every aspect of the position. They are friends, they are always together. But they are competitors also and that makes them better."
August, 4, 2010
8/04/10
8:00
AM ET
By
ESPN.com staff
| ESPN.com
Not all ACC schools provide practice reports, but if they do, I usually post them with some editing. These are provided by the sports information directors at each school. Here is Clemson's after its first day of practice:
The Tigers worked out in helmets and shorts in comfortable weather for two hours and 30 minutes on the practice fields behind the Jervey Athletic Center.

It was the first of 29 allowed preseason practices for the Tigers, who open the season at home against North Texas on Sept. 4. Clemson will work once a day Tuesday through Saturday this week.

The only player who missed practice due to injury was junior guard Wilson Norris, who suffered a torn ACL in spring practice last March. He will be out until at least November.

Two players missed the practice to take a summer school exam, starting tackle Landon Walker and wide receiver Brandon Clear.

"I saw a lot of progress since we last practiced in April," said coach Dabo Swinney, according to the team's practice report. "You could see they worked hard on their own over the summer. If you are going to be a good team you have to make progress between the end of spring practice and the start of fall practice.

"I could see that in players like Tajh Boyd. You could see from what he did today that he has made progress. The game has slowed down for him thanks to the work he put in over the summer. I saw that from a lot of veteran players today."

Swinney was also impressed from what he saw from quarterback Kyle Parker. Clemson's returning starter at quarterback has not thrown many footballs since the end of spring practice, as he helped the Tigers baseball team to the Final Four of the College World Series. The first-round draft pick of the Colorado Rockies announced he would return to Clemson to play football for the Tigers on July 21. He still may sign with the Rockies, but will play for the Tiger football team in the fall.

"He amazes me at what he does from a mental standpoint. He made some typical 'KP' throws that make you smile. He did show some rust, but he had an outstanding day.

"It was good to see how excited the other offensive and defensive players were to have him back. While he was not here this summer, they know he was not off sipping cocktails on an island. They say him play for our baseball team on TV, working hard for that team. He went straight from the bowl game to the batting cage without a break. You could see he was refreshed today and ready to play some football."

Swinney was also impressed by what he saw from the 19 freshmen who were at their first Clemson practice.

"It is an impressive group. They are in good physical condition and will make a contribution as a group this year. It is just the first practice so it is too early to single anyone out, but overall I was impressed."

Many players worked in the return game at the beginning of practice. The Tigers are looking for replacements for C.J. Spiller and Jacoby Ford in the return game. That duo became the greatest all-purpose duo in NCAA history over the last four years. Marcus Gilchrist, Jaron Brown, Bryce McNeal and some others worked as kick returners during that part of practice.

Swinney said after practice that Tyler Fowler, a walk-on offensive lineman from Canon, Ga., was given a scholarship for this fall.
September, 17, 2009
9/17/09
3:34
PM ET
By
ESPN.com staff
| ESPN.com

Posted by ESPN.com's Heather Dinich
It's been an indecisive day for Clemson receiver
Xavier Dye
. This morning, coach Dabo Swinney told the Dan Scott show on WCCP in Clemson that Dye had decided to leave the program. Since that 11:45 a.m. interview, Swinney met with Dye, who has changed his mind and will stay at Clemson.
This was little more than Dye taking this week to hang his head about being demoted from the starting lineup for the Georgia Tech game. He hadn't practiced all week, which is why he's not going to play this week against Boston College.
The Tigers spent all summer looking for another receiver to emerge as a dependable option along with standout
Jacoby Ford
, and Dye was in the mix of inconsistency. He caught one pass for four yards as a starter against Middle Tennessee and was then relegated to the bench last week.
Marquan Jones
(three catches for 108 yards and one touchdown) hasn't dropped a ball yet, and
Terrance Ashe
has provided some help, but Swinney is still looking for answers from that group. They wanted to get
Brandon Clear
a shot last week, but the ball he caught was out of bounds.
If Dye uses this experience as motivation -- which his final decision indicates he might -- it could give the group a boost.
August, 28, 2009
8/28/09
12:00
PM ET
By
ESPN.com staff
| ESPN.com
Posted by ESPN.com's Heather Dinich

With the help of a few sports information offices and the hometown newspapers of the teams with practice reports, here's a quick trip around the league as we head into our final weekend of summer without any ACC football (thank God) ...


MARYLAND

The Terps had their final scrimmage of the summer, and while there were some bright spots, it doesn't sound like a lot was determined. However, coach Ralph Friedgen did put some order to the deep group of receivers he has. Friedgen said he thinks nine receivers will travel with the team. At X, it's likely to be Adrian Cannon, Kevin Dorsey and Emani Lee-Odai. At Z, expect to see Torrey Smith, Quintin McCree and Tony Logan, and in the slot position Ronnie Tyler, LaQuan Williams and Kerry Boykins.

Here are a few highlights from the scrimmage, according to the practice report:

Sophomore Torrey Smith, who will be counted on to be a big-play receiver this season, had a hand in two touchdowns. He set up Davin Meggett's 3-yard score by making an acrobatic 30-yard reception from Chris Turner, setting up first-and-goal. Smith also fielded a short kickoff and raced up the left sideline for an 87-yard touchdown. Freshman Nick Ferrara made two 48 yards-yard field goals and added a 45-yard extra point after Meggett's touchdown. Mike Barbour, also competing for the No. 1 place-kicking job, made a pair of 46-yard extra points. Chris Turner completed 6 of 8 passes for 102 yards. The defense also had two other interceptions with linebackers Hakeem Sule and Alex Wujciak forcing turnovers. In addition, coordinator Don Brown's unit posted four sacks.


CLEMSON

FSU isn't the only one with injury problems on the defensive line. Clemson defensive tackle Brandon Thompson broke his hand - again.

Clemson spent Thursday's short practice working on Middle Tennessee's tendencies.

Brandon Ford was in a yellow jersey as he continues to heal from a foot injury. Spencer Benton was out again, but is expected to return to kicking duties on Saturday when the team holds its annual "Beannie Bowl." Jacoby Ford continues to improve from a hamstring injury and should be ready for the opener. Brandon Clear is back at full strength after a rib injury.

"The Beannie Bowl is a full rehearsal for the first game," coach Dabo Swinney said. "We will go through our pregame warm ups, even run down the hill. They we will kick off right at 6:00 PM and practice various special situations."


FLORIDA STATE

It was a good day for the Noles on Thursday, both at practice and in recruiting. FSU picked up two more recruits, bringing its 2010 class to 13. Florida State also got its first workout in the rain. There's one problem - all three of the senior defensive tackles are injured. You know what that means? It's time to meet Jacobbi McDaniel.

From the practice report:

Senior cornerback Patrick Robinson swatted away a touchdown pass intended for Jarmon Fortson in the end zone during 11-on-11 work. ... The best collision of the day came when linebacker Kendall Smith buried tailback and lead blocker Jermaine Thomas o
n a running play. ... Tight end Beau Reliford shook off the doldrums from several long afternoons with a 30-yard grab. ... With senior defensive tackles Budd Thacker (toe) and Kendrick Stewart (knee) held out of contact work for a second consecutive day, heralded freshman Jacobbi McDaniel continued to receive significant snaps alongside Moses McCray with the first-team defense. Fellow freshman Demonte McAllister is also getting a load of repetitions. "They are getting a lot of work, which is what they need," Bowden said of the youngsters. "They look like they can handle it."... Redshirt freshman Everett Dawkins, who began the preseason at defensive tackle and moved out to defensive end, was moved back inside to bolster position coach Odell Haggins' under-manned unit. ... There are quite a few position battles still being waged as the Seminoles head into Saturday's closed scrimmage, including cornerback, rover, defensive end, offensive guard, tailback, wide receiver and kicker. The competition is a welcome sign, reflecting the team's improved depth. "We let (the players) know those scrimmages are so important because they are game-like," coach Bobby Bowden said. "We've got ACC officials out there, so it's time to show your stuff if you've got it." ... The Seminoles will practice Friday afternoon.


MIAMI

Rise n' shine, it's practice time. The Canes started at 5:45 a.m. in shells under the lights on Mark Light Field. Dyron Dye was held out of practice with a leg injury. Leonard Hankerson and A.J. Trump returned to practice after being limited the last few sessions.

The Miami Herald is reporting that Taylor Cook is heading to Rice. With the transfer of Cook and Cannon Smith, A.J. Highsmith got a lot more work on Thursday. Here's what offensive tackle Jason Fox had to say on the transfers:

"Sometimes it can be a distraction but as a football team you have to limit the distractions, not think about it and remember why we are here. We are here to play football and win football games and anything else besides that, we have to push off to the side. You can't really do anything about it. Those were personal decisions they wanted to do for their careers that is going to help them out personally. As a team, we have to send them on their way and wish them good luck, but we still have to get ready."
August, 26, 2009
8/26/09
1:30
PM ET
By
ESPN.com staff
| ESPN.com
Posted by ESPN.com's Heather Dinich


Wake Forest's defense is the one thing in question heading into the Deacs' season opener against Baylor, and on Tuesday in the third scrimmage of the summer, it was the highlight. Then again, the offense was the lowlight. It frustrated coach Jim Grobe enough to bring up last year's 26-0 loss to Maryland. To read the complete release, click here.

Tailback Josh Adams led all rushers with 57 yards on eight carries.
Riley Skinner completed 11 of 16 passes for 139 yards and a touchdown.
Danny Dembry led the receivers with 64 yards on four catches.
Defensive tackle Tripp Russell led the defense with eight tackles.


DUKE


The Blue Devils also scrimmaged on Tuesday, but several key playmakers -- including quarterback Thaddeus Lewis -- missed it to nurse some nagging injuries. To read the entire release, click here.

Here are a few quick stats leaders:

Passing: Sean Renfree 5-of-8 for 80 yards

Rushing: Patrick Kurunwune 4-80; Re'quan Boyette 5-39, two touchdowns

Receiving: Desmond Scott 4-13

SCORING SUMMARY

Boyette 4 run (Will Snyderwine kick)

Boyette 18 run (Snyderwine kick)

Tyree
Glover 5 blocked punt return (Snyderwine kick)

Kurunwune (Renfree pass failed)


CLEMSON


Dabo Swinney was not happy after Clemson's practice last night, saying the Tigers wouldn't have won if they had to play a game. Swinney is also using this time to develop his second-stringers, which he plans on playing every game.

"I wasn't happy with any phase of the game," he said, according to the team's practice report. "We made too many mistakes on both sides of the ball. We had busted assignments, penalties at inopportune times (red zone) and just didn't have the attention to detail I have seen in this camp.

"Perhaps the team is tired of playing against each other. It was a physical practice. I didn't want to go the last two and a half weeks going into the Middle Tennessee game without a scrimmage, so we had a scrimmage the second half of practice.

"We have been working on Middle Tennessee in the preseason, but Wednesday we will start 100 percent preparation for them."

The good news for Clemson was that Jacoby Ford was in a green jersey, but continues to see more action as he recovers from a hamstring injury. He went through the first half of practice, but did not play in the scrimmage. The same was true for wide receiver Brandon Clear. Chad Diehl was also limited by a shoulder injury.


MARYLAND


Maryland coach Ralph Friedgen gave the offensive line a boost by moving freshman Bennett Fulper from center to guard.

"I was shocked yesterday (Fulper) didn't make any mental mistakes, with just moving him from center to guard," said Friedgen. "His footwork wasn't bad. I understand the center should know what the guard is doing, but usually with a true freshman that doesn't happen. I thought he did OK again today, so that was a positive. If he could play both positions as a true freshman, that would really help us."

Fulper, along with the rest of the offensive line, had a good practice on Tuesday morning. They were opening running lanes that sprang Da'Rel Scott and Davin Meggett for several long gains, much to the delight of offensive coordinator James Franklin. However, Friedgen noted where one of the most prized players on the team has an area to improve.

"I think Bruce [Campbell] is pass-protecting very well," Friedgen said. "Where he has to get better is run-blocking. I see him making strides in that area. He's a very coachable kid. He needs to get lower. I was just talking to him about it today. He had a couple good moves. He makes an effort to do what you want him to do. He's not making many mental mistakes."
August, 14, 2009
8/14/09
11:00
AM ET
By
ESPN.com staff
| ESPN.com
Posted by ESPN.com's Heather Dinich
Here's your daily dose of practice reports from around the ACC, as reported by each school's information office:
FLORIDA STATE
Cloud cover kept the temperature from climbing Thursday morning as the Florida State football team donned full pads for the first time this preseason. It didn't take long, however, for the action to heat up as the Seminoles' offense made the lion's share of big plays.

Of course, a big day for the offense also comes with drawbacks.

"The hitting was pretty good, but too many big plays popped out of there," said FSU coach Bobby Bowden. "As a head coach you don't know who to root for, your defense or your offense. It scares me when big plays come out of there."

Quarterback Christian Ponder connected on long passes with wideouts Jarmon Fortson, Rodney Smith and Taiwan Easterling, as well as tight end Caz Piurowski, during the first five-minute period of 11-on-11 work.

"A lot of that came against the blitz and we've been working on that all week," Ponder said, offering a hint at the developing mindset on offense. "The blitz for us means big plays and that's what we've been working on and things opened up.

"We definitely didn't have enough big plays last year and stretch the field as much as we wanted to. Things are starting to open up and that's a good thing."

It should come as no surprise that Ponder had ample time to step up in the pocket created by the seasoned offensive line and deliver the football. Improving pass protection has been a point of emphasis since the conclusion of last season.

Junior center Ryan McMahon, who helps anchor the unit along with guard Rodney Hudson, was encouraged by the performance of the unit in its first real test of the preseason.

"Overall we felt we had a better practice today than we did the other day, but I'm sure there's plenty of room for us to improve," McMahon said. "Everybody's attitude was good and it was fun."
August, 13, 2009
8/13/09
9:00
AM ET
By
ESPN.com staff
| ESPN.com
Posted by ESPN.com's Heather Dinich
Here are the reports that came in from Wednesday's practices around the league, as reported by each school's sports information office:
CLEMSON
Clemson had its second day of two-a-day practices on Wednesday. The Tigers worked for two hours and 15 minutes in the morning and for an hour and a half in the evening.

Much of the day was spent reviewing the film from Tuesday's scrimmage and correcting mistakes. Coach Dabo Swinney felt better about his team after watching the film on Tuesday afternoon and evening.

"We played better than I thought," said Swinney. "I was very disappointed with the penalties [on offense] and a lack of attention to detail immediately after the scrimmage. And I still feel that way about those mistakes. But after watching the film we played better overall than I thought."

Swinney was impressed with the performance of his defense after the scrimmage on Tuesday and he was still happy with that performance on Wednesday.

"We have a chance to be pretty salty on defense. I look out there and really can't tell the difference between the units. I was talking to Jamie Cumbie yesterday and he said it doesn't make any difference who starts, they are just waiting to have their name called.

"There is great depth on the defensive front and the secondary. The linebackers are doing well also. I was really impressed with Kavell Conner's performance on Tuesday. He has had a terrific preseason."
August, 12, 2009
8/12/09
11:00
AM ET
By
ESPN.com staff
| ESPN.com
Posted by ESPN.com's Heather Dinich
Here's your daily dose of practice reports from Tuesday, as reported by each school's sports information office:
CLEMSON
Kavell Conner and Brandon May each had eight tackles to key the defense in Clemson's first of three scrimmages of the preseason on Tuesday morning.

Four quarterbacks worked in the scrimmage that was 87 plays in length before the team went into a short-yardage situation drill. Kyle Parker completed 8 of 18 passes for 97 yards and a touchdown, a 39-yard scoring pass to tight end Durell Barry. Willy Korn was 4-for-9 for 41 yards, while Mike Wade was 4-of-7 for 49 yards. Freshman Taj Boyd, who worked with the third offense against the third defense, was sharp and completed 7-of-10 passes for 70 yards.

Two redshirt freshmen were the top receivers on the day. Brandon Ford had five catches for 60 yards and Jaron Brown added three for 48 yards. The tight ends were prominent during the scrimmage catching a combined eight passes. Michael Palmer had four catches for 33 yards.

C.J. Spiller was the top rusher with 10 carries for 60 yards and he also added a 7-yard pass reception. Jamie Harper had three rushes for 18 yards, while Rendrick Taylor added four for 17.

The defense played well, allowing just one touchdown all day, the 39-yard scoring pass from Parker to Barry. Conner had a tackle for loss to go with his eight tackles. Jarvis Jenkins was the top tackler up front with five stops, including a tackle for loss. Ricky Sapp had two sacks to pace the defensive ends. There were two interceptions by the defense, one by Xavier Brewer and one by Carlton Lewis.

"We did some things well, but we still have a long way to go," said coach Dabo Swinney. "The defense is definitely ahead of the offense at this point and you see that at this point in preseason. But we had way too many penalties and mistakes on offense.

Clemson will be back on the practice fields for two practices on Wednesday.
MARYLAND
The Terps continued practice without pads, spending much of the session working on timing, technique and learning the playbook.

For the second straight day, the team practiced in high heat and humidity as temperatures soared into the mid 90s. The weather may have played a role in Tuesday's workout.

"Today wasn't as good as Day 1," said coach Ralph Friedgen. "We didn't catch it as well as I like us to. But we still got a lot done. We had a lot of reps. We got a lot of young kids plenty of work. We're running two teams so I'm like a traffic cop out there."

In order to get more work for a roster which has 58 of its 85 scholarship with three or four years of eligibility left, Friedgen has split the practice into two groups, with the first and third teams squaring off against each other, and second and fourth teams working on an adjacent field.

"The good thing about this team, there's competition," said Friedgen. "Everybody has to compete. There's very few jobs that are set other than say [Chris] Turner's. But I'm looking for Jamarr Robinson to come on as well. But I'm not disappointed in the play of two young quarterbacks. I'm kind of amazed from what we have in that they're able to get out of the huddle. They're not finished products by any stretch, but they've picked things up well."
MIAMI
Day 4 was highlighted by several big runs from freshman running back Lamar Miller, as well as a strong showing by the tight ends in 7-on-7 action.

The Hurricanes donned shells for the second straight day. After a slow start to practice, the team picked up its pace as practice wore on.

"As a group, we started off slow today; but we finished up fast," coach Randy Shannon said. "We can't come out and start off slow and then try to pick it up at the end. That is part of practice. We have to get focused tomorrow and stay focused on the big picture."

Temperatures remained consistent with the first three days of practice, with hot, humid conditions on the Greentree Practice Fields.

The team will return to practice Wednesday morning wearing full pads for the first time in camp.

• Freshman defensive linemen Olivier Vernon and Luther Robinson each recorded a sack in 11-on-11 action.
• Sophomore quarterback Jacory Harris hooked up with sophomore Travis Benjamin and freshman Kendal Thompkins for deep balls in 11-on-11 play.
• Freshman Lamar Miller had two big runs on the morning, one that went for a 60-plus-yard touchdown.
• Jordan Futch forced and recovered a fumble in full-team action.
• Tight ends stood out in 7-on-7 play, with seniors Jimmy Graham and Richard Gordon and freshman Billy Sanders all recording a catch.
• Taylor Cook found Thearon Collier for a long touchdown in 11-on-11.

WAKE FOREST
Wake Forest practiced for two hours Tuesday night at the Doc Martin Football Practice Complex. The fourth practice of the preseason marked the Demon Deacons' final practice in shells. The squad will wear full pads for the first time when it hits the practice field on Wednesday afternoon at 3 p.m.

"It was a little scary tonight, a lot of contact, lot of guys running into each other," said coach Jim Grobe. "We're trying to keep the guys high and on their feet but we had too many guys on the ground tonight. The good news is that they were getting after each other in a good way. We'll work harder at doing a better job of being physical but at the same time taking care of each other. We had a lot of energy tonight."

Grobe noted that the younger, less-experienced defense rose to the occasion on Tuesday night.

"I thought the defense did some better things today," said Grobe. "The past couple of practices we popped some big plays on offense and the defense kind of kept those in check today. They're moving around better. Some of our young kids, they don't know where to line up or what to do but they're flying around and playing hard so it was fun. It was a fun practice to watch. Usually at the end of finals and summer school the guys start dragging but we didn't today. It will be fun tomorrow to get out and have class behind us and not have to study anything but football for the next couple of weeks."
August, 10, 2009
8/10/09
4:52
PM ET
By
ESPN.com staff
| ESPN.com
Posted by ESPN.com's Heather Dinich
More bad news for the Tigers today:
Freshman offensive tackle J.K. Jay will have back surgery on Wednesday and will be lost for the season. He suffered the injury while working out with weights in mid July. Tight end Phillip Price was moved to offensive tackle as a result of Kay's injury.
This is unfortunate for Clemson, as Jay was one of the true freshmen expected to make an immediate contribution this season.
Wide receiver Brandon Clear is still out with a rib injury, as is wide receiver Jacoby Ford, who has a pulled hamstring. Andre Branch, who missed practice on Saturday with a concussion was back at practice on Monday.
April, 6, 2009
4/06/09
9:00
AM ET
By
ESPN.com staff
| ESPN.com
Posted by ESPN.com's Heather Dinich
There was plenty of football going on this Saturday, but only one spring game -- Florida State -- so we'll take care of the Noles in a separate post. Here's a quick recap of the other scrimmages, according to information provided by each school's respective sports information director.
BOSTON COLLEGE
In the Eagles' first spring scrimmage, redshirt sophomore quarterback Dominique Davis started and completed 9 of 22 passes for 64 yards with three interceptions. Redshirt freshman quarterback Justin Tuggle completed 9 of 11 passes for 87 yards with one touchdown and one interception. Sophomore quarterback Codi Boek also played several series, completing 7 of 14 passes for 61 yards. Redshirt freshman Alexander Atiyeh completed a pass for 26 yards and a touchdown.
Redshirt freshman Clyde Lee led all receivers with four catches for 59 yards. Junior Ryan Lindsey had three catches for 52 yards, along with a 26-yard touchdown. Junior tight end Jordon McMichael caught Tuggle's 5-yard touchdown, which ended the scrimmage.
Senior running back Jeff Smith led all Eagles in rushing, carrying the ball 13 times for 42 yards and two touchdowns. Sophomore Montel Harris had 12 carries for 33 yards, while sophomore Josh Haden had 12 carries for 32 yards.
"I saw some good things," coach Frank Spaziani said. "The offense is getting better, learning some things and executing. We're making progress, but it's still very early."
The defense looked strong early, as senior Mark Herzlich intercepted Davis and returned the ball 43 yards for a touchdown. Sophomore linebacker Will Thompson made six tackles. Redshirt freshman Nick Clancy was in the right place at the right time totaling four tackles and two interceptions. Junior cornerback DeLeon Gause returned a fumble 42 yards for a touchdown, while also intercepting a pass. Sophomore defensive tackle Kaleb Ramsey recorded two sacks on the day.
CLEMSON
The defense had 13 sacks -- three of which came from defensive end Da'Quan Bowers, who also had four tackles -- but don't get too impressed by that stat. It's the one-hand touch rule on quarterbacks, so many of them wouldn't have counted.
"I thought it was a great scrimmage," said coach Dabo Swinney. "I saw great competition and solid performances on both sides of the ball. The wide receivers had their best day of the spring. Brandon Ford had two touchdowns [including goal-line drill] and has really made progress this week. The quarterbacks did well. People better not count out Michael Wade, he had an outstanding day.
"On defense I thought Da'Quan Bowers was outstanding. The defense had a very good day in general.
"We did have some mistakes that were critical, a fumble on the goal line, an offside penalty by the defense that negated a big play that allowed a first down. But, overall I was pleased.
"The kickers also did very well today. Spencer Benton was 7-for-7 on field goals, including a 50-yarder and Richard Jackson had an outstanding day as well."
Jackson made two field goals from 49 yards during the scrimmage.
Wade had the best stats of the quarterbacks as he completed 9-of-12 for 163 yards and two touchdowns. Willy Korn was 8-16 for 96 yards and added a 3-yard scoring pass to Ford in the goal-line drill portion of the scrimmage. Kyle Parker completed 7-of-14 for 87 yards and a touchdown on a 10-yard pass to Terrence Ashe, who made a nice catch in the back of the end zone.
Parker hit a home run for the Clemson baseball team against Duke on Friday night, then was back in Death Valley Saturday morning. He will be back in the starting lineup against Duke on Saturday night.
"We came out today to work on our passing game," said Swinney. "We have had some tough weather this spring so today was the best day we have had to work on pitching and catching. I was pleased with what I saw."
Ford had three catches for 97 yards, including a 60-yard score from Wade, in the regular scrimmage, then added a touchdown catch from Korn in the goal-line portion. Jaron Brown had three catches for 68 yards, including a 26-yard reception from Wade. Ashe had three catches for 20 yards, including the 10-yard score from Parker. Xavier Dye added two catches for 40 yards receiving, and Brandon Clear had a 30-yard catch as well.
Rendrick Taylor was the top rusher with eight carries for 31 yards, while Andre Ellington had eight for 27. There were no rushing touchdowns in the scrimmage until the goal-line drill. Ellington and Jamie Harper both had two touchdowns in the goal-line drill.
C.J. Spiller and Jacoby Ford both missed the scrimmage as they compete this weekend for the Clemson track team in the Florida Relays.
Bowers, who was Clemson's top player in the Gator Bowl against Nebraska, had three sacks, a caused fumble, four total tackles for loss and six overall tackles. Brandon Clear had two sacks.
Kavell Conner, Clemson's top tackler last year, had six tackles, as did Jeremy Campbell and Bowers, to lead the defense. Sophomore Coty Sensabaugh had a 53-yard fumble return for a touchdown. Safety Sadat Chambers had the only interception of the scrimmage.
MARYLAND
Maryland won't hold its first scrimmage until next week, but the Terps geared up for that by spending about an hour of Saturday's workout in a scrimmage-type setting.
After spending roughly an hour on individual and team work, the first and second team offenses and defenses faced off for a mock scrimmage of eight possessions with each beginning at the 35-yard line.
The offense had scoring opportunities on two of its first five possessions, but the defense ended one drive with an interception and forced two three-and-outs.
Da'Rel Scott keyed the lone touchdown drive in his limited time. With the No. 1 offense and defense squaring off on the second drive, the junior carried four times for 56 yards to move the ball into the red zone.
After Chris Turner hit Tommy Galt on third-and-5 to keep the drive alive, Haroon Brown scored on a 4-yard
run.
The offense moved the ball on the ensuing possession, but Jamari McCollough thwarted the scoring chance, picking off Jamarr Robinson's pass at the 4 and returning it 50 yards.
Two possessions later, the offense had a field goal attempt set up by a 26-yard completion from Anthony Green to Matt Furstenburg.
Aided by a stiff wind, Mike Barbour's 50-yard kick had plenty of distance, but sailed just wide right.
Safeties Terrell Skinnner and Antwine Perez were the leading tacklers, posting four stops apiece. Skinner and Perez were also in the backfield quite a bit, combining for 2.5 tackles for loss. Skinner also had a forced fumble.
McCollough also had three solo stops in addition to his interception. The defense had four sacks, including two on the final possession.
"Defensively, we got better as the scrimmage went on," coach Ralph Friedgen said. "We got better at tackling, better pursuit to the ball and we [forced] some turnovers, which is good to see from a defensive standpoint but not from an offensive standpoint."
Turner completed six of his seven passes, but managed only 12 yards. Robinson went 3-for-5 for 37 yards and Green, a defensive back serving as the No. 3 signal-caller this spring, hit all three of his attempts for 33 yards.
Scott, who played on just one possession, was the leading ground gainer with 56 yards on four carries. No receiver had more than two catches, with Furstenburg leading the way, hauling in a pair for 41 yards.
"There were a lot of positives," Friedgen said of Saturday's practice. "We just need to keep on working at trying to get better. I think our attitude is very good, I think they're enjoying themselves and I think they're working hard. As long as we have that and we keep trying to get better every day, one day we're going to be a good football team."