February, 20, 2013
2/20/13
10:00
AM ET
BOSTON COLLEGE

Spring start:
Feb. 28
Spring game:
April 13
What to watch:
The transition: Introductions will be necessary as first-year coach Steve Addazio takes over. The good news is that offensive coordinator Ryan Day is a familiar face as he was the receivers coach under Frank Spaziani. He should work well with quarterback Chase Rettig.
The front seven. There used to be a time when BC's defense was one of the best in the country. It wasn't last year. The Eagles were No. 111 in the country in rushing defense and No. 120 in sacks and tackles for loss. First-year coordinator Don Brown has some work to do.
The running backs. They were an inconsistent group last year as BC ranked No. 115 in the country in rushing offense at 90.92 yards per game. All of the key contributors return, including leading rusher Andre Williams, but the group has to do a better job of taking pressure off of Rettig.
CLEMSON

Spring start:
March 6
Spring game
: April 13
What to watch:
Defensive progress: This is the second spring under coordinator Brent Venables, and the defense is the missing piece to the program becoming a contender on the national level. The defensive backs will have the most to prove as three starters have to be replaced.
The new playmakers: Clemson lost two big names on offense in receiver DeAndre Hopkins, who left early for the NFL, and running back Andre Ellington. There is plenty of talent remaining in the wings, but it has to step out of the shadows this spring.
Front and center: The Tigers return four starters to the offensive line, but have to replace their anchor in veteran center Dalton Freeman. While quarterback Tajh Boyd returns, the communication with the new center will be critical for calls and snaps.
FLORIDA STATE

Spring start:
Mar. 20
Spring game:
April 13
What to watch:
The QB battle: It's a three-way race to replace EJ Manuel, and while Clint Trickett will enter spring practice as the nominal No. 1, there's no clear favorite to win the job. Sophomore Jacob Coker has perhaps the best mix of arm strength, athleticism and experience, but redshirt freshman Jameis Winston was the country's top QB recruit two years ago and could blossom into a superstar.
The new coaches. There will be a much different feel on the practice fields at FSU this spring with six new assistant coaches running the show. Four of the assistants have previous coordinator experience, making it a veteran group, and new defensive coordinator Jeremy Pruitt brings an Alabama pedigree to a unit that was already among the best in the nation.
The new faces. A year ago, there weren't a ton of jobs open in the spring thanks to a hefty dose of veterans. Things are different this time around, meaning youngsters like WR Kelvin Benjamin, DE Mario Edwards Jr. and CB Ronald Darby will get their opportunities to solidify key roles on this year's team.
MARYLAND

Spring start:
March 2
Spring game
: April 12
What to watch:
Quarterbacks. The Terps' unprecedented run of injuries at the position was one of the ACC's biggest storylines last year. C.J. Brown, the projected starter, will be limited and won't play in the spring game, but he can throw and participate in some drills. Ricardo Young, who sat out all year after transferring, will be the top healthy quarterback on the roster this spring and take the majority of the snaps. He played for offensive coordinator Mike Locksley at New Mexico and is familiar with the system. Perry Hills and Caleb Rowe aren't nearly as ready or healthy as Brown is. Dustin Dailey, who also sat out last year because of NCAA transfer rules, is healthy and available.
Early enrollees: Three recruits enrolled early, including two junior college transfers who can help immediately. Maryland fans should be eager to see how junior college transfer Deon Long, a receiver, adds to the offense. Silvano Altamirano, another junior college transfer, will compete immediately for playing time at offensive guard.
Defensive competition: Maryland has some big names to replace in defensive linemen Joe Vellano and A.J. Francis, and middle linebacker Demetrius Hartsfield, all of whom were mainstays on the defense. Cole Farrand will be the veteran linebacker now, and Darius Kilgo is the only returning starter on the defensive line.
NC STATE

Spring start:
March 19
Spring game:
April 20
What to watch:
The quarterback competition. The Mike Glennon era is over, and Manny Stocker and Pete Thomas are the top options to replace him. Thomas, a former transfer from Colorado State, was a two-year starter there and threw for 4,269 yards and 18 touchdowns. Stocker, a sophomore, has yet to take a collegiate snap.
The staff transition. First-year coach Dave Doeren is taking over and he has hired an almost entirely new staff. How the players adjust to the change in terminology, schemes and personalities will be critical to the transition.
A revamped secondary: NC State will have to replace three starters, including Earl Wolff, Brandan Bishop and David Amerson, the school's career interception leader. Cornerback Dontae Johnson returns, along with Juston Burris, who played in the nickel package. There are also several redshirts and younger players who will compete.
SYRACUSE

Spring start:
March 19
Spring game:
April 20
What to watch:
Staff changes: First-year coach Scott Shafer, who replaced Doug Marrone, has been with the program for four years, so it's not a drastic change for the players, but it is Shafer's first as a head coach. He has a chance to put his stamp on the program as it enters the first season in the ACC.
Quarterback competition: The Orange have to replace record-setting quarterback Ryan Nassib, and it's a wide-open competition. Backup Charley Loeb, junior John Kinder, and dual-threat Terrel Hunt are the top candidates, but Ashton Broyld, who moved to running back in 2012, could be in the mix as well.
Replacing SS Shamarko Thomas: The Orange have to replace their leading tackler and top defender, as Thomas had 84 tackles last year. He was a game-changer who also had two interceptions and three forced fumbles. He was a first-team All-Big East selection.
WAKE FOREST

Spring start:
March 19
Spring game:
April 20
What to watch:
The health of the O-line: Wake was hit hard by injuries last year, and keeping this group healthy this offseason will be critical. The Deacs only lost one senior -- center Garrick Williams, but last year injuries forced the staff to play a significant number of redshirt freshmen, which it doesn't like to do. Whit Barnes, for example, started 11 games at left guard. He was supposed to be a backup center.
Camp's complement: The Deacs have to find a complement to star receiver Michael Campanaro. He's the go-to guy, but quarterback Tanner Price needs a few more reliable targets to emerge this spring. Sherman Ragland, Matt James, Brandon Terry and Airyn Willis are all options.
Improving inside: The Deacs' inside linebackers need a boost after losing Riley Haynes and Scott Betros. Redshirt junior Mike Olson will be a starter, but Wake needs to find another starter there and develop some dependable backups.
October, 4, 2012
10/04/12
1:00
PM ET
Wake Forest will be without its best offensive player for at least the next two games, and possibly for the whole month.
So who is coach Jim Grobe looking toward to replace all-everything receiver
Michael Campanaro
? There are several options as the Deacs prepare for life without him Saturday at Maryland.

Grobe mentioned redshirt freshman
Sherman Ragland III
, redshirt senior
Terence Davis
and redshirt sophomore
Brandon Terry
as key players to step up.
Ragland has struggled with inconsistency this season; Davis has been injured and unable to practice for a full week since August; and Grobe is waiting on Terry to play even better. Those three players have combined for 29 receptions and no touchdowns this season -- while Campanaro has 38 himself, along with three touchdown receptions.
"Sherman Ragland is a kid that has all the ability in the world," Grobe said. "We see him kind of as a Camp guy going forward, so eventually that's the kind of role that we see Sherman Ragland filling in for, but he's got to catch the ball better. And right now he's struggling a little bit with not just running the offense but routes and catching the ball and doing all those. He's got to improve.
"Terence Davis is a real key for us. Terence has been hurt this year. He's had two separated shoulders. He's back in action. The problem he's had is he just hasn't been able to practice much, and I think this week we're going to get a full week of practice out of him for the first time since August, and I think that will be key. It would be nice if Brandon Terry stepped up for us. That's a big kid that can run and catch the football. We may even have to look at a couple freshmen going forward."
The injury bug has been particularly painful for the Deacs this season, as their top three players -- Campanaro, nose guard
Nikita Whitlock
(ankle) and cornerback
Merrill Noel
(hamstring) have missed games. Merrill has been able to play through his injury but sat out a game; Whitlock missed two. Now Campanaro will be out for three to four weeks.
When it comes down to it, missing those key players has contributed to the slow start for Wake Forest. Last season, Whitlock had 14 tackles for loss; this year he has zero. Last season, Noel led the nation with 21 pass breakups. This year, he has two. Campanaro was the only reliable threat for the Deacs this season. Davis had a big game without Campanaro last week, with six catches for 100 yards, and will have to keep that pace up.
"Every team has got two or three guys on each side of the ball that are really key, that are the big play guys, and if they're not making big plays, it's hard to estimate how much that hurts your offense or defense," Grobe said.
April, 30, 2012
4/30/12
10:30
AM ET
Despite its 6-7 overall record in 2011, Wake Forest came within a field goal from playing for the ACC title. With key pieces such as two-year starting quarterback
Tanner Price
returning, the Demon Deacons are looking to build off that success in 2012. Here, head coach Jim Grobe talks about expectations entering his 12th year leading the program.
The offensive line is replacing four starters. How important was the spring season for them from a developmental standpoint?
Jim Grobe:
Well I thought it was really good. I think we've got three kids going forward that we can count on:
Garrick Williams
, our center, started for us last year so we feel really good about him. I think
Colin Summers
, our right tackle, is a kid who has the potential to be one of the better offensive linemen in the league, as does
Antonio Ford
, our left guard. I think all three of those kids really have the ability to get the job done for us. And then the rest of it's gonna be a toss-up. I think we've got some talented kids. I think
Dylan Heartsill
's a kid that's had some back issues at left tackle but we have great hopes for him and hopefully he'll get healthy. So we moved
Frank Souza
over to left tackle from nose guard -- he was backing up
Nikita Whitlock
on defense and we didn't feel like there was much future in that. So we moved Frank over to left tackle. I think that's gonna be a great move for us, he looked really good the last half of the spring.
We need somebody to step up at right guard; I'm hopeful that [Daniel] Blitch or [Dylan] Intemann or one of the younger guys will be that guy, so it's kind of a mixed bag. We don't have a starting five yet but I think three of those guys are really good players. If we can get a couple more guys to step up I think we can at least put a really good starting five on the field at the start of the year.
You know what you have under center in Tanner Price. Going into his third year now, what kind of strides does he need to make to take the next step?
[+] Enlarge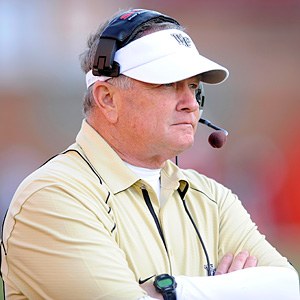 AP Photo/Nick WassJim Grobe says the goal is for Wake Forest to try to get back to a bowl game and to possibly make another run at the ACC title.
JG:
Well it's huge when you've got your quarterback coming back, especially if he's a good one. I think Tanner thew for a little over 3,000 [yards] last year, [20] touchdowns, only had six picks. So he's a guy that takes pretty good care of the football. Really smart guy. a lot of Riley Skinner-type intangible stuff with Tanner. Tanner's got a more live arm than Riley had but he doesn't do as good of a job on the underneath stuff, and I think that's where his biggest improvements needs to come and I think we saw that this spring. We really challenged him to be a little more accurate with the touch stuff and I think we saw that this spring. I think he just looked better to me this spring than he did last fall and I thought he did good things last fall. So his biggest deal is just gonna be completion percentage. If we can bump that completion percentage up, we've got a guy that can win games for us.
It's been said that Michael Campanaro be that go-to guy for him, with Chris Givens now gone. Is finding a No. 2 target more pressing right now? Who has stood out in that role for you?
JG:
Yeah I think so. I don't think there's any question. That's my concern. I think Campanero, you look at Chris last year, but in reality we had two guys -- Camp, he didn't catch as many balls as Chris, but he was close. They were really a 1-2 punch for us last year, so I think Camp, if he stays healthy, is ready for a big big year. So the key for us is we've gotta find some body else. If Camp's the only guy we've got to go to then defense are gonna make it really tough on us. So a guy like
Terence Davis
,
Matt James
,
Brandon Terry
,
Sherman Ragland
-- somebody in that group's gotta step up and kind of balance things out so that they can't just double-cover Camp and leave those other guys alone.
March, 20, 2012
3/20/12
2:30
PM ET
The final team of our series, the Demon Deacons are forced to replace a versatile home-run threat who left school early for the NFL.

OUT: Chris Givens.
Givens led Wake Forest in 2011 with 83 receptions for a school-record 1,330 yards and nine touchdowns. His 102.3 receiving yards per game led the ACC, and his 6.4 catches per game were second in the conference. Givens averaged 110.8 all-purpose yards per game. The first-team all-conference receiver had seven 100-yard receiving games, one shy of the school record. He leaves school with 163 career catches for 2,473 yards, with 21 receiving touchdowns, along with 45 carries for 238 yards and two scores.
IN: Michael Campanaro.
While not as fast as Givens, Campanaro may be more of a complete receiver. Coach Jim Grobe has said Campanaro is a better possession receiver than Givens, and the bigger question may be who slides into Campanaro's No. 2 role after a 2011 season that saw him catch 73 passes for 833 yards and two touchdowns.
Matt James
and
Brandon Terry
are both 6-foot-5 and speedy, and the latter has run track at Wake Forest as well.
Terence Davis
had 20 catches last season for 269 yards and five touchdowns.
Lovell Jackson
had success as a kick returner but is sitting out spring practice as he recovers from a shoulder injury.
March, 1, 2012
3/01/12
10:30
AM ET
One of the biggest questions surrounding Wake Forest as the Deacs head into spring practice today is who will replace the team's leading receiver from 2011 in
Chris Givens
, a speedy, home run threat who decided to leave early for the NFL.
The more accurate question, though, might be which receiver will fill
Michael Campanaro
's role as the No. 2 receiver.
[+] Enlarge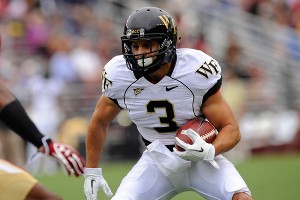 Bob DeChiara/US PresswireMichael Campanaro is poised to step into the No. 1 wide receiver role for Wake Forest, but who will step up to complement him?
Make no mistake -- the Deacs don't have anyone on the roster quite like Givens, but they do still have Campanaro, who might be a more complete player than Givens, albeit not as fast. Coach Jim Grobe said Campanaro is a better possession receiver than Givens, and that he's more precise at what the staff asks the slot receivers to execute. Grobe and quarterback
Tanner Price
agreed that Campanaro has what it takes to be this year's go-to receiver. The key is finding the next "Camp" to give Wake Forest two playmakers at receiver.
"I think Camp is going to be our go-to guy," Grobe said. "Some of the other kids could develop into really fine receivers, but it's going to be hard to replace Chris' ability to take off sprinting and outrun people and go catch the football. I don't see anybody capable of doing that right now, but I think one of the better receivers we've had since I've been here is Mike Campanaro. We kind of plugged him into Chris' area -- not so much in what he'll be doing, whether it be playing split end, or flanker or slot or whatever, but just from a go-to perspective I think Campanaro can do some great things for us."
Price said he's got no problem with the next man up. Campanaro caught 73 passes for 833 yards and two touchdowns last year.
"Camp, he's been a great target my whole career here," Price said. "He's one of those receivers that if you throw the ball in his general direction, he can come down and catch it. It's great having a guy like that on the team, but at the same time you've got to have two guys. Camp and Chris complemented each other nice last year. It would be good to have another receiver who steps up so you can have that dual threat and two really solid targets to throw to."
The Deacs have more than a few options there.
Matt James
and
Brandon Terry
are both listed at 6-foot-5, and have impressed Grobe with their speed. Terry would have played more last year, but he broke his little finger and had trouble catching the ball. (Grobe, a former linebacker, didn't have much sympathy, but conceded it 'wasn't chapped lips.') Terry also competed with the Deacs' track team this year.
Terence Davis
showed flashes of potential last year, and
Lovell Jackson
is one of the most talented players on the offense. Grobe said Jackson has great hands, is an effective kick returner and has impressive foot speed and quickness, but is out this spring while recovering from a shoulder injury.
While the receiver position lost its fastest player from 2011, it might have gained a more versatile group.
"We're going to lose a great player in Chris Givens, but the kids who were kind of on the fringe who gained a lot of experience last year, we might actually have a better group of guys for Tanner to throw to," Grobe said. "Not the one home run threat like Chris gave us, but overall that whole group of guys might actually be better for Tanner because he'll have more of a variety of guys to get the football to."
August, 2, 2011
8/02/11
9:00
AM ET
By
ESPN.com staff
| ESPN.com
The series highlighting one assistant coach from each program whose position group will be in the spotlight this fall concludes today with Wake Forest. For the entire series,
click here
.
Coach:
Lonnie Galloway

Position:
Passing game co-coordinator/wide receivers
Experience:
Galloway is entering his first season with the Demon Deacons. He came to Winston-Salem from West Virginia where he was the receivers coach from 2008-2010. Prior to that, Galloway spent two seasons at Appalachian State where he coached the split ends from 2005-2007. From 2003-04, Galloway was the receivers coach at East Carolina. He began his coaching career in 1996 at Elon.
Of note:
Galloway graduated from Western Carolina in 1994. He threw for 5, 545 yards, the second-highest total in school history. He finished his career with 6,832 yards of total offense and threw for 30 touchdowns. He spent the 1995 season with the Charlotte Rage of the Arena Football League.
His challenge:
Find the go-to guy. Wake Forest coach Jim Grobe has said this offseason that he's looking for a player reminiscent of Kenny Moore or D.J. Boldin -- consistent and clutch. This past spring, there were too many dropped balls and no leader emerged.
Chris Givens
(35 catches, 13.7 average),
Michael Campanaro
(10 catches) and
Danny Dembry
are the leading candidates to start, but redshirt freshmen
Matt James
(6-foot-6) and
Brandon Terry
(6-5), could both work their way into the rotation. The Deacs were 114th in the country last year in passing offense, but that should improve with the progress of quarterback
Tanner Price
, who should be more comfortable and knowledgeable in his second season as starter. Price will need somebody on the receiving end to step up, though, and it's up to Galloway to coach 'em up.
May, 5, 2011
5/05/11
6:00
AM ET
By
ESPN.com staff
| ESPN.com
WAKE FOREST
2010 overall record:
3-9

2010 conference record:
1-7
Returning starters
Offense: 7, defense: 9, kicker/punter: 1
Top returners
WR
Chris Givens
, G Joe Looney, DE Tristan Dorty, DE Kyle Wilber, SS Cyhl Quarles, PK Jimmy Newman, QB
Tanner Price
, RB
Josh Harris
, NG Nikita Whitlock
Key losses
C Russell Nenon, RB
Josh Adams
, WR
Marshall Williams
, WR
Devon Brown
, LB Hunter Haynes, LB Matt Woodlief, P Shane Popham
2010 statistical leaders (* returners)
Rushing:
Harris* (720 yards)
Passing:
Price* (1,349 yds)
Receiving:
Brown (302 yds)
Tackles:
Hunter Haynes (77)
Sacks:
Wilber* (6)
Interceptions:
Alex Frye (3)
Spring answers
1. Solidified secondary.
All four starters return in CB Josh Bush, SS Cyhl Quarles, FS Daniel Mack and CB Kevin Johnson, and the Deacs are two-deep at every position. It's a much better scenario than it was a year ago, when Wake had to start two true freshmen corners. The Deacs will also have Dominique Tate, who missed all of last year for academic reasons, and two players who redshirted last year in Desmond Cooper and Merrill Noel. The Deacs ranked 11th in the ACC in pass defense last year, but saw signs this spring of that improving.
2. Sold on the 3-4 defense.
The staff is confident in the defensive tackles and committed to the scheme, which it began using last year. Nose guard Ramon Booi, the backup to Nikita Whitlock, might have been the most improved player on the roster this spring, and is a good contrast to Whitlock, who is 5-foot-10 and more of a speed guy. Booi is a 6-foot-6, 300-pound man-wall. At tackle, Grobe singled out defensive end Zach Thompson as a possible all-ACC candidate, and Tristan Dorty moved from linebacker to defensive end.
3. Staff changes were a positive.
Without disrespecting former defensive coordinator Brad Lambert, who left to become head coach of the fledgling Charlotte program, Grobe said he was pleased with the promotions of Tim Billings and Brian Knorr to co-defensive coordinators, and Lonnie Galloway, who was hired to coach the wide receivers. Knorr's knowledge of the 3-4 scheme has been an added bonus.
Fall questions
1. Which running back will take over?
Josh Harris is the most talented back on the roster, but he missed several spring practices with a hamstring injury he suffered while competing in the 100-yard dash with the track team. He'll have to get healthy and earn the starting job this summer despite competition from senior
Brandon Pendergrass
. Harris, though, scored the only touchdown of the spring game.
2. Will dependable receivers emerge?
The Deacs didn't chart every one, but there were about eight or 10 dropped passes by wide receivers in the spring game. Wake Forest is looking for a playmaker to emerge like Kenny Moore did in '07 and D.J. Boldin in '08. Chris Givens,
Michael Campanaro
,
Danny Dembry
and
Terence Davis
are lead candidates, but redshirt freshmen
Matt James
(6-foot-6) and
Brandon Terry
(6-5), could both work their way into the rotation.
3. Will the offensive line improve?
Four starters are back, so it looks better on paper, but the Deacs will sorely miss the experience and leadership of former center Russell Nenon. Garrick Williams started the final three games of 2010 -- two at guard and one at center, but he struggled with the snaps towards the end of spring and isn't where the staff needs him to be yet.