August, 20, 2013
8/20/13
5:30
AM ET
The Early Offer is RecruitingNation's latest feature, giving you a daily dose of recruiting in the mornings. Today's offerings: Todd Graham has done a good job of expanding Arizona State's recruiting borders, Bret Bielema has Arkansas rolling in state with 2015 prospects and whether Miami fans should be worried about Brad Kaaya's appearance at a USC practice.
To continue reading this article you must be an Insider
December, 5, 2012
12/05/12
10:52
AM ET
Former Wisconsin defensive coordinator Dave Doeren isn't a candidate to return as the Badgers' next head coach, a source close to Doeren told ESPN.com on Wednesday morning.
NC State hired Doeren as its head coach Saturday, the day after he led Northern Illinois to its second consecutive Mid-American Conference championship. Doeren went 23-4 in two seasons at NIU after serving as a Badgers assistant from 2006-2010, the last three seasons as defensive coordinator.
Doeren is on the road recruiting for NC State, and has no intentions of leaving the job.
The interesting question here is whether Wisconsin athletic director Barry Alvarez should have reached out to Doeren before Doeren accepted the NC State job. Alvarez reportedly knew about Bret Bielema's potential departure for several weeks, although
he said in a statement Tuesday night
that he was "very surprised" when Bielema took the Arkansas job.
With Doeren out of the mix and Pitt coach Paul Chryst, the former Wisconsin offensive coordinator, affirming his commitment to the Panthers, it will be interesting to see where Wisconsin's search turns next.
Keep an eye on two NFL assistants who played at Wisconsin: Seattle Seahawks offensive coordinator Darrell Bevell, and Jacksonville Jaguars defensive coordinator/assistant head coach Mel Tucker.
March, 28, 2012
3/28/12
2:10
PM ET
The
Danny O'Brien
saga ended Wednesday, 44 days after Maryland announced the quarterback would leave the Terrapins.
And for ACC fans, the landing spot may look a bit familiar.
O'Brien
will join coach Bret Bielema at Wisconsin
, marking the second straight year the Badgers notched a signal-caller from an ACC school through the graduate student exception rule. Former NC State quarterback
Russell Wilson
had great success in taking advantage of the rule last season, leading Wisconsin to a Big Ten title and the program's second straight appearance in the Rose Bowl.
The circumstances surrounding each transfer were different, but Wisconsin could reap more benefits in the short-term from O'Brien than it did from Wilson, as O'Brien is set to graduate this spring and will have two years of eligibility upon immediate arrival in Madison, Wis.
Yes, there are certain stereotypes that may plague a program that repeatedly uses the rule to bring in someone at the game's most important position year after year, and Wisconsin will have to overcome that through recruiting in the years to follow. But that shouldn't diminish the importance of the rule, as it is one of the few that truly rewards the student-athlete for taking care of business in the "student" part of that label.
O'Brien did just that, and it was clear that his marriage with Terps coach Randy Edsall was not going to last. So, despite earlier
well-documented obstacles after the decision to transfer
, O'Brien found a new home, an opportunity that was well-deserved. Now, both he and his former school can officially move on from this complicated chapter.
December, 10, 2009
12/10/09
11:08
AM ET
Miami coach Randy Shannon doesn't believe in the notion that players from the South have speed and players from the Midwest have size. In fact, he called it a myth.
[+] Enlarge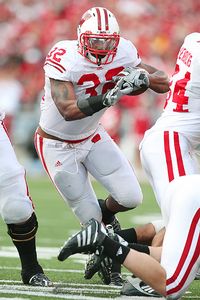 Matthew Emmons/US PresswireWisconsin's offense leans heavily on John Clay and the Badger running backs.
Whether or not Miami is faster than Wisconsin at the skill positions will be determined on the field in the Champs Sports Bowl, but as far as size goes, they're are almost identical up front. Wisconsin averages 6-foot-5, 313.4 pounds on the offensive line. Miami averages 6-foot-5, 313.8. On the defensive line, Wisconsin averages 6-foot-3, 282 pounds. Miami averages 6-foot-2, 280.5. Those numbers are both based on the starting lineups from the last depth charts available for each team.
"Everybody recruits speed," Shannon said. "It's not going to be a situation where we're going to be faster than those guys or they're going to be faster than us. We have a big offensive line, they have a big offensive line. They have big guys on defense, we have big guys on defense. It's going to work itself out. It's just a myth that if you're down south you run faster."
These teams do play a different style of football, though, and bruising Wisconsin running back
John Clay
-- at 6-foot-1, 248 pounds -- is heftier than Miami's
Graig Cooper
, who is 6-foot, 205 pounds. Clay is "a big guy who runs angry," according to Wisconsin coach Bret Bielema, and he's obviously the Badgers' first option. Clay has rushed for 1,396 yards and 16 touchdowns this year. Wisconsin has run the ball 539 times this year compared to Miami's 440.
"They can run the football," Shannon said. "They are a big, hard-nosed team that believes in establishing the run and they're not going to bend in the run game. They are not going to sit up and go, "OK, if we can't run the ball in the first 20 plays then we'll start throwing it.' They're going to come out and still establish the run."
Miami believes in that philosophy, too, but Cooper is just one of three running backs who has at least 450 rushing yards this year. Miami also has six receivers with at least 200 yards each. Seventeen different players have caught a pass for Miami this year, and 10 of those 17 have double-digit catches. Miami is taller than Wisconsin at receiver, where the Canes have four players at 6-foot-3 or taller.
Bielema said he is good friends with Miami offensive coordinator Mark Whipple and called it a "unique matchup."
"I think the matchup in itself will be neat because everyone is going to talk about the Florida speed versus the Midwest size of Wisconsin," Bielema said, "and we have big people, but I think a couple of our guys can run as well."
December, 12, 2008
12/12/08
12:30
PM ET
Posted by ESPN.com's Heather Dinich
Virginia Tech coach Frank Beamer is trying to recruit some fans to the Orange Bowl, where ticket sales are struggling. Beamer even put up a video on the Hokies' Web site advertising the game. I know the economy is bad, really I do. But has anyone considered the fact that ticket sales might not be flying because it's not a thrilling matchup? I'm telling you, Papajohns.com Bowl ...
While Beamer is trying to recruit fans, Clemson is trying to recruit more than eight players.
Georgia Tech athletic director Dan Radakovich began to renegotiate Paul Johnson's contract this week. That's pretty impressive, considering Johnson's contract was seven years to begin with. Ah, what a win over Georgia can do for you.
Will Ralph Friedgen make good on his promise at the start of the season that quarterback Jordan Steffy "will come in and win a game for us before the season is over?" He's only got one game left to do it.
There is one huge difference between the coach-in-waiting scenario at Wisconsin, and the one Jimbo Fisher has at Florida State. At Wisconsin, Bret Bielema "knew when it was going to happen and how it was going to happen." FSU's situation has an added emphasis on the "waiting" part.