October, 6, 2014
10/06/14
1:20
PM ET
So this is what it has come down to for Syracuse on the biggest weekend of the year.
New starting quarterback.
New offensive coordinator.
Against No. 1 Florida State, a team that beat the Orange 59-3 last year.
[+] Enlarge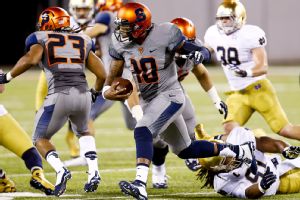 Jeff Zelevansky/Getty ImagesSyracuse will be without starting quarterback Terrel Hunt for up to six weeks.
Things have mushroomed quite quickly for the Orange. You feel for starting quarterback
Terrel Hunt
,
out four-to-six weeks
with a broken fibula. There is nothing Syracuse can do about that but forge ahead. However, coach Scott Shafer had no choice but to change offensive coordinators, stripping George McDonald and promoting Tim Lester, no matter how terrible the timing.
Syracuse has been abysmal on offense in its last two games and needs a spark, and maybe even a new direction. Granted, the opponents have not exactly been Little Sisters of the Poor and Directional U. But Syracuse had plenty of opportunities to score against both Notre Dame and Louisville, and blew them with mind-numbingly awful execution. Especially in the red zone.
Two weeks ago against Notre Dame, Syracuse had three drives stall inside the Notre Dame 25. The Orange came away with three points. The Syracuse defense forced five turnovers. One was a pick six. The other four turned into seven total points.
There were even more opportunities last week against Louisville. Three times, Syracuse ended up with the ball with first-and-goal from inside the Louisville 6. The Orange ended up with two field goals. They also took two safeties and could not sustain any drives, holding the ball for 23 total minutes.
Given the talent and experience returning on offense, it is simply unacceptable for Syracuse to look so ragged, even against high-quality opponents. McDonald promised a more high-tempo attack, but you cannot run a high-tempo attack when you rank No. 13 in the ACC in first downs. Syracuse has prided itself on its smashmouth style, a big reason why the Orange have gone to bowl teams three times in the last four seasons. Yet that is not the style Syracuse opted for at the outset.
Granted, there have been injuries on the offensive line that have hurt the continuity. Several playmakers, including
Brisly Estime
,
Ashton Broyld
and tight end
Josh Parris
have dealt with injuries, too. But the Syracuse offense should not be regressing, not with Hunt back and a loaded backfield. The defense -- the group with all the question marks headed into the season -- has played well enough to keep Syracuse in games. It is the offense that has let the team down.
That is why Shafer could not wait any longer to make a change. Obviously, the Syracuse offense will have to be judged on a sliding scale Saturday, given the opponent and new starter behind center. Despite the inconsistency, Hunt still gives Syracuse its best chance to win. He still is the team's biggest threat, given his ability to both run and pass.
How Syracuse adjusts without him with be a story line to watch. But Shafer had to do something before the season spun away completely. The Orange have Florida State and Clemson in the next three weeks. But the rest of the games remain winnable, even with Hunt out -- against Wake Forest, NC State, Duke, Pitt and BC. Lester is the quarterbacks coach, so he above anybody on staff has an idea of what he needs to do to put his new quarterback in position to succeed.
The season is riding on that.
October, 2, 2014
10/02/14
8:00
AM ET
How can you not root for Duke punter Will Monday after
reading this story
from The (Durham, North Carolina) Herald-Sun's Steve Wiseman.
His uncle Randy, who Monday hoped would attend last weekend's game, died from cancer in early September. His mother missed the game as well as she too is battling cancer.
Despite mourning the loss of his uncle and remaining strong for his mother, Monday is having a stellar season punting for the Blue Devils. He is second in the ACC in punting and No. 19 nationally with an average of 44.75 yards per punt.
Monday has thousands more fans rooting for him each Sunday after hearing of his strength and struggle.
A few more links for your Thursday:
August, 12, 2014
8/12/14
12:00
PM ET
Checking in on Syracuse's fall camp with linebacker
Dyshawn Davis
.
David Hale: You've got a week of camp under your belt. How do you feel like things are going?
[+] Enlarge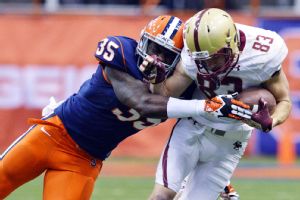 Mark Konezny/USA TODAY SportsSyracuse linebacker Dyshawn Davis is ready to take on a leadership role this fall.
Dyshawn Davis:
It's going smoothly. I feel like I'm getting better every day. With the older guys, on the field, when things get tough and your tired, you know how to fight through it, to mentally be strong and lead the way for my teammates. In our position group, we've got a lot of young guys coming in [who] are going to be special in the next couple years, and I just try to show them great leadership so when their time comes, they can just follow in my footsteps.
Hale: You and Cam Lynch are both going into your senior seasons as two of the top linebackers in the conference. Have you guys talked about wanting to end your Syracuse careers with a bang and doing something special before you leave?
Davis:
Absolutely. You know, me and Cam came in together. I came in the spring before him, but we ended up learning a lot and it later came down to a time when me and Cam had to compete for a spot. I ended up beating him out, but we built a relationship strong. Now Cam is my roommate, so I'm kind of with him 24/7. We're in camp, the same position group, we go home and sleep in the same apartment.
That relationship is like no other, and to be able to be leaders on this team and lean on each other for anything and everything — it's just wonderful. And Cam is a great guy, he's been through a lot, but he's always been there for me. I'm looking forward to having a special season with him and doing some great things this year.
Hale: You mentioned the young guys have impressed you. Anyone in particular standing out so far?
Davis:
Parris Bennett
,
Zaire [Franklin]
, we've got
Jonathan Thomas
— they've been doing a great job. To me, what's impressive, they came in and we were doing conditioning, and they came in in shape. I always lead the way, me and Cam, pushing the group, pushing the team, and a lot of freshmen, the bigger guys come in overweight and out of shape and were kind of falling down. But the young freshmen linebackers were just right there by me and Cam's side, picking the team up, picking other players up.
For them to be so young and have that fire and drive and show us they're willing to do whatever they can to compete and play and make our group better, it was pretty special to see that. I'm just always reminding them that if they keep that fire and that drive, that's going to take them a long way.
Hale: There's been so much debate about how good Terrel Hunt can be in his second season as the starting quarterback. As you've gone against him in seven-on-seven drills over the summer, have you seen a real improvement in his game?
Davis:
I've been competing with Terrel all summer and now into camp. To see his confidence, to see his poise of how he controls the offense, it's been great. You can see the difference from last year to this year. He's getting great with his mechanics, calling the offense.
Terrel will be good for us this year, and he knows that our season is his destiny. However far he takes us, that's how far we're going to go. I've got 110 percent confidence in him, right behind him while he's leading us to compete for an ACC championship.
Hale: The other buzzword on the offense seems to be tempo. As a defender, has it felt different going up against that up-tempo offense in camp?
Davis:
The tempo has been great. They've got some speed over there,
[Prince] Tyson Gulley
,
George Morris
, a great rotation at running back.
Brisly Estime
in the slot,
Jarrod West
,
Ashton Broyld
-- all those guys have been doing a good job of keeping the tempo up. We've got linemen who lost weight and are able to move faster now, in better shape. The offensive tempo is good, especially for us going against them. They have us prepared for the other offenses in the ACC that run that tempo.
July, 16, 2014
7/16/14
12:00
PM ET
It's Day 3 of media days for the SEC, and while we've yet to get any juicy ACC bashing
like we did last year
, first-year Vanderbilt coach Derek Mason did say something on Monday that warranted a little more discussion.
Mason's comments,
courtesy of Team Speed Kills
:
"We don't believe in redshirting at Vanderbilt. What we'll do is we'll take out of that class of 22, we'll probably have 17 guys that will step on the field and play at some point in time this year."
Mason's estimates certainly seem a bit generous, given that playing 77 percent of your true freshmen is virtually unheard of around college football. But it's also possible the Vandy coach is at the forefront of a new way of doing things. Tennessee coach Butch Jones added to the discussion Tuesday, promising
at least 10 true freshmen would play significant roles
for the Vols this season.
More and more, particularly among the most competitive schools on the recruiting trail, immediate playing time for freshmen is an essential sales pitch. And for top recruits who seem likely to bolt for the NFL with eligibility remaining anyway, the redshirt year only takes away from time spent on the field. At the very least, regular work on special teams for true freshmen gets them game experience and prevents key contributors from being exposed to injury, so why not go that route?
It's a philosophy I've discussed with FSU's Jimbo Fisher a few times, and while he certainly hasn't gone to quite the level Mason has suggested, the Seminoles -- who have inked a
top-10 recruiting class
each year of Fisher's tenure -- have made a habit out of playing true freshmen. Just last year, Nate Andrews, Jalen Ramsey and Kermit Whitfield all played critical roles in the team's BCS title, while 13 of 16 non-QB skill players in the class saw some action.
That got us to thinking how the rest of the ACC stacks up when it comes to redshirting freshmen. Here's how the numbers from the Class of 2013 played out:
Of note, we didn't include any signees who never arrived on campus, and we didn't include juco players or transfers.
Overall, 107 of the ACC's 258 true freshmen signed in 2013 saw playing time last year -- or 42 percent. That number was a bit higher for ESPN 300 players, of which 23 of 41 (56 percent) saw action. Pitt played the most true freshmen (12), and Miami played the highest percentage of its signing class (67 percent), while Louisville (3 of 16) and Georgia Tech (2 of 13) played the fewest.
That latter category is interesting because Paul Johnson's recruiting has been criticized regularly at Georgia Tech, and the 2013 class has already had more transfers (three) than players to see the field (two). And, of course, one of those two who saw action was kicker Harrison Butker. Moreover, Charlie Strong may find redshirting is a far tougher sell at Texas than it was at Louisville.
That FSU, Miami, Clemson and UNC inked the most ESPN 300 players and were among the most likely to play true freshmen shouldn't come as a surprise. Part of the formula is getting freshmen who are ready to play, and obviously the more talented the player, the more likely he is to see the field. (It's noteworthy, though, that just two of Clemson's nine ESPN 300 signees avoided a redshirt -- wide receiver Mike Williams started three games and linebacker Ben Boulware was largely used on special teams). But the other part of the argument is that giving true freshmen a chance to play is crucial to landing the best recruits. And in the case of Whitfield and Andrews, both were three-star recruits. So, too, were impact freshmen like Breon Borders, Brisly Estime and James Conner.
There will always be strong candidates for redshirts -- quarterbacks and offensive linemen, in particular -- and for some recruits, the opportunity to watch and learn and develop physically for a year remains a blessing. But there's also a good chance Mason is on to something, and while it's doubtful that 75 percent of true freshmen will see the field at most schools, there's ample motivation for coaches to at least move in that direction.
More links:
May, 15, 2014
5/15/14
4:00
PM ET
The 2013 signing class has already made its mark on the ACC, from
Tyler Boyd
and
Stacy Coley
shining on offense to
Jalen Ramsey
and
Kendall Fuller
starring on defense to
Ryan Switzer
racking up All-America honors on special teams. But for most players, the transition from high school to college takes a little time, and it's not until Year 2 that they truly shine. With that in mind, we're taking a look at the best candidates for second-year stardom in the conference -- the players who didn't quite hit the big time as true freshmen, but are poised for a breakthrough in 2014.
See our previous projections
here
.
Next up:
Syracuse
Class recap:
After coach Doug Marrone left for the NFL, the 2013 signing class stumbled to the finish line and wasn't ranked among ESPN's top 75. Only a handful of true freshmen played regularly last season, including safety
Darius Kelly
and wide receiver
Brisly Estime
. Both started for the Orange in their Texas Bowl victory over Minnesota.
[+] Enlarge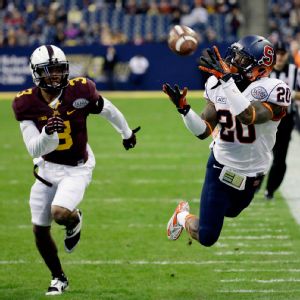 AP Photo/David J. PhillipBrisly Estime capped his first season with five catches in Syracuse's bowl victory over Minnesota.
Second-year star:
WR Brisly Estime (5-foot-9, 170 pounds)
Recruiting stock:
A three-star speedster from Delray Beach, Fla., Estime was ranked as the No. 105 cornerback in the country by ESPN after playing both sides of the ball in high school. Syracuse recruited him as a receiver.
2013 in review:
After a slow start to the season (eight catches through seven games), Estime found some traction down the stretch, including a nine-catch performance in a win over Wake Forest and five receptions in Syracuse's bowl victory over Minnesota.
2014 potential:
Estime's speed was his strength as a freshman, but he might have become even faster this spring. He impressed enough during spring practice that
Ashton Broyld
was moved to the outside full time to make room for Estime in the slot. His route-running clearly improved as 2013 went along, and an offseason of reps with QB
Terrel Hunt
matched with Syracuse's desire to run a more uptempo style in 2014 should mean big things for the diminutive receiver moving forward.
Also watch for:
With Marquis Spruill gone, sophomore Marqez Hodge is in line for a starting role in the Syracuse linebacking corps this season, while redshirt freshman cornerback
Chauncey Scissum
could get playing time in the secondary, too.
April, 4, 2014
4/04/14
12:00
PM ET
Lots of news out of Tallahassee ...
March, 18, 2014
3/18/14
10:30
AM ET
Syracuse opens its second spring in the ACC this week, and head coach Scott Shafer thinks there's plenty for the Orange to be excited about. We talked with Shafer about some of the key issues facing Syracuse as it gets back to the practice field.
Winning the final two games of the season the way you did, how much does that momentum and energy carry over into a new year?
A:
Any time you can finish a season with a bowl win, it gives some momentum going into the offseason. I think it affects the offseason program more than anything. The way the kids approach the strength program, conditioning, early morning workouts -- there's just a sense of excitement across the board and anticipation for the next guys in. We lost a lot of good football players that played a lot of football, and now the kids that have waited their turn are competing to see who's going to win the next opportunity. It's right out there for them and they get to jump into a situation where the momentum is coming off a high note.
[+] Enlarge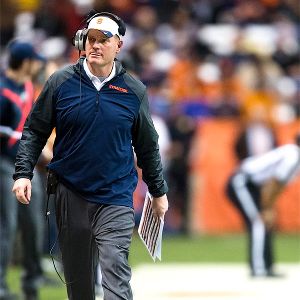 Brett Carlsen/Getty ImagesScott Shafer went 7-6, including a bowl win, in his first season in the ACC.
Terrel Hunt made such big strides down the stretch. With that experience under his belt, what can this spring mean to him?
A:
The thing with Terrel that always is the starting point is his ability to adapt. He's had to adapt in his real-life situation with a lot of tough situations, coming up with his parents passing away, that sort of thing. He's always been an extremely resilient kid. Now adding the confidence level that he's played well toward the end of the season, the kids see him as a leader, which is natural for him. I think his command can continue to really affect the team, not just the offense.
From an Xs and Os and technique point of view, it's important that he continues to grow with Coach [Tim] Lester coaching him every day, and I know he's excited to do that. I think he can have a really good spring that can catapult him into being extremely prepared for a great fall.
Offensive coordinator George McDonald has talked about upping the tempo this year as Hunt gets more comfortable. How much could that help you guys offensively?
A:
I think we finished fourth in the ACC in snaps offensively [at 73.7 per game]. We were right up there. If we can get four or five more a game, I think that would be a good goal, a good objective to try to reach. Being a former defensive guy, the tempo teams always cause you a little extra preparation. At the end of the day, it's still execution between the whistles, but if we can put four or five more plays per game to our offense, it'll help us a bunch.
That and being able to open it up a little bit with some of the wide receivers and kids we got back.
Adrian Flemming
we were excited going into the season and he got injured. He's back and ready to go. I'm excited about the progress some of the kids that haven't played yet for us offensively. Everybody knows
Brisly Estime
had a good season for us, especially the last half. But we've got some guys --
Corey Winfield
is a young guy who's had a great offseason.
Sean Avant
, I'm excited to see what he can do.
Corey Cooper
is another kid. On the outside,
Jarrod West
coming back and leading the way,
Alvin Cornelius
did some good things for us later in the season. And, of course, we're always excited to get the ball in
Ashton Broyld
's hands. So I think there's a sense of excitement for those kids to compete and be alongside with developing Terrel. The passing game scenario, we definitely have to continue to improve upon. And we have to stay strong with running the football.
You lose a big impact player in Jay Bromley. Do you think filling that hole on the defensive line is your biggest question mark this spring?
A:
Yeah, I do. Losing a guy like Jason Bromley, it's always tough to replace a guy who has played that much football.
Eric Crume
has played a ton of football for us, and he had a great offseason. I'm excited to see Eric step up to the plate. Some new names:
Marcus Coleman
hasn't played yet but we're going to put him on the field. We have a kid that we've recruited for a couple years in
Wayne Williams
that started at the midyear. He's a kid we're really excited about and now he's ready to go after he went junior college. And then
Ryan Sloan
will get a bunch of snaps this spring. It'll be definitely difficult to replace Jason, but in the same breath, I know these kids are excited for the opportunity.
Injuries were a big problem in the secondary last year, particularly at corner. But can the added experience that some of the backups got in 2013 be a bonus for you this spring?
[+] Enlarge
AP Photo/David J. PhillipTerrel Hunt has another season in the Orange's offensive system after totaling 17 TDs last season.
A:
That's a great point.
Julian Whigham
was our third corner going into the season, but he was sitting behind two guys that had started for a few years each. When
Keon [Lyn]
went down and Julian started playing more, he and
Brandon Reddish
-- Brandon was the third, Julian was a three-and-a-half type of guy -- but Julian came in and had three interceptions. I'm excited about him. Brandon Reddish is a kid that's played a lot of football and is now a senior.
Wayne Morgan
is a fast guy that we've moved around a little bit because we had depth at corner, but now we're locking him back in at corner. Those guys, it was a little bit of a difficult situation at the time, but you move to the season after the injuries and those kids have played more than we anticipated, and you have more experienced depth, which is key.
Bromley, Jerome Smith, Macky MacPherson -- you lost some important leaders on your team. Who do you see stepping up to fill that void?
A:
Only time can tell. You never want to try to force or anoint leadership. A guy like
Cam Lynch
on defense, he walks into a situation that's natural for him. He's well-versed in football and is an excellent student as well. He carries himself where he's already been a natural leader as an underclassman.
Dyshawn Davis
is an excitable player who loves the game, and he's got some qualities that are different than Cam. His sense of excitability has its own merit. We have a couple quiet leaders in
Micah Robinson
-- it's not always the guy that stands up and says things. It's a guy or a group of guys that establish themselves as guys that show the way, model the way, and other guys get on board. We have a lot of those guys. On the offensive side, Terrel is still an underclassman, but he's a natural leader. Kids follow him. And then
Sean Hickey
decided to come back and we're very happy and excited he's back. He's one of the best silent leaders you could have. He works every day. He's a perfectionist, and when you have guys doing things right consistently, sometimes those are your best leaders.
Syracuse's first ACC season was largely successful, but you're in a division with the defending national champions in Florida State, the Orange Bowl champs at Clemson and a team in Louisville that has won 23 games the past two seasons. Is that something you remind your team about as motivation this time of year, or is it something that can be intimidating?
A:
It's just one of those things that's reality. We don't talk about it much. We talk about controlling the things we can control, and that's where we start off every meeting almost. We talk about what we can do to get better. We understand the bar is high, especially on our side of the division, but that's what we signed up for. As coaches, we wanted to play in those venues with the best teams in the country. As players, you always imagine yourself playing the best. Now we get to live it. That's exciting. I can think about all my biggest victories in my career as a coach and say they wouldn't be the biggest victories if we didn't get a chance to knock down the giant. So we've got a couple giants on our side of the division, and now what we want to do is really focus in on the business at hand -- spring ball, a civil war, offense and defense getting after each other, focus on improving by trying to knock the guy down that's across from me and then pick him up as a teammate. We'll have our goals with winners and losers this spring and understand that you learn a lot when you win, you learn a lot when you lose and really embrace that mentality, and not focus on the other teams right now.
January, 9, 2014
1/09/14
4:00
PM ET
Florida State's performance in its 34-31 win over Auburn gave the Seminoles their first national title since 1999 -- and also landed four players on
ESPN.com's All-Bowl team
.
The ACC delivered when it mattered most this year -- in its two BCS bowls. Duke also had some outstanding performances in spite of its loss to Texas A&M. The ACC fared particularly well at the wide receiver and return positions. Here's a look at some of the ACC's top performers on the All-Bowl team:
David Hale and Matt Fortuna handled the ACC's All-Bowl team for ESPN.com, and
there were a few differences
. Colleague Ivan Maisel and I also recognized a few unsung heroes from bowl season
in this video
. Congrats to all of ACC's top performers this year.
December, 27, 2013
12/27/13
10:15
PM ET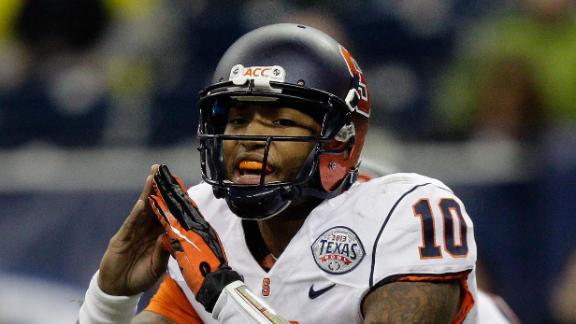 It was a little too much like last season: Minnesota leading late in the Texas Bowl. Plenty of hope. Critical breakdowns. And an eventual loss. The only difference this year was the opponent -- Syracuse.


The Gophers led 17-14 with just more than two minutes remaining in the game, after having clawed back from a 14-3 fourth-quarter deficit. But a 70-yard punt return from
Brisly Estime
set the Orange up for a touchdown and a four-point lead with just more than a minute remaining.
Minnesota wasn't able to respond, and like its previous 20 games under Jerry Kill when the Gophers trailed at halftime, Minnesota lost. Syracuse walked away with the win, 21-17.
It was over when:
Minnesota quarterback
Mitch Leidner's
Hail Mary fell incomplete out of bounds at the 1-yard line. It was just the second game this season that the redshirt freshman had attempted at least 20 passes, and his final two heaves toward the end zone both looked as though they might be good. But on the final play, Syracuse dropped most of its defense deep, ready for the prayer of a pass, and Minnesota just didn't have enough luck left to pull off the win.
Game ball goes to:
Syracuse QB
Terrel Hunt
. The sophomore put together one of his most impressive games this season, accounting for 262 yards (188 passing, 74 rushing) and two of the Orange's three touchdowns. The Minnesota defense just couldn't really find much of an answer to his dual-threat capabilities, and he looked like an even better version of the QB who led Syracuse impressively through November.
Stat of the game: 13 consecutive scoreless quarters or 195 minutes -- the streak of the Gophers being held out of the end zone.
But against Syracuse early in the fourth quarter, Minnesota ended that drought, as Leidner first found
Maxx Williams
for a 20-yard TD and then connected with
Drew Wolitarsky
for a 55-yard score.
Back-and-forth affair:
Syracuse's 7-3 halftime lead seemed solid. But when it took a two-score lead in the third quarter against a Minnesota offense that hadn't shown any signs of life, it seemed as though the game might as well be over. But the Gophers came back kicking only to eventually be kicked once more. It was a game worth watching until the end, because that's when most of the action really was worth watching.
What Syracuse learned:
This offense could really develop in the next few seasons in the ACC. With two more years in this offense, Hunt could become quite the player. His arm and feet looked reliable, and with his athleticism, he seems like he isn't close to his ceiling. On top of that, Syracuse's top three receivers -- Estime,
Ashton Broyld
and
Jarrod West
-- will all return next year.
What Minnesota learned:
The QB competition is (and should be) open at Minnesota.
Philip Nelson
has had the advantage with the more reliable arm, but Leidner stepped in and threw Minnesota's first passing touchdowns in months. Both played against Syracuse, but the offense looked the best with Leidner, and that's what Kill chose to go with when the game was on the line.
Best moment of the game:
Kill returning to the sideline for Minnesota. He came down during halftime and decided to stay for the second half. He hadn't coached from the sideline since September and since he had taken a leave from coaching to focus on his health. But it was nice to see Kill enjoying himself on the sideline again.
To watch the trophy presentation of the Texas Bowl,
click here
.