July, 1, 2014
Jul 1
8:00
AM ET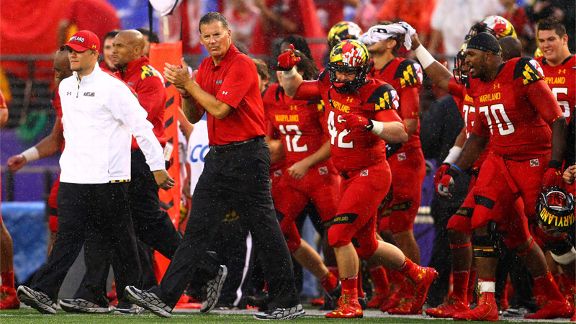 Tony Quinn/Icon SMIThere's no easy winning formula for Randy Edsall and Maryland as they transition to the Big Ten.
Utah coach Kyle Whittingham knew exactly what to expect -- and where to focus -- when his Utes moved from the Mountain West in 2011 to the Pac-12: Recruit better prospects. Upgrade the facilities. Break down new opponents.
But that didn't make the transition any easier.
The Utes made a big splash that first season and finished 8-5, before dropping to 5-7 in the two seasons thereafter. Whittingham knew a drop-off like that was possible -- a move into one of the Power Five carries with it certain risks -- but that doesn't mean any challenges caught the 54-year-old head coach off guard.
"No real surprises," Whittingham told ESPN.com. "Nothing blind-sided us from a football perspective. It was exactly as anticipated. ... The bottom line is it's just a process transitioning. We're not making excuses -- people don't care; we have to win -- but it takes time to ramp up."
With three programs set to officially join a new power conference Tuesday -- Louisville to the ACC; Maryland and Rutgers to the Big Ten -- that process will play out once again. New members know they'll have to adjust, improve and upgrade before taking a step forward in their new conferences. But that doesn't make the task any easier.
Since 2000, a dozen other football programs have transitioned into one of the Power Five conferences. And, in their first seasons, only three teams improved upon their previous year's record -- with just two watching their win total increase by more than one. For most teams, the acclimation has been gradual.
"There are no shortcuts," Whittingham added. "But I don't think there's anything that's undiscovered or a secret. It's pretty simple and pretty plain."
In one interview after another, five coaches told ESPN.com the same three keys for transitioning successfully: improve recruiting, upgrade facilities and figure out those new teams. That really shouldn't come as a shock, as those tips are useful for any team in any circumstance. But when it comes to transitioning, several coaches said, those priorities are magnified.
All of a sudden, during that conference transition, Utah's great facilities in the Mountain West didn't quite pass muster with USC's 110,000-square-foot sports facility or Oregon's $68 million football building. So it unveiled its
own new facility last fall
. In 2004, Virginia Tech's old Big East recruiting footprint wasn't enough to dominate long-term in the ACC. So the staff immediately sought out prospects in Georgia and the Carolinas. And, in 2005, Boston College's staff was forced to scout nine new opponents on a schedule that ballooned from No. 74 in terms of strength to No. 22. So, even during "off time," some coaches stared at their laptop screens morning to night.
Each team needed to improve in that area immediately or risk falling behind their conference foes. Transitioning is a constant arms race, after all, a game where teams that tread water end up sinking. There's no such thing as being stationary in college football, especially during such a transition. Especially during that first season.
"It's definitely more of a burden that first season, for sure. No doubt," said former Boston College assistant Jerry Petercuskie, who helped oversee the Eagles' transition to the ACC and currently coaches at FCS Elon. "But there's no magic in it. It's just getting your players to play and adapting to the enemy."
Truthfully, several coaches said, there's not much they can do to quicken that Year 1 transition. Payoffs in recruiting and facility upgrades aren't immediate; the main short-term advances come from locking yourself in the film room and studying up on new opponents.
In other words, the recipe for such immediate success isn't a big secret either. Of the three teams that did improve their record that first season, they all returned solid teams that boasted solid quarterbacks. Texas A&M had Heisman winner Johnny Manziel (7-6 record to 11-2), Virginia Tech started first-team All-ACC QB Bryan Randall (8-5 to 10-3), and Pitt had NFL draft pick Tom Savage under center (6-7 to 7-6).
So, until that increased recruiting focus starts to yield changes on the field, most coaches during the transition spend a considerably higher amount of time figuring out opposing schemes, opponents and situations.
"When you're away from the office, every coach is looking at the opponent. You need to figure out that new enemy," Petercuskie said. "[Coaches] are a paranoid group of people. We don't want to go out on a Saturday afternoon in front of a national TV audience and get embarrassed. So we're going to do whatever we have to do."
Added Tom Bradley, who coached at Penn State during its move to the Big Ten and is currently the senior associate head coach at WVU: "I would say it took a couple of years for us to really get a beat on teams -- to understand the fans and feel comfortable with the climate you're entering. What do they like to do in certain situations? Not knowing that definitely made it harder."
No one can say for sure exactly how Louisville, Rutgers and Maryland will fare in their new conferences: Virginia Tech assistant Charley Wiles believes the Terrapins are already a bowl-caliber team; Temple assistant Ed Foley thinks Rutgers will wind up in the middle of the pack. But everyone knows what these teams have to do to succeed.
They can't win in Year 1 without a solid group of returners. They have to upgrade their facilities to stay competitive. And above all -- Whittingham said this was 80 percent of the transition – they need to recruit well. Do all that, and the wins will roll in faster than the fans' question marks.
Transitioning successfully is as simple -- and as difficult -- as that.
June, 28, 2010
6/28/10
12:31
PM ET
By
ESPN.com staff
| ESPN.com
For the second week in a row, I "saved" a turtle crossing the street during my morning run here in Maryland. Unfortunately for Ralph Friedgen, there's not much I can do for those other turtles in this state ...
March, 11, 2009
3/11/09
9:00
AM ET
By
ESPN.com staff
| ESPN.com
Posted by ESPN.com's Heather Dinich
Virginia Tech offensive coordinator Bryan Stinespring recently reflected on the Hokies' late-season success in 2008, and looked ahead to what they might be capable of in 2009.
"Stiney" is an easy-going guy who lets the criticism roll off his back and can often be found on the sideline after a game wrapped up in a hug from one of his kids -- win or lose. He also gets wrapped up in answering questions, which is why I decided to split this interview into two parts. The second part will look at Alabama, the offensive line and the Hokies' potential in 2009. But first, they've gotta get through spring ball:
| | |
| --- | --- |
| | |
| | Sean Meyers/Icon SMI |
| | Bryan Stinespring has his sights set on an improved offense. |
What's your take on the priority for the offense this spring?

BS: The first priority for us this spring is to make sure our mindset is, are we approaching this thing like we're just going to be a year older next fall or are we going to be a year older and a year better? I think that's the key. Older is one aspect of it, but with the success we had towards the end of the year, do we feel like we arrived? Because we haven't. We improved, but we haven't arrived. We're not as good as we can be, and that's the ultimate goal, to chase after how good you can be.
I like the way we're conducting ourselves in the weight room right now. Greg Boone for instance set a record for tight ends in the squat. The guy's a senior. What's his mindset going in in this offseason? He's a leader down there right now, and the way he's approaching the weight room, I think our players understand that. Secondly, without any question whatsoever it's to make sure how settled are we at quarterback. For the first time in some time we're settled with who the starting quarterback is, that's terrific, you like that settled aspect of it. Now we're approaching a different set of waters that we've not been accustomed to, and that's who is your backup quarterback? Who's the next guy in line? We haven't had that issue in quite some time, from Bryan Randall, right on through. Now it's imperative who's our second quarterback, who's the next guy that's going to take snaps for us. I think that's important.
Do you think you'll be able to do more this year because the guys are a bit more experienced?
BS: That's what we're hoping. If you go back and look, and you say, 'OK, what did they not do?' We were a spread offense, we were a two-back offense, we were a gun spread offense. We were certainly not completely limited. How much did you do during the course of the game? I think you had to force you to be precise in the beginning of the week with what you were going to do, but it wasn't like we were just one formation, one play, one run, one back.
We could be in a run play-action game, we could be in a spread, some option, we could be in a three, four-receiver game, but it's how well we do those things. How we execute, how much better we perform it, we can build on that part of it. There are certainly things our receivers need to make. As we go through our cut ups that's what we're primarily doing now. We've had some schools come in and visit, it's that time of year where you have some people come and see you or you're going to see them. In between, the gist of what you're doing right now is going back and looking at what you did do well and what you didn't do well, where we can improve individually, as a unit, as an offense, from one year to the next.
We were pleased with the way we played down the stretch. It wasn't consistent throughout the year. When we went out to Nebraska, 40 percent of that team that went out to Nebraska had yet to play in a game or travel. You go out there, you feel like the way you played out there, you made some advancements, and then all of a sudden you're not as far along as you hoped. You're a bit inconsistent and there's some erratic play for the next couple of weeks, and then you found your rhythm and got better when it really counted. That's a building block. I think our players understood if they concentrated and focused to make sure they were doing everything they could within their ability at that point in time we performed and we performed well down the stretch. We've just got to carry that over.
I know fans are super excited to see Ryan Williams. What's the coaching staff's take on him and how you guys might plan to use him this year?
BS: We're excited about Ryan, too. That was probably one of the most discussed factors going into the season last year, to play or not to play Ryan. Had we known, if we had that crystal ball and seen that Kenny Lewis was going to go down in the third or fourth game, it may have changed the whole complexion of it. The reason we were going to play him as a true freshman was because of his ability. He has an explosive ability we certainly relish in our offense or anyone's offense. We feel like he's got an opportunity to be a very productive player and can create problems for a defense. That's what you like to have on your side of the ball. We're excited. We feel like he's a year older and a year more comfortable within the offense. Last year, he probably would have been limited in his scope of what we would be able to do with him. Well, when you go back and look at it, we already were. I think we had to concentrate on one aspect of the game, bringing one group along instead of the entire offense along. Kenny was such a valuable guy.
Kenny Lewis, when he went down, was not just a player himself, but I think Kenny at that point in time was a leader for us offensively. And then when he went down, who's the next guy that can take over? Tyrod (Taylor) was the guy everybody certainly looked towards, but he's surrounded by a bunch of youthful guys all around him. Darren (Evans) stepped up. We're just trying to get Ryan in a position where he's comfortable out there ... don't feel like we have to hold back. Because when you look at holding back in September, starting with Alabama, you have to be at or close to your best as you can possibly be right off the get-go.
You're not going to be able to lead into it. You're going to get better as you often do throughout the year, but you've got to be close to your best right off the get-go. You know the schedule. You know what's standing out there and so do we. By that regard, we've got to be as far along as we can be so we can play the game with everything you're able to play with.